Scarsdale Forum to Host Octoberfest on October 29
Monday, 24 October 2022 11:32
Last Updated: Monday, 24 October 2022 18:56
Published: Monday, 24 October 2022 11:32
Joanne Wallenstein
Hits: 684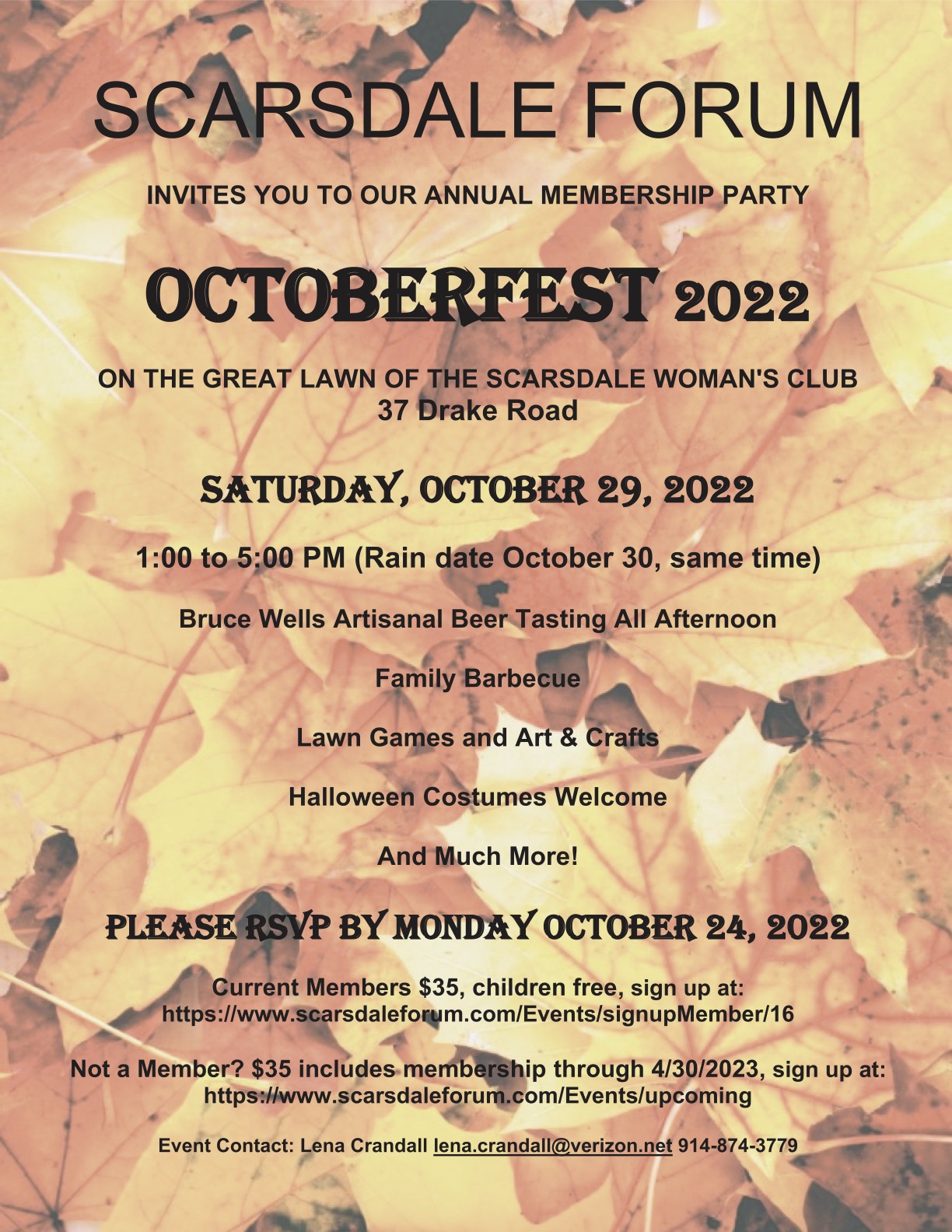 After a two year hiatus and a shift to another season, the Scarsdale Forum hosts its thirteenth annual membership party, OCTOBERFEST 2022, on Saturday, October 29, at the historic Scarsdale Woman's Club, 37 Drake Road from 1 PM to 5 PM. Rain date is Sunday, October 30, 1 PM to 5 PM.

Among the highlights of the day will be an old fashioned barbecue on the Great Lawn of The Scarsdale Woman's Club and the artisanal beers brewed by Forum member Bruce Wells. The Scarsdale Volunteer Ambulance Corp, the Scarsdale Police Department and the Scarsdale Fire Department will display their vehicles and highlight their services to the community. The Hoff-Barthelson Music School Advanced Jazz Ensemble will perform at 2:20 p.m. Assorted lawn games and arts and craft activities will provide additional entertainment for families and their children. Celebrate the Halloween weekend in costume; the face painting station will add just the right touch to your attire! The conversation is always lively around the beer tasting station and the cider and dessert stations promise the same.

Scarsdale residents are welcome to the social event of the fall season and one of the best parties of the year! Admission $35, children under the age of twelve free.

Due to the popularity of this event, advance reservations are encouraged. Please RSVP by Monday, October 24.

Current Member, register at: https://www.scarsdaleforum.com/Events/signupMember/16
Not yet a Member? Complimentary first-time membership through 4/30/2023, register at: https://www.scarsdaleforum.com/Events/upcoming

Reservations can also be made by mailing a check to Scarsdale Forum Inc., P.O. Box 86, Scarsdale, NY 10583.

Event Contact: Lena Crandall at: lena.crandall@verizon.net, 914-874-3779.
Scarsdale Forum Inc. is a 501(c) (3) charitable organization dedicated to community education through discussion and analysis of issues relevant to Scarsdale residents. Since 1904, it has contributed meaningfully to village affairs through written reports, public speaker events and committee discussions. Membership is available to all Scarsdale and Mamaroneck Strip residents, regardless of citizenship status.