Scarsdale High School Boys Soccer Team Claims the Section One Class AA Title
Wednesday, 02 November 2022 12:20
Last Updated: Wednesday, 02 November 2022 12:31
Published: Wednesday, 02 November 2022 12:20
Hadley Schwall
Hits: 771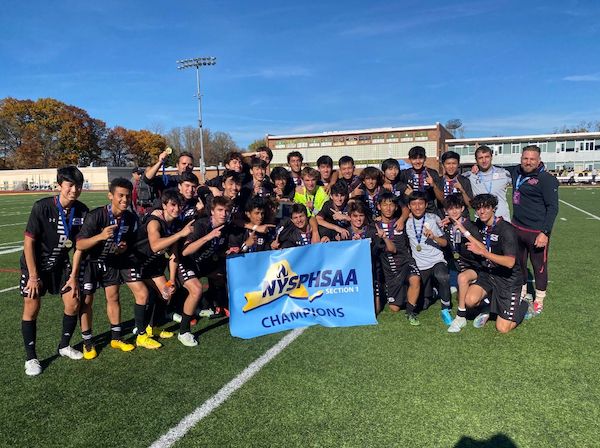 On Sunday October 30, the Raiders secured the championship win against New Rochelle at Lakeland. Words cannot describe the eruption of emotions when the clock ran out. Feelings of excitement, relief, redemption, and unity were simultaneously at all-time highs. Championship plaque in hand, the team reveled in the moment and the journey that had taken them there.
Earlier that day, former captain, Luke Peltz, had given the team an inspirational pep-talk, hoping to motivate them to take it a step further than they had last year. During warm-ups, Scarsdale looked mentally ready for the challenge and set to win.
The start of the game showed intensity from both teams, but was scrappy and unrepresentative of the level at which they played at other times throughout their season. Fans, as well as the team's benches, were suspicious and angered by many of the referee's calls. The hard fought first half ended in a draw.
The second half brought about the defining moment. Off a corner, after many touches, the ball crossed the goal and Lorenzo Galeano got a clean angle to score the game-winning goal. The raiders exploded, knowing that if they could stay focused for the rest of the half, the title would be theirs. Keeping a strong defensive line, the 1-0 lead lasted till the buzzer and deemed the Raiders triumphant.
Awards: Leo Khang, Lorenzo Galeano, and Nico Galeano were awarded All Section, with honorable mentions to Lucas Kantor and Lev Stahl. Nico Galeano was awarded League MVP. Zach Ruback, Henry McAllister, Alex Duval, and Matthew Choe were awarded All League, with honorable mentions to Zach Grossberg and David Wang.
It's not over yet! The Raiders will take on either Warwick or Corning (TBD) in the regional finals on Saturday at Yorktown High School at 11:30. The team looks forward to the next challenge.