ADL Regional Director Scott Richman to Speak at Scarsdale Synagogue
Tuesday, 07 March 2023 20:33
Last Updated: Tuesday, 07 March 2023 20:35
Published: Tuesday, 07 March 2023 20:33
Joanne Wallenstein
Hits: 163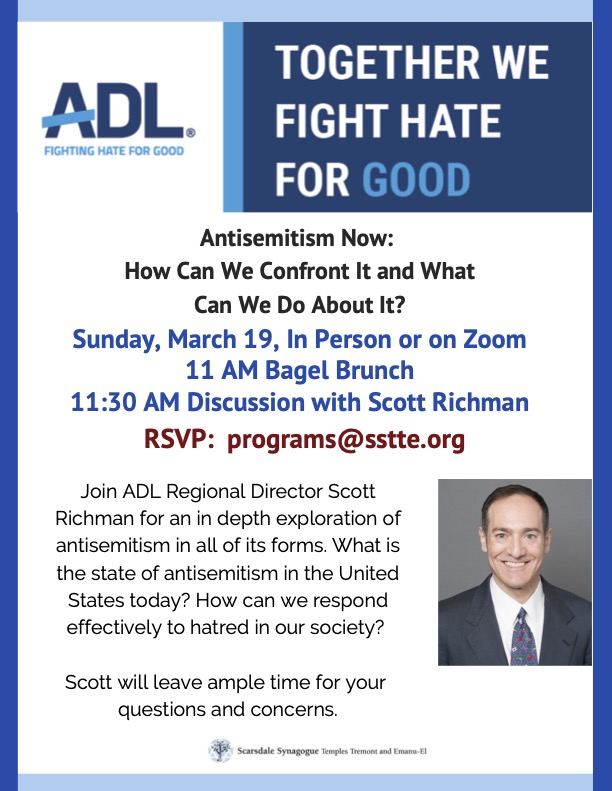 With an unsettling rise in antisemitic incidents around the country, Scarsdale Synagogue Temples Tremont & Emanu-El will host ADL Regional Director Scott Richman for an in-depth exploration of antisemitism in all of its forms.
The event, "Antisemitism Now: How Can We Confront It and What Can We Do About It?" will take place at the Synagogue on Sunday, March 19 beginning at 11am with a bagel brunch, followed by a discussion with Mr. Richman at 11:30am. Richman will address such issues as the state of antisemitism in the United States today and how we can respond effectively to hatred in our society. Mr. Richman will leave ample time for questions and further discussion.
Members of the public are invited to attend this important conversation, but must register in advance on the temple website at www.sstte.org under the events tab. The direct RSVP link can be found here. Interested parties may also contact Executive Director Fawn Mendel by phone at 914.725.5175 or via email at fawn@sstte.org to RSVP. The event is free of charge.
Scarsdale Synagogue Temples Tremont & Emanu-El is a sacred community where members feel connected, engaged and enlightened. It is recognized as a synagogue where everyone is welcome.