Former Scarsdale Resident Frank Sobel Passes Away at 93
Details

Written by

Joanne Wallenstein

Hits: 335
Frank (far right) with the Sobel clan.Frank M. Sobel passed away peacefully at the age of 93 on January 11, 2021 in Delray Beach, Florida. He is predeceased by his wife, Toni and his son, Marc. He is survived by his wife Carol; his children Ralph, Nancy, Ricky and John; his daughters-in-law Alice, Debbie, Nanette and Liz; his grandchildren Chris (Ken), Kevin (Amy), David (Jackie), Michael, Steven, Alexis, Jessica and Andrew; and his great-grandchildren Ben, Jack, Lila and Adam. He was President of Canterbury Belts, Ltd. from 1955-1995, when he retired.
The Sobel family included five children, four boys and one girl. They lived on Garden Road in Scarsdale for 22 years, from 1960 to 1982. All the kids were athletes and the four boys were captains of the soccer team. The youngest brother became a professional tennis player.
Frank loved playing tennis, traveling, "Dirty Harry" movies, ice cream, and most of all, his family. He was quick-witted, with a deep moral compass and a strong sense of loyalty. A private service took place on Friday, January 15, 2021 at Mt. Nebo Funeral Home in Kendall, FL. Contributions may be made in Frank's memory to The Michael J. Fox Foundation for Parkinson's Research.
Scarsdale's James Franklin Conlan Passes Away at 84
Details

Written by

Joanne Wallenstein

Hits: 543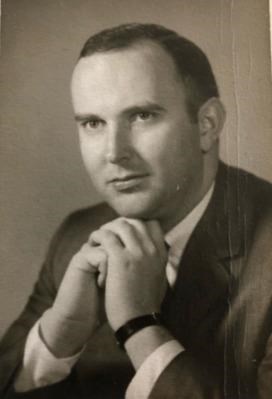 James Franklin ConlanJames Franklin Conlan, 84, of Scarsdale, NY, died on December 26, 2020 following a lengthy illness.
Mr. Conlan was born at Saint Agnes Hospital in White Plains, NY on March 11, 1936, the only child of James Francis Conlan and Anne Irish Conlan. He was raised in Scarsdale and attended Scarsdale public schools, graduating from Scarsdale High School in 1954. He then attended Williams College where he earned a B.A. degree in 1958, majoring in History. After graduating from Williams, he volunteered for the draft and served in the United States Army Counter Intelligence Corps, from which he was honorably discharged in 1960.
In late 1960 he joined Bankers Trust Company where he worked for 38 years, retiring in 1998 as a Vice President. He earned a Master's Degree in Business Administration from New York University in 1966. For many years, he was a guest lecturer on corporate trusts at the Federal Deposit Insurance Corporation's Department of Bank Supervision in Washington, D.C, and at various corporate trust industry events.
Mr. Conlan lived in New York City from 1960 until 1965, where he met his soulmate, Virginia Broderick, in 1961. They married in 1962, moved to Bronxville in 1965, and to Scarsdale in 1967. In Scarsdale, Mr. Conlan was active in community affairs as a member of The Town Club and its Fiscal Affairs Committee, a coach of baseball, basketball, and soccer teams in the Recreation Department's leagues, a member of the Parish Council at Immaculate Heart of Mary Parish, President of the Bramlee Heights Neighborhood Association, and a District Leader for the Republican Party. He was a guest member of the Edgewood School Historical Society, the elementary school he attended in the 1940s, his four children attended in the 1970s, and four of his grandchildren attended from 2005-2017.
Mr. Conlan is survived by his wife Virginia of 58 years, four sons and their wives, James Conlan of San Juan, Puerto Rico, Patrick and Jennifer Conlan of Franklin, MA, Christopher and Kyle Conlan of Yorktown, NY, and Matthew and Kathryn Conlan of Scarsdale, NY, and by ten grandchildren, Patrick, James, Aidan, Anne, Moira, McKinley, Joseph, Seamus, James Sebastian, and Liam.
County Executive Unveils New COVID Dashboard
Details

Written by

Joanne Wallenstein

Hits: 1391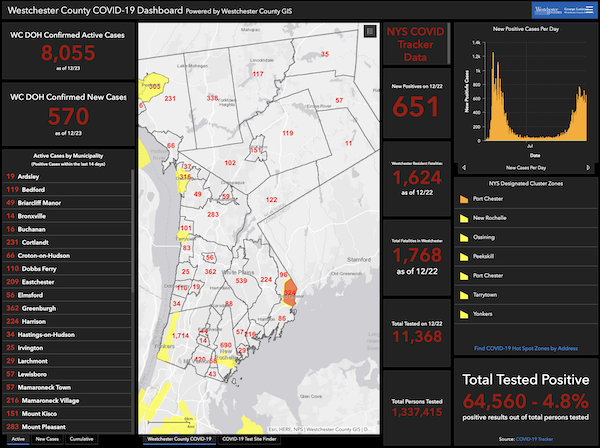 At his bi-weekly Covid-19 briefing on Wednesday December 23, County Executive George Latimer displayed the new Westchester County Covid-19 Dashboard as prepared by the County's Department of Emergency Services and Department of Information Technology. Notably by Westchester County GIS Specialist Connor Lynch and Software Architect Ilir Tota.

Latimer said: "This codifies data we receive from New York State. We are trying, and have proven over an extended period of time, that we intended to do the things we say we are going to do. When we say that we are going to try to give you information in a more transparent and accessible way - this is an example of how we deliver it." The new dashboard is designed to be accessible and user-friendly.
In addition to supplying the numbers, the dashboard allows you to fill in your address to get information on testing sites near your home.

The new Covid-19 Dashboard, which will automatically update, contains:
· County Active Case Map
· Covid-19 Test Site Map
· Total Confirmed Active Cases
· Total Confirmed New Cases
· Active, New & Cumulative Cases by Municipality
· Total Fatalities
· Total Persons Tested
· NYS Designated Hot Zones
· Positivity Rate
· Various Graphs Outlining Statistics
Latimer said that this new dashboard is in real time and utilizes data from New York State. This new map corrects the lag in reporting from the original map. As of Wednesday December 23, the map shows 88 active cases in Scarsdale, an all-time high. County wide, he reported that 7 people died last night, a disturbing number.
You can access this tracker here:
Note – the map is easier to read on a desktop computer. The mobile version is compressed and a bit hard to read.
Vaccines:

Latimer reported that as of Wednesday, 346 front line workers in Westchester have been vaccinated. As of tomorrow, Thursday December 24, vaccinations will become available for EMS workers. He said "we are grateful that the vaccinations have begun to arrive in Westchester." About vaccine safety, he said that the Pfizer vaccination is to be given in a healthcare setting in case of an adverse reaction. He said the Pfizer vaccine should not be given to those with a history of severe allergic reactions.
Greenacres Man Pleads for Village to Stop the Construction of Tall Retaining Walls on Kingston Road
Details

Written by

Joanne Wallenstein

Hits: 972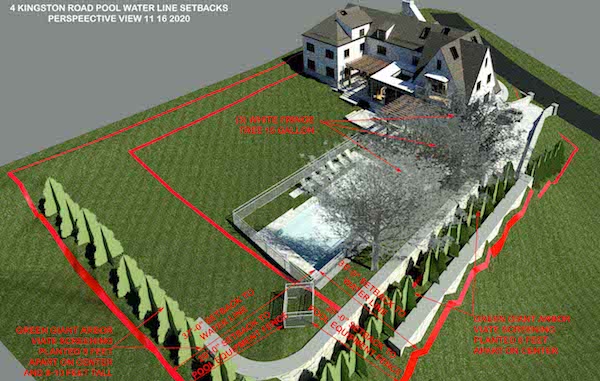 An aerial perspective of the proposed project.What do you do when you find out that a developer is planning to build two rows of 130 linear feet of six foot high retaining walls on the hill in your backyard?
A. Ask the Village Engineering Department for help.
B. Appeal to the Board of Architectural Review.
C. Launch a petition to gather support from neighbors.
D. Retain counsel, an engineer, an urban planner and an architect.
Brite Avenue resident and realtor Mark Nadler took all these steps and still has no answers as to why the Village would permit a developer to build an 8,000 square foot house on a steep hill and extend the backyard through the use of tall retaining walls, which would loom above the Nadler's backyard.
The developer is not even required to submit a rendering of how the property and walls would look from the bottom of the hill where Nadler's home sits.
The property in question is at 4 Kingston Road, where the developer has applied to "to construct 2 or 3 retaining walls spanning approximately 130' to maximize the size of the yard and house to accommodate a 44 x 20 in-ground pool with a complex of patios, spa, BBQ, bars and gas fire-pit surrounded by .65 acres of landscaped gardens and lush lawns," on a property to be listed for $3.795 million.
Nadler contends that the project will require the "removal of over 30 large, medium and small trees and all foliage and will create a tall wall that will be a permanent visual eyesore in the neighborhood."
Nadler's queries go unanswered with the Board of Architectural Review saying they don't get involved with the engineering department and the engineering department saying they don't look at aesthetics.
The project will be resubmitted to the Board of Architectural Review at their January 11 meeting and the Zoning Board of Appeals will review the application for the pool at their meeting on January 13. At the June 2020 meeting of the BAR, when the plans were first presented, the applicants submitted two sets of drawings, one with two rows of retaining walls and another with three. No one noticed until Nadler's lawyer reviewed the project after the meeting.
Nadler is appealing to neighbors to do the following:
A. Sign the petition he has created against the destruction of the hill and construction of massive retaining walls here:
B. Request that all Board of Architectural Review (BAR) members and the Mayor and Trustees walk the property before the meeting in order to see the steepness of the property and that the site is not suitable for this project. There were no pictures submitted by the developer.
C. Consider attending the zoom meetings and speaking up against the destruction of the hill and construction of massive retaining walls during the proposed renovation of 4 Kingston Road.
The meeting to approve the project is the Zoom BAR meeting on 1/11/21, and the meeting to approve the pool (pending approval at the BAR meeting) at the Zoning Board of Appeals is on 1/13/2021.
Nadler asks that you forward the petition to neighbors in Greenacres and Scarsdale for their support to stop the destruction of the hill.
Here are the links to see what the developer has submitted to the Board of Architectural Review:
And here are the documents for the Zoning Board of Appeals:
Below is a letter from Nadler: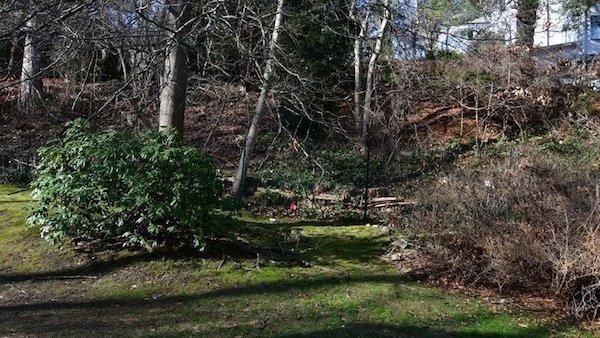 Nadler's yard on Brite Avenue
Dear Mayor, Trustees, BAR members, Zoning Board of Appeals members,

I am sending this email with the urgent request that 4 Kingston Road, Scarsdale be given your attention for an additional few moments. Please forward this to the BAR and ZOA members if needed.

As the downhill neighbor of this proposed renovation, expansion and in-ground pool project, the system has not worked properly to give this the appropriate review it must have.

As a result, I have been forced hire an attorney, engineer, urban planner and a firm to represent me (and my neighborhood) and create simulations of the proposed development at significant expense to me to make sure my objections are heard.

I am emailing you now with several requests:

1. Please walk the property prior to the meeting on Monday to see the steep, unsuitable property where the developer wants to expand the yard over the hill and erect several retaining walls. The developer has not submitted a single picture, or rendering of the hill in the entire time this project has been submitted. You are welcome to physically walk in my backyard so you understand the significant loss of value to my property if this project proceeds as presented.

2. Please make sure I am allowed to have my experts present at the BAR meeting. They will have visuals and reports to present and must be allowed to be heard and NOT just under public comments. The June zoom BAR meeting was not a forum where this could be done or people were allowed to raise issues.

3. Please attend the BAR and ZBA meetings (if necessary) to make sure you see what is presented as I need you to be informed as this will negatively impact the neighborhood.

Below is the email I have sent to the neighbors and other Scarsdale residents. There are approximately 350 people who have signed the petition in opposition to this project since Sunday night.

Please email or call me with any questions.

Best regards,
Mark Nadler
One Last Time: The Final Game
Details

Written by

Sophia Caione

Hits: 761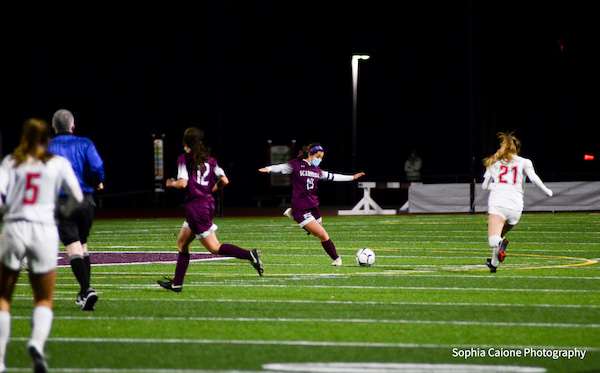 Captain Emily Yacoub #19The Scarsdale Girls Varsity A Soccer team took to the field on November 23rd looking for a final win of the season. Rye played Scarsdale at Scarsdale High School under the lights. Fans showed up ready to cheer in the frigid weather. It was pitch black outside, but both teams shined on the field with a yearning to cap their season with a victory.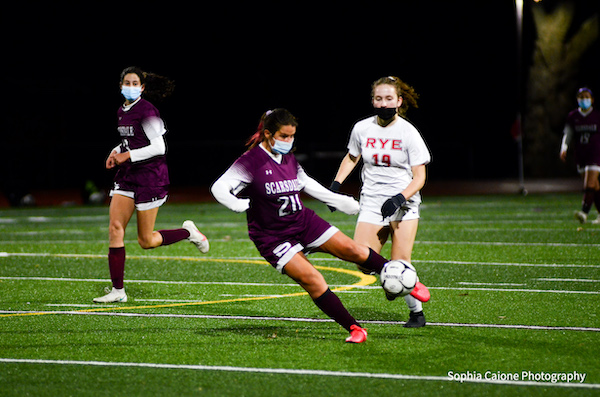 Alessia Schettino #20
The Raiders once again worked in unity. The defensive line worked extremely hard to stop long balls and cut off players from entering the goalkeepers box. The offense ran to every ball with determination. The end of the first half resulted in 1-0, Scarsdale. However, with some questionable calls made by the on-field referee, Rye was able to come back in the second half and tie up the game, 1-1. Coach Kiera Fox-Turney commented "We were unhappy with a few calls. It is especially disappointing when you review footage and know that you could have had an opportunity if the whistle went our way. We can't rely on the calls to get results, though." The game went into overtime, and the energy stayed high. In the last six minutes of overtime, Riena Parente Ribeiro- an extremely talented Scarsdale senior midfielder- was injured in the opposing team's goalkeeper's box. The Raiders fought hard in the last half of overtime, but ultimately their final game resulted in a 1-2 loss to Rye. Many parents were frustrated with calls that had been made against Scarsdale. Coach Kiera Fox-Turney mentioned that the game was "truly a battle and we are immensely proud of our performance."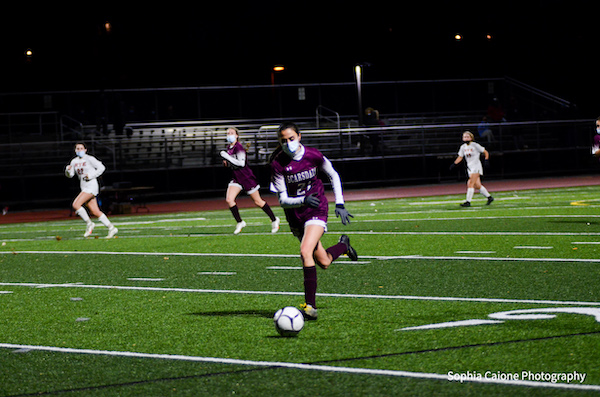 Eve Braverman #21
Although the season ended in disappointment, overall it was a season to be proud of. Senior goalkeeper Dylan Gross commented that "This season [was] unprecedented and extraordinary. We never expected to be playing in the middle of a pandemic, never expected to finish the season, and never expected to make it to the section finals. We were able to defy all odds and finish our season despite the pandemic and with an incredible record. I'm really proud of the team and how we were able to stay safe and accomplish so much during our season." To seniors the potential victory was important, but what mattered most was getting to play their senior season. Ryan Silberfein, a senior midfielder, said that "The 2020 soccer season was the light at the end of a dark tunnel, and I couldn't be more grateful for the friendships I've formed and the memories I've made with these people. Having...a team I know I can rely on during such hard times is so comforting and being able to go to soccer each day and ignore everything else going on was such a blessing." The seniors were strong players for the rest of the team to look up to. A key defensive player, senior Abigail Talish recommends that the younger players on the team "Truly appreciate every moment [they] have on the field and every second [they] get to spend with [their] teammates. The intensity [that is brought] to every practice and game determines how successful [the team will] be. Cherish every single practice and game."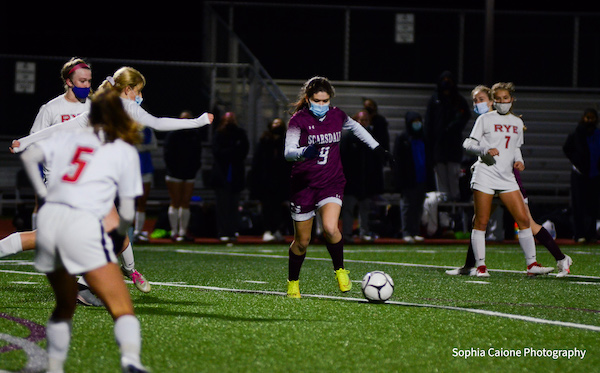 Audrey Gendel #9

Although the season is over, the memories will last forever. Kate Leffler, a senior midfielder, reminisces that after the final game, "We were all devastated by the loss, and mostly about the season coming to an end. We stayed on the field for about 45 minutes, after the game, just standing in a huddle remembering how incredible this season was. Through all the frustration and tears, we were still able to laugh and smile together. Although there was some sadness, there was also a great final feeling of accomplishment and friendship." Silberfein comments "My favorite memory was definitely the rush after beating big rival Mamaroneck at home. But aside from practice and games, anytime we hung out as a team I always had a good time. We really bonded this year and got super close, which translated into our play on the field."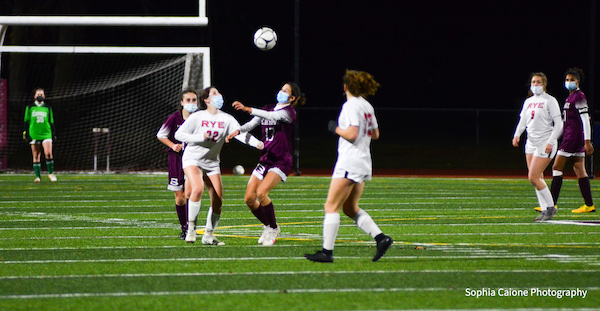 Lola Tirabassi #13

The seniors had to juggle many situations this year: applying for college, doing all of their school work, playing their final high school soccer season, and all during a global pandemic. Dylan Gross offered insight: "This season really put everything into perspective. Knowing that any given game or practice could be our last. I always tried to give my all so I could remember those final moments in a positive light and have no regrets. I could tell that my teammates felt the same way - always putting in the work to be the best and that was so special to watch. I'm so grateful to have spent my senior season on a team with players that all care so much for each other and I will remember it forever." Initially it was difficult for the seniors to cope with the idea of not being able to play, but once they got the "okay" to get on the field, they bonded and worked together to create an intense season. Talish said "I came into the season super upset that my senior season [would be ruined by] Covid ... but it ended up being the best season ever and we got so much closer than I expected. [We] were able to have so much fun on and off the field." The team faced challenges, but it was all worth it. Leffler commented that "Overall this season, despite our many obstacles, was truly amazing. Our team became a family. We were, and continue to be, even after the season, so supportive of each other. There are friendships and memories that are going to last forever."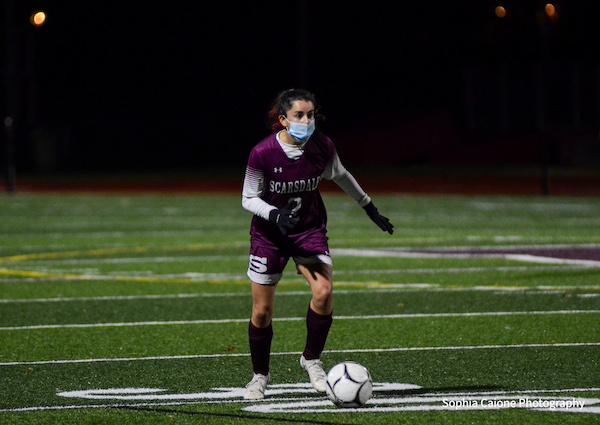 Emily Shawn #2
The team stuck together through the lowest of lows and celebrated the highest of highs. Coach Kiera Fox-Turney said that "Coaching this season was a gift. We didn't know what the season would bring or how far we would get. With everything going on in the world, this was so special. I feel very lucky to have been a part of this team. These girls rose to all the occasions. They play with class and style and heart. We are sad to see our 13 seniors go, but we hope the returners can honor them next season by carrying on the culture that we created. Last words to our seniors: Remember that this is a family. You can always come back and know that we will be here for you! Go forth and continue to make us proud!" Coach Mindy Genovese had some parting words for her soccer seniors- "To all 13 seniors- we are so proud of all your valiant efforts during this must unconventional season! We had a great run and made so many wonderful memories."