The Scarsdale Foundation Grants 2023 Scarsdale Bowl Award to Janice Starr and Spotlight Award to the Scarsdale Volunteer Ambulance Corps
Details

Written by

Joanne Wallenstein

Hits: 1433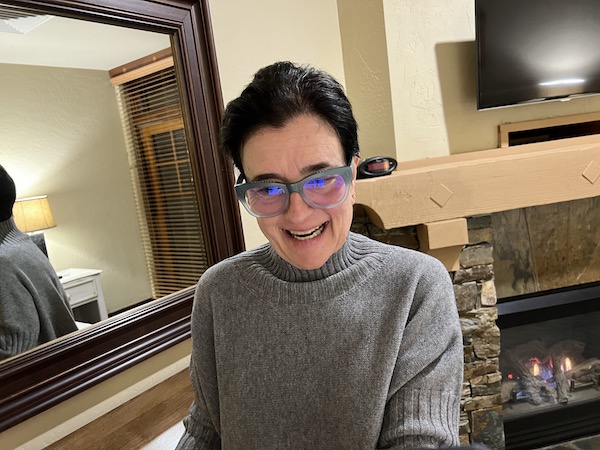 Janice Starr will be the recipient of the 2023 Scarsdale Bowl.As the Scarsdale Foundation marks its 100th anniversary, Janice Starr, an exemplary volunteer in the Scarsdale community with decades of commitment to volunteerism, will be the 2023 recipient of its venerated Scarsdale Bowl Award. The Bowl has been awarded annually since 1943 to those who have "given unselfishly of time, energy, and effort to the civic welfare of the community." This year, the Scarsdale Foundation will also honor the Scarsdale Volunteer Ambulance Corps (SVAC) for its meaningful contributions to the well-being of the Scarsdale community, especially during the COVID-19 pandemic.

Residents should receive an email with registration information for the Bowl Dinner and Award Ceremony which will take place on April 27th or visit www.scarsdalefoundation.org to register.

The Scarsdale Foundation promotes civic welfare in Scarsdale and helps local individuals and community organizations through student scholarships and project grants. It also promotes civic engagement and volunteerism with the awarding of the Scarsdale Bowl and the new Spotlight Award.

The Bowl Award

"Janice Starr is the consummate volunteer. Janice is a natural leader, has a wonderful character, and is inclusive and generous with her time and resources", said Scarsdale Bowl Chair Erika Rublin. "She is a role model and an ideal candidate for this honor."

The Bowl Committee, a diverse group of 15 community volunteers representing all areas and demographics of Scarsdale, selects the recipient after reviewing and vetting many worthy candidates who are nominated by the community. Following the Bowl Committee vote on Sunday night, Erika Rublin along with Suzanne Seiden, President of the Scarsdale Foundation, Elyse Klayman, Scarsdale Foundation Trustee, and Bowl Committee members Angela Manson, Ronny Hersh and Margot Milberg shared the news with Janice by Zoom. "I am so honored, proud, and of course, I accept!" said Janice. "There are so many worthy people who could have received this award. I love our community, and I am thrilled to be honored at this meaningful community event. Thank you so much!"

Janice will be honored at the Scarsdale Foundation Bowl Dinner on Thursday, April 27th at Mamaroneck Beach & Yacht Club. The entire community is invited to attend the dinner which will celebrate the Scarsdale Foundation's 100th anniversary, as well as the rich history of community and volunteerism in Scarsdale.

Janice has been involved in many aspects of community service since she moved to Scarsdale almost 30 years ago. With her husband Ira, and three sons Eric, Matt and Andrew, the Starr family has lived in Fox Meadow since 1993. Janice has always taken on significant leadership roles with enthusiasm and positivity. She is skilled at motivating other volunteers and stakeholders and bringing people together for a common cause. She often graciously opens her home to host events for various community groups.

Raised in Syracuse, New York, Janice grew up in a tight-knit family in an apartment above her family grocery store where she developed an appreciation for business and community outreach. The first in her family to attend college, she received a BS from the Wharton School at the University of Pennsylvania and an MBA from Harvard Business School. She pursued a career in consulting with Booz, Allen and Hamilton until moving to Scarsdale and dedicating her life to being a full-time mother and community volunteer.

Janice currently serves as Vice President of the Executive Committee of the Board of Scarsdale Edgemont Family Counseling Service, Co-President of the Fox Meadow Neighborhood Association (a position she has held for well over a decade), a member of the Hoff-Barthelson Music School Board of Trustees, and a member of the Executive Board of Steve's Camp at Horizon Farms.

In the past, Janice has helped lead many other Scarsdale Community organizations. Janice served as President of the League of Women Voters of Scarsdale, President of the Junior League of Central Westchester, Co-Chair of the Administrative Committee of the SBNC, Officer of the Friends of Music and Arts in the Scarsdale Schools, member of the Scarsdale Bowl Committee, and in countless leadership positions in the various Scarsdale PTAs.

In addition, Janice has served on committees for organizations as wide-reaching as the Friends of White Plains Hospital, the Friends of the Einstein School of Medicine/Montefiore, the Westchester Interracial Women's Council, the Alumni Association of the University of Pennsylvania, and the Scarsdale Advisory Arts Council.

Janice was honored at the Junior League of Central Westchester Gala in 2017 for her contributions to the Junior League and to the community at large. She was also honored for her contributions by Steve's Camp at Horizon Farms at their annual Gala.

As Ronny Hersh, a member of the Scarsdale Bowl Committee said, "Janice has been actively involved in, and made significant contributions to, every aspect of Scarsdale's community life – including activities related to the school, the arts, promotion of democracy and the development of mental health resources."

Similarly, Suzanne Seiden, President of the Scarsdale Foundation said, "Janice is highly energetic and has amazing organizational skills. Her involvement in community work is not just wide ranging, but deep. She is always gracious and inclusive. I think she is a wonderful choice to celebrate for all her work for the Scarsdale community over the years."

The Spotlight Award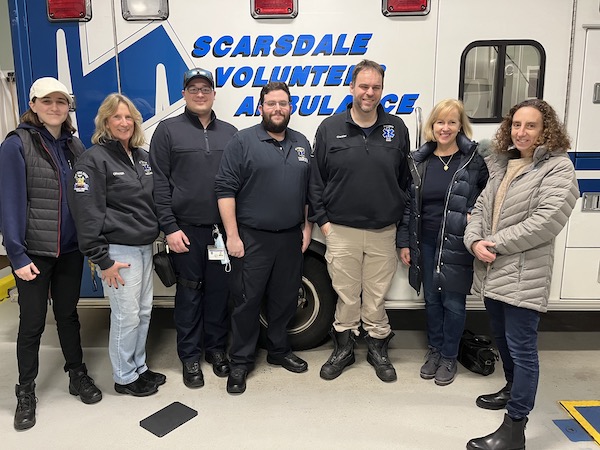 (Left to Right) Abigail Fine, EMT; Joanne Ornstein, EMT; Kyle Shryock, EMT; Justin Bayer, Paramedic; Matt Chesler, EMT; Angela Manson and Erika Rublin. Photo by Suzanne Seiden
The Spotlight Award is meant to honor changemakers–people, whether individuals or organizations, who have made a tangible difference in the community's quality of life in one specific area. As opposed to the depth and breadth required of the Bowl winner, the Spotlight Award recognizes specific improvement in an area or a problem solved after focused effort.

The Bowl Committee requested suggestions of individuals and organizations alike from the community and reviewed many worthy nominations before voting for The Scarsdale Volunteer Ambulance Corps (SVAC) to be the first recipient of the Spotlight award. SVAC will be honored alongside Janice Starr at The Scarsdale Foundation Bowl Dinner on April 27th. This will be especially meaningful for SVAC since they were not able to celebrate their 50th anniversary in 2020.

"We are honored and delighted to be recognized as the first-ever recipient of the Spotlight Award. The Scarsdale Volunteer Ambulance Corps has always been about neighbors helping neighbors. What started as a small group of dedicated volunteers and an innovative idea they could do something better, has evolved into a large organization that thousands have come to count on within four minutes of calling 911. SVAC's providers see humanity at its worst, while believing they represent humanity at its best. We are, as always, grateful for the support of the community we serve," said David Raizen, President of SVAC.

A cornerstone and lifeline for the Scarsdale community for 50 years, the volunteers of SVAC were challenged as never before during the COVID-19 pandemic, but rose to that challenge. From 2021 onward, they provided COVID testing and vaccinations, including booster shots and pediatric vaccines for students. In December 2021, the volunteers of SVAC administered more than 170 booster shots and 100 pediatric shots on the very first day they were approved by the New York State Department of Health. In a few short weeks, SVAC provided nearly 2,000 vaccines, including free vaccines for homebound residents. During 2022, SVAC administered over 20,000 COVID tests & vaccines combined.

The Scarsdale Foundation looks forward to honoring these healthcare heroes and Janice at the Bowl Dinner. Please join us on April 27th!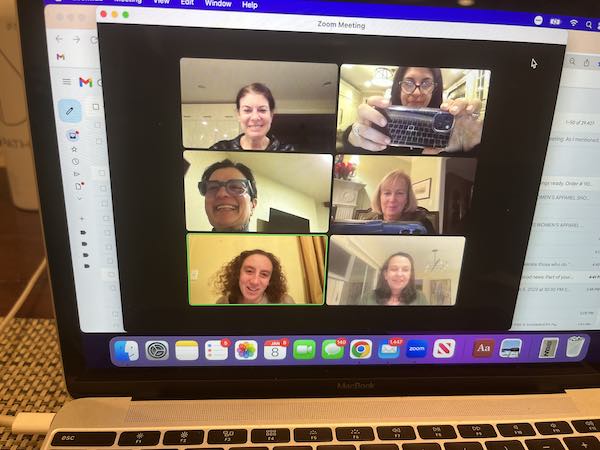 (left to right, top to bottom) Margot Milberg (Bowl Committee), Suzanne Seiden (Foundation President), Janice Starr, Angela Manson (Bowl Committee), Erika Rublin (Bowl Chair), Ronny Hersch (Bowl Committee)
Scarsdale Police Officer Charged with Assault
Details

Written by

Joanne Wallenstein

Hits: 3436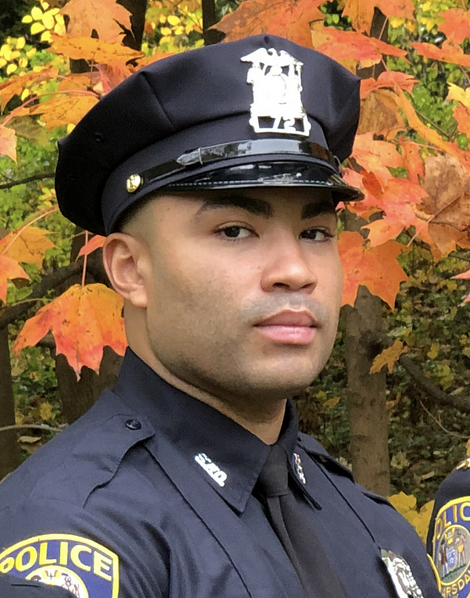 The Westchester County District's Attorneys Office has confirmed that Scarsdale Police Officer Dante Barrera, a resident of Elmsford, was charged with assault in the second degree, a class D felony, in Elmsford Village Court on December 2, 2022.
Barerra is charged with committing assault in Elmsford on the night October 14, 2022.
According to the complaint, "The defendant at the above date, time and place did strike the victim in the leg with a metal hammer causing extreme pain, swelling and bruising. The victim stated after being struck with the hammer by the defendant, she did lose consciousness due to the extreme pain. Victim later came to consciousness and discovered bruising on the left side of her face which was not there prior to her being struck with a hammer."
A person is guilty of assault in the second degree when:
With the intent to cause physical injury to another person, he causes such injury to such person or to a third person by means of a deadly weapon or a dangerous instrument.
The defendant was arraigned in Elmsford Village Court before Judge Alphonse Naclerio on December 2, 2022. The attorney for the Westchester County Special Prosecutions Division asked for bail – "$20K cash, $40K bond, $50K partially secured bond at 10% - but the defendant was instead released on his own recognizance." The court issued orders of protection for the victim and her family. The relationship between Barerra and the victim is unknown.
Barerra is suspended from the Scarsdale Police Department, however no specifics were provided about when his suspension began. According to a press release from the Scarsdale Police dated December 16, 2022, "On December 2, 2022, an off-duty Scarsdale Police Officer was arrested and charged with Assault 2nd Degree by the Village of Elmsford Police Department. The officer remains suspended pending the outcome of the criminal case. Inquiries relative to the arrest are to be directed to the Elmsford Police Department."
We asked Scarsdale Village Manager Rob Cole for the Village's policy on advising the public in a case involving a Village employee and he said, "Because of the privileged and confidential natures of active personnel matters and ongoing criminal investigations, public communication strategies are informed by the advice of counsel and the status of the matter being processed."
We also asked Cole if the Village Police Commissioner, Trustee Jonathan Lewis, was advised about the suspension, and this is Cole's response: "As Trustee Lewis explained, the chief reports directly to the village manager from a management and operational perspective, while the role of the chair of the public safety pillar, and police commissioner, is focused on strategic planning issues. As such, a report would not have been provided to him individually in his role as Police Commissioner. More generally, however, and in consultation with our labor counsel, the entire Village Board is provided privileged and confidential information about personnel matters when circumstances warrant."
Barrera is represented by attorney John D. Pappalardo who said, "Officer Barrera denies the allegations against him and we are confident that the criminal charges will be dismissed."
Barrera was inducted into the Scarsdale Police force in October 2020, and previously worked for Mt. Vernon Police for two years.
The Quaker Ridge Turkey Bowl: Still Playing After All These Years
Details

Written by

Joanne Wallenstein

Hits: 922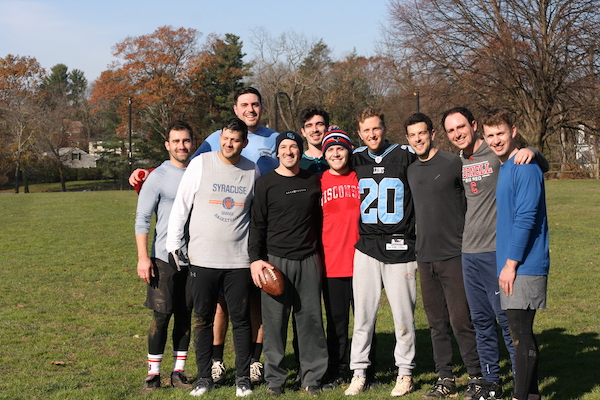 Group Shot 2022: From left to right Josh Shandel, Ethan Zomback, Ray Grazie(back row), Robbie Birns, Max Warshaw(back row), Harry Roth, Ben Spiegelman, Ross Goldberg, Bryan Gertzog, Matt Jacobs (missing in photo David Spiro (had naming service for baby girl!) , Jeff Hassan, Matty Wolf) (Submitted by Neil Goldberg)
I used to bring my football to the kids Sunday soccer practices when they were in second grade, hoping to meet a few of the dads. It worked well and I went from playing catch to playing short games with the all the other Quaker Ridge dads.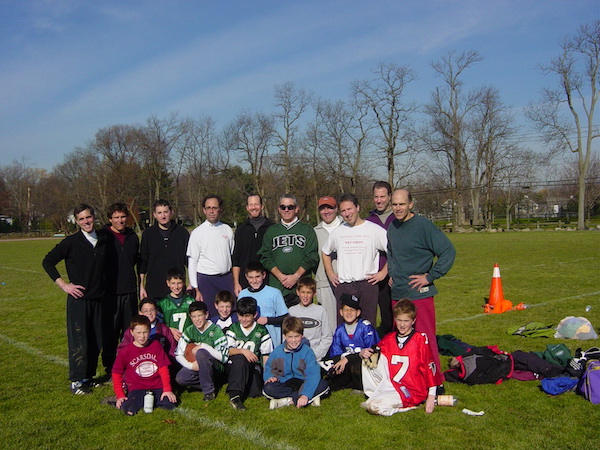 Thanksgiving 2003 -Dads from left to right: Neil Goldberg, David Spiegelman, Gary Gertzog, Ken Grazie, Larry Zomback, Rick Spiro, Doug Birns, Rick Wolf, Andy Parets, Charlie Hassan, Kids from left to right: Jeff Hassan, Robbie Birns, Bryan Gertzog, Ross Goldberg, Matt Jacobs, David Spiro, Ray Grazie, , Harry Roth, Mike Parets and Ben Spiegelman
That year, we decided to play a real game on Thanksgiving Day and hired the coach for the kids after school program to supervise them so we could play while they had their own game. By the next Thanksgiving the kids were making their own teams and talking up the game for weeks before Thanksgiving. For the dads, it became a day to which we all looked forward.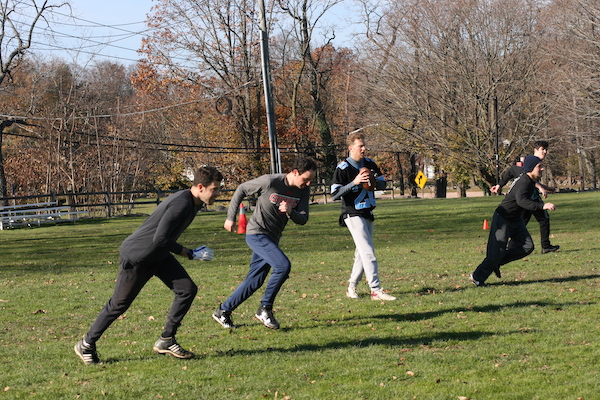 Ben Spiegelman, a former Quarterback for the SHS Raider,s read to pass the ball
Now 22 years later, we are still playing a dads' game side-by-side to a kids game and in all these years we only missed one game due to snow and one game during the pandemic. Our boys are now 30!

Some are married, one just had a daughter and they are all well into their careers, but we've been playing this game since we can remember and have no plans to stop.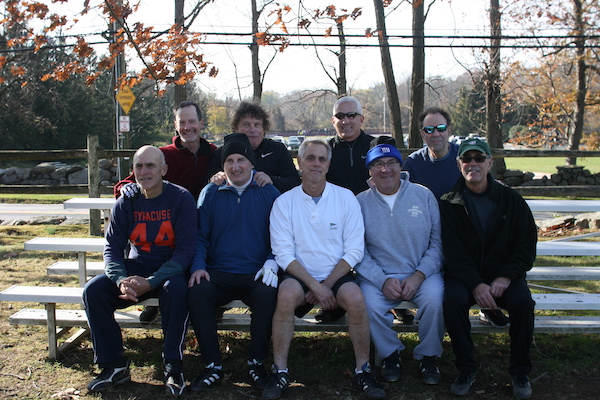 The Dads at Thanksgiving 2021
Remembering Ruth Stein
Details

Written by

Joanne Wallenstein

Hits: 615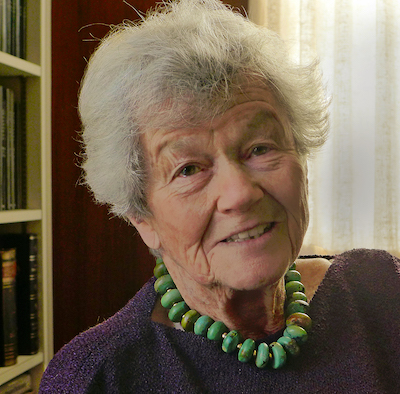 STEIN--Ruth (Petschek), 97. Born April 30, 1925, Berlin, Germany - died November 15, 2022, London, England, where she moved after 65 years in Scarsdale, NY. Predeceased by her husband of 46 years, Walter Stein. Educated in the sciences (physics: A.B. '44; A.M. '46 Radcliffe College), she took a keen interest in the Decorative Arts & Crafts, most notably silversmithing and book-binding. Following the 1966 flood in Florence, Italy, she joined in the National Library's book restoration effort. While at home, she was a mainstay of the Scarsdale Women's Club 'Operation Bookshelf' initiative, dedicated to salvaging, repairing and redistributing books around the world. Proficient in several languages, she maintained an inquiring mind and was known for her frank and engaging manner. She will be lovingly remembered by her five children, fifteen grandchildren, and her many relatives and friends.
Family Fun Day on November 25
Details

Written by

Joanne Wallenstein

Hits: 395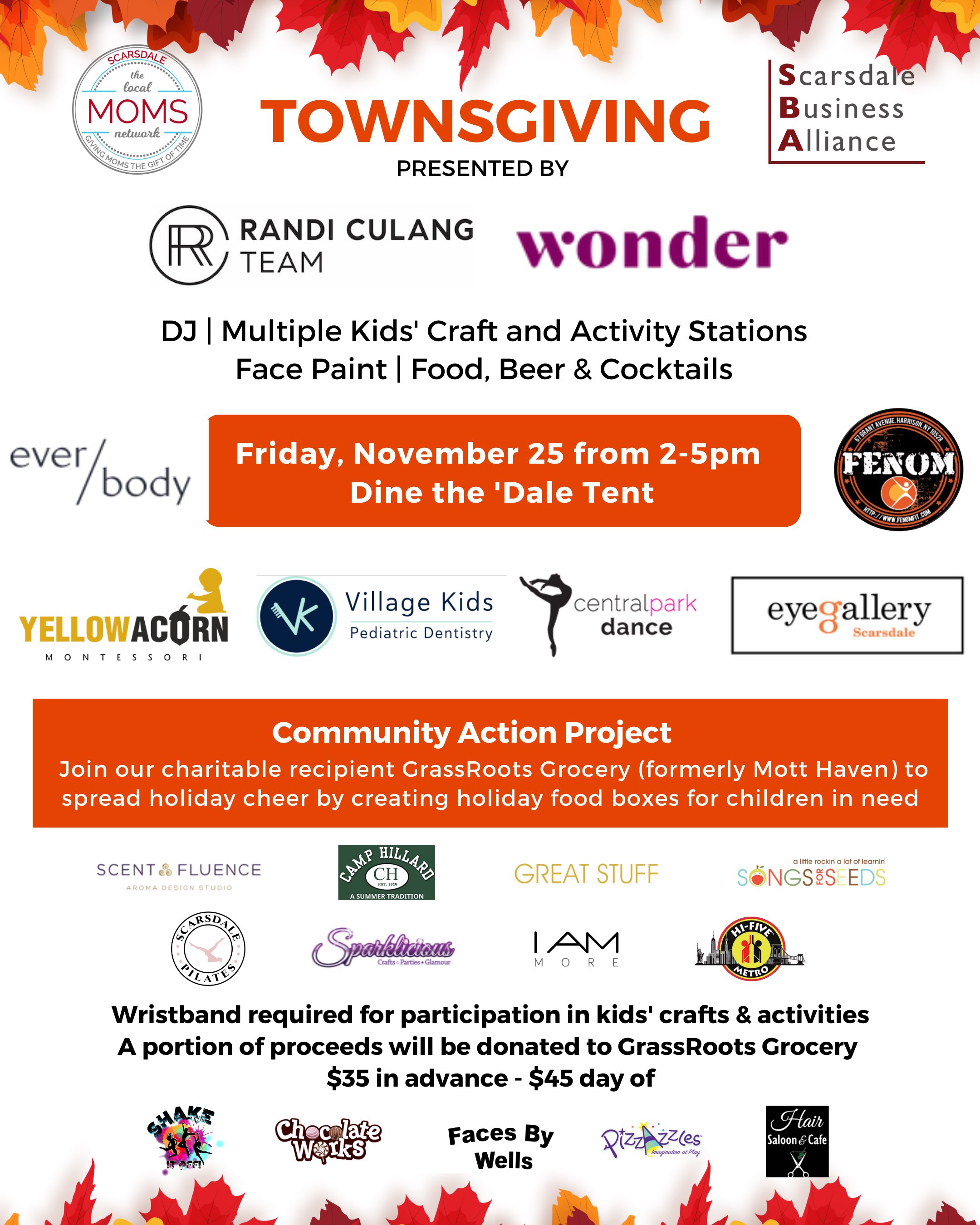 The Scarsdale Business Alliance in Partnership with Scarsdale Moms Announces its Second Family Fun Event, Townsgiving, and its Line-Up of Activities & Sponsors.
On Friday, November 25th, 2022, the Scarsdale Business Alliance (SBA) in partnership with Scarsdale Moms, will host its second family fun event, Townsgiving, presented by The Randi Culang Team and Wonder. The event will take place in the Dine the 'Dale Tent in Scarsdale Village from 2-5pm. Join us for a festive afternoon full of music, family fun activities, food and drinks.
While this is a free community event, wristbands will be required for participation in kids' crafts and activities ($35 in advance - $45 day of). Wristbands are available for purchase here. Wristband activities include multiple arts & crafts stations, chocolate turkey decorating, glitter tattoos, face paint, hair braiding and extensions, photo booth and frame decorating and more! Kids can also enjoy Dancing and DJ by Pizzazzles, and fire truck tours and fire safety tips by Scarsdale firefighters (no wristband required).
In addition to attending Townsgiving in the Dine the 'Dale Tent, don't forget to Shop the 'Dale and take advantage of Black Friday promotions and deals at merchants in the Village center and Scarsdale's other retail hubs.
Townsgiving will be donating a portion of proceeds to GrassRoots Grocery, formerly known as Mott Haven. This donation will help fund their mission to expand dignified access to healthy food to reach all neighbors in need. Join GrassRoots Grocery's community action project to spread holiday cheer by creating holiday food boxes for children in need.
All food and beverages are pay-as-you-go. Pizzarellis will be selling Pizza by the slice, garlic knots and pasta bowls as well as beverages. Guests 21+ can enjoy cider sangria from Popojito, and great brews from Yeomiji. In order to purchase and consume alcohol, you must show ID to prove that you are over 21.
The SBA and Scarsdale Moms are thankful to all of the Townsgiving event sponsors for their generous support. Presenting Sponsors: The Randi Culang Team and Wonder; Supporting Sponsors: ever/body, Central Park Dance, Eye Gallery, Fenom Fitness, Yellow Acorn Montessori, Village Kids Pediatric Dentistry; Junior Sponsors: Camp Hillard, Great Stuff, I Am More Scarsdale, Hi Five Metro, ScentFluence, Songs for Seeds, Sparklicious; In-Kind Activity Sponsors: Chocolate Works, Faces by Wells, Hair Saloon & Cafe, Shake it Off, and Pizzazzles.
FREE PARKING is available in the lower two levels of the Christie Place Garage (64 East Parkway) as well as the Freightway Garage and adjacent outdoor parking lot (72 Freightway).
The SBA is a non-profit organization dedicated to supporting the Village of Scarsdale and its local businesses. For more information about the SBA: www.scarsdalebusinessalliance.com; Instagram @scarsdalebusiness.
The mission of Scarsdale Moms is to create a community around moms in Scarsdale, and to curate helpful resources and references that would be relevant to this community. Scarsdale Moms is an affiliate of The Local Moms Network. For more information about Scarsdale Moms: www.scarsdalemoms.com; Instagram @scarsdalemoms.