Former SMS Principal Michael McDermott Passes Away at Age 72
Monday, 01 May 2023 15:01
Last Updated: Monday, 01 May 2023 15:10
Published: Monday, 01 May 2023 15:01
Joanne Wallenstein
Hits: 1712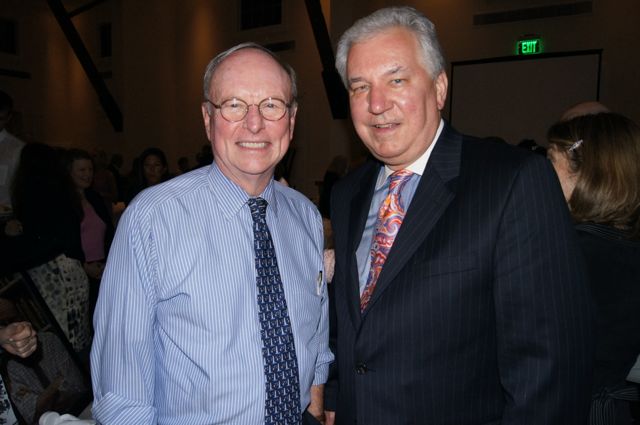 Michael McGill with Michael McDermott in 2016Longtime principal of Scarsdale Middle School Michael T. McDermott passed away on April 28, 2023 at the age of 72. McDermott worked in the Scarsdale Schools for 29 years, spending 23 years as the Principal of Scarsdale Middle School. He retired in June 2016.
His obituary on Legacy.com says the following:
It is with great sorrow that we announce the passing of Michael T. McDermott, following a long illness. He was a beloved husband, son, brother, uncle, colleague, and friend. His loving wife, sister, and sister-in-law at his side.
Michael was born on September 28, 1950 to Elizabeth Culhane and Francis "Bill" McDermott in Williamsport, PA and was resident of Valley Cottage, Rockland County, NY at the time of his death. Upon the relocation of his family from Williamsport to Trumbull, CT, Mike graduated from the St. Ambrose School (K-9) in Bridgeport, CT and was a 1968 graduate of Trumbull High School.
Michael was Jesuit educated, graduating in 1972 from Georgetown University, earning B.A. degrees in English and Theology. He also completed graduate studies in South Asian Languages and Civilization at the University of Chicago until program funding was terminated. He then matriculated at Fairfield University and in 1979, earned an M.A. degree in counseling. In 1988, he earned a certificate in educational administration from Pace University.
He began his career as an educator at Notre Dame High School, West Haven, CT, where he taught Religious Studies, American Studies, and Psychology. He was later appointed Assistant Principal for Personnel at Notre Dame, which commenced his career in educational administration. In 1984, he accepted a position at Bishop Grimes High School, East Syracuse, NY, where he was appointed the first lay Principal of the school. It was there that he met Nadine, his devoted and loving wife, they were married on July 25, 1987. He then moved on and was appointed Principal of the St. Paul Catholic High School, Bristol, CT, where he established Academic Review and Discipline Review Boards. He served as Chairman of the Religious Studies Department there and was also a member of the Academic Review Board, a body that formulated policy for academic departments.
He retired in 2017 after a rewarding 29-year career with the Scarsdale Union Free School District, Scarsdale, NY, a place he loved and respected. In 1988, he was appointed Assistant Principal of Scarsdale High School, where he developed the Scarsdale Teacher Institute program for peer coaching, as well as the team-teaching approach to 9th, 10th and 11th grade skills program. After 6 years as the AP at Scarsdale High, Michael was appointed Scarsdale Middle School Principal in 1994, a position he held for the remaining 23 years of a successful administrative career. Michael was also very involved in policy making with the New York State Education Department, as well as the local and state administrators' unions.
Mike was a man of many talents and excelled in everything he set out to do. He was a self-taught and passionate chef, showing great skill in the kitchen, who was known for producing some amazing Italian meals, his favorite! He took great pride and enjoyment in cooking meals and hosting parties for his many friends and relatives. He also loved pop culture, reading and gardening, and was an avid golfer, as well as a wine connoisseur. Together with Nadine, they spent the last several winters at their Greenacres, FL, residence, and travelled over the years to several beautiful European and Caribbean countries, as well as several great American cities.
Mike is survived by his wife, Nadine C. Albanese-McDermott of Gloversville, NY with whom he spent 36 wonderful years of marriage. They were a loving, loyal and devoted couple - it was simply a match made in heaven. He is also survived by his older sister, Alice Chrystal of Weatogue, CT; and his younger brother, Patrick (Darlene) McDermott of Minnesota; a cousin, Mary Borthwick of New Hope, PA; brothers-in-law, Atty Michael M. Albanese(Kimberly) and William P. Albanese; sister-in-law, Nanette J. Albanese; nieces, Gabriella P. Morrey, Courtney and Kelsey McDermott; nephews Jordan Albanese (Alison) and Luke Albanese, as well as one grandniece, Kylie McDermott. He is preceded in death by his parents Elizabeth and Bill McDermott, as well as his nephew, Justin M. Albanese, several aunts, uncles, cousins, and friends.
In memory and honor of Michael, and in lieu of flowers, donations can be made to the Leukemia & Lymphoma Society, PO Box 22324, New York, NY 10087.