Class of 2024 Chalks It Up
Wednesday, 06 September 2023 20:21
Last Updated: Thursday, 14 September 2023 08:46
Published: Wednesday, 06 September 2023 20:21
Joanne Wallenstein
Hits: 846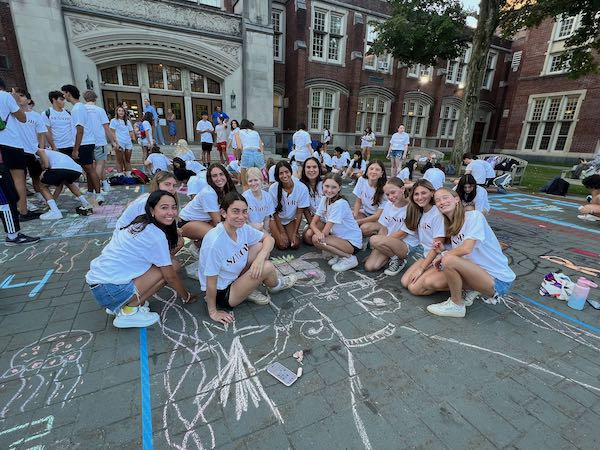 Who would guess that hundreds of 17 year-olds would wake up before 7 am to chalk the entrance of Scarsdale High School?
There wasn't a sleepyhead among the crowd of the SHS Class of 2024 who turned out for the annual chalking rite at the Brewster Road entrance on Wednesday morning September 6, 2023.
Wearing bright white T-Shirts that said, SENIORs 24, groups of students selected sidewalk squares and got to work on their chalk designs, most celebrating their arrival at their senior year.
Colorful designs and lettering reflected on their progress from kindergarten to senior year, with phrases like Season Finale, Best for Last and Time Flies along with beautiful illustrations of a Pac Man screen, and much to do about 2024. One couple got creative and figured out that wetting the chalking made for a vibrant display. A group of math students took a different road and used their area to write the solution to a mathematical equation! Impressive! In addition, they decorated the long curb leading from the Brewster Road circle with Einstein's Field Equation. We predict great things for these mathematical artists!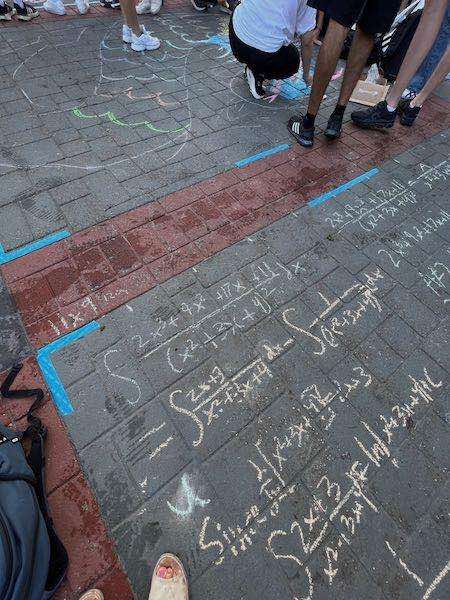 Also noted was the fact that seniors are sporting backpacks fit for kindergartners. The current fashion is for seniors to use backpacks picturing Peppa Pig, Oscar the Grouch, Mickey Mouse and all the favorites of their younger years. Check out this display.
Kids were in great spirits and it was wonderful to have a normal start to the school year after the debacle of COVID. Wishing these kids a fun-filled senior year.