A Likely Story With Some Unlikely Twists
Wednesday, 18 October 2023 22:06
Last Updated: Thursday, 19 October 2023 07:43
Published: Wednesday, 18 October 2023 22:06
Joanne Wallenstein
Hits: 594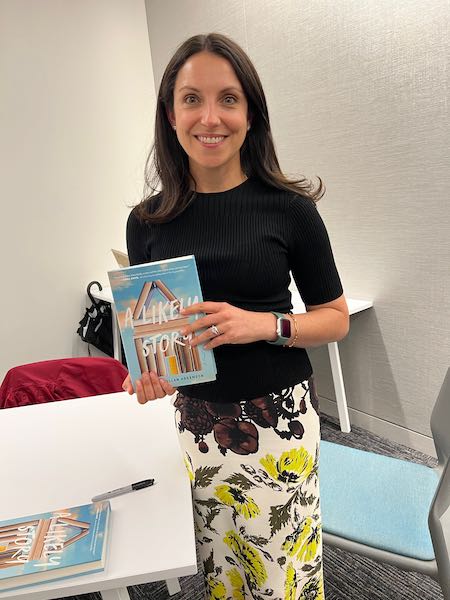 Author Leigh McMullen Abramson with her novel, A Likely Story.Since author Leigh McMullen Abramson could not reveal the plot of her literary thriller, A Likely Story, at a session at the Scarsdale Library on 9-28, those of us who could not get their hands on the book beforehand had a bit of trouble following the conversation. The book – and the attractive author --both seemed intriguing – but, I wasn't sure of its genre, or whether or not it was for me. Was it a publishing thriller along the lines of The Plot by Jean Hanff Korelitz or family saga about some wealthy Upper East Siders? Chick lit or something more profound? When I did get my hands on the book a few weeks later from the "New" shelf at Scarsdale Library, Abramson's detailed prose and twisting plot had me at Chapter One.
A Likely Story is a tale of a privileged young women with a prominent father, centered in the world of publishing, in which I happened to grow up as well.
At the meeting at the library the author revealed that she had been a serious ballet dancer up to the age of 15, and after college attended law school and worked as an attorney. Ultimately she decided to leave the legal world for the literary world to pursue her love of writing. Svelte, pretty and young, she didn't appear old enough to have already had multiple careers,
Abramson explained that she did not get an offer to publish her first book – which mirrors the experience of the main character, Isabelle Manning, in this book. Undaunted, Abramson set out to write her second novel, A Likely Story, which was recently published to much critical acclaim.
Like her main character Isabelle Manning, Abramson is an only child and used that experience in creating her protagonist. But Abramson denied that much more of this book was autobiographical. In fact she says, "My parents are artistic but not like the characters in the book. They are happy I wrote a book and became a writer."
In her words the story centers on "how ambitions are affected by family roles. … There is a loving mother daughter relationship that is the emotional center of the story… There is love and a bond there, though there is dysfunction too."
A Likely Story is about an aspiring writer who is saddled with a father who is a famous author and an egomaniac. According to Abramson, the father, Ward Manning, is "a difficult person to like," and is "lonely, lost and pathetic." Without giving away too much, the story centers on how Ward manages to undermine Isabelle's writing career and her life as well.
Along the way we meet some New York types: There's Isabelle's on and off again boyfriend, a Midwestern farm boy who works in the US Attorney's office and is likely drawn from Abramsons own experience. There's her indulgent godmother, a narcistic author and classmate from Brown, a self-serving and deceptive literary agent and Isabelle's mother, who is good as gold.
The action moves uptown, downtown, out to Sag Harbor and to the island of Jamaica, all locales with which many local readers are familiar.
The plot features a book within a book and moves back and forth in time. The story is compelling, and you'll have a hard time putting the book down once you get into it.
Abramson said it took her two and half years to write the book, which ends in 2018, just before COVID. Is she considering a sequel? No way. She says, "I feel like I want to leave these characters as they are. I don't want to be quarantined with them."
Order your copy of A Likely Story by Leigh McMullan Abramson or listen to the audiobook.