To Give or Not To Give ...A Holiday Question
Tuesday, 14 December 2010 13:06
Last Updated: Wednesday, 15 December 2010 08:33
Published: Tuesday, 14 December 2010 13:06
Hits: 3174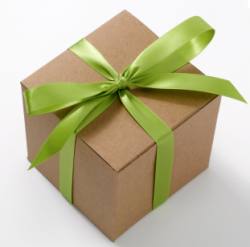 Dear Ms. ePost: Hanukah has always been a fun and joyous holiday for our family. We light the Menorah, sing songs, eat potato latkes and exchange gifts. When my sister's children went off to college and could not be home to celebrate Hanukkah, my husband and I always gave gifts to all four of our nieces and nephews, whether or not they were able to attend the family Hanukkah celebration. Now that two of my three children are in college and must miss Hanukah at home, my sister and her family only give a gift to our youngest child who is still in high school and living at home.
While my children do not need gifts from my sister and her family, it seems odd that she would not give all of them a 'little something' for the holiday, especially when I have always given all of her children gifts – happily, I might add – and when it has been such a strong Hanukkah tradition for our family.
What is proper gift giving etiquette in this situation?
From,
The Sister of Out of Sight, Out of Mind
Dear Sister of Out of Sight, Out of Mind: Be your own person and do what is right for you, i.e. continue to give all of your sister's children Hanukkah gifts. And wouldn't it be a better world if everyone took the high road? Besides, you seem to derive great joy from giving gifts to your nieces and nephews.
However, I do understand your frustration, but did you ever consider that it could be a financial issue for your sister? Short of that, it is a bit odd. But as they say, "The joy is in the giving."
Happy holidays to all!
Sincerely,
Ms. ePost