Local Runners Go the Distance in the NYC Marathon
Wednesday, 05 November 2014 16:00
Last Updated: Thursday, 06 November 2014 10:54
Published: Wednesday, 05 November 2014 16:00
Joanne Wallenstein
Hits: 5881
We don't know how many locals ran the NYC marathon, but were able to contact a few exhilarated runners to tell us their stories of running on a very cold and windy day. Here is what they shared:
Scarsdale's Andrea Seiden ran the marathon and raised $5,500 for the Achilles Track Club a group that provides people with disabilities support to train and participate in athletic events like the NYC Marathon. The group paired volunteers with those with disabilities to run the NYC marathon together.
About the race, she said, "The race was thrilling. After crossing over the Verrazano Bridge, we were greeted in Brooklyn by thousands of cheering fans offering water, tissue, cookies, and words of encouragement. In every borough there were scores of bands (everything from gospel to reggae to punk) and groups of dancers and cheerleaders. And the 50,000 runners were inspiring, too. They came from every corner of the planet and ran for every imaginable cause. At times it was chilling. While I was a bit dazed, the palpable energy from the crowd, helped to push me over the finish line – still wearing my good luck totem. Hearing someone yell, "Go Achilles!" was what I needed to take those last painful steps. I was proud of myself for completing the race, but even more proud of what we accomplished together."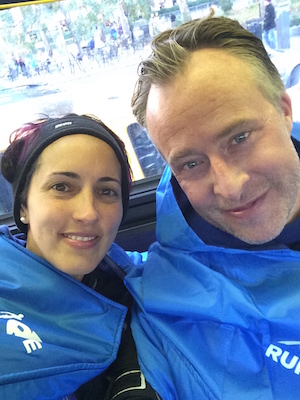 Gabrielle and Shawn Lese of Edgemont also had an "awesome" experience. Gabrielle had planned to run the race in 2012 and raised money for the American Cancer Society. Hurricane Sandy caused that marathon to be cancelled so this race fulfilled her obligation to all of her donors. This is her third marathon – she travelled to London and Paris with her husband to complete races there. Speaking about the race she said, "It was everything I dreamed about. We had a magnificent run over the Verrazano Bridge and I could feel the wind sway my feet with each step. Brooklyn was phenomenal – I was surprised at how much heart the crowds have. I ran with my husband and we completed the race with exactly the same time."
Gabrielle report that she came to running late – and only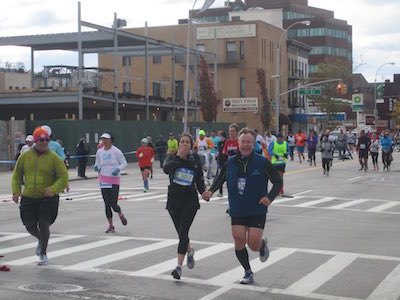 began at the age of 41. A former ballet dancer she only recently got hooked on running and trains with friends on the path next to the Bronx River Parkway, usually about four times a week.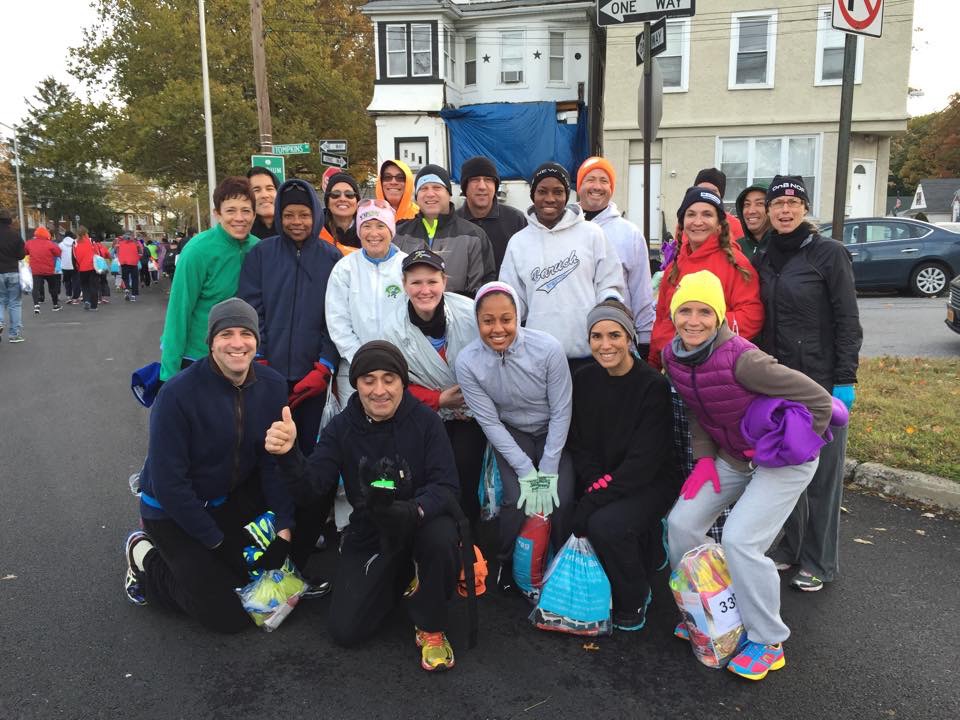 Tracie Sundack ran with 33 other members from the Newro Runners. She said, "It is always a pleasure to run The NYC Marathon because of the awesome crowd support and because the city is so diverse. Unfortunately, the weather was terrible. It was cold and extremely windy. We brought a lot of extra "throw away" clothes to wear for the 3 hours we waited in Staten Island until we started. I also ran with a number of layers that I gradually stripped off while running. My hair was in braids when I started running but the wind on the Verrazano Bridge caused my braids to come undone. I was hot when running in certain sunny spots, but that changed when heavy winds returned. By the end of the race I was so hot that I had stripped down to a tank, shorts and gloves. Unfortunately there was a long wait after the race to retrieve my warm clothes that were at baggage check. I was experiencing symptoms of hypothermia after the race and ended up receiving medical care in the heated medical tent.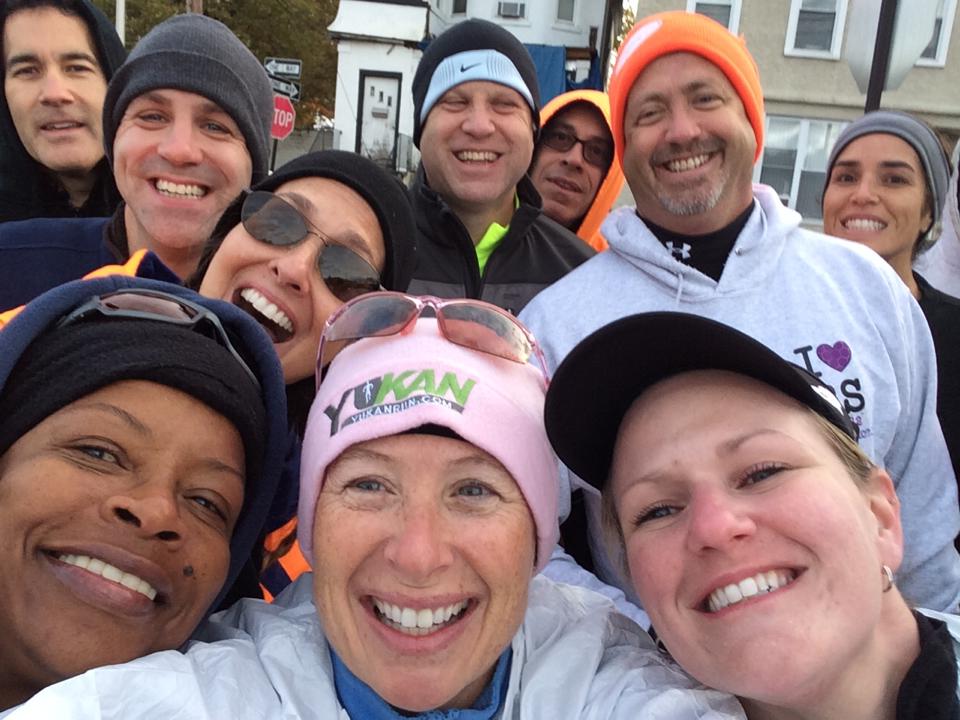 Nina Steinberg also ran her 20th NYC marathon with the Newro Runners. She said, "it was all about the celebration of my friend Steven Stein's 50th birthday. Steven is the founder (along with David Brot) and CEO of a local running group known as the NewRo Runners that serves all of Westchester County and we have over 200 members. Our slogan is "Changing the shape of the community - one mile at a time." You can visit our website at www.newrorunners.org. The club is involved in a variety of charitable events and races including The North Avenue Mile, Mamaroneck Turkey Trot, and the Paine to Pain Half marathon trail race. However, the real story is the friendships and camaraderie that have developed between our group. We had 34 runners participate in the 2014 NYC marathon. I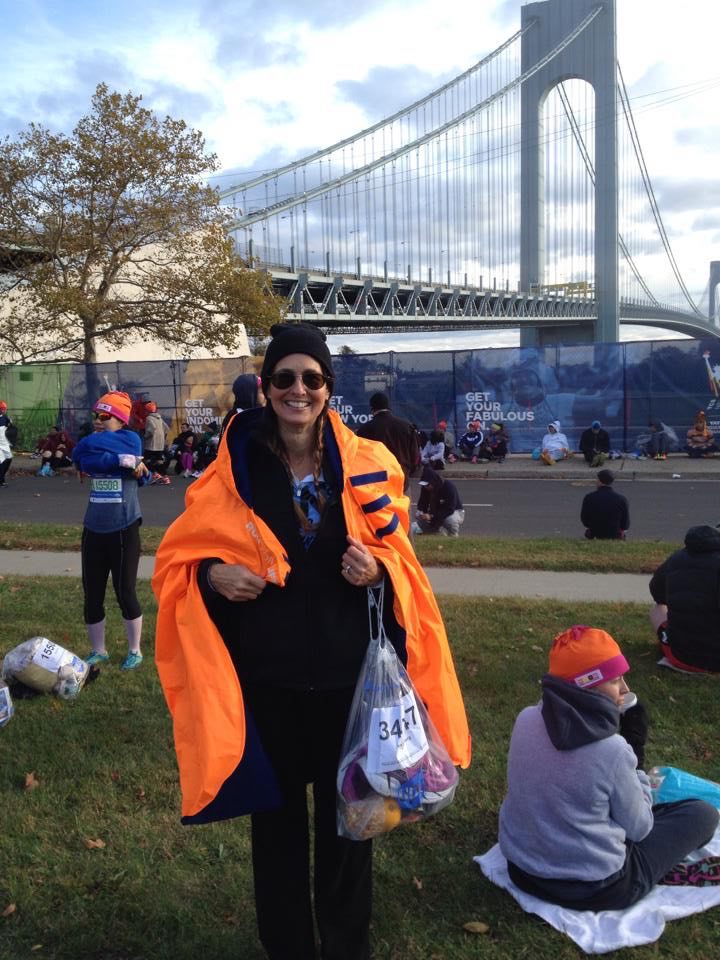 am 55 years old and have run many marathons with a personal best of 3:52. Mark Medin, another NewRo runner and veteran marathoner, and I stayed with Steven the entire way and it was one big birthday party. We were joined by several other runners a long the way and crossed the finish line together."
Congrats to all the runners! Did you participate? Send your photo and story to scarsdalecomments@gmail.com to share with our readers.