Scarsdale Woman Presents Painting to Indian Prime Minister
Monday, 16 March 2015 13:00
Last Updated: Monday, 16 March 2015 13:04
Published: Monday, 16 March 2015 13:00
Joanne Wallenstein
Hits: 5514
Scarsdale resident and Belgian-raised Indian artist, Shreya Mehta was recently invited to the Indian Parliament house in Delhi, India to present her painting, The Sweeper, to the Honorable Prime Minister of India, Narendra Modi. It all began when Shreya wrote a letter to Narendra Modi's office highlighting why she would like to present the painting to him. She immediately received a call from his office and soon after travelled to Delhi with her husband Amish to meet Mr. Modi. The meeting was inspirational not just for Shreya but Mr. Modi also got inspired by her and the artwork and wrote a poem for her in return.
Commenting on this achievement, Shreya Mehta said, "'Big changes come with small steps' - this is what Mr. Narendra Modi said at Madison Square Garden and the thought really inspired me. With the launch of the Swachh Bharat Mission (which is a clean India project) I believe Modi is the visible embodiment of my artwork The Sweeper. His personal and professional achievements are a perfect representation of leadership and this beautiful vision. I am honored to gift him my artwork."
100% of the net proceeds from the sale of Mehta's artworks go to charity. Shreya believes there is a direct connection between art, human emotions, and helping people. She teams up with charitable organizations that have proven track records and those that resonate with her. One of her earliest artworks, "The Blessed One", was a painting of a pregnant woman basking in the sun. A childless patron bought the piece and the money raised went to support Trisha, a 5-year-old girl in the Shri Ratnachanraji Jain Kanyashala Trust in Mumbai. The trust empowers women by providing free education, midday meals and skill training to underprivileged women from 5 years till postgraduate. All of Trisha's basic needs are met, allowing her to focus on her dream of becoming a doctor.
Shreya currently lives in Scarsdale and recently held a solo art exhibition at the Indian Consulate of New York where she represented Gujarat for their State-by-State Initiative. To see her work and learn more about the charities she helps, visit her website here: www.shreyamehta.com
Here is a translation of the poem by Mr. Modi: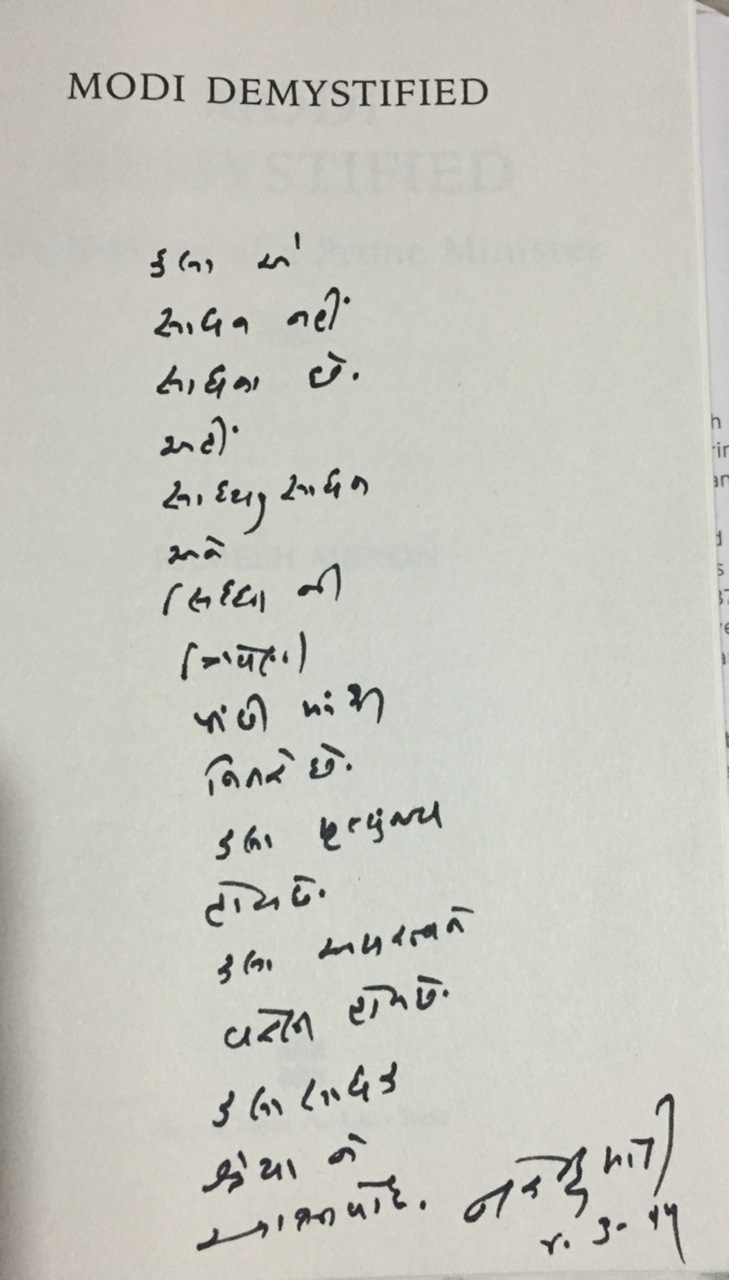 Blessings to Artist Shreya -from an Art Devotee....

Art is Worship and not just a ritual.
Here, there is a trilogy of mediums, devotion and achievement flowing from the brush.
Art conquers destruction.
Art is blessed with Immortality.

N. MODI 4.03.15