Beloved Teacher Eric Rothschild Remembered at the White Plains Woman's Club
Tuesday, 27 November 2018 16:24
Last Updated: Tuesday, 27 November 2018 19:27
Published: Tuesday, 27 November 2018 16:24
Joanne Wallenstein
Hits: 3816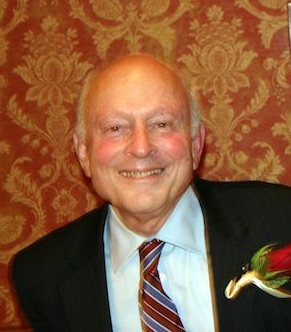 "He expanded the envelope of opportunity for every student, he championed all of us, he was that special teacher who could light you up, he changed my life…."
Those were just of the few of the words of praise spoken for beloved teacher and community member Eric Rothschild at a memorial service at the Woman's Club of White Plains on Monday November 26, 2018. Hundreds of former students, colleagues, school administrators, friends, admirers and devotees braved the elements to attend the service for Rothschild who passed away at the age of 81 on October 30, 2018.

Not many 81 year-olds could draw an audience of this size, but Rothschild was more than a teacher -- he was a mentor, a lifelong friend and a guru to everyone who was blessed to be in his circle.

Family friend Peter Weintraub credited Rothschild with inspiring him to become a teacher. He said, "Every time a student comes to thank me, I say "don't thank me," thank Eric Rothschild." He said that Eric remembered every student he ever taught, including their siblings, their children's names and where they live now." Another devotee said, "In the days before Facebook, Eric was a one man social network."
Weintraub read " A Giant Pine," a poem by Georgie Harkness:
A giant pine, magnificent and old,
Stood staunch against the sky and all around
Shed beauty, grace and power. Within its fold
Birds safely reared their young. The velvet ground
Beneath was gentle, and the cooling shade
Gave cheer to passers-by. Its towering arms
A landmark stood, erect and unafraid,
As if to say, "Fear naught from life's alarms."
It fell one day. Where it had dauntless stood
Was loneliness and void now. But those who passed
Paid tribute and said, "To have known this tree in life was good,
It left its mark on me. Its work stands fast."
And so it lives. Such life no bonds can hold–
This giant pine, so magnificent and bold.

Former SHS teacher Neil Ginsberg paid Rothschild the highest compliment, saying, "Our country would not be in this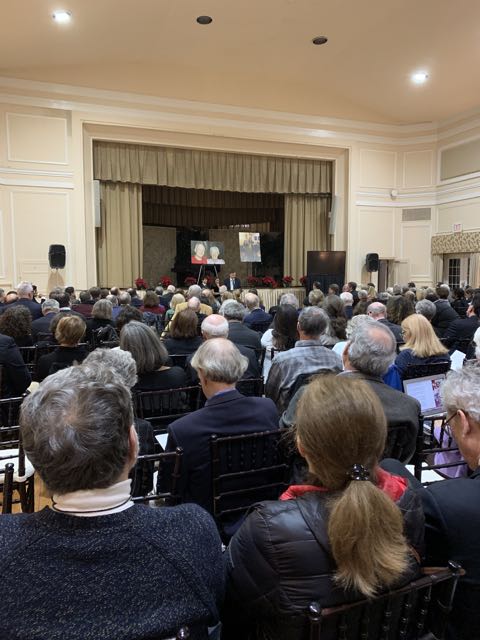 mess if everyone had the privilege of being taught by Eric Rothschild." Both Ginsburg and teacher Maggie Favretti spoke of Rothschild's role as a mentor for their teaching careers at Scarsdale High School. As an aspiring teacher Ginsberg was told to "go see the best social studies teacher in Westchester County" and he was thrilled when Rothschild agreed to be his mentor. Favretti said, "Eric loved everything about teaching because he loved the kids." She said, "He encouraged us to be more, to go to school, to do research … and he observed my European history class because he wanted to learn more." Ginsberg continued, "He challenged students to be curious. His passion for learning was contagious. He was in a class of his own."
Rashid Silvera, another legendary teacher in the Social Studies department at SHS also credited Rothschild for bringing him to Scarsdale when he was employed at a neighboring district. He said, "Eric invited me to be a part of his dream team." Silvera reviewed some of the pivotal civil rights events that occurred during Eric's student years at Scarsdale High School and Harvard College and said he "paid attention" and "they got into system." He called Eric the father of STEP (Scarsdale Student Transfer Education Program) which he founded in 1966 to "let people from somewhere else come here so that we could feel them and they could go back and bring with them what we thought was good and glorious and true."
Silvera remembered that when his own grandmother passed away, Eric sent his son Adam to Roxbury to attend the funeral "and give me love."
Vic Leviatin, a friend for 56 years said Eric introduced him to tennis and to author Michael Harrington who at the time had just written "The Other America." He remembered summers at Camp Andrewscoggin where Rothschild was head counselor, and credited him with helping Vic to design the W.I.S.E. Program, a precursor to the Senior Options program at SHS that became a model for similar programs all over the country.
Family friend and former student Anne Rubin was so impacted by knowing Eric and taking his AP US History course that she decided to become a professor of history. She said he was "brimming with enthusiasm," and with "sheaf's of notes and overhead transparencies he brought history to life." Rothschild taught "the power of music and humor – and that history did not have to be dry." She said, "My shelves are lined with books that he gave me…. Eric had this relationship; intellectual mentor, friend, and father with so many former students. He went to dozens of graduations and weddings. He tickled our babies." She added, "He had the kindest biggest heart that I have even known. He gave of himself unselfishly. He will live on in my heart and in all of our hearts."
Peter Rothschild, Eric's brother quoted Martin Luther King, saying, "I can never be what I ought to be until you are what you ought to be, and you can never be what you ought to be until I am what I ought to be." Discussing his brother, he said "Eric's passion gave his life meaning and vitality. Eric and teaching cannot be separated.
Teaching was everything … the joy of elevating interests and prospects of students was everything. He was that special teacher who could light you up. …I am so very proud of him."
Addressing Eric's many fans, eldest son Alan Rothschild said, "He took more pride in your success than his own." Looking back on his life as Eric's son, Alan remembered "seeing the man walk on the moon, summers at camp, hundreds of books, STEP picnics and visiting a family in Mississippi, family car trips to visit historical sites, his dad grading papers with a red felt pen and the ding of his typewriter."
He said that his father had the first of several heart attacks when he was only 46, so when he got the diagnosis of Parkinson's 13 years ago, he said, "Don't worry, my heart will get me before Parkinson's does!" Alan said his father met many challenges in the past 13 years, and the cognitive challenges of Parkinson's scared him the most.
As he grew sicker Eric watched the NY Giants and said with increasing frequency, "The coaches are not listening to me. Take me down to the field so that I can talk to them."
Adam Rothschild said, "Growing up as the son of Eric Rothschild was like having a very large family – I shared my Dad with all of you. It was great but there were some boundary issues. You hung out at our house… You cooked with us… You did research in our attic… You went to camp."
He said the family had received many condolence letters since Eric passed away and called them "stunning and consistent." He read one from a former student who is now a professor at the Air Force Academy who said, "Please know the impact he had on me." He said he tells his own students, "I had a teacher who knocked it out of the park with every lesson. He opened our minds and challenged us to open them further."
He ended with these words:
Death leaves a heartache no can heal
Love leaves a memory no one can steal.