SHS Doubles Team Wins State Championship
Wednesday, 05 June 2019 10:52
Last Updated: Wednesday, 05 June 2019 15:12
Published: Wednesday, 05 June 2019 10:52
Joanne Wallenstein
Hits: 3910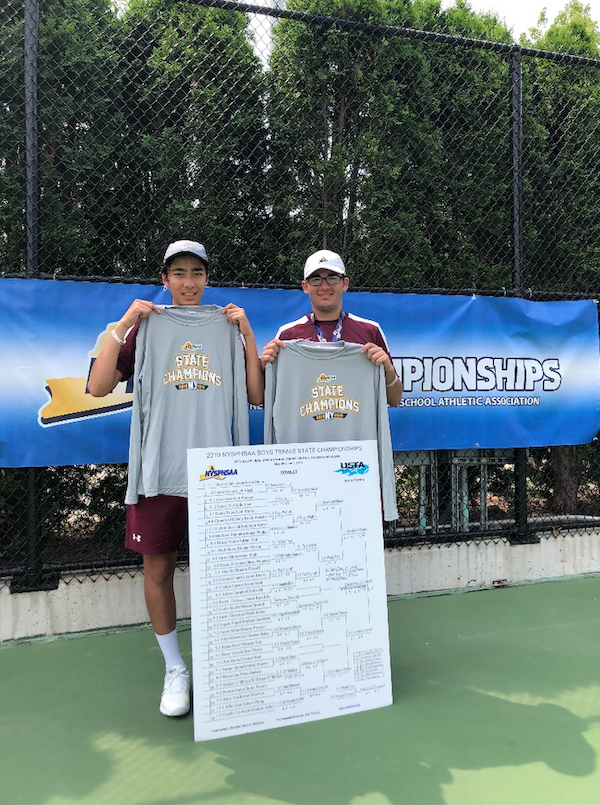 The tennis doubles team of ninth grader Jason Shuler and junior Nikolay Sahakyan made it all the way to Arthur Ashe stadium this year, and won the final match to take the state title. Even more amazing is the fact that the two did not play doubles as a team during the regular season – and only formed a partnership for the playoffs.
We asked the two some questions about playing, winning and studying and here is what they shared:
Q. How old were you when you started playing tennis - who taught you to play?

Nikolay: I started playing tennis in Armenia when I was 5 years old. My coach was one of the top tennis players in Armenia who helped shape my game.
Jason: I started playing when I was around 7 years old by my mom's Japanese coach, Takeshi Baba.
Q. Where do you train in the winter? Do you play tournaments during the year?

Nikolay: In the winter, I play tennis wherever the closest place is that has indoor tennis courts. Throughout the year, I play many tournaments.
Jason: In tennis there is really no offseason or winter break, I continue to play with my coach indoors.
Q. Did you find it hard to join the Varsity team as a freshman? What were the challenges?
Jason: I found it I found it a little hard, as I was one of the youngest on the team, with many seniors.
Q. Did you play in the state tournament last year? Against who ... and how did it go?
Nikolay: Last year I did play in the state tournament with Luke Smith, who is know a freshman in college. We got to the final of states but lost in a close match to the same team from Mamaroneck that Jason and I beat this year in the final.
Q. Tell us about your injury - how did you recover quickly enough to play in the states?
Nikolay: The good thing about my injury was that it wasn't anything major so I was able to recover quickly. I trained a lot every day to get back into tennis shape.
Q. How did you train to play as a doubles team?
Nikolay: When I first started playing doubles with Jason in the postseason, we weren't communicating as well we did towards the end of the season. I think that as time went on, we were able to understand each other's weaknesses and improve on them.
Jason: I knew I had to be good at the net, and set up my partner with good strokes and serves.
Q. What are some of your doubles strategies?
Nikolay: In doubles, Jason and I are both very aggressive at the net so throughout all the matches, we tried to finish points at the net as soon as possible. We both also have good serves which sets us up to finish the points at the net.
Jason: Try to get my opponent on defense, don't give them rhythm, take away their time by taking balls early.
Q. How have you balanced your schoolwork and your tennis schedule?

Nikolay: I try to complete all of my work before I go to tennis so that when I come back, even if I have work to do, it is not as much.
Jason: I could usually do work that is not online during a match on the bus or while I was waiting, and I had plenty of time after practice to do my homework.
Q. Tell us about the season - and the final match.
Jason: - The final was at the Billie Jean King Tennis Center against Connor Aylett and Charlie Levinson from Mamaroneck. We played them in the conference and sectional final, and we won both times, first time 2-6 6-1 10-5, and the second time 6-3 7-6(3)
In the final match the score was 6-3 6-7(7) 6-4. We had 5 match points in the tiebreak, but after we lost that, we recovered and won the third set. They had a point to go to 5-5, but we managed to win that game and the match.
Nikolay: This season has been one of the best seasons that I've experienced. Our team was very strong and we showed that by having a 10-1 season. Jason and I also had a phenomenal postseason, with a record of 13-0. The state finals was one of the toughest matches that I've played. It required a lot of mental focus from the both of us.
Commenting on the victory, SHS Tennis Coach Jennifer Roane said, "It was an exciting tournament. The last time SHS won states for the Boys team was Ben Fife and Austin Kaplan in 2012. I was very proud of what the boys accomplished in a short amount of time. Jason and Nikolay had never played doubles together before the post season. Nikolay had surgery just before the season. He was cleared to play his first regular season match on May 1st. On June 1st he won the doubles State Championship. Both Jason and Nikolay are very talented tennis players. They train every day. As a coach it is rewarding to see student athletes work hard at at sport they love and be rewarded for their efforts."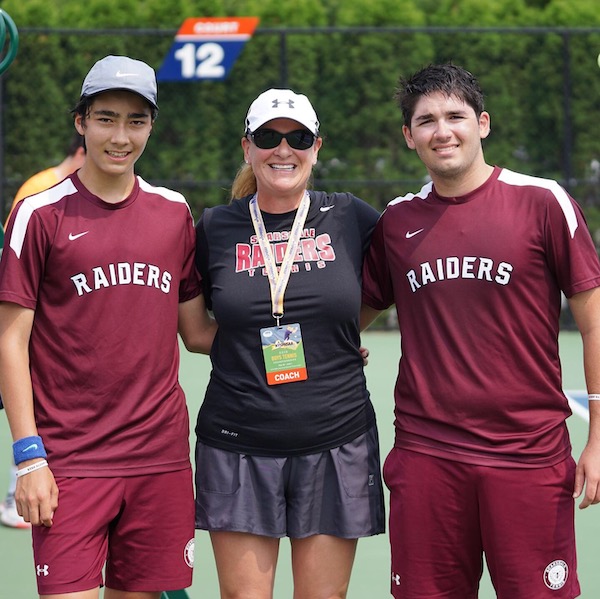 Jason Shuler and Nikolay Sahakyan with SHS Tennis Coach Jennifer Roane