Next Generation Chefs Display Creativity in Iron Chef Competition
Wednesday, 12 June 2019 10:53
Last Updated: Wednesday, 12 June 2019 11:19
Published: Wednesday, 12 June 2019 10:53
Jamie Robelen
Hits: 2505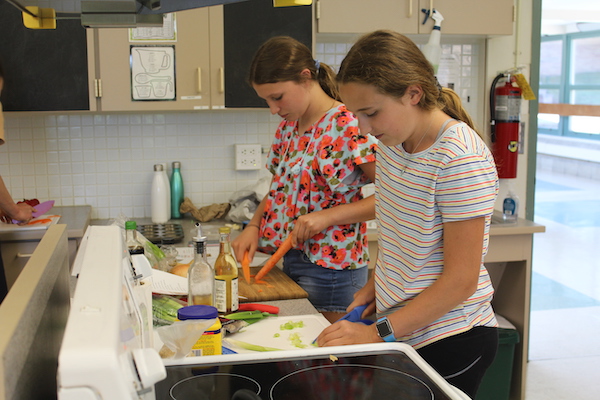 Scarsdale Middle School's next generation of great chefs came together to battle it out at the annual Iron Chef competition on Tuesday, June 11. Six teams participated, mostly working in teams of two but with a few groups of three. The theme ingredient this year was minute instant brown rice, so all of the teams had to incorporate the grain into their dish. Students were given a kitchen space, pots and pans, knives, tools to cook with, oil, and the rice, but had to provide everything else on their own. The students had 45 minutes to cook, 5 minutes for presentation, and then the judges tasted. The judges included S.O. student members, S.O. head Mr. Rambone, and SMS teachers Mrs. Tenzer and Mr. Boniello.
After cooking, each team presented their original dish. For the most part, each plating was beautiful. Team 6 cooked up a tri-color rice, with layers of red, yellow, and green, all dyed naturally with vegetables. They cited Pride Month as being part of their inspiration for the bright hues. Team 5 came into the competition with a different philosophy than the other competitors; instead of bringing in a recipe or practicing at home beforehand, they asked for "donations" from the other teams and ended up making rice with some egg in it. Team 4 prepared fried rice with a pineapple garnish, combining sweet and savory flavors. Team 3 was the only group to incorporate meat into their dish. They served fried rice cups filled with chicken. Team 2 brought in a wooden bowl to present their dish, which was a rice bowl, a very trendy meal right now. They topped the brown rice with many different fresh vegetables.
The winner of the competition was Team 1, consisting of Eleanor Gutstadt, and twin sisters Sarah and Ava Gorelick. The girls prepared arancini, a fried risotto ball with mozzarella cheese inside. They served it with a side of marinara sauce. This wasn't the girls' first cooking endeavor; they won first place in this year's cupcake decorating contest and second place in last year's cupcake contest.
As a prize, the girls were all awarded trophies and an Amazon gift card. All in all, each team showed off that there is some real culinary talent in SMS. The six teams also raised $120 for the Westchester Food Pantry.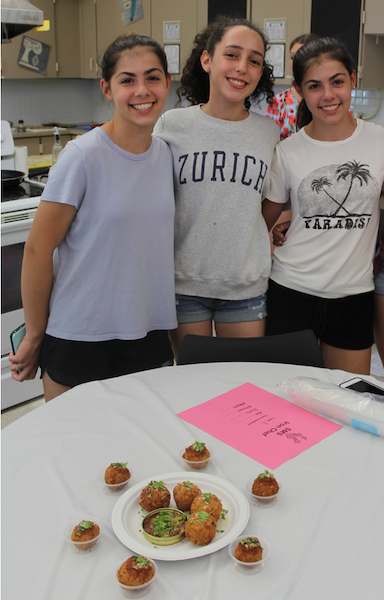 Team 1 poses with their winning dish, arancini.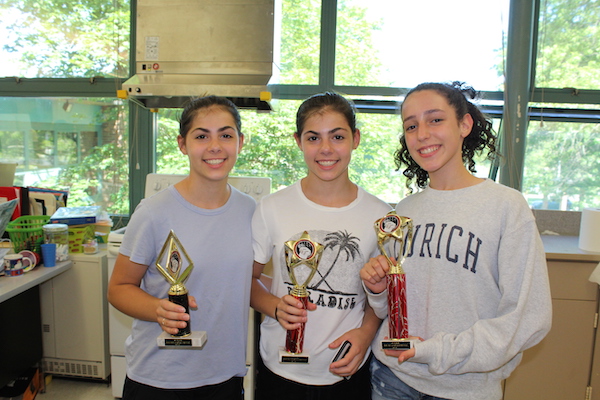 Eleanor, Sarah, and Ava hold their new trophies.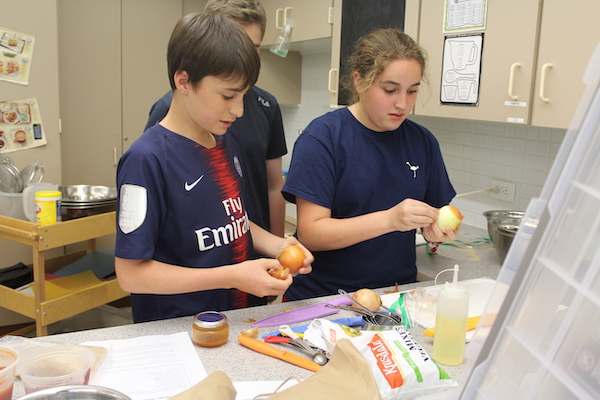 Teams are hard at work during their 45 minutes of cooking time.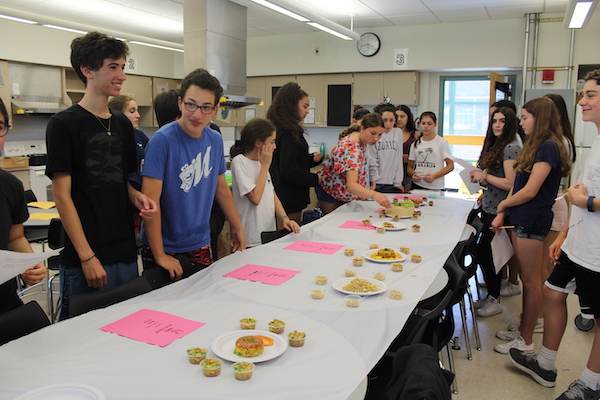 The judges and chefs admire everyone's presentation.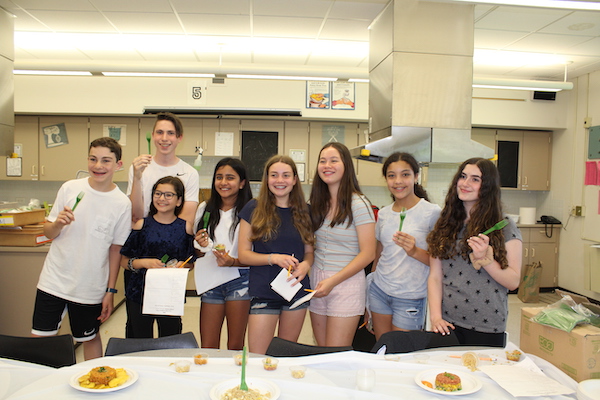 Student S.O. members help judge.