Survey Results: Scarsdale and COVID
Thursday, 21 May 2020 09:45
Last Updated: Thursday, 21 May 2020 09:51
Published: Thursday, 21 May 2020 09:45
Joanne Wallenstein
Hits: 3238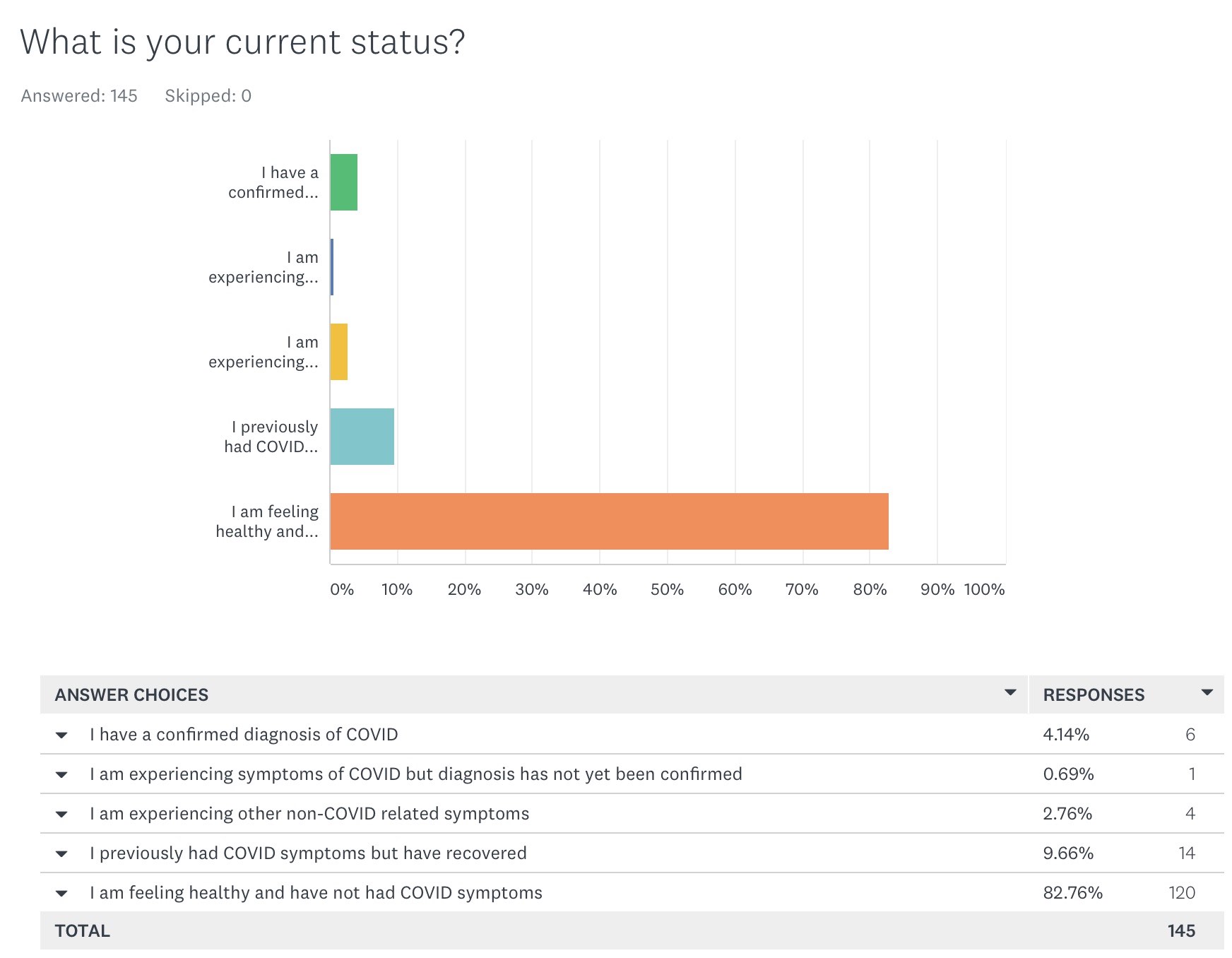 How do Scarsdale COVID cases compare with local averages? We conducted an anonymous survey of residents, and though we did not receive a big response, here is what we learned.
Out of 145 respondents, about 14% reported being diagnosed with the virus, which is lower than the Westchester County statistics which shows about 19% are those tested were positive.
However, many respondents were not able to get tested. When asked, "If you wanted a diagnostic test, were you able to get one?" 54% said YES and 45% said NO. So even though many would have liked to know if the symptoms they were experiencing were indicative of the virus, almost half were unable to receive a test.
What were the most common symptoms experienced by responders? Here is the list:
Cough. 24.3%
Fatigue 23.26%
Headache 21.71%
Fever 16.28%
Chest Tightness 16.28%
Sore Throat 15.5%
Muscle Aches 15.5%
Loss of Smell
or Taste 7.75%
Nausea 7.75%
Shortness of
Breath 6.98%
Foot Sores 2.3%
Most interesting were the comments we received from our readers.
Here are a few:
-We only had one positive test because the doctor's office would only test one of us. The rest were "presumed positive.
-Once my husband got it (he's a doctor), we all got sick despite trying to isolate the sick one/s. 5 days apart, the children got high fever but it was a much quicker recovery and didn't get any respiratory symptoms. So contagious!
-Feeling anxious in general.
-It was awful!
About social distancing, here are some thoughts from readers:
"Closing the track was foolish, counterproductive and cruel since it deprived people of needed exercise and forced us onto the more dangerous streets with cars, bicycles, strollers and less social distancing. Very foolish indeed."
"Have seen a lot of street parties and "block parties" in Fox Meadow during the evening hours. Disobeying social distancing in groups of 8-10 women."
"There is far too much activity and traffic in Scarsdale, especially in the Village Center. Police are not present enough in this key area. (Are we not being told about any staffing issues, such as sickness or understaffing?) Lack of enforcing necessary rules and regulations, including on non-essential activities is visible for all to see or to read about in the media. Construction in Scarsdale is a particular problem; and lots of speeding traffic, including trucks and heavy vehicles. Racing cars (drag/sports cars) and motorcycles on major Village roads (Scarsdale Ave., Popham, etc.) and on BRP is a real problem for many months, especially at night. This is a real danger and fatal crashes from racing have reported in the Metro area -- pedestrians and bicycle riders being struck too. Having late or all-night businesses is contributing to all the excessive circulation and associated risk of spreading the virus. These are not essential and just increase risks unnecessarily. Bars are closed, so buying beer at all hours is up. And Scarsdale is one of the few places making this available and attracting people from all over. (Also, night-time coffee, junk food and gas, meanwhile closures are generally by 8pm in other towns.) Many people in the community are at higher risks of serious illness or death -- this is not getting enough attention! Not just elderly, but people with underlying conditions. Scarsdale has not been doing all it can do to help protect our residents and our neighbors in Westchester. Instead, knowingly or not, we are actively contributing to the next big spread. Our leadership is not doing nearly enough and clearly does not have the background or level of knowledge to take further measures and have better enforcement. (Just a factual statement.) This terrible crisis requires at least 1 - 2 times per week for our Mayor and/or Manager to be available for live dialogue with residents to ask them direct questions and report the issues/problems not being attended to. Then to provide direct answers with timely follow-up. Lots of people are scared and isolated. Spaces to share and communicate with each other, our elected officials and Village administrators are greatly lacking. The surreal conditions are overwhelming in many ways so most are staying inside, socially isolated and this creates a false sense of things being ok, or at least better than they are. The disconnection between all of this and those that make policies and manage things is a growing gap that should be of great concern to all of us. Actions are required and new ways of doing things are demanded by these historic conditions. More people need to be included in this process. Our leaders must reach out and involve the broader community in this. Scarsdale has a lot of talent and resources that is not being tapped into. This is a shame and if the status quo contributes to any loss of life -- well, that say would say a lot about Scarsdale today."
What was your experience with the virus?
Please share your thoughts in the comments section below.