Scarsdale's Toby Amidor Publishes "The Best 3-Ingredient Cookbook"
Monday, 12 October 2020 09:43
Last Updated: Monday, 12 October 2020 09:47
Published: Monday, 12 October 2020 09:43
Joanne Wallenstein
Hits: 2153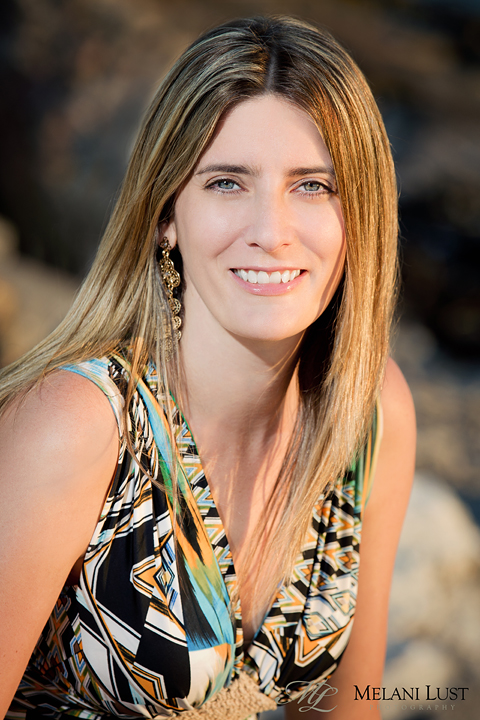 Scarsdale resident, nutritionist and cook Toby Amidor has just published her seventh cookbook, this one focused on making it easy to turn out great meals with limited ingredients. Her latest cookbook, "The Best 3-Ingredient Cookbook," features recipes you can craft with only three ingredients, simplifying meals at a time when it can be difficult to locate all the ingredients needed for more complex meals.
Below find an interview with Amidor as well as two recipes from her book.
Tell us about yourself and your interest in cooking? When did you start developing recipes and writing cookbooks and what inspired you?
I graduated NYU master's program in clinical nutrition and dietetics together with my mother. I always loved the cooking labs we had to take. I then became an instructor at a culinary school and taught Nutrition for Culinary Professionals and learned a lot from my students as well. Twelve years ago I then became the nutrition expert for FoodNetwork.com and a founding contributor to their Healthy Eats blog. Through the years, I learned to love cooking and teach folks how to cook healthfully with easy to find foods that are affordable.
Has your focus changed over the years? Ingredients you like and use?
This is my seventh cookbook that is being published. All my cookbooks focus on the easy of cooking and doing so in a timely manner. Many of my cookbooks also include "Toby's Tip" at the bottom of the recipes which provide cooking tips and substitutions so you can make the dish to your liking or health needs.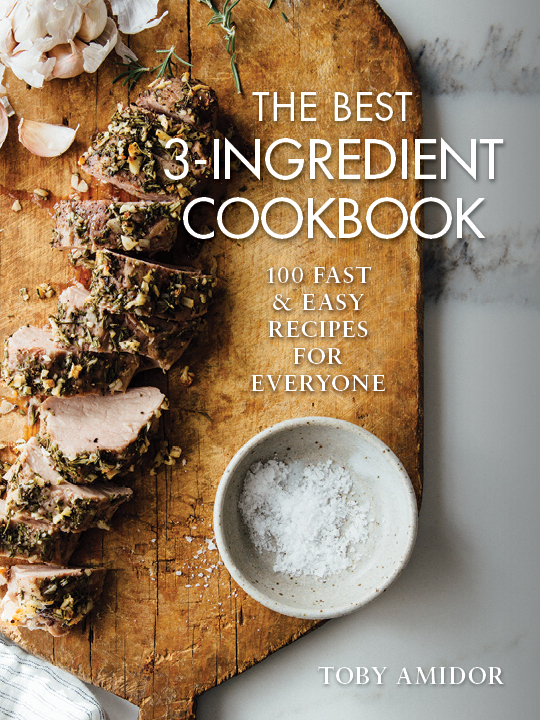 My family is also from Israel and I am first generation American. As such, I do include many Mediterranean inspired recipes and ingredients that I use and incorporate daily into my dishes.
Do you develop and test recipes in your home kitchen?
Yes. All recipes are developed and tested in my home kitchen. I do have interns and/or assistants who do help me as well. My best assistants are my own kids Micah, age 13 and Ellena, age 15. They helps me to the point that they can help test recipes and help me with corrections on the recipe and ingredients. Because of this both girls have become fluent in the kitchen in both cooking and baking. The other day I asked Micah to cook something and all she said was, "Just give me the recipe and I can cook whatever you want." It is amazing!
How has the pandemic influenced what and how you cook?
I actually wrote and tested The Best 3-Ingredient Cookbook at the beginning of the pandemic. Luckily I was able to get all my ingredients from local supermarkets as when I ordered home delivery I didn't get everything I needed. I would test 20-30 recipes at a time and minimize my shopping trips. There are only 3 ingredients in each recipe so that made things easier. Usually I like to test less recipes per batch.
How long have you lived in Scarsdale and what do you enjoy about living here?
I moved to Scarsdale when I was 13, a freshman in high school and three of my siblings attended Scarsdale High School. I moved back after I had my son and he attended Fox Meadow Elementary School and is now attending the University of Michigan. I have been a Scarsdale resident for a very long time!
I love being able to do outdoor activities and recently during COVID I have become fond of fostering dogs from a non-profit agency recommended by another Scarsdale resident. It has been so fulfilling to be able to foster rescue dogs and I happen to adopt my own rescue dog as well, Joey, a German Shepherd mix.
Tell us about your latest book and share a few of your favorite recipes.
How many times have you opened a cookbook and been overwhelmed by the number of ingredients and amount of prep time needed for what sounded like a simple meal? In my new book The Best 3-Ingredient Cookbook, I presents 100 easy and delectable recipes. On every page, I provide options for freezer-friendly, one-pot and 15-minute meals, each needing only three ingredients that are already in your cupboard or easy to find at your nearest grocery.
Start your day with Pumpkin Oat Waffles or Pineapple Oatmeal and be ready for any challenge. Refuel at lunch with healthy Pesto Pizza or Tuna Stuffed Tomatoes. And after a long day relax with Spaghetti Carbonara or Easy Eggplant Parmesan. This easy to follow, fun cookbook will help you build your kitchen confidence. It's full of my "Toby's Tips" — great ideas for meal prep, quick meal planning, essential utensils, and ways to lighten up the dishes.
Roasted Cauliflower with Garlic and Parmesan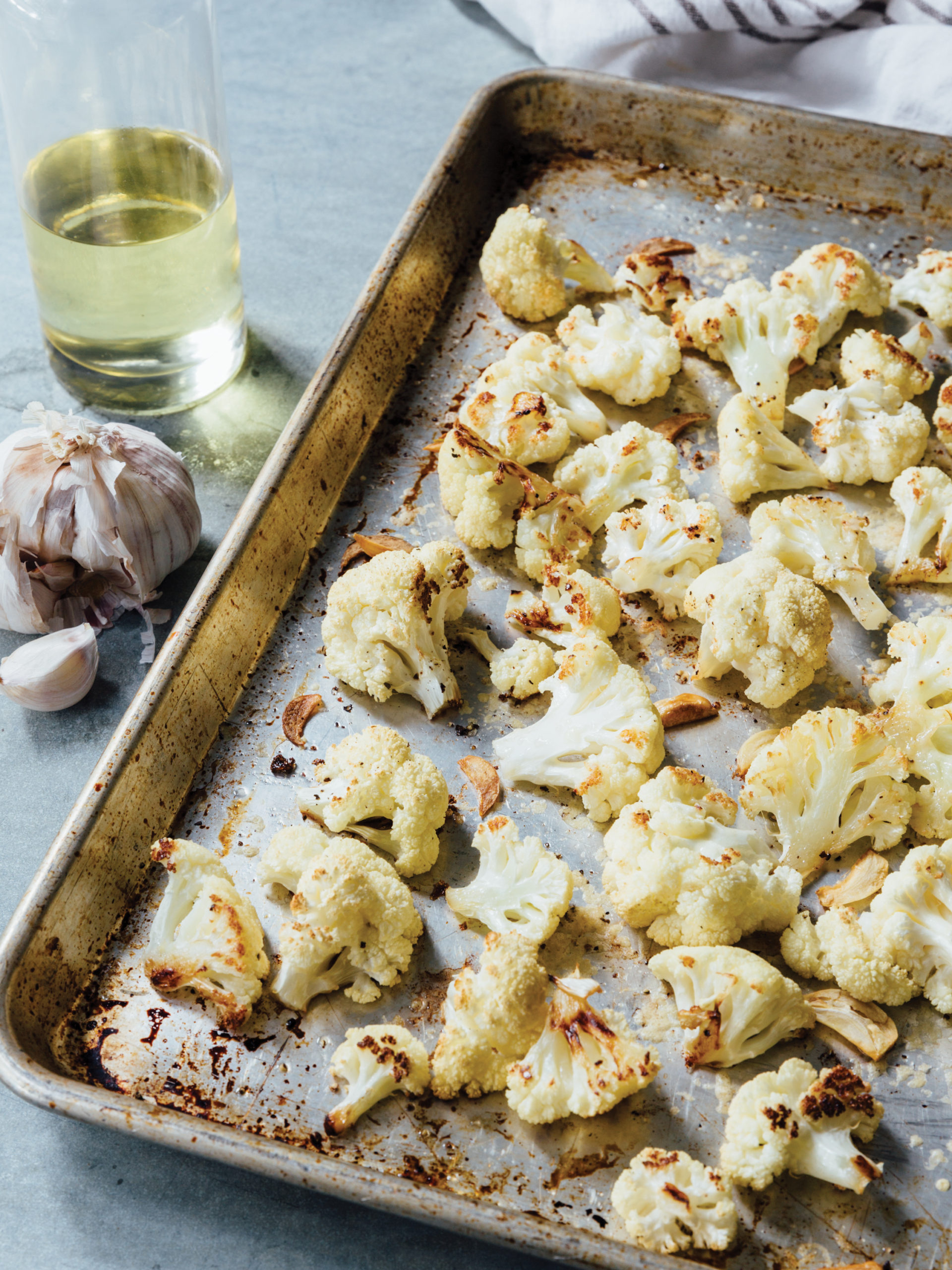 Roasted Cauliflower with Garlic and Parmesan
Ingredients

1 head cauliflower, cut into florets
6 cloves garlic, sliced
2 tbsp grated Parmesan cheese
Pantry Items

¼ cup olive oil, plus more for the baking sheet
¼ tsp salt
⅛ tsp ground black pepper
Instructions

Preheat the oven to 425 degrees Fahrenheit.
Brush the baking sheet with olive oil.
In a medium bowl, add the cauliflower, oil, garlic, salt and pepper. Toss to evenly coat. Place the cauliflower in a single layer on the prepared baking sheet. Place the baking sheet in the oven and roast until the cauliflower is slightly browned, 15 minutes, tossing halfway through.
Remove the baking sheet from the oven and sprinkle the cauliflower evenly with Parmesan cheese. Place the baking sheet back in the oven and continue cooking until the cheese has melted and is slightly browned, an additional 1 to 2 minutes.
Creamy Mac and Cheese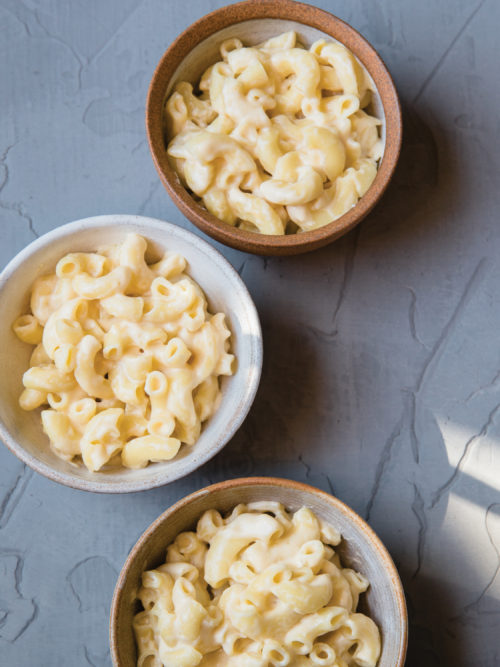 Creamy Mac and Cheese
Ingredients

10 oz dry elbow macaroni pasta
2 cups evaporated milk
2 cups shredded sharp (old) Cheddar cheese
Pantry Item:
⅛ tsp salt
Instructions
Place the pasta in a large skillet. Add the salt and enough cold water to just cover the pasta. Bring the mixture to a boil over high heat.
Lower the heat to medium and continue cooking until most of the water is absorbed, about 6 minutes.
Add the evaporated milk and stir to combine. Raise the heat to high and bring the mixture to a gentle boil.
Reduce the heat to medium-low and add the cheese. Stir continuously until the mixture is smooth and has thickened, 1 to 2 minutes. Serve warm.
Recipes from The Best 3-Ingredient Cookbook by Toby Amidor and published by Robert Rose Books, October 2020. All rights reserved. Photo courtesy of Ashley Lima.