County Executive Unveils New COVID Dashboard
Wednesday, 23 December 2020 18:39
Last Updated: Wednesday, 23 December 2020 18:51
Published: Wednesday, 23 December 2020 18:39
Joanne Wallenstein
Hits: 1752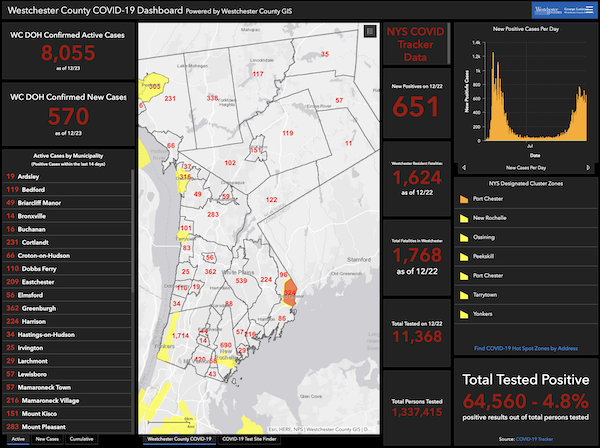 At his bi-weekly Covid-19 briefing on Wednesday December 23, County Executive George Latimer displayed the new Westchester County Covid-19 Dashboard as prepared by the County's Department of Emergency Services and Department of Information Technology. Notably by Westchester County GIS Specialist Connor Lynch and Software Architect Ilir Tota.

Latimer said: "This codifies data we receive from New York State. We are trying, and have proven over an extended period of time, that we intended to do the things we say we are going to do. When we say that we are going to try to give you information in a more transparent and accessible way - this is an example of how we deliver it." The new dashboard is designed to be accessible and user-friendly.
In addition to supplying the numbers, the dashboard allows you to fill in your address to get information on testing sites near your home.

The new Covid-19 Dashboard, which will automatically update, contains:
· County Active Case Map
· Covid-19 Test Site Map
· Total Confirmed Active Cases
· Total Confirmed New Cases
· Active, New & Cumulative Cases by Municipality
· Total Fatalities
· Total Persons Tested
· NYS Designated Hot Zones
· Positivity Rate
· Various Graphs Outlining Statistics
Latimer said that this new dashboard is in real time and utilizes data from New York State. This new map corrects the lag in reporting from the original map. As of Wednesday December 23, the map shows 88 active cases in Scarsdale, an all-time high. County wide, he reported that 7 people died last night, a disturbing number.
You can access this tracker here:
Note – the map is easier to read on a desktop computer. The mobile version is compressed and a bit hard to read.
Vaccines:

Latimer reported that as of Wednesday, 346 front line workers in Westchester have been vaccinated. As of tomorrow, Thursday December 24, vaccinations will become available for EMS workers. He said "we are grateful that the vaccinations have begun to arrive in Westchester." About vaccine safety, he said that the Pfizer vaccination is to be given in a healthcare setting in case of an adverse reaction. He said the Pfizer vaccine should not be given to those with a history of severe allergic reactions.