Karen Brew -- On the Ballot for Scarsdale Village Trustee
Thursday, 25 February 2021 10:26
Last Updated: Thursday, 25 February 2021 10:38
Published: Thursday, 25 February 2021 10:26
Joanne Wallenstein
Hits: 638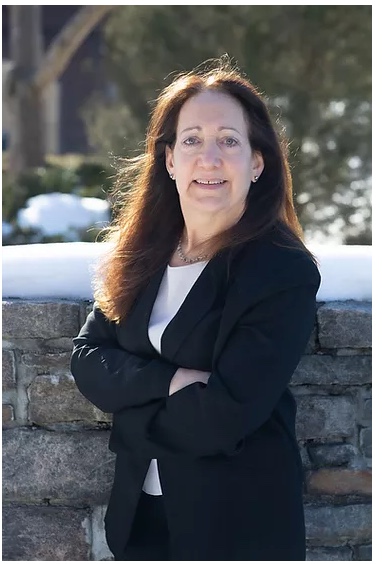 Community volunteer and 16-year Scarsdale resident Karen Brew is running on the Scarsdale Citizen's Non-Partisan Party slate to serve her first term as Scarsdale Village Trustee. Brew worked as an Executive Recruiter and is a graduate of Cornell University and the Kellogg Graduate School of Management at Northwestern University. She raised two daughters in Scarsdale who are now in college. The election will be held on Tuesday March 16, 2021 and all registered Scarsdale voters can cast their ballots at the Scarsdale Congregational Church from 6 am to 9 pm.
We interviewed Brew about her experience and her views and here is what she shared:
Tell us about yourself, your experience in Scarsdale and why you would like to serve on the Village Board of Trustees.
We moved to Scarsdale when my older daughter was about to enter Kindergarten, over 16 years ago. I wanted to meet people and make connections so I immediately got involved, mostly in the schools. I was on numerous committees leading up to being Edgewood Elementary School PTA Treasurer for 2 years and then PTA President. From there I served on the Scarsdale PT Council Executive Committee (4 years), School Board Nominating Committee (5 years), Scarsdale Bowl Committee (2 years), Scarsdale High School Scholarship Fund for College Executive Committee (5 years) and the League of Women Voters of Scarsdale board (6 years). Both professionally and in my volunteer work, I enjoy working in teams and building solutions. I ask a lot of questions and love to problem solve. I believe with my skills and experience I can add value to the Village Board and I am excited to contribute to help keep Scarsdale the fabulous community that it is.

Were you surprised at the quick turn in events that led to your nomination?
I had been contemplating running in January but had decided to wait. When one of the selected nominees withdrew it provided me with an opportunity to reconsider. Then when I was approached, I had the benefit of knowing that Jane Veron was slated to be Mayor. The opportunity to work on the board with her experience, smarts and passion as Mayor was too enticing to turn down and so I stepped up!

What volunteer experiences in your past helped to prepare you for your new responsibilities as Village Trustee?
I think the volunteer experience that best prepares me for my new responsibilities as Trustee has been my past six+ years on the board of the League of Women Voters of Scarsdale. The League studies the Village budget annually. At a community-wide meeting, the Village Treasurer and Village Manager present the coming year's proposed budget. The League members listen, learn and question the presenters in order to gain an understanding of the process and resulting budget appropriations. This is followed by a consensus meeting at which the participants discuss and come to an agreement on a League-issued statement that supports or disagrees with the budget and the process used to get to the draft budget.

What areas of Village governance are of interest to you – what do you hope to pursue?
I will be in a better position to answer this sort of question once I have had an opportunity to view the internal workings of Village operations up close. While I have the familiarity that comes from being a resident recipient of village services, and my LWVS work gave me some insight on the Village budget, I anticipate that having the chance to get into the details of how the Village delivers services will generate my interest in particular governance matters that I consider deserve more attention.

In your view, what are the biggest challenges facing the Village today? How will you approach these issues?

I see some of the biggest challenges as:
Figuring out how to budget in a time of rising costs and decreased revenues.
Determining how to balance meeting the needs and wants of the residents in the short term without mortgaging away the longer term because of fiscal constraints.
Revitalizing the downtown so that we have a vibrant town center for the community.
For all of the issues my approach will be to, collaboratively with the full board, gather data and facts through the functional experts, gain community feedback and then come to consensus on the best go-forward steps.

You have had a lot of experience in leadership positions for the Scarsdale Schools. Do you think the Village and Schools can do more together? If so, share any ideas.
I definitely think that there are many areas for the village and school district to work together. We saw that recently with the Butler Field lights and there are surely more. I believe that with a healthy dialogue between constituencies, areas of cooperation can be explored and worked on to maximize positive outcomes.

What else?
The combination of my work and volunteer experiences will allow me to come up to speed as Village Trustee quite quickly. I have the skills and the passion to contribute to help keep Scarsdale the wonderful community we all moved here to be a part of.
Learn more about the Scarsdale Citizens' Non-Partisan Party here.