Girl Scouts Learn Geocaching, Fifth Grader Named Finalist in Virtual Science Fair
Wednesday, 21 April 2021 13:25
Last Updated: Wednesday, 21 April 2021 13:25
Published: Wednesday, 21 April 2021 13:25
Joanne Wallenstein
Hits: 1382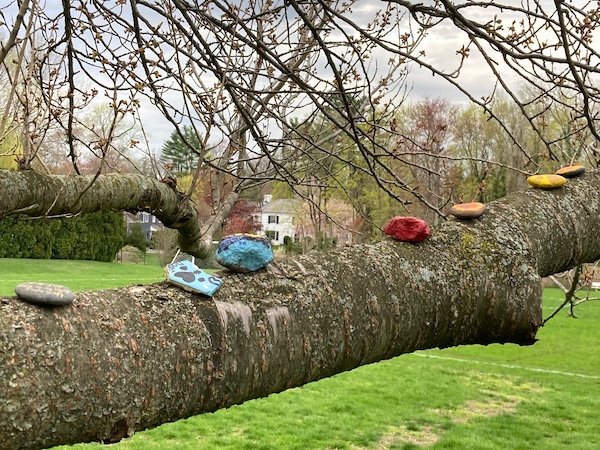 Edgewood's 5th grade Junior Girl Scout Troop and SHS's 11th grade Lion's Heart group worked together to geocache and it was a resounding success! Geocaching is the recreational activity of hunting for and finding a hidden object by means of GPS coordinates.
Seven high school girls from the Lion's Heart Community Service group led the activity.
It began with a Zoom session when the Lion's Heart girls taught the Girl Scouts about geocaching, named their international "bug" and painted their inspirational rocks in breakout rooms as virtual teams.
On Sunday April 18, 2021 they met at Drake Park where all COVID precautions were taken. They hid their international trackable troop geocacher which is called a "bug," and located an international trackable geocacher left by someone else.
Then they walked to the high school and Girl Scout house and hid and found one another's geocachers several times.
Each team was color coded and had corresponding colored candies and rocks hidden in the boxes. As they successfully found a box, they enjoyed a piece of candy.
When they were done, the girls left their inspirational rocks around for others to find. A favorite spot was the tree near the rear of the Girl Scout House.
It was a wonderful day of learning, team building, laughing, physical activity and enjoying the beautiful Scarsdale landscape.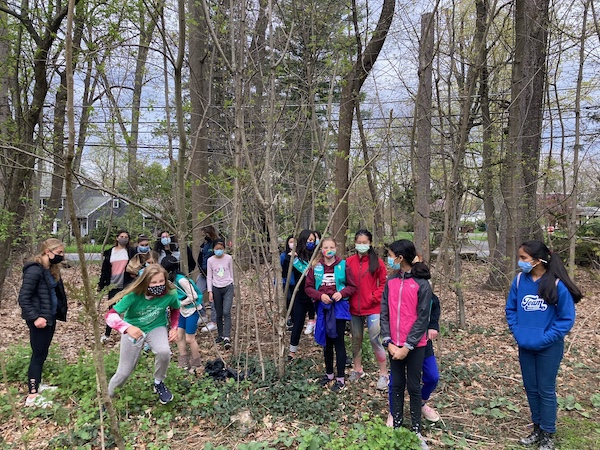 -contributed by Debra Asher
Mia WilsonHeathcote Fifth Grader is a Finalist in the NHL Stem Science Fair
In November, the NHL announced a virtual science fair to allow students in the US and Canada "to show how STEM can enhance the game experience in three categories: virtual fan engagement, sustainability and technology/innovation."
Heathcote fifth grader Mia Wilson chose the technology/innovation category and designed new transparent corner boards for the rink, as well as increasing visibility for spectators by removing some seats in the same areas.
She suggested alternative revenue sources to replace the revenue lost by removing seats and eliminating some advertising space and designed a testing methodology to track changes in fan appreciation of the changes.
According to her mother Moli, Mia worked very hard on thinking through the various implications of her innovative design. She worked remotely on her own without the assistance of teachers or school personnel, though they are very excited about her success.
Three winners in each grade category were selected from the hundreds of entrants and a remote "awards ceremony" was held with a congratulatory video from NHL Commissioner Gary Bettman and a New York Rangers alumnus (Brian Mullen) who appeared via Zoom to congratulate her, as well. She won an iPad, some AirPods, and some NHL themed school supplies.
Commenting on her experience, Mia said, "This project was a fun way to apply new innovation and ideas to something I enjoy. I'm so excited the NHL liked my idea. Hopefully, they'll use it someday!"