Simone Kestelman Creates an Itinerary of Art in Scarsdale
Tuesday, 11 May 2021 14:33
Last Updated: Tuesday, 11 May 2021 22:14
Published: Tuesday, 11 May 2021 14:33
Joanne Wallenstein
Hits: 1138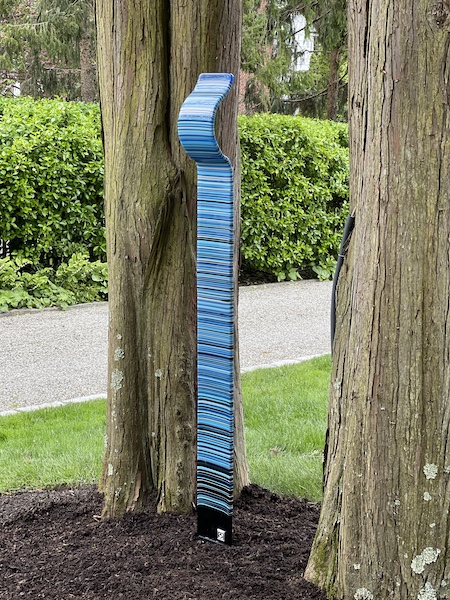 Artists in all fields felt deeply the effects of the pandemic last year. Some had to deal with loss of jobs and opportunities; others felt empty of inspiration and energy to create. Scarsdale artist Simone Kestelman, used her talent to bring solace, color and hope to the community. Last summer, Kestelman started the project #ResiliART, installing sculptures in 17 different front yards in Scarsdale. She created an itinerary for walkers, runners and cyclists who took over the streets during the lockdown months. Her sculptures of guardians and ceramic flowers wanted to remind us that inner strength and beauty are the best weapons against difficult times. And of course it made our walks around town much more pleasant.
Kestelman is repeating the project this summer with a new series of installations, now entitled #RestART. This time her work is distributed over 20 front yards around town. Below is a map of the location of all the installations and Kestelman invites you to walk around Scarsdale to see the display which will be up until August.
She partnered with writer Ines Rodrigues, who created the poem below for the event, in a moment where we are gathering strength to go out again, to restart our lives. Rodrigues adds that "we should restart with an eye in the lessons learned over the last year. The pandemic was a time of reflection and sadness, but an invaluable opportunity for us to change our behavior towards the planet and also towards each other."
Discussing the new guardians and flowers that are part of #RestART Kestelman said, "I make outdoor art because I want my art to be free, vulnerable and strong, all at the same time. I also want my art to change with the seasons, just like we do." She also loves to produce beautiful things that won't be hidden from everyone's eyes. "Anyone can experience outdoor art and feel something, regardless their age, background and skills," says Kestelman, who's fascinated by the possibilities of glass and chose this material for the warriors sculptures.
Kestelman thanked Sherman Lee who interned in her studio years ago. Lee now is a senior at Parsons School of Design, graduating next year as a BFA in Product Design. "Lee is very talented and, since we met, he participates in all my projects, working on visual art. He creates the maps, apps and all visual resources," adds Kestelman.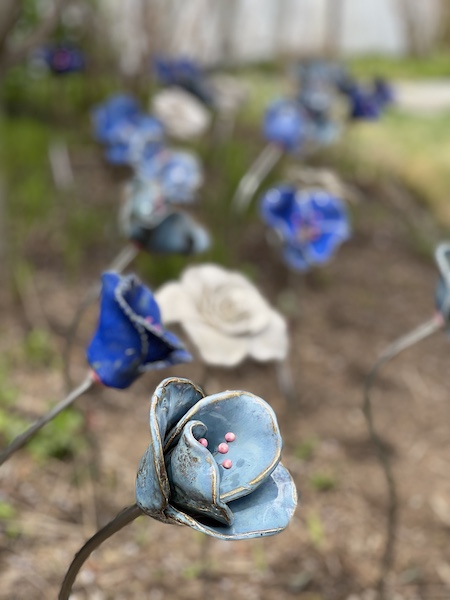 Poem by Ines Rodriguez
Open the doors,
The windows
Open your eyes
The sky, wide
The sun
Yellow circle, warm
The moon
White circle, dream
In the morning watch the seagulls
Looping above the ocean
Above the fish
Above the dolphins curving in the water
Watch the turtles
Learn the art of slow living
Watch the trees
Changing
From pink to green to yellow to naked
And restart
Nature's circle
Nature's art
Full circle
Three hundred and sixty degrees
Three plus six makes nine
Nine months to give birth
And start
Nature's circle
Nature's art
Ines Rodrigues/2021