Assemblymember Amy Paulin and State Legislators from 45 States File Amicus Brief Urging Supreme Court to Uphold Roe v. Wade
Wednesday, 22 September 2021 10:57
Last Updated: Wednesday, 22 September 2021 11:00
Published: Wednesday, 22 September 2021 10:57
Joanne Wallenstein
Hits: 711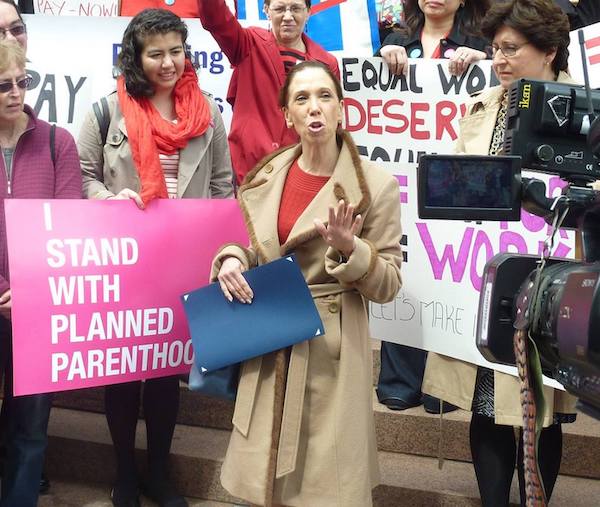 Amy Paulin in White PlainsNY State Assemblymember and Scarsdale resident Amy Paulin was among almost 900 state legislators from 45 states who appealed to the Supreme Court to uphold Roe v. Wade and reject Mississippi's 15-week abortion ban, a direct attack on legalized abortions in the U.S.
The brief was filed by the State Innovation Exchange, a progressive legislation advocacy group, in the case of Dobbs v. Jackson Women's Health Organization.
The brief argues that the Supreme Court has a responsibility to uphold the legal precedents set by Roe v. Wade and Planned Parenthood v. Casey — the two main decisions that legalized abortion in the United States — which they maintain provide pregnant women the constitutional right to choose whether to continue a pregnancy free from state interference.
In a statement on the brief, Paulin said, "Forty-eight years ago, in the landmark case of Roe v Wade, the Supreme Court legalized abortion across the US, ruling that women have a constitutional right to the procedure during their first trimester of pregnancy. The Supreme Court revisited and modified Roe's legal rulings in its 1992 decision Planned Parenthood v. Casey. In Casey, the Court reaffirmed Roe's holding that a woman's right to choose to have an abortion is constitutionally protected, but abandoned Roe's trimester framework in favor of a standard based on fetal viability. Now we have states challenging these rulings and half-century of precedent. The Mississippi law bans abortion after 15 weeks of pregnancy with limited exceptions, and the Texas law bans abortion after 6 weeks of pregnancy – even in instances of rape or incest.
While the Supreme Court didn't rule on the merits of the Texas law, five of the nine justices have permitted it to go into effect – which has now left women in Texas with no options for the procedure. The consequences this will have on women's health, safety and rights is devastating.
Equally frightening, both for women and our democracy, is that the Texas law turns every citizen of Texas into a possible vigilante to pursue others who support abortion rights. This type of vigilante justice feels to me like we are turning the clock back much further than a half-decade.
The current situation underscores how extreme positions now control our nation's judicial levers of power and are allowing states to create laws not previously considered possible. We have to take a stand and make our positions known – and as an elected representative and legislator it is even more imperative for me to speak out. We have a chance to affect change in the Mississippi case which will be heard this fall. That is why I have signed on to the amicus brief filed this week which opposes the constitutionality of the Mississippi anti-abortion law. I will not sit by as justice for women, and our democracy, gets trampled on."