What Can You Do To Decrease Your Risk Of Getting Breast Cancer?
Thursday, 07 October 2021 13:08
Last Updated: Thursday, 07 October 2021 13:42
Published: Thursday, 07 October 2021 13:08
Joanne Wallenstein
Hits: 617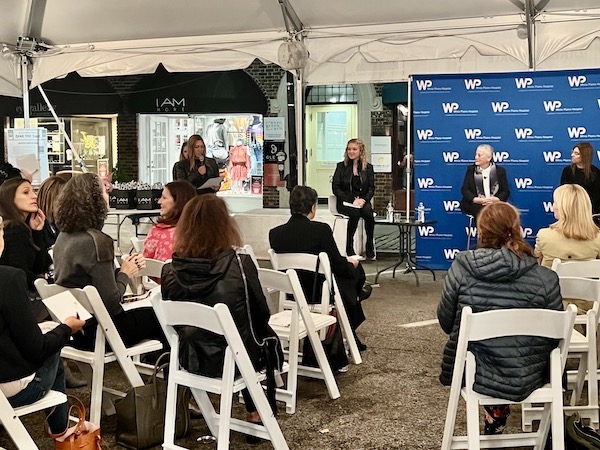 Adding a light touch to a serious topic, Dara Gruenberg, Vice Chair of the White Plains Hospital Foundation Board, invited the community to a panel discussion with breast cancer experts by asking them to "Learn More About Your Boobies and Other Bits." The event was held in the dining tent in Scarsdale Village on Wednesday night October 6 and though temperatures outside had cooled, the atmosphere under the tent was surprisingly warm and lively.
As host of the discussion, Gruenberg continued to use humor to enliven the session with panelists Dr. Preya Ananthakrishnan, Director of Breast Surgery at White Plains Hospital; Dr. Pamela Weber, Director of Imaging at the White Plains Hospital Imaging and Dr. Sara Sadan, Section Chief for the Department of Medical Oncology and the Director for Breast and Women's Cancers at White Plains Hospital.
The event was inspired by Marcy Berman-Goldstein and Abbey Solomon who run the popular Scarsdale boutique I Am More Scarsdale, which operates as a philanthropic business, with ownership foregoing a salary to donate profits to the organizations it supports. Berman-Goldstein is a board certified radiologist so the topic of breast health is near and dear to her heart.
Goldstein explained, "The breast cancer event started out as an intimate gathering of 15 women inside I Am More 4 years ago with the group discussion led by Pam Weber. We are so excited to be here with Dr Weber this evening, along with her colleagues, and appreciate your support in raising funds to provide mammograms for uninsured, underserved women in Westchester County."
The doctors shared their perspectives on screening and treating patients and offered some eye opening information on prevention, though as Dr. Sadan said, "Things just happen – there are things we can affect and things we cannot affect."
Gruenberg noted that the two main risk factors for breast cancer are being born female and getting older. So what to do?
Dr. Preya Ananthakrishnan explained that breast tissue is fatty tissue. She said, "Under the microscope it looks like a bunch of grapes, a system of ducts. Breast cancer is abnormal growth inside the ducts." Though risk does rise with age, so does the capability of imaging to detect more.
Are mammograms necessary? Dr. Weber gave an emphatic yes. She said, " We recommend a baseline mammogram at age 35 and if
that's okay, you do not need to come back until you're 40. After that we recommend annual mammograms. If you have a family history, we start monitoring at 10 years before the age your relative was diagnosed."
Dr. Preya (as she is sometimes called) added, "Family history is just one factor. Sometimes we recommend genetic testing to see if people have an increased risk."
What about dense breasts? Though patients often here that dense breast tissue makes the imaging harder to read, dense breasts are not more prone to cancer than less dense breasts. So don't fret if you hear that.
"What about mammography," Gruenberg asked. "Have there been any new developments to make the process more comfortable for women?"
Dr. Weber responded, "As of now- not yet! Nothing can replace mammography. Other tests like a cat scan will expose you to more radiation." She recommended that patients ask for 3D mammography if your doctor has that equipment.
What else is new? Dr. Preya said that advances in medicine have reduced over-treatment. "We can pick and choose who needs what treatment." In general the trend is toward a "de-escalation" in the use of radiation, chemotherapy and drugs.
What can women do to reduce their risk? As one in eight women will get breast cancer during their lifetime, the doctors recommended doing what you can to beat the odds.
They all agreed that women should avoid processed foods and reduce intake of meats or dairy that contain hormones. Obesity is another risk factor, especially for those with a BMI of 25-30. What else? Birth control pills increase estrogen and increase your risk as does hair dye.
Dr. Sadan recommended exercising 30 minutes per session, five times per week and elicited groans when she said that any alcohol consumption increases cancer risk – even a single glass a night with dinner. How depressing is that?
I was enjoying a glass of rose supplied by Zachys and savored my last sip, thinking I would never enjoy a guilt-free glass again.
It was informative evening—even if it did deal with a topic I try to avoid.