Suzie Hahn Pascutti Says it is a Pivotal Time to Serve on the Scarsdale School Board
Thursday, 28 April 2022 12:02
Last Updated: Monday, 02 May 2022 15:31
Published: Thursday, 28 April 2022 12:02
Joanne Wallenstein
Hits: 1496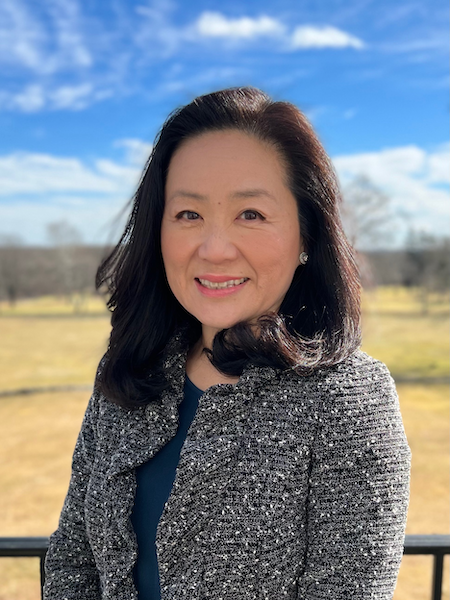 Suzie Hahn Pascutti was one of three candidates nominated by the Scarsdale School Board Nominating Committee to serve a three year term on the school board from 2022 to 2025. Prior to the election on Tuesday May 17 at Scarsdale Middle School, we asked Ms. Hahn-Pascutti some questions so that our readers could get to know more about her. Here is what she shared:
Tell us about your professional background and skills?

Most of my professional life I worked at a quantitative hedge fund in the city called D.E. Shaw & Co. I started there shortly after college and stayed at the firm for 11 years where I eventually became a Managing Director and Head of the U.S. Convertibles trading desk. It was an exciting time to be in the markets, and the geek in me loved to evaluate complex derivatives! During this time I became a better critical thinker, honed my analytical and technical skills, as well as learned how to work with and manage a team.

Why did you choose to move to Scarsdale?

Growing up in the New York area I always admired Scarsdale and thought it would be a wonderful town to raise a family. Scarsdale is truly a special place - its excellent schools offer so many opportunities for our children, both inside and outside the classroom. As a town, Scarsdale is rich with culture and there's a strong sense of community here. I love the Scarsdale school motto of Non Sibi (Not for One's Self), and you see that demonstrated in the generosity and many kindnesses of its citizens, particularly helping those who may be less fortunate. All of this, and its close proximity to the city and all the city has to offer, make it really the ideal place to live.

What are some of your past and present volunteer activities?

Most of my past and present volunteer activities involve the schools in some way. Highlights of my volunteer experiences include Quaker Ridge where I served as After School Clubs Chair and then PTA President. I also served on the District Facility Committee that deliberated on the scope of work included in the 2018 Bond. After my term as QRPTA President I became Treasurer of the PT Council where I was not only responsible for the treasury duties of the PTC but trained and served as a guiding resource to the 7 school unit treasurers. I also chaired the Quaker Ridge student directory and served as Webmaster, and then on the PT Council level was the Directory Chair, helping all the Scarsdale schools migrate their directory platforms to Membership Toolkit. I presently serve as Scarsdale Middle School's Webmaster and on the Compact Committee.
For the last two years I was the School Portfolio Chair of the League of Women Voters of Scarsdale. Some of my responsibilities in this role included studying the School Budget in depth and leading the League's School Budget General Information and Consensus Meetings and preparing the League's School Budget Consensus Statement.
Finally, I'm on the board of Friends of Music and Arts, a booster group supporting the arts in Scarsdale Schools, as well as on the board of the Hoff-Barthelson Music School in Scarsdale. Over the years I've had the privilege of working with so many intelligent, dedicated and passionate volunteers, it's been a truly rewarding experience for me.

Why did you decide to apply to serve on the School Board?

With the departures of so many senior administration officials including of course Superintendent Dr. Hagerman, but also Treasurer Jeffrey Martin and our two technology leaders, Gerry Crisci and Rachel Moseley, the work of the Board the next few years will have a great impact on our schools for potentially many years to come. Seeing what a pivotal time this is for Scarsdale, I felt compelled to want to help in any way I could, including applying to serve on the School Board.

In your view, what are the main challenges facing the Board and the district?

There is certainly a lot of work ahead for the Board. Conducting a Superintendent search and navigating the school's IRS-related issues are of course top of mind. We also can't forget that we're coming out of a pandemic and need to continue to prioritize the mental, social and emotional needs of our students, with the need for support on the rise even before Covid-19. Continuing the Board's work on Diversity, Equity and Inclusion and ensuring that Scarsdale appropriately services all its diverse learners are also important tasks facing the District and Board at this time.

How did you find the nomination and interview process?

From my experience the SBNC nomination and interview process was well thought out and executed. It was a bit different this year as they passed a number of new resolutions this fall, but everything ran smoothly from what I could tell. One significant change was that the committee could ask differentiated questions of the candidates which I imagine gave the committee more insight into the individual candidates this year. Their process is rigorous and their due-diligence seemed to be very thorough, though of course their deliberations and discussions were necessarily confidential. I think it's significant that the members of the SBNC are elected to their positions themselves and represent each neighborhood of Scarsdale. Serving on the SBNC Committee is a big commitment and I'm thankful to the SBNC committee members and administration officers for all the time and care they put into this process.

What was your reaction when you learned about the district's issues with the IRS?

When I first learned about the district's issues with the IRS I was, like most people in our community, shocked and extremely disappointed. This is obviously a very serious matter and I commend the Board for launching an investigation to get to the bottom of what happened. Going forward, a better system of checks and supervisory processes needs to be put in place to ensure that this kind of thing never happens again. I know the Board is working extremely hard on this, basically 24/7, and I am both grateful to them for their dedication and am eager to help with this work.

Now that you have received the nomination, what are you hearing from neighbors and the community? What are some of their concerns and questions?

The feedback I have heard since receiving the nomination has been generally very supportive, though there are of course many questions surrounding the IRS issue in particular. Community members are also asking what the Superintendent search will look like, and stressing the importance of getting as much community input into that process as possible. Scarsdale's citizens are smart, engaged, and hold varying views on many issues. I love that, it's a large part of why Scarsdale is such a wonderful community.

Are there changes you would like to see in Board process and protocols?

I think the Board is moving in the right direction in terms of community engagement. Amending policy to continue to allow for virtual public comment, making the Board agenda publicly available earlier than in the past, setting up a Community Engagement Committee and hosting informal coffees to meet community members are all positive steps. I think the Board can continue to think creatively along these lines and do even more to welcome as much dialogue with the community as possible. Communication and transparency in its processes are vital for the Board to do its job effectively.