Family Fun Day on November 25
Saturday, 19 November 2022 09:54
Last Updated: Saturday, 19 November 2022 09:54
Published: Saturday, 19 November 2022 09:54
Joanne Wallenstein
Hits: 557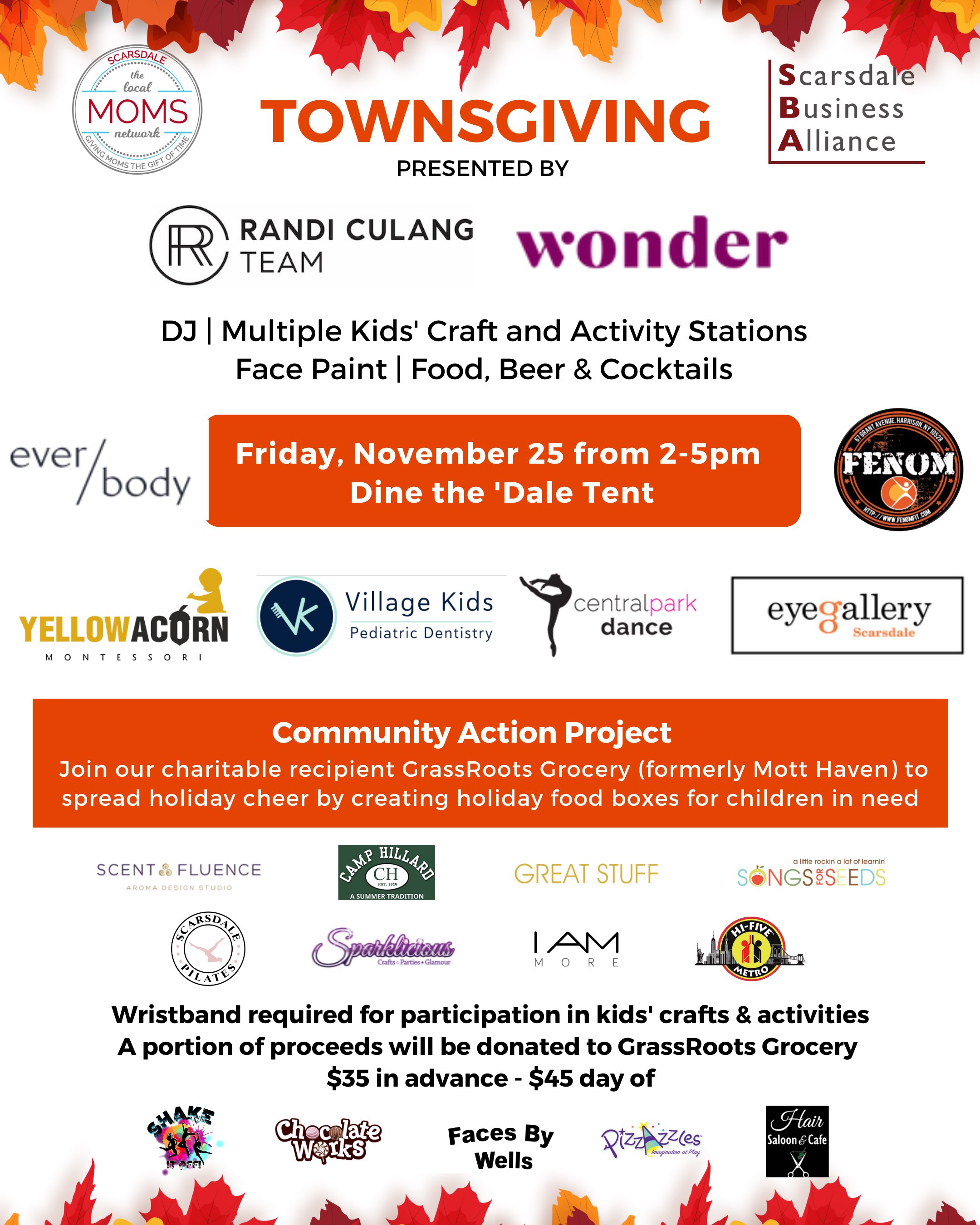 The Scarsdale Business Alliance in Partnership with Scarsdale Moms Announces its Second Family Fun Event, Townsgiving, and its Line-Up of Activities & Sponsors.
On Friday, November 25th, 2022, the Scarsdale Business Alliance (SBA) in partnership with Scarsdale Moms, will host its second family fun event, Townsgiving, presented by The Randi Culang Team and Wonder. The event will take place in the Dine the 'Dale Tent in Scarsdale Village from 2-5pm. Join us for a festive afternoon full of music, family fun activities, food and drinks.
While this is a free community event, wristbands will be required for participation in kids' crafts and activities ($35 in advance - $45 day of). Wristbands are available for purchase here. Wristband activities include multiple arts & crafts stations, chocolate turkey decorating, glitter tattoos, face paint, hair braiding and extensions, photo booth and frame decorating and more! Kids can also enjoy Dancing and DJ by Pizzazzles, and fire truck tours and fire safety tips by Scarsdale firefighters (no wristband required).
In addition to attending Townsgiving in the Dine the 'Dale Tent, don't forget to Shop the 'Dale and take advantage of Black Friday promotions and deals at merchants in the Village center and Scarsdale's other retail hubs.
Townsgiving will be donating a portion of proceeds to GrassRoots Grocery, formerly known as Mott Haven. This donation will help fund their mission to expand dignified access to healthy food to reach all neighbors in need. Join GrassRoots Grocery's community action project to spread holiday cheer by creating holiday food boxes for children in need.
All food and beverages are pay-as-you-go. Pizzarellis will be selling Pizza by the slice, garlic knots and pasta bowls as well as beverages. Guests 21+ can enjoy cider sangria from Popojito, and great brews from Yeomiji. In order to purchase and consume alcohol, you must show ID to prove that you are over 21.
The SBA and Scarsdale Moms are thankful to all of the Townsgiving event sponsors for their generous support. Presenting Sponsors: The Randi Culang Team and Wonder; Supporting Sponsors: ever/body, Central Park Dance, Eye Gallery, Fenom Fitness, Yellow Acorn Montessori, Village Kids Pediatric Dentistry; Junior Sponsors: Camp Hillard, Great Stuff, I Am More Scarsdale, Hi Five Metro, ScentFluence, Songs for Seeds, Sparklicious; In-Kind Activity Sponsors: Chocolate Works, Faces by Wells, Hair Saloon & Cafe, Shake it Off, and Pizzazzles.
FREE PARKING is available in the lower two levels of the Christie Place Garage (64 East Parkway) as well as the Freightway Garage and adjacent outdoor parking lot (72 Freightway).
The SBA is a non-profit organization dedicated to supporting the Village of Scarsdale and its local businesses. For more information about the SBA: www.scarsdalebusinessalliance.com; Instagram @scarsdalebusiness.
The mission of Scarsdale Moms is to create a community around moms in Scarsdale, and to curate helpful resources and references that would be relevant to this community. Scarsdale Moms is an affiliate of The Local Moms Network. For more information about Scarsdale Moms: www.scarsdalemoms.com; Instagram @scarsdalemoms.