Community Celebrates Dr. Andrew Patrick's Appointment to Superintendent of the Scarsdale Schools
Wednesday, 15 February 2023 08:31
Last Updated: Wednesday, 15 February 2023 08:55
Published: Wednesday, 15 February 2023 08:31
Wendy MacMillan
Hits: 1289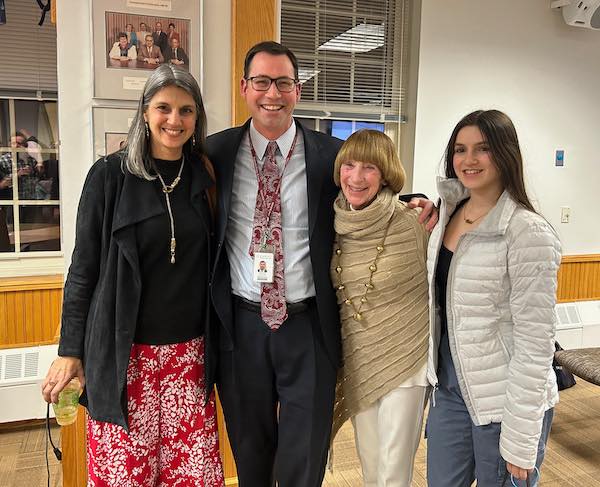 Andrew Patrick and his familyScarsdale has a new Superintendent of Schools. The Board of Education unanimously and enthusiastically voted in and celebrated Dr. Drew Patrick on February 13, 2023, marking the end of a very tumultuous year for the district. Positive energy radiated from the packed room of attendees who cheered Patrick's promotion from interim superintendent, a position he has held since May 2022 when the districts previous superintendent, Dr. Thomas Hagerman stepped down following a payroll tax issue with the IRS.
Before the vote, BOE members took time to review the rigorous and thorough process that was utilized to search for the best possible candidate. They reminded the audience that the search began over a year ago and that integral to the process was transparency, communication, and input from all stakeholders including teachers, faculty, staff, parents, and students alike. As outlined on the district website there were several stages to the superintendent search starting with the hiring of search firm, Hazard, Young, Attea & Associates (HYA) in June of 2022. With HYA's help, the BOE planned and prepared for the search, engaged the community, developed a leadership profile, and recruited and interviewed candidates.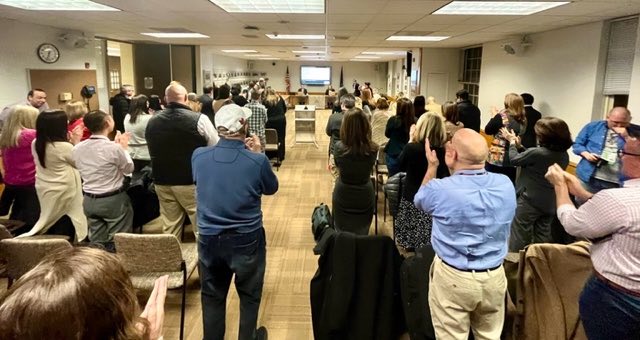 A standing ovation
Each board member extended a congratulations and warm welcome.
BOE VP Ron Schulhof called Dr. Patrick "exceptional" and said, "he deeply he cares about our district and the community." Schulhof noted that Patrick "understands the value of communication and partnership and takes time to build relationships with all members of our school community."
Robert Klein thanked the BOE for their remarkable teamwork saying that he was proud to be a part of the process. He spoke about how Dr. Patrick's work as Interim Superintendent allowed the BOE to watch his leadership style with microscopic precision leaving no doubt in their minds that they "hit it out of the park" by hiring him for the permanent role.
Jessica Resnick-Ault said that Dr. Patrick truly embodies every characteristic outlined in the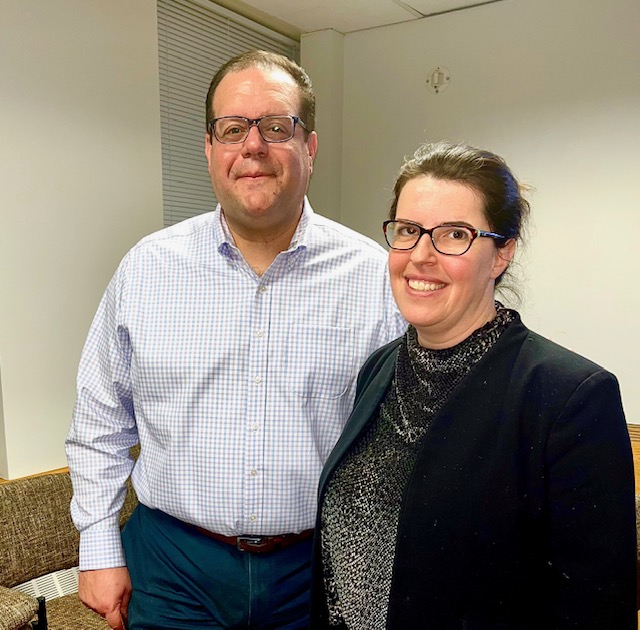 Ken Bonamo and Jessica Resnick-Aultleadership profile including:

-Appreciates the culture of the Scarsdale Public Schools and rebuilds trust.

-Engages the school community with excellent interpersonal skills.

-Is a stellar communicator who is an active listener, makes people feel included, respected, and is a confident and competent public speaker

-Is an innovative and creative academic visionary

-Is visible, approachable, accessible, and enjoys engaging with students, parents, faculty, administrators and staff.
Jim Dugan praised Dr. Patrick adapting quickly to the role of interim superintendent and succeeding at every level of the job. Dugan also lauded Dr. Patrick for being a kind, thoughtful, and caring leader who puts our district first.
Colleen Brown also drew attention to Dr. Patrick's thoughtfulness and humbleness and shared how excited she is for our community and children to have Dr. Patrick as our leader, noting that in addition to Dr. Patrick's extensive experience, he also owns unlimited potential.
Suzie Hahn Pascutti added that she couldn't be more excited to have Dr. Patrick as our new superintendent calling him the ultimate model of a lifelong learner and a strong leader with innate kindness.
In closing, BOE President Amber Yusuf remarked that Dr. Patrick possesses all of the qualities that the BOE and the greater community were looking for in a new leader. Yusuf admires Dr. Patrick's student centered approach, willingness to learn, and that he leads with empathy and integrity.
At the conclusion of the Board's genuine and sincere comments, Dr. Patrick was met with a resounding standing ovation by the large crowd of teachers, administrators, PTA representatives, parents and other supporters. Visibly humbled, Dr. Patrick declared that he was not used to the prolonged praise and accolades and that he was overwhelmed by all the generous words and warm reception. In addition to acknowledging that it is a privilege and a professional dream come true for him, Dr. Patrick thanked the crowd of well-wishers for caring and demonstrating their support. He also made clear that he owes a debt of gratitude to the Board of Education for their diligence and dedication. When recognizing the support of his wife and children (who were in attendance for the appointment), you could hear the emotion in Dr. Patrick's voice as he thanked them for their patience and love as well as for understanding why his work is so important to him. See his letter to the Scarsdale community here:
Before breaking for a short reception, praise and congratulations continued when SHS Principal Kenneth Bonamo took the podium to offer this statement on behalf of the Principals Association:
Ladies and Gentlemen,
I am delighted to offer congratulations to Drew Patrick on his appointment as our new school superintendent. This appointment is a testament to the hard work and commitment of the Board of Education in selecting the right person for this critical role.
The responsibilities of a school superintendent are complex and extensive, requiring exceptional leadership, vision, and expertise. It is clear to all of us who know Drew and work with him that he possesses all of these qualities and more, and I am confident that he will bring a fresh perspective and innovative ideas to our district.
Drew's credentials are truly remarkable. With years of experience in education, including several leadership positions, he has established a proven record of success. His passion for education is genuine, and we are continually inspired by his humble approach to collaboration and leadership. Drew really gets to know people, and he always takes the time to communicate thoughtfully. He understands that, at its core, ours is a human endeavor.
Drew's focus on our WIDE community, making wellness, inclusion, diversity, and equity a key area of our work, also prioritizes bringing people together from all facets of our community. Drew recognizes the critical importance of creating a supportive and inclusive learning environment for all students, and he works tirelessly to ensure that every student has the opportunity to reach their full potential.
Having a strong leader at the helm of our school district is essential. I am confident that Drew will provide the guidance and support that our teachers and students need to thrive. Drew's leadership will continue the legacy of those great leaders who came before him in new and exciting ways that will meet the challenges of the moment for our students, families, and staff members.
I would like to take a moment to thank the Board of Education for their inclusive and exhaustive process in selecting our new superintendent. Their dedication to finding the right person for this role is truly commendable, and I am grateful for their commitment to ensuring the success of our school district. The Board provided an inclusive process that solicited and integrated feedback from many members of the community even within the lines of confidentiality that a fruitful selection process required.
So, let us all offer Drew our full support as he begins this exciting new chapter in his career and in our school district. Together, under his leadership, we can help our students achieve their full potential as we prepare them for the challenges of the future.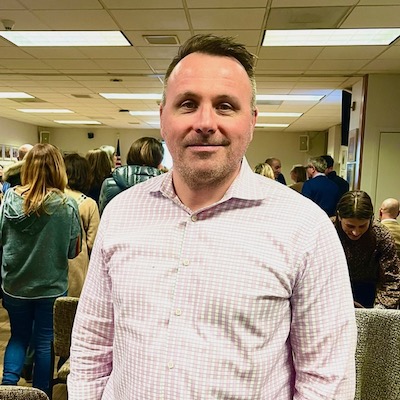 STA President Joe VaughnFollowing Bonamo, President of the Scarsdale Teachers Association, Joe Vaughan shared a few sentiments on behalf of the STA. In his statement, Vaughan thanked the BOE for all the time, engagement, and effort they collectively put forth in order to arrive at the right conclusion: a superintendent who can lead in a way that the STA needs and deserves to be led. Vaughan also highlighted Dr. Patrick's ability to lead with vision and with the skill to communicate that vision in a way that honors his respect and deep understanding of others. As an example of this respect and his ability to lead with integrity, Vaughan shared an anecdote from a recent letter that Dr. Patrick wrote to the STA. It was a simple phrase at the end of his letter that garnered Vaughan's attention: "In Partnership, Drew." Vaughan said the STA looks forward to a long and fruitful partnership with Dr. Patrick in his role as superintendent.
Last, Lauren Grossberg, PT Council President had this to share on behalf of the PTC:
"The PT Council Executive Committee would like to take this opportunity to thank the Board of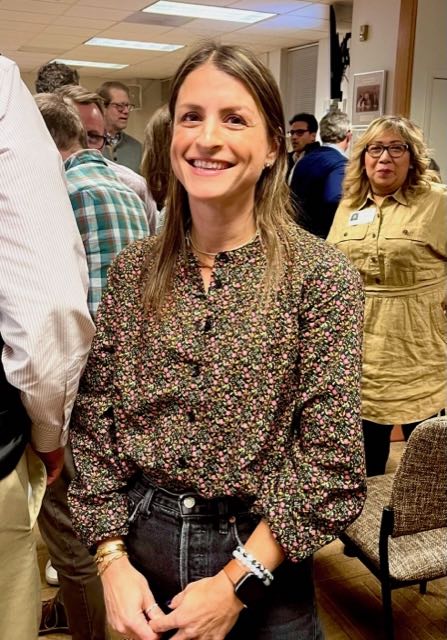 Lauren GrossbergEd for the extremely thorough superintendent search process. Your commitment to finding the best candidate for our district was apparent and your efforts to engage the community did not go unnoticed. We are grateful for the time and effort you dedicated to this important search and we are so thrilled with the outcome. We look forward to an exciting future with our new superintendent." Grossberg added that as PTC President she has greatly appreciated Dr. Patrick's clear and respectful communication style and the fact that he places significant value on input from all stakeholders. She credits Dr. Patrick's work as interim superintendent with creating a positive shift in our district's culture by making every voice feel heard and respected.
The excitement for Dr. Patrick's appointment as superintendent doesn't stop with the representatives who spoke at Monday's meeting. The buzz from parents, students, and other faculty and staff has all echoed the sentiments from the BOE. Shilpa Spencer, a mom of two SHS students, had this to say when asked her thoughts about Dr. Patrick's new role, "From the beginning of his time as interim superintendent, Dr. Patrick assured me that our school system is in the right hands. His beautiful combination of humility, integrity, and authority fill me with confidence that Scarsdale will prepare our children to become thoughtful and well-prepared citizens of the future." A student at SHS also seemed happy with Dr. Patrick's appointment saying, "I sometimes see Dr. Patrick at SHS and he is always happy and smiling. It is nice to have that energy here. It has also been such a crazy few years, so having a good leader stay on will give everyone some stability."