Graduation 2022: They Weathered it All
Details

Written by

Joanne Wallenstein

Hits: 1511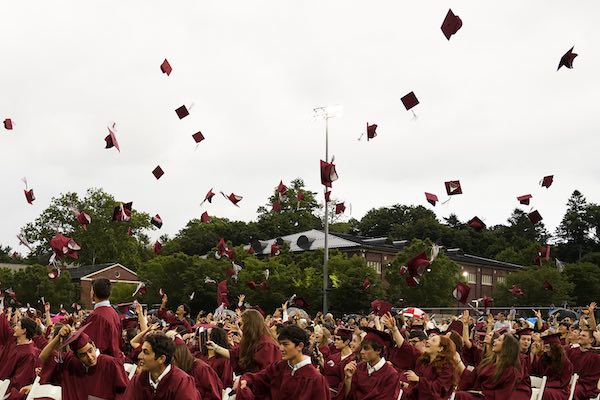 In a sign of the uncertainty of the era, this year Scarsdale High School reserved three dates for their graduation: Thursday morning June 23, Thursday evening June 23 and Friday morning June 25, 2022. It wasn't until Wednesday afternoon that the school announced the graduation would be held the following night on Dean Field, just the second time graduation was held at night.

When the band struck up "Pomp and Circumstance" and the Class of 2022 processional from the gym to the field began, the sun was peeking through the clouds. Jubilant seniors, led by Class Advisors Jonathan Pai and Rachel Warshowsky, filed onto the field in a sea of maroon. There were cheers from parents, grandparents, siblings and teachers who strained to take photos of the final assembly of the 382 graduates of the Class of 2022.

Speaking for School Board President Karen Ceske, Board VP Amber Yusuf said, you have, "displayed incredible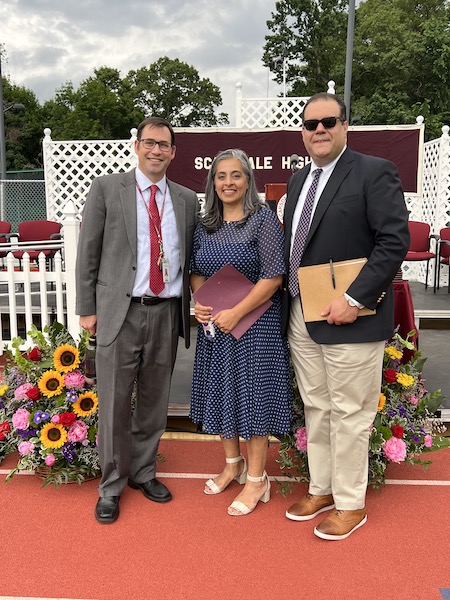 Drew Patrick, Amber Yusuf and Ken Bonamoresilience, determination, and focus...learning, experiencing, and accomplishing so much – both inside and outside of the classroom." She continued, "Your experience at Scarsdale has also emphasized the importance of being engaged citizens and living our school's motto of Non-Sibi. They have encouraged you to live lives of kindness and compassion; to embrace diversity and help build welcoming and inclusive environments; and to spend time talking to others with different perspectives and seek other experiences that widen your frame."

Class Officers Chinasa Ohajekwe and Elizabeth Hurshman thanked their teachers for "everything you have done for us, saying, "We are struck by the impact our teachers have had on us. You worked online to make sure our experience was as normal as possible."

Class Advisor Jonathan Pai said, "You have lived "through the uncertain, you are unafraid to question and explore," you are "goofy, empathic open-minded and kind hearted."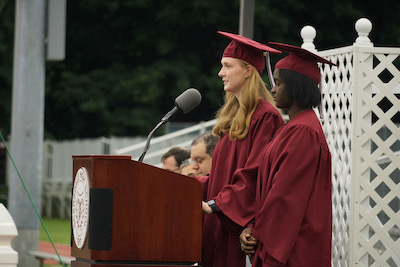 Class Advisor Rachel Warshowsky said, "Accept your new adventures with an open mind and open heart. Push the boundaries and trust yourself. Let your setbacks not discourage you but teach you." She repeated advice that her parents told her when she was growing up,"Travel light, live light, spread the light, be the light."

Class President Spencer Krivo quoted Rick Astley saying, "I am never going to give you up…. We are more than a part of the COVID generation… We are resilient, we did not stop doing what we love… Look behind and be proud. " He told his classmates, "Truly enjoy our moment together one final time." He ended with "Krivo Out."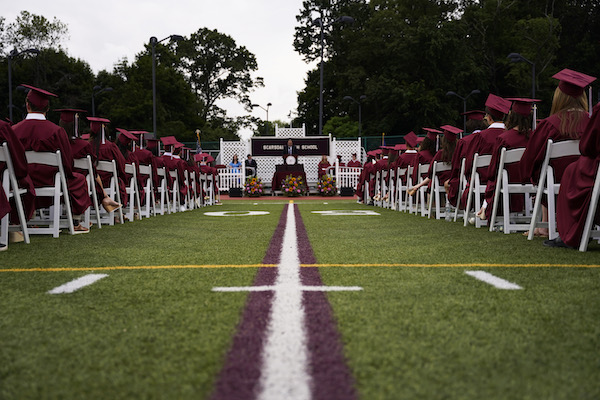 Scarsdale High School Principal told the class to "build a legacy of love." Here are his parting words to the SHS seniors who lived through two years of the pandemic, virtual classes, interrupted and cancelled plans and myriad ups and downs, making history of themselves and the school.

Bonamo said, "Today is a special day that marks the culmination of your childhood education and the beginning of college and adulthood for you. Your families and your teachers are filled with a deep hope that we have given you all that you need to succeed in these next stages, and we are filled with anticipation at what the future holds for you.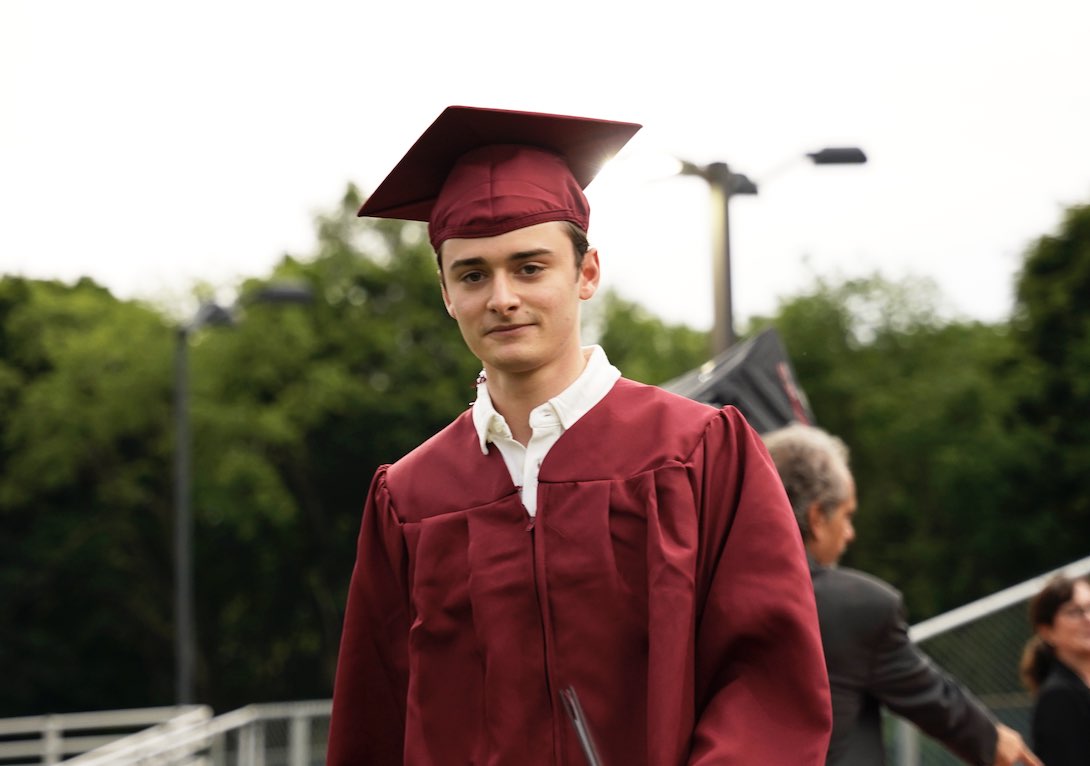 Noah Schnapp of Stranger Things and his twin sister Chloe were among the 382 grads.But first let me say how truly wonderful it is to be together on such a beautiful evening. It is so good to see all of you smiling and enjoying one another's company on this occasion filled with meaning. Let us pause here for a moment to let the beauty of this moment sink in.
We also take a moment to reflect on the values that Scarsdale represents as a community, values of active citizenship, civic engagement, and debate that is informed and respectful. The resources that the community invests in education have, we hope, provided you with an enriching and engaging experience that has developed in you a depth of critical and creative thinking, an appreciation for global interdependence, and a genuine love of learning. These goals have guided our work as a faculty in designing the courses and learning activities that you've enjoyed during the past four years. The vantage point of graduation allows you to appreciate the aggregate effect of your work as having both developed your academic skills and fostered your growth as individuals.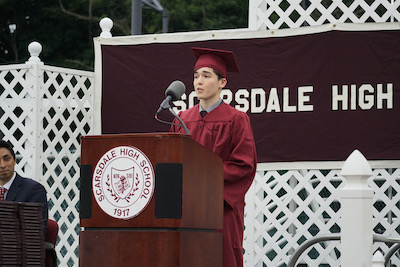 Class President Spencer Krivo
It is important to stop and reflect on this moment, for all the accomplishment it represents as well as the hard work you have put into getting here. Individually and collectively, you faced formidable and unprecedented challenges during your high school career, and you responded with tenacity and ingenuity. You have excelled in athletic and extracurricular activities, finding ways to maintain continuous engagement in the most difficult of circumstances. And you have completed your coursework and your exams and your Senior Options and have earned a seat at this very ceremony. This is not by accident but instead through commitment and dedication to your goals. We are gathered here to recognize all you have had to do during the past four years.
Assistant Principal Andrea O'Gorman orchestrated the event.You are at an important moment of transition, from high school to college, from childhood to adulthood, from the familiarity of home, family, and friends to the new and different people and places. Whatever trepidation you may have is likely and justifiably overshadowed by the excitement of possibilities. Unfettered with responsibilities of families, careers, and financial obligations, you should see opportunity and possibility wherever you look, in whomever you meet, in wherever you go. Take full advantage of this good fortune and this auspicious moment in your life. Yes, you have the last summer of your childhood before you, filled I hope with good times with friends and family and also the upcoming farewells. Then you will have four years—or more—of learning, of studying, of travel, learning about the world and yourself and finding your place in it.
I do hope that your educational journey allows you to find work that truly engages you, that motivates you to pursue it on its own merits, where you find yourself in a state of flow—where you lose a sense of time and space in answering a question or satisfying a curiosity. That is one of the true pleasures of learning, and I hope you use the privilege of being engaged in study as your primary occupation to search broadly and then deeply to find the subject that brings you the most intellectual satisfaction.
Then, as you confront the challenges of our world and of our society, armed with the knowledge and skills you have acquired here at Scarsdale, I hope you will endeavor to make the world a better place. In order to make real change and bring about progress, you will need to add personal courage to the skills and knowledge you gain in school. When you take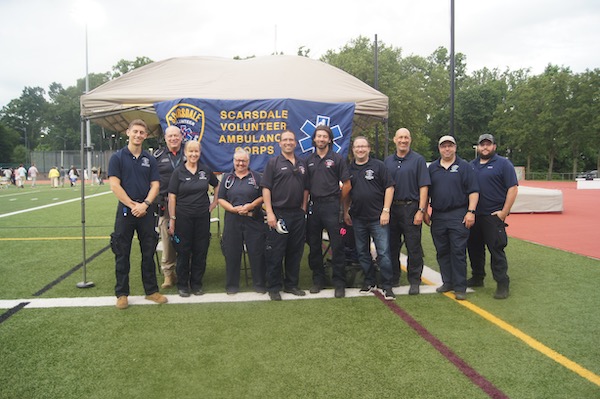 SVAC was on hand.stock of the news of our day, of domestic problems, international relations, income inequality, social justice, educational policy, and environmental challenges, it should be clear that regardless of what side of any one question you take, in order to advance the cause you will need courage. As the energy of your youth matures into the wisdom of age, you will continue to find your voices and ways in which you can make your marks. Given the magnitude of these social and global problems, we will need your fresh voices and new ideas and the courage to stand up even when it means you will stand out. Your success will be measured not by how much you take for yourself but by how much you give of yourself.
Finally, I also urge you to build a legacy of love. The key to your success in taking advantage of
the many opportunities and meeting the many challenges that lie ahead will be to infuse love into your work, your relationships, and your self-regard. If you look around this field, you will see your family and friends who demonstrated love in supporting you. You will see your teachers who loved teaching and guiding you. And most importantly, you should look at yourselves and love what you see—an intelligent, curious, responsible person, poised to continue learning in order to take on the challenges of life and of our society.
I wish you all a wonderful graduation day and health and happiness in the future. Congratulations to you all!"

With that, Superintendent Andrew Patrick said, "I certify that you are hereby graduates of Scarsdale High School and bid you to go forth and serve the common good."
In a well-oiled procedure, masterminded by Assistant Principal Andrea O'Gorman, the name of each member of the class were announced by their dean, and each was awarded with a handshake and a diploma from Principal Bonamo.




Before they got to the end of the list, the skies opened up, first with a drizzle and then a more steady downpour. No one appeared phased. The cheerful class took the rain in stride and weathered yet another unexpected turn of events with smiles all around.

Photos by Elliot Zhang and Joanne Wallenstein. Email your photos to scarsdalecomments@gmail.com to add them to the graduation photo gallery below.

Lemonade for Ukraine
Details

Written by

Joanne Wallenstein

Hits: 433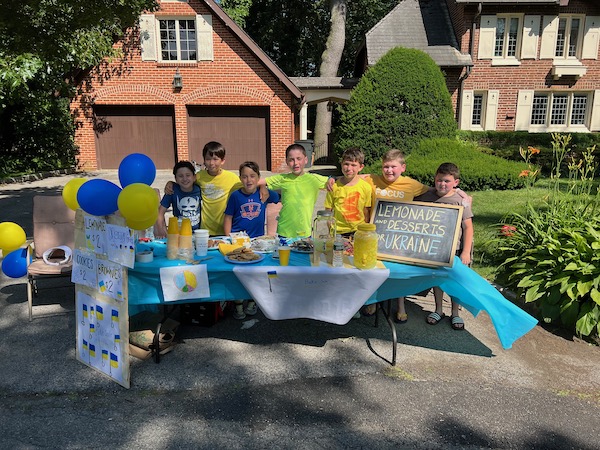 Greenacres boys used their day off on Juneteenth to raise money for Ukraine by selling lemonade and treats on Greenacres Avenue.
The boys love the idea of specifically helping out kids impacted by the fighting because they identify with children more than adults. They are not sure which relief agency they will donate to but are considering some that provide food (which is scarce), offer medical help, help transport families across the border into Poland, provide settlement support in their new (hopefully temporary) settings, etc.
All great causes and the boys raised $362 to give.
Pictured above from left to right are Jacob Dubinsky, Alexander Kingfield, Isaac Simnowitz, Teddy Eisenberg, Teddy Babister, Jonah Bloomgarden, and Micah Bloomgarden. All are in third grader at Greenacres except Micah who is in first grade, and four of them live on Greenacres Avenue.
Memorial Day Parade Draws a Crowd
Details

Written by

Adam Katcher

Hits: 539
On Memorial Day, the signature parade, hosted by American Legion Scarsdale Post #52, marches around Scarsdale Village with many spectators viewing from the sidewalks –and some even tagging along with the procession. On May 30, Scarsdale Police set up barriers to clear the streets of portions of the village to ensure the nearly-mile-long route was clear.
Flagbearers captained the parade, followed by golf carts driven by veterans. A celebratory marching band decked in royal blue outfits signaled the start of the portion of the parade honoring current and future local heroes.
Scarsdale Girl Scout Troop #2688 tracked behind the footsteps of the music, with parents of girl scouts following closely behind. Behind them were the Boy Scouts, the step commands loud and clear and their paces in perfect unison.
The Scarsdale Volunteer Ambulance Corps was situated behind the Scouts with a banner, ahead of the Scarsdale Fire Company with their banner and flag (and full long-panted uniforms despite the beating sun). Emergency service vehicles from all departments were the parade's caboose.
Starting and ending at Chase Park, the route traveled to the notoriously steep Popham Road hill. Then, the parade turned left through Church Lane Street, down Crane Road, and back to the starting point. Chairs were set up in the park for the brief Memorial Day ceremony held at the parade's conclusion.
Some waited in Chase Park the entire time while others tried matching the parade step for step throughout. Regardless, humid conditions could not prevent the Scarsdale Annual Memorial Day Parade from being a huge success with infants, grandparents, families, friends, and everything in between in abundance in the crowds. It was a truly communal environment, apt for recognizing the heroic sacrifices of the people who have died serving the country.
Scarsdale Rocks at Music Festival
Details

Written by

Joanne Wallenstein

Hits: 1070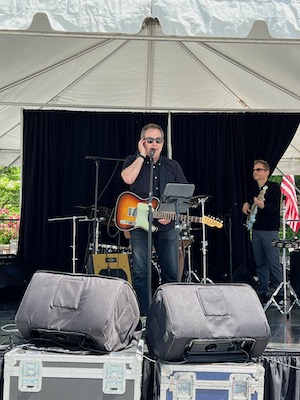 Lee Miller of the ModtonesHundreds of music lovers enjoyed a halcyon day in Scarsdale Village, grooving to excellent local rock bands. Originally dubbed Scarchella, the Scarsdale Business Alliance first hosted its first music festival in September 2019. That day was a big success and undoubtedly would have become an annual event if not for the COVID crisis.
Now, more than two years later, on Saturday June 4, 2022, the SBA hosted their second music festival and it could not have been better. Under sparkling skies the streets of the Village were closed to traffic, a big stage was erected and a full day of music was played for an appreciative audience. We saw grandparents dancing with toddlers, middle aged rockers reliving their concert-going days and a wide swath of the community reveling at the transformation of the Village to outdoor concert venue.

Music

The musical line-up began with Hot Lunch at noon, followed by Lee Miller and the Modtones at 1 pm. When we arrived they were singing, "Don't let go – you've got in the music in you," by the New Radicals, and everyone surrounding the stage was clearly feeling the vibe. They followed it with Elvis Costello's, "What's So Funny About Peace Love and Understanding," and it struck a note in these difficult times.
Randi Culang, lead singer for "Louise in Trouble," took center stage with her brand of country music, stopping everyone in their tracks with a performance of Creedance Clearwater Revivals, "Have you ever seen the rain?" Fortunately there was not a cloud in sight.
They were followed by a well-known band, the Del Bocas with Erika Radin opening the set with "You're No Good." Ironically they were good…. Really good!
We were not able to stay to hear Where is Phi, which includes Robert Schire who chaired the musical portion of the day, along with Meerkat and Someday Radio. We heard they were all great and a testament to the talent of local residents. Scarsdale's enthusiastic Mayor, Jane Veron also took the stage to marvel at the vitality of the Village and the community.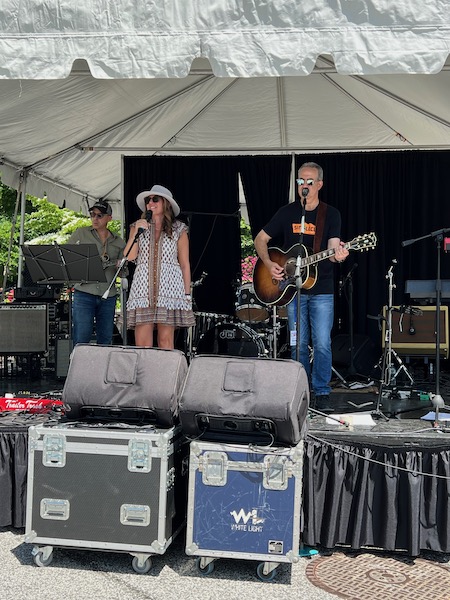 Randi Culang of Louise in Trouble
Food and Fun

Surrounding the stage were food trucks and vendors offering burgers, tacos, lobster rolls, pizza, spicy tuna with crispy rice, crepes, cupcakes, gourmet cheese and more. Zachys built a grand wine tasting tent, stocked with distributors and suppliers serving reds, whites and roses from the US, Europe and beyond. The Scarsdale PBA was behind the grill and the younger set enjoyed a fun zone with face painting, a balloon artist, tatoos and crafts.
Sustainability
The Scarsdale Conservation Advisory Council (CAC) worked with the SBA to make the festival a zero-waste event. Meals and snacks from food vendors were served on compostable (made from plants) or recyclable serveware and the CAC provided recycling and compost bins to keep any waste out of the trash. Sign up to join Scarsdale's award winning food scrap recycling program by emailing composting@scarsdale.com.
About the Festival

The event was chaired by Marcy Berman Goldstein, co-president of the Scarsdale Business Alliance who attracted a wide range of community sponsors and worked with many Village organizations to make this impressive event a reality. Commenting after the day, Berman-Goldestein said, "We were so thrilled to bring back the long awaited Second Annual Scarsdale Music Festival (SMF) and look forward to making the SMF a "must attend" event for years to come. The streets were flooded with people all day long, dancing, eating, drinking and soaking up the amazing sounds coming from our main stage. The stores and restaurants were packed throughout the day and the sense of community was palpable. We are so grateful to our sponsors for their generosity allowing us to continue to infuse our Village center with liveliness and vibrancy.
Scarsdale-Based Insuranced Firm Celebrates Vice President's 40 Years of Service
Details

Written by

Adam Katcher

Hits: 583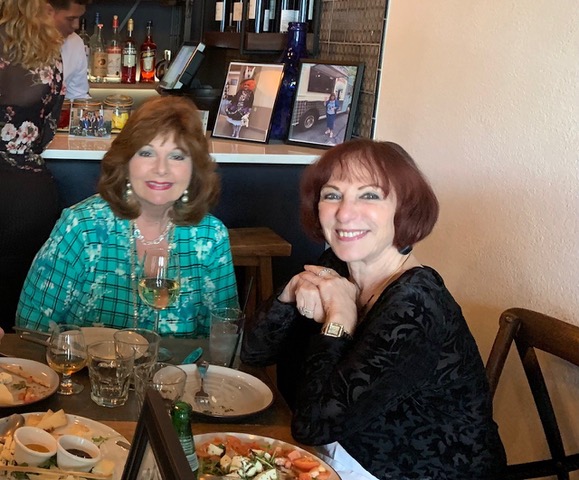 On May 5, 2022, the Advocate Brokerage team, as well as the Binday and Koslowsky families, celebrated Carol Gramolini's 40th year of service to the Scarsdalian insurance firm. The festivities, which the company and friends dubbed "Cinco de Carol," took place at the Aperiti Wine Bar on Garth Road. Gramolini currently serves as the firm's Vice President and Commercial Lines Manager.
She was a pioneer for the firm, joining in 1982, just 14 years after the company was created and at a time of immense growth for the Scarsdale brand. She worked closely alongside company founder and president Roz Binday, who founded the company on the premise of making insurance a more positive and easier to understand experience.
Recalling Gramolini's earliest days at the firm, Binday exclaimed, Carol was my right hand during the early years and together, we made quite a formidable team! Her loyalty and dedication to Advocate Brokerage cannot be adequately expressed. We adore you!"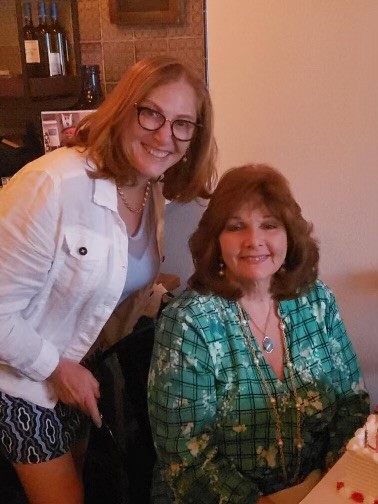 The "Cinco de Carol" festivities at the wine bar saw the company's staff and founding family sink their teeth into stories about the past 40 years, recount some of the funniest memories they have had together, and, of course, enjoy some food and refreshments.
Denise Koslowsky, also a long-time company worker and the daughter of Roz Binday, explained, "We were so fortunate to be able together with so many members of our Advocate family to celebrate Cinco de Carol! The food and company were both amazing and the live, in-person smiles on everyone's faces made this a priceless evening."