How Much Screentime is Too Much? Here's What the Experts Say
Details

Written by

Stacie M. Waldman

Hits: 405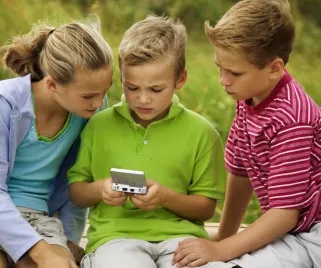 Screen time for kids has increased many-fold since the closing of schools due to COVID-19 in March of 2020. Screens have become necessary for schooling, but one of the biggest discussion points among parents is the additional time their kids are spending online for social interaction or gaming.
News headlines warn that screen time is up 500% among kids and that myopia will be the next public health problem due to screen time. But some have come to the conclusion that it's a throwaway year and have decided to let their kids use their devices at will. Should it be a concern? How much screen time is too much screen time and what techniques can parents effectively use to cut back screen time?
At the beginning of the pandemic, many parents encouraged screen time so kids could keep in touch with friends through gaming and face time. It helped keep kids busy while parents got used to working at home. "Gaming with friends seemed like such a safer option than getting together in person," said a mom of three boys. "But it began as an hour of Fortnight together and evolved into hours a day and wanting to be on with their friends all weekend long." She went on to explain that once the warmer weather hit, she expected her kids to want to see their friends outside instead of gaming with them inside, but it became a constant fight to get them to go outside or do much of anything else.
According to the Child Mind Institute, it's a good idea to ask yourself the following questions, to make a determination based on your family's circumstances of how much screen time is too much.
-Is my child getting enough sleep or is screen time affecting this?
-Is my child still spending quality time with family?
-Is my child getting daily exercise?
-Is my child keeping up with schoolwork and homework?
-Do they interact with friends and/or family while on screens?
If you answered "no" more than "yes," it may be time to place limits on screens.
I know that I have had to repeatedly remove devices from my kids' grips and have found other devices hidden in closets and under beds. Recently I found my son's phone stashed in his room in an alarmed box he wired together at Camp Invention.
Are screens affecting your familial relationships? Does your child get angry when they come off a screen? Do they seem irritable and cranky when they need to stop gaming or their time limit on Tik Tok has come to a close?
Studies have shown that screen time can cause extended release of dopamine in the brain, leading to lack of impulse control. A piece published in Journal of the International Child Neurology Association by Dr. Aric Sigman caught a lot of attention recently.
In it, he writes, "'Addiction' is a term increasingly used to describe the growing number of children engaging in a variety of different screen activities in a dependent, problematic manner." He defines screen addiction the following ways:
• Preoccupation
• Withdrawal symptoms
• Increasing tolerance
• Failure to reduce or stop screen activities
• Loss of outside interests
• Continuation despite negative consequences
• Lying about extent of use
• Use to escape adverse moods
Dr. Pam Hurst-Della Pietra, Founder and President of Children and Screens at the Institute of Digital Media and Child Development linked screen addiction or excessive screen time to lack of sleep, being reclusive and irritability. These are all signs that your child needs an adult to intervene and limit screen time. Some describe it like the "cry it out" technique used on babies to get them to sleep through the night. The first few times you limit the device the kid may freak out, but once you set and solidify boundaries and hold your ground, it will get progressively easier.
A mom from Edgemont said her kids' screen time increased during the pandemic, "…as necessitated by school demands, but the overflow into free-time use has also increased." I asked her if it was for the better (e.g. she could get work done, her kids were happy) or for the worse (e.g. worse overall behavior, lack of interpersonal relationships) and she thinks it is definitely for the worse, including for their postures. She has limits on screen time/gaming during the week and it's been successful as they don't ask for their devices. Her secret? "I confiscate them completely. Out of sight, out of mind." Where she struggles, however, is during the weekends and during breaks. "It's been hard keeping them off their devices and getting them outside for physical activity. Their moods change and they want to stay on way past their limits. They chip away at me and after working all week, I cave. And much more than before COVID. It's quick, built-in entertainment, but I think it provides little value beyond that."
The American Academy of Pediatrics (AAP) and most child health experts agree that it's more important than ever to set limits for time on screens. The AAP recommends no screen time at all for kids under 2 years of age other than face timing family and friends.
Other guidance is as follows:

-Don't make screens totally off limits
-Stay on course- set day and time limits and stick with it
-Model healthy screen use (e.g. no screens while eating)
-Consider bonus time for good behavior
-Brainstorm off-screen activities your child likes and remind child of this when screen time has ended or it's a non-screen time
-Focus on creating a balance between screens and the real world
-No screens one hour before bedtime
-Take breaks every 20 minutes so child can focus on something further away
Speaking of eyesight and focusing, myopia, or near-sightedness, does not have strong data correlating it with screen time even though it has made some headlines. However, some people do experience blurriness, eye fatigue or dry eyes after being on a screen for a long period of time.
What's the bottom line? If you're feeling guilty and think your kids are on screens too much, make an effort to revamp your guidelines. Be clear, concise and consistent with these rules. If you think your child has a true addiction and their screen time affects relationships within the family, speak to your pediatrician for guidance.
The alternative? Try it my way. Just grab the ipads, laptops, phones and chromebooks and lock them in a closet while mumbling something like, "See if you'll EVER get these back!"
Why You Should Vote in the Upcoming Uncontested Election for Village Mayor and Trustees
Details

Written by

Joanne Wallenstein

Hits: 696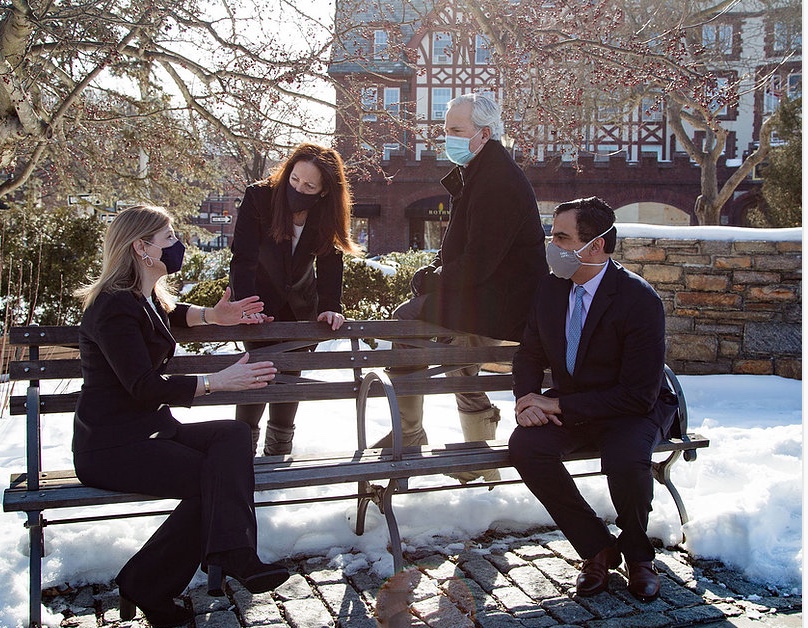 Jane Veron, Karen Brew, Jonathan Lewis and Sameer Ahuja have been nominated to serve as Mayor and Village TrusteesScarsdale Village will elect a new mayor and three Village trustees on Tuesday March 16, 2021. The election will be held at the Scarsdale Congregational Church at 1 Heathcote Road, with the polls open from 6 am to 9 pm.
The Scarsdale Citizen's Nominating Committee has selected four candidates, and this year they are running unopposed.
The Scarsdale Citizen's Non-Partisan slate is as follows:
Mayor: Jane Veron
Village Trustee: Sameer Ahuja
Village Trustee: Karen Brew
Village Trustee: Jonathan Lewis
Find information about the candidates and the non-partisan system here:
You might ask why you should vote in an uncontested election?
There are many good reasons. By voting, you demonstrate your support for Scarsdale's unique non-partisan system of governance that has served the Village well for almost 100 years. The Scarsdale Citizen's Non-Partisan Party "promotes the election of non-partisan candidates and encourages cooperative, deliberative and open civic government to attract highly qualified individuals to public service."
Representatives from Scarsdale's five neighborhoods are elected for staggered three-year terms to serve on the Citizen's Nominating Committee in a general election. These nominators recruit, vet and select qualified candidates to serve Village office for designated terms, ensuring term limits and a progression of leadership. Candidates are not selected because of their stance on a single issue, but for their ability to consider all views and reach consensus on what is best for Scarsdale.
The non-partisan system averts the need for costly and divisive political campaigns while inviting widespread participation in the process and fosters a sense of community. It also encourages qualified candidates to run who might otherwise be discouraged from serving if they had to run time consuming and expensive campaigns.
So though you're not being asked to choose candidates from different parties in this upcoming election, you are being asked to show your support for Scarsdale's non-partisan party and the residents who have stepped up to serve.
If you're not already registered to vote the last date to register with the Westchester County Board of Elections is Friday, March 05. Mail-in registration forms are available at the Scarsdale Village Clerk's Office, online from the Westchester County Board of Elections, or in-person at the Westchester County Board of Elections Office, 25 Quarropas Street, White Plains.
In order to register to vote, one must:
-Be a U.S. Citizen;
-Be 18 years of age by the date of the election in which you want to vote;
-Live at your present address at least 30 days before an election;
-Not be in prison or on parole for a felony conviction;
-Not claim the right to vote elsewhere.
Registered voters who will be out of Westchester County on Village Election Day, or for other reasons including concern about contracting or spreading COVID-19, as provided on the absentee ballot application form, can obtain an absentee ballot by filling out an application form at the Village Clerk's Office in Village Hall, requesting one by phone or mail, or downloading one directly from the Village website. The last day for the Village Clerk to receive an application by mail for an absentee ballot is Tuesday, March 09, 2021; however, applications made in-person will be accepted until Monday, March 15, 2021. Absentee Ballots may be accepted by mail, drop box or in person until the close of polls on Tuesday, March 16th.
All others are encouraged to vote at the Scarsdale Congregational Church at 1 Heathcote Road in Scarsdale from 6 am to 9 pm on Tuesday March 16, 2021.
Scarsdale Alum to Lead Amazon
Details

Written by

Joanne Wallenstein

Hits: 2154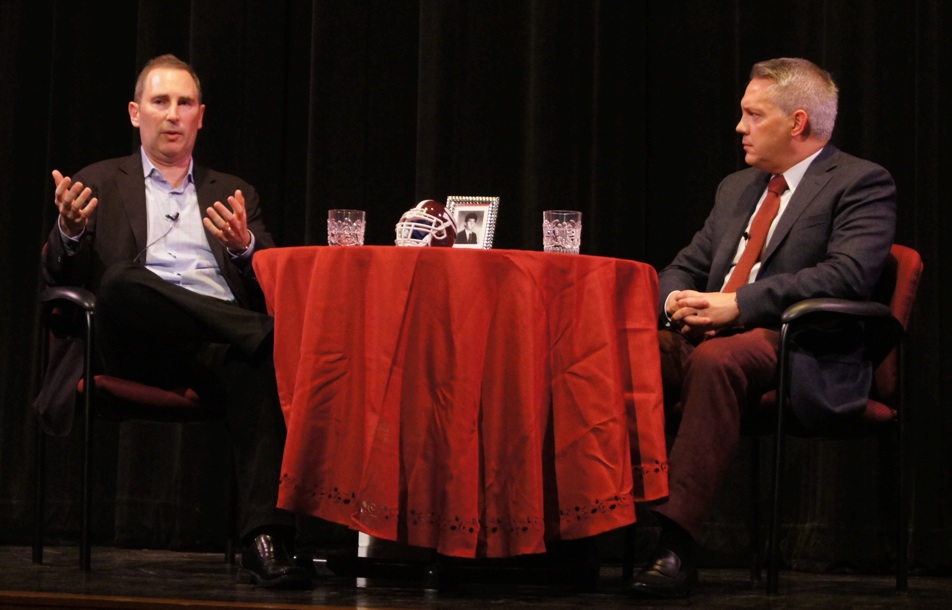 Andy Jassy with Thomas Hagerman at Scarsdale High School, September 2014The news broke on Tuesday February 2, 2021 that an alumni of Scarsdale High School will lead Amazon, a $1.7 trillion company with 1.3 million employees. Andy Jassy, who graduated from SHS in 1986 and is now 53 years old, took his first position at Amazon in 1997 immediately after his graduation from Harvard Business School. In 2002 he began to shadow his boss Jeff Bezos, serving as a sounding board and challenger and learned everything about the business firsthand. In 2003, Jassy founded Amazon Web Services, which has grown to be Amazon's most profitable division. Now Bezos, who is 57, will become Executive Chair of the Amazon Board and Jassy will transition to the role of Amazon CEO.
In September 2014 Jassy came to Scarsdale and was interviewed by School Superintendent Thomas Hagerman. Here is what we wrote at the time:
Scarsdale got a glimpse into the past and the future when the Scarsdale Schools Foundation welcomed SHS alumnus Andy Jassy to address the community on Tuesday night, September 16th. Jassy, who heads up Amazon's Cloud Computing division called Amazon Web Services, gave the packed audience a glimpse into what's driving Amazon's success as well as his own impressive career trajectory at the company, offering credit to Scarsdale for making him the person he is today.
Superintendent Thomas Hagerman interviewed Jassy and said he looked back at Jassy's transcript at Scarsdale High School for something interesting but could only find a record of success. He presented Jassy with a framed photo of himself from his 1986 yearbook.
Jassy reminisced about Scarsdale and said the last time he was in the auditorium he was performing in the senior class play Guys and Dolls. He told the audience that Scarsdale has "an incredible school system" and "you should feel lucky you send your kids to school here." He remembered the teachers who had made a difference in his life including Eric Rothschild who taught him to write, engage and consider himself a student. In Warner Feig's class on constitutional law he learned the Socratic method and the importance of preparing for class. Though he wasn't fond of English teacher Courtney Cauble, he ended up in his class for three years. Cauble had "unrelenting standards" and taught Jassy to write. His ninth grade Social Studies teacher Larry Davis insisted he learned to take notes in shorthand, a skill he continues to use at meetings today.
After attending Harvard College and Harvard Business School Jassy accepted a position at Amazon in Seattle where he felt he could learn and quickly assume bigger responsibilities. In fact, Jassy believes that a hunger to continue to learn throughout life is key to success. Today he manages what he says could become Amazon's biggest business, Amazon Web Services, which serves some of the world's biggest websites, companies and government agencies. Clients include Pinterest, Netflix and Air B&B as well as General Electric, Time Inc. and large academic centers. He said, "We are still in the early days of what is possible," and that the company "develops their services in response to customer needs."
What do they look for in hiring new talent? Amazon seeks intelligent, analytical people with a high tolerance for ambiguity. They look for people who are strategic but can deal with the details as well. Those who succeed are tenacious, persistent, able to overcome barriers, reflective and vocally self-critical. According to Jassy, the company cannot hire enough computer engineers. He said, "It used to be that becoming a doctor was a guarantee of earning a good living. Today, if you graduate with a degree in computer science you will have a job." He encouraged the district to teach coding at an early age as it teaches problem solving and critical thinking.
In order to be nimble, the company is divided into small, autonomous units so that work teams are not dependent on other units to succeed. These units are called 
"Two pizza teams" meaning that the teams must be small enough that they would need only two pizzas for a meal.
Another key to Amazon's success is the prioritization of new projects. Since there are always new ideas, the challenge is to select those that will respond to customer needs and have the biggest impact. In order to define those projects Jassy says that before any coding or development begins the team will write a press release and an FAQ on the new product, laying out its benefits to customers and answering questions that will arise. By evaluating these materials first the company can decide which projects have the most merit and potential before using resources for development.
What's down the road? Jassy said, "We are planting seeds now that will hopefully grown into trees." More specifically he mentioned the drones project that could be two, five, or even ten years away. He said that in the future very few companies will have their own data centers and will use the cloud to collect, store and analyze data at a far lower cost. He even predicted that cancer would be cured by computer scientists through data analysis. The use of mobile apps and devices will be more pervasive and sensors will be used to collect and transmit data back to the cloud.
Hagerman questioned Jassy about the work environment and Jassy replied that the rapidly growing company always has too little space. In order to make the most of the space they have, walls are lined with white boards so that any room can become a meeting space. To keep teams in Seattle in touch with teams around the world, they stream videoconferencing on their computers 24/7 and speak to people around the world as if they were in the same room.
Asked who inspires him, Jassy said, "My boss Jeff Bezos." He continued, "He is the most brilliant thinker I know, he is unbelievably creative, has technical acumen and unusual empathy for the customer. Jassy shadowed Bezos for 18 months and saw that "he quickly got to the heart of an issue and added value." Bezos is "not set in his ways, does not rest on his laurels, is optimistic about change and does not believe there is a glass ceiling on what we can do."
An audience member asked him what he wished he knew when he was in high school and he quickly replied, "I wish I knew then that trying to be cool or popular was overrated."
The irony is that almost 20 years later Jassy is the coolest guy in the room.
A Valentine's Day Art Project To Do At Home
Details

Written by

Joanne Wallenstein

Hits: 681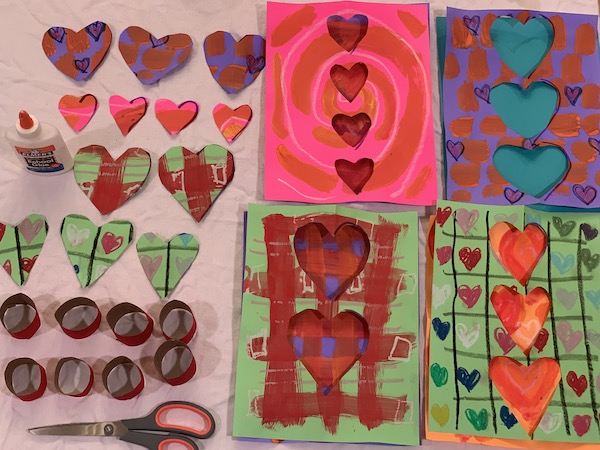 Scarsdale artist and art teacher Marnie Gelfman has designed a new monthly program to bring art home to your children. According to Gelfman, "So much has shifted in our daily lives and the pandemic has unfortunately severely impacted our children and schools. Sadly, many enrichment programs have been cut, especially in the Arts. Children are not reaping the important benefits from visually expressing themselves, which cultivates independent thinkers, helps them gain confidence, take risks and flex creative muscles. The arts also help to reduce anxiety and stress, which is so needed right now."
She is collaborating wither son to create, "Exploring Colors", a new monthly subscription art box for children (K-5th grade) paired with weekly online lessons on youtube. Each month a different curated box of art supplies is delivered and children are exposed to different ways to use the materials. This is not a cookie cutter one way approach to create. Instead, children will start to build an art library and create, using online videos that they can watch at their convenience. Children will be given the freedom to create their own way.
Check it out at www.exploringcolors.com.
In the meantime, Gelfman has shared instructions for a Valentine's Day art project that can be done at home. Follow her instructions below and send photos of the completed projects to scarsdalecomments@gmail.com and we'll share your creations with our community. Enjoy!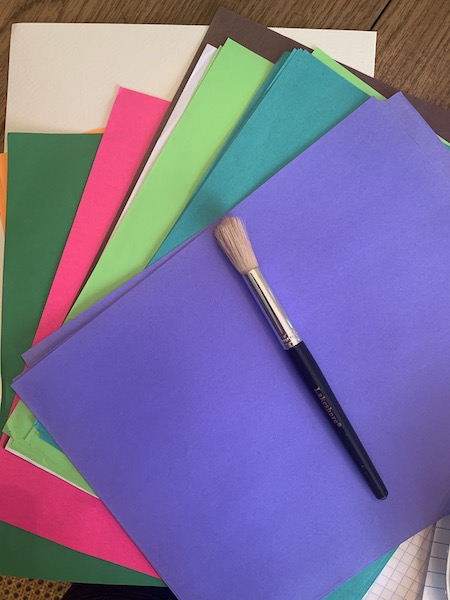 Children's Art Project: Create Festive Napkin Rings And Cards With Materials You Have At Home For Valentine's Day
Materials (most items you should have at home):
- Paper towel cardboard insert (or 2 toilet paper cardboard inserts)
- Tempera paints (preferably red, white, orange, yellow but any colors you have from painting at the Window Painting contest will work.)
- Large paint brush
- A few q-tips (to be used like a small paint brush- no prob if you don't have them)
- Colored Construction Paper (an assortment of colors- maybe 8 sheets)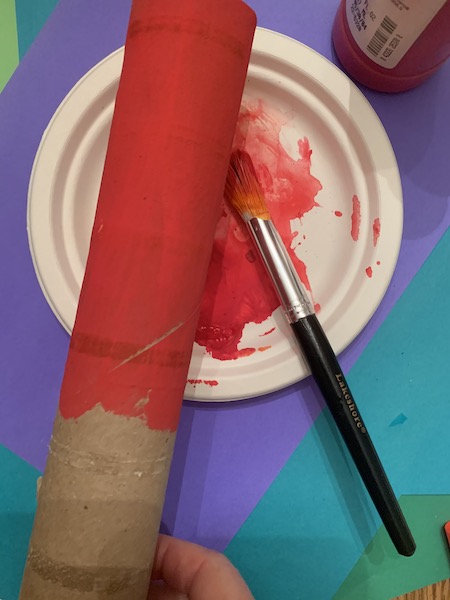 - White printer paper (4 sheets)
- Scissors
- Elmer's glue
- A cup or jar of water (for painting) I often use empty tomato sauce jars.
- A few paper towels
- One or two paper plates to use as a paint palette to mix colors
- Old newspaper to put on table or floor to act as a drop cloth.
- Optional: cray-pas (oil crayons) or regular crayons or colored markers.
First step is to paint the paper towel cardboard insert (or the 2 toilet paper inserts. Place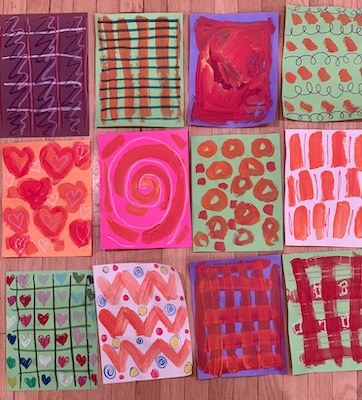 newspaper on work surface to keep it clean. Pour a bit of red paint onto plate. Maybe the size of 2 quarters. Fill cup or jar with water for paintbrush and have a piece of paper towel handy. Put fingers into center of paper towel insert and using a large paint brush paint the outside until the entire tube is covered. (You may need to dip the brush into the water if paint is too thick.) Set it on newspaper to dry. This will be cut once it is dry to become the napkin rings.
Take most of the colored construction paper and using different colored paint, decorate each piece with different strokes of color. You may want to paint lines, circles, plaids, dashes, hearts, any design you can think of from your imagination! You can also use cray-pas, crayon or markers on some as well. Decorate with lots of patterns and colors! Remember to clean your paintbrush in water when changing color paint. You can use the paper plates as a palette to add new colors. Have fun! Pretend you are designing wrapping paper. De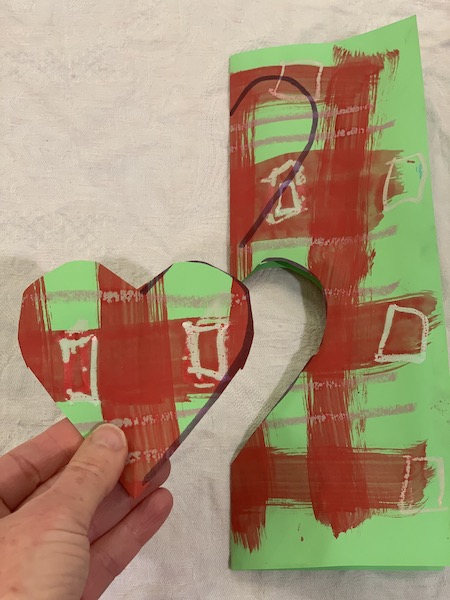 corate a few of the white printer paper as well. You can also use the q-tips to dip into paint and create dots or small designs like hearts. Only decorate one side of the paper. Place everything on newspaper to dry. Leave a few pieces of colored paper and white paper blank as well.
Once the paper towel insert and assorted painted paper is dry (it may take about an hour), cut the paper towel roll into 1 1/2" pieces to make individual napkin ring holders. Set aside.
Fold one of the painted patterned color paper in half lengthwise (so paper is skinny). Draw half a heart on the fold. Most likely 2 or 3 hearts can be drawn down the fold. Using the Scissors cut out the half hearts on the fold. It may be easiest to draw the first heart, cut it out and then use the folded cut out heart as a template to draw the next (so it the same size) and then cut out. Cut out hearts on the fold with half the paper (decorated and undecorated.)
Pick the cutout hearts and using the Elmer's glue attach a large dot to each of the painted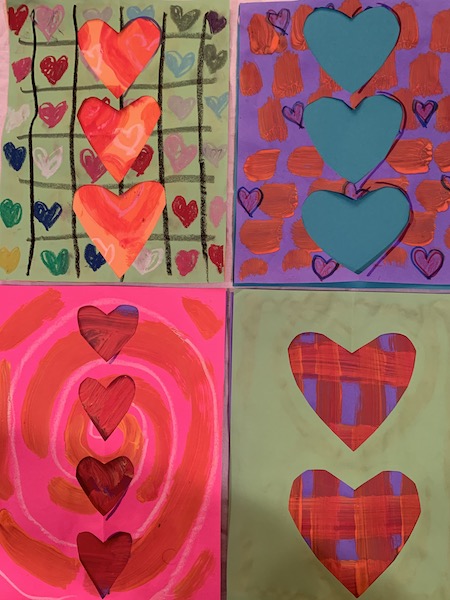 napkins ring holder. Place the heart on the glue and set aside to dry (these will take about an hour to dry.)
Play around with different combinations of the paper in which you cut out hearts placed on top of the paper you did not cut. The heart windows will look different depending on which combinations you use. See which combinations you like the best. Some may look best against solid paper while others might be fun against a different patterns. Once you settle on the best combination, turn the cut out paper over and put glue on the perimeter and around the heart windows and then carefully turn over and glue onto the second piece of solid paper. Do this with all the papers until every cut paper is attached to another background paper. Let dry for about an hour.)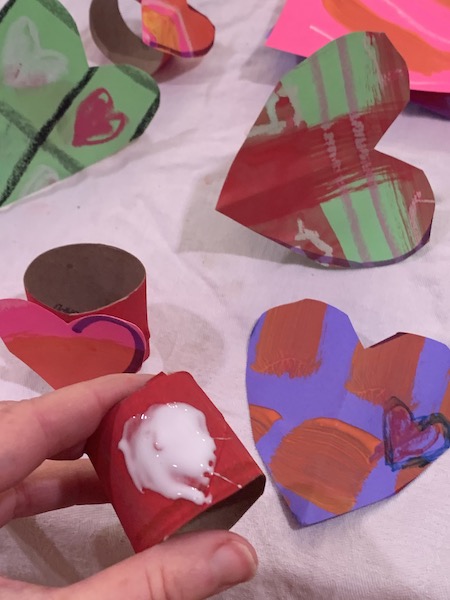 Once the papers are dry you can use markers to write valentines cards on these! You can write and draw on the front or back. You can also hang on the wall or windows. (Ask your parents first!)
Once the napkin rings are dry, place napkins in them and put on plates. I like to make my table really colorful! Have fun with this and play with different colored plates and napkins through the rings.
Your kitchen or dining room will be festive and filled with love for Valentine's Day!! Enjoy!
After graduating from Cornell University with a BFA, Marnie Gelfman taught art to children for almost 20 years. She recently received her MFA from the Pennsylvania Academy of the Fine Arts. Marnie sits on various committees at the MoMA, Whitney, ICP and Johnson Museums in New York. She is very excited to combine her love of art with children to bring Explorin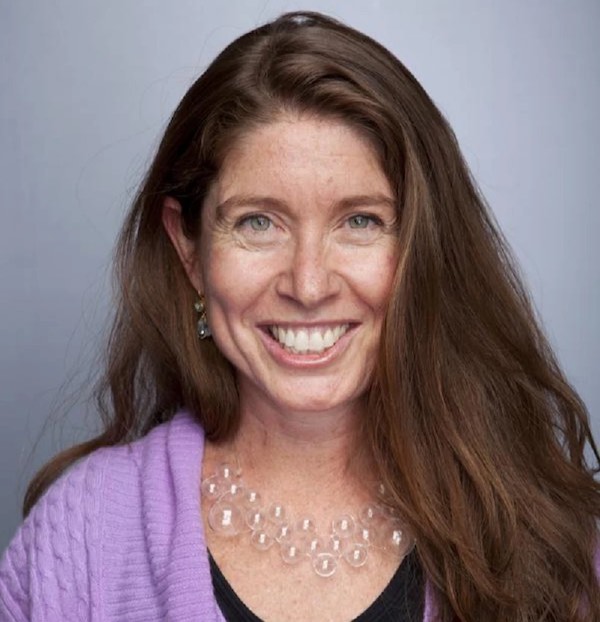 g Colors to life with her son, Max!
Find more art projects at www.exploringcolors.com.
Scarsdale Foundation Grant Aids Hoff-Barthelson with Pandemic Precautions to Restore In-Person Music Lessons
Details

Written by

Joanne Wallenstein

Hits: 829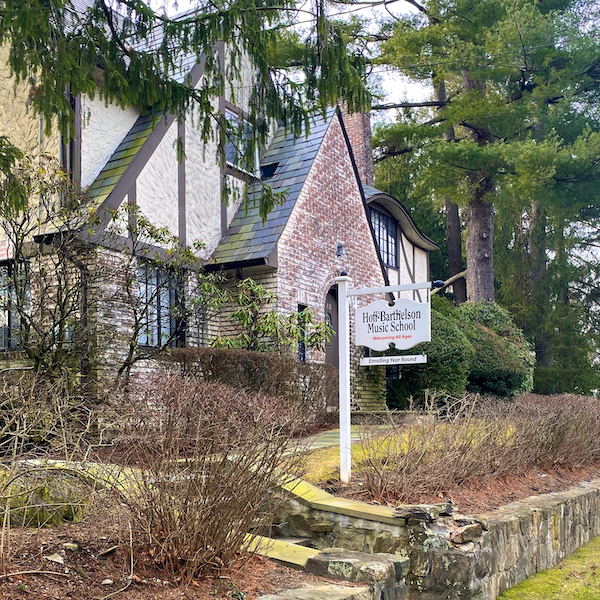 Hoff-Barthelson Music School has received a grant from the Scarsdale Foundation to complete facility upgrades and install safety equipment that enable the School to meet the growing demand for safe in-person music lessons even as the COVID-19 pandemic continues.
The $10,835 grant underwrites the costs of upgrading HVAC filtration systems and installing protective barriers and sanitation stations for the school's second building, Helton House. Helton House, located next to Hoff-Barthelson's main building on School Lane, is home to eight private music learning rooms. Due to the COVID-19 pandemic, Hoff-Barthelson has been running a large slate of online offerings, but has had to sharply limit the number of in-person lessons and classes. The upgrades facilitate the use of those rooms for safe, in-person music lessons as the School launches its spring semester later this month.
"This generous grant from the Scarsdale Foundation has enabled us to complete important safety upgrades to the smaller of our two buildings, bringing additional studios back into service," said HBMS Executive Director Ken Cole. "While we have been providing a limited number of in-person lessons since the start of the 2020-21 school year, hundreds of our students have been pursuing their music studies entirely online since March, 2020, when the pandemic forced us to drastically reduce the number of people allowed on site. Online lessons and classes work well for many students; however, others require in-person instruction in order to thrive. We are delighted to now be able to safely accommodate greater numbers of students in person, even before the pandemic is fully tamed."
"The Scarsdale Foundation is pleased to provide a grant to assist Hoff-Barthelson in expanding the number of students who will be able to receive in-person lessons despite the ongoing COVID-19 pandemic," said Scarsdale Foundation President Randy Guggenheimer.
Families interested in enrolling in music instruction, online or in-person, for the spring semester, are invited to call Hoff-Barthelson Music School at 914-723-1169, email at hb@hbms.org, or to visit our website at www.hbms.org.
About Hoff-Barthelson Music School
Hoff-Barthelson Music School has achieved national recognition as a premier community music school for its unsurpassed leadership in education, performance and community service. With a faculty drawn from the region's most talented teachers and performers, the School has long been one of Westchester County's most cherished cultural resources. At Hoff-Barthelson, students find a warm, friendly music school dedicated to the highest standards of education, performance, and community service. Students of all ages, aptitudes, and levels of interest enjoy a supportive, joyful learning environment; a focus on the whole person; exceptional teaching; and a multifaceted curriculum.