Scarsdale Remembers 9-11
Details

Written by

Joanne Wallenstein

Hits: 498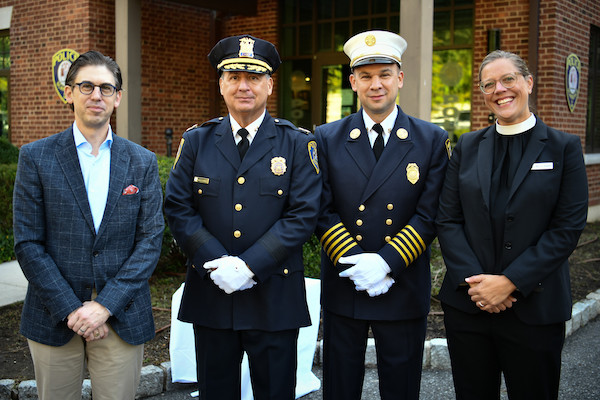 Under clear blue skies reminiscent of the day of the attack, the Scarsdale Department of Public Safety held a ceremony to mark the 20th anniversary of 9-11-11 twenty years later on 9-11-21.
The ceremony remembered those who were killed on that fateful day and honored the sacrifices of the first responders and recovery workers.
Police, firemen and their families, the clergy, and Village Trustees were on hand to speak and memorialize the heroic efforts of public safety workers. The ceremony was orchestrated by fire captain Christopher Mytch who invited vocalists, clergy members, the Mayor, fire commissioner, the color guard and a bagpiper to perform and speak at this moving event.
The ceremony was a mix of remembrances, insights, reflections and honors for those who stepped up and for those who lost their lives.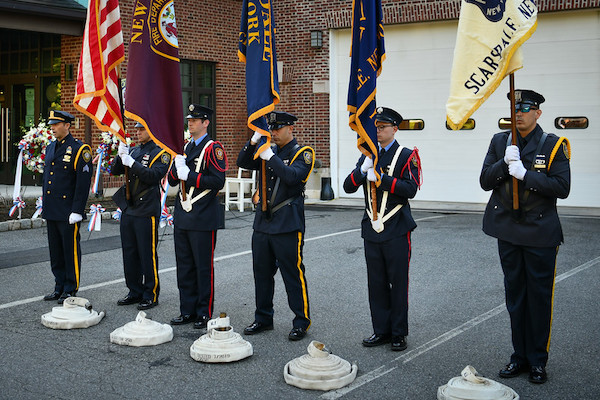 The Scarsdale Colorguard
Sheila Gorham Noonan, wife of a Scarsdale firefighter struck the perfect note as she sang "The Bravest" by Tom Paxton, accompanied by her guitar. The song tells the story of a survivor from the attack on the World Trade Center with the refrain, "Now every time I try to sleep, I'm haunted by the sound of firemen pounding up the stairs, while we were running down."
After a demonstration from Scarsdale's Color Guard accompanies by bagpipes, Rabbi Jonathan Blake asked survivors to teach the next generation:
That love must prevail over hate
Courage over fear
Goodwill over meanness of spirit
Knowledge over ignorance
Unity over division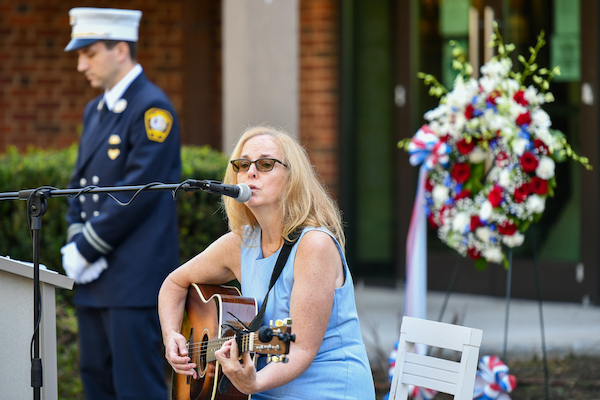 Sheila Gorham-NoonanSHS student Samantha Loeser gave an a cappella performance of the national anthem and Scarsdale Mayor Jane Veron lauded Scarsdale firefighters saying, "You, our first responders, unfailingly rise to action, paying little heed to personal risk or sacrifice. You are courageous and heroic, with dogged determination, unflagging stamina and commitment. This seems to be part of your DNA. No matter the circumstance, you answer the call of duty. You have our backs, and with gratitude, we salute you."
Village Fire Commissioner Lena Crandall praised firefighters for their work to help residents during Hurricane Ida, saying "Eight inches of rain fell on our community. You worked tirelessly to help people you did not even know." She urged listeners to fight back their reserve and to fight the darkness.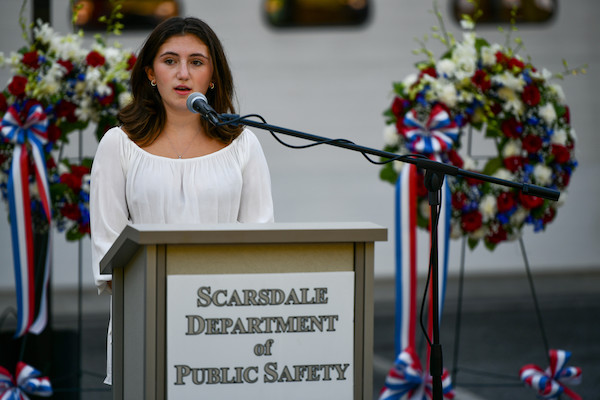 Samantha Loeser
Three Scarsdale residents perished in the attacks and they were remembered at the ceremony: Peter Alderman, 25 years old, Kazuhiro Anai, aged 42 and Glenn Kirwin, age 40.
Reverend Kelly Rogers from Scarsdale Congregational Church offered a prayer for those who were lost, saying "God we ask that your Spirit breath new breath into clouded lungs, new life into troubled minds and new warmth into broken hearts so that we all may feel wrapped in your loving embrace. May we move from suffering to hope, from brokenness to wholeness, from anxiety to courage, from death to life, from fear to love and from despair to joy."
The ceremony concluded with retired Firefighter Grace playing Amazing Grace on the bagpipes and Samantha Moser singing God Bless America.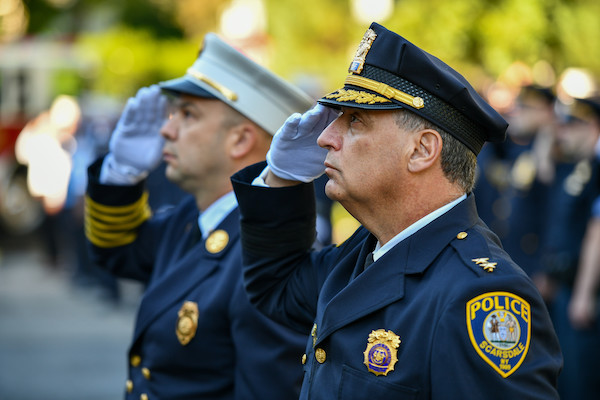 Chiefs Seymour and Matturro
Photos by Jon Thaler. See more here.
(Pictured at top: Rabbi Jonathan Blake, Police Chief Andrew Matturro, Fire Chief Jim Seymour, Reverend Kelly Rogers)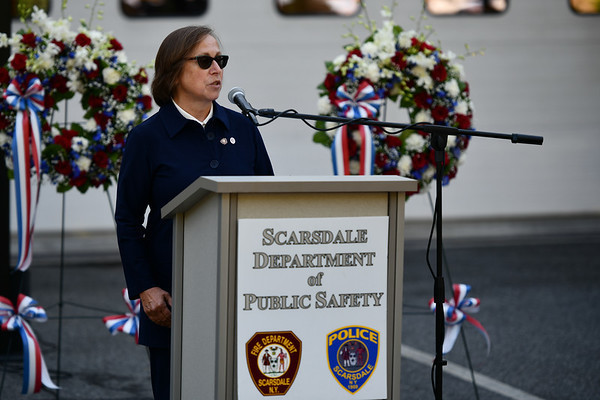 Fire Commissioner Lena Crandall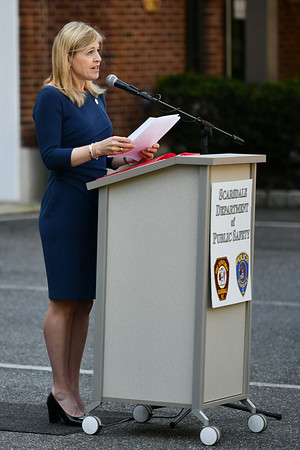 Scarsdale Mayor Jane Veron
A Prayer for the New Year 5782 By Rabbi Jonathan Blake
Details

Written by

Rabbi Jonathan Blake

Hits: 605
A Prayer for the New Year 5782 written by Rabbi Jonathan Blake of Westchester Reform Temple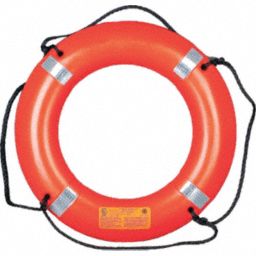 The Hebrew word for Hope is tikvah.
We know it from Hatikvah,
The anthem of the Jewish State:
"Let not perish the hope of 2,000 years,
To be a free people in our land."
Tikvah is a profound and mysterious word.
It could come from the Hebrew m'kaveh,
Which means to wait.
Sometimes we just have to wait it out,
Patient and persevering until the pain passes.
Tikvah could come from the Hebrew word kav,
Which means a line,
Like you use in fishing,
Or that which connects two points.
We can't have hope without connection.
Or maybe it's a cousin of mikveh,
The immersive pool that purifies and restores,
A warm bath that, womblike, surrounds us
And out of which we are reborn to new possibilities.
Hope can definitely feel like that.
I don't know about you,
But amid all the talk of vaccines and boosters,
I've also been longing for an injection of tikvah,
A spiritual shot in the arm,
An inoculation against despair and isolation.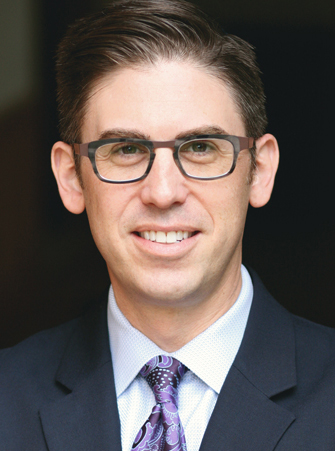 Rabbi Jonathan BlakeUntil some spiritual genius comes up
With a miracle cure for all that ails us,
We'll have to wait it out.
We'll have to be each other's lifelines.
We'll have to be for one another an ocean of hope and healing.
L'Shanah Tovah
Scarsdale Swimmers Raise Another $170,000 for Cancer Research
Details

Written by

Joanne Wallenstein

Hits: 1195
As they have done for almost 20 years, a group of Scarsdale residents will be participating in Swim Across America's Long Island Sound Swim Saturday July 31 in Larchmont. Meeting and developing friendships and common bonds at the Scarsdale Town Pool during Early Bird Swim over the past 20 years, this group has raised more than $1,000,000 for cancer research and treatment. The Long Island Sound Swim features 2, 5, and 10 kilometer distances for swimmers and fundraisers of all ages and abilities. Funds raised go to research at the Swim Across America Lab at Sloan Kettering, Children's Hospital at NY Presbyterian, and to the Cancer Support Team
This year, they are swimming as Team Dase. A close friend of Team Captain Joe Kaufman, Dase Kim passed away at the age of 44 from pancreatic cancer on Sunday, May 23, 2021 after a valiant fight. Dase, a talented lawyer at KKR & Co., was a person of tremendous humanity, good humor, and kindness. He was a great colleague and a friend to many. Dase is survived by his two children (aged nine and six years old), wife, parents and brother. Already this year, Team Dase has raised more than $170,000!
Team members include Joe Kaufman, Joel Talish, Julia Talish, Abigail Talish, Eldad Blaustein, Peter Doyle, Doug Rachlin, Patrick Bates, Trisanne Berger, Diane Calderon, Josh Glantz, Noah Glantz, Julian Glantz, Robert Goodman, Carole Wolfe, Michael Zeller, Razy Hirschberg, Jeffrey Malsch, John Needham, Jeannine Palermo, Miles Rubin, Charlie Rubin, Tod Cooperman, Noonie Thomspon, Tony Sibio, Elissa Elkowitz, Jarek Szurlej, Ellie Tate, and Yossi Taubenfield.
To find out more about the event and/or show your support for cancer research, you can contribute to Team Dase or any individual on the team by clicking here:

Retailers Report an Uptick in Business in Scarsdale Village
Details

Written by

Joanne Wallenstein

Hits: 1048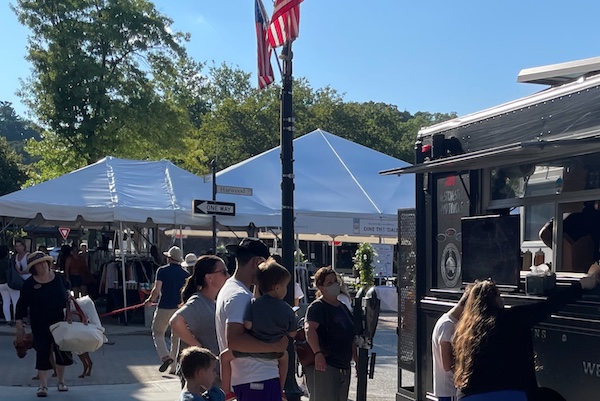 Now for some good news from Scarsdale merchants: Though the Village has lost some retailers this past year, it's not all doom and gloom downtown. Initiatives like the construction of the outdoor dining tent, outdoor dining permits for restaurants and a lively four day Sidewalk Sale seem to be bearing fruit.
A few retailers we spoke to in the past few weeks are reporting an uptick in their businesses, due to a combination of factors including the COVID outbreak.
It seems that the closing of offices in New York City has turned residents focus to their local assets, including retailers in Scarsdale Village. Jay Rosen, owner of the Eye Gallery was pleased to report that locals are frequenting his shop. He surmises that people who formerly commuted to work and took care of business at city shops during their lunch hours, are now turning to Village retailers to fill their needs.
The shop is located directly next to the dining tent, which has increased foot traffic in the Village and the visibility of the store. People are scheduling lunches or coffees in the tent, and walking by his shop in the process.
He seemed genuinely surprised and pleased to find that the COVID outbreak had a silver lining for downtown Scarsdale.
Marcy Berman Goldstein, who heads the Scarsdale Business Alliance and is the proprietor of I Am More, a boutique in the Village, had this to say about business downtown:
"There has been a significant increase in foot traffic in the Village center since the Spring. I think the availability of vaccinations and a genuine shift in community members shopping and supporting our local merchants have been the catalyst for this shift.
After the shut down and such a long winter dealing with Covid, I Am More's customers were very excited about spring and summer fashion and were so happy to be out and about. Merchandise sold much faster than anticipated, and this trend has continued with our new fall arrivals.
We are seeing more and more of our loyal customers, who were previously hesitant to come in resurface, as well as many new faces! In addition, our e-commerce site, which contains all of our merchandise, has also trended with increased sales locally and all over the country! "
Ken Levinsohn and Ellen Strauss, who own the children's toy store Learning Express are also noted a shift. They said, "We are very pleased to see how the community has come out to support village businesses after what had been a disastrous year due to the pandemic. Fueled by pent up demand, hot product trends, and a renewed emphasis to shop local, we are seeing a robust and much needed recovery in our village."
Recycle Books, Eyeglasses and Cork at the Scarsdale Recycling Center
Details

Written by

Joanne Wallenstein

Hits: 878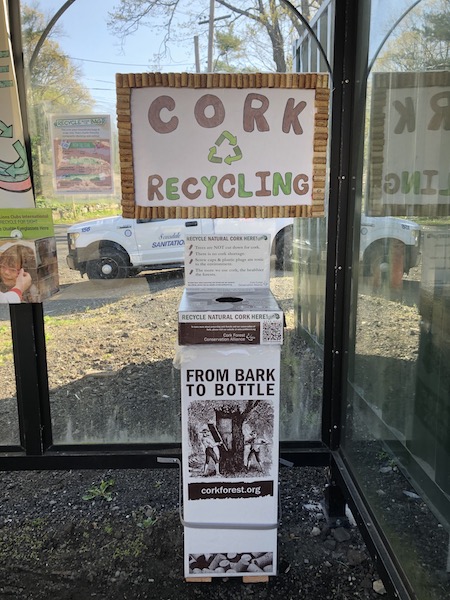 Not sure what to do with unwanted books, glasses and cork? The Scarsdale Conservation Advisory Council has implemented three new recycling programs to recycle these items and you can bring yours to the Recycling Center at 110 Secor Road.
Book Reuse and Recycling
You can now recycle books by placing them in the book recycling bin at the Recycling Center, 110 Secor Road. The books are collected by a company that either sells, donates or recycles them. This program is a great way to get rid of unwanted hard and softcover books, especially those that are either damaged or unusable. Because books cannot be recycled with standard paper products due to the glue on the spine, the CAC is pleased to now offer this service promoting reuse and recycling.
Cork Recycling
Residents may now deposit corks into the cork recycling bin at the Recycling Center. The corks are recycled by a company that turns them into cork flooring and foot beds.
Eyeglasses Recycling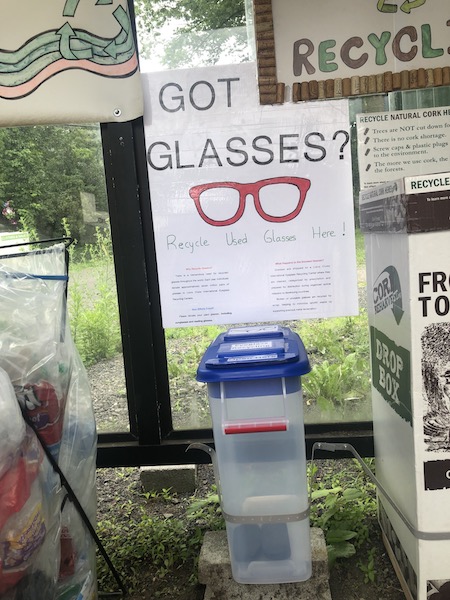 Not sure what to do with your old glasses? Deposit them in the eyeglass recycling bin at the Recycling Center. The CAC has partnered with the Lions Club in Westchester County, which collects the eyeglasses, cleans and determines their prescription strength and then distributes them to persons in need.
Reduce, reuse, and then recycle. For more information, about these programs or other recycling opportunities, please visit the Sanitation Department web page or call them at 914.722.1294.