Rock Out in Scarsdale On Saturday June 3rd
Details

Written by

Joanne Wallenstein

Hits: 444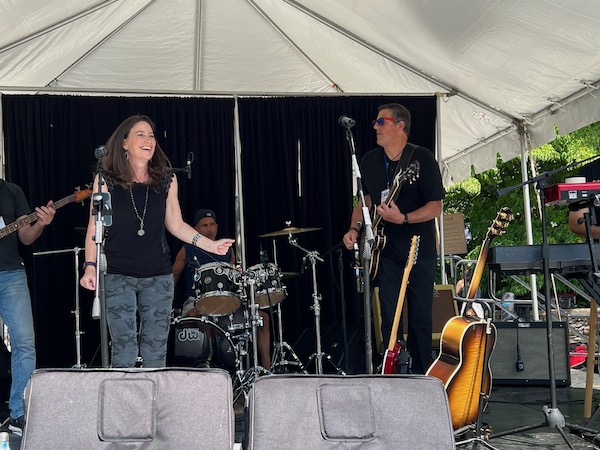 Scarsdale will rock out at the third annual Music Festival in Scarsdale Village from 12 – 7 pm. This year the event will feature two live stages, allowing bands to perform continuously all day.
In addition to the line-up of great music there will be food trucks, a Grand Wine Tasting tent and Family Fun Zone with a dazzling array of activities for the kids. It's an ambitious community event and everyone is encouraged to come to the Village to enjoy it.
Here's everything you need to know:
Who's playing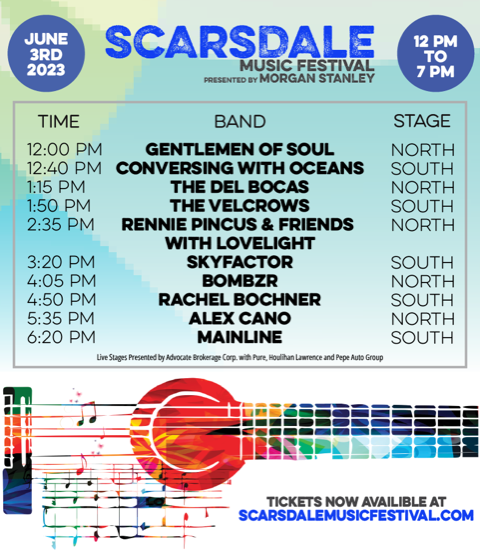 Where to park
If you can't walk or ride to the festival, free parking is available in the Freightway Garage and adjacent outdoor parking lot (72 Freightway) as well as the lower two levels of the Christie Place Garage (64 East Parkway).
Admission
Though the festival is a free community event, there is a suggested minimum donation of $10 per adult.
Kids' wristbands are available for purchase ($35 in advance/$40 on-site) to participate in most of the Family Fun Zone activities.
Attendees 21+ can enjoy great beer and wine by the glass, available for purchase at two main bars and you can drink throughout the Village.
Entrance to the Grand Tasting Tent requires a designated wristband ($30 in advance/$35 on-site).
All food and non-alcoholic beverages are pay-as-you-go.
Food Trucks
You won't go hungry as you enjoy the music. A selection of savory and sweet offerings from Green Street Food Truck, Longfords Ice Cream, Meritage, One Rare Italian Steakhouse, Pizza Vitale Truck, Poke Motion Truck, Popojito, Rockland's Kettle Corn Truck, and Westchester Burger Truck will be on site.
Also, the Scarsdale Police Benevolent Association will host its annual BBQ Bash, and the Scarsdale Uniformed Firefighters Association will be serving brisket and pulled pork sandwiches.
Wine Tasting
The Grand Tasting Tent, presented by Zachys, will feature a selection of fine wines from around the world, spirit cocktails and craft beer. Guests will have the chance to taste, talk and learn from industry experts in this uniquely curated tasting event. It is a VIP experience with prime stage viewing not to be missed!
For the Kids
This year's expanded Family Fun Zone is presented by Scarsdale Moms, and will feature numerous vendors and activities geared towards pre-school and elementary-aged children, including balloon artists, face painters, arts and crafts, DIY slime, beading, STEAM activities, sports, music demonstrations and more!
Where to find it all
Here's a map of the festival in the Village.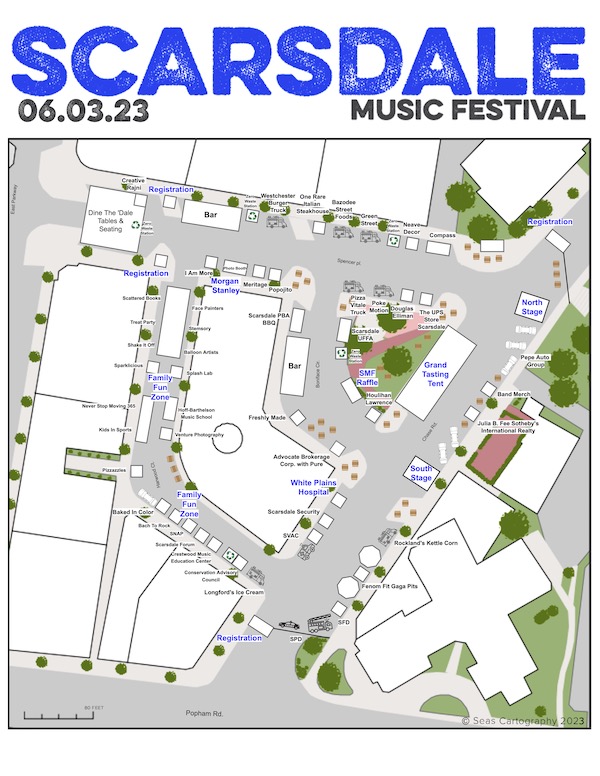 See you in Scarsdale on Saturday June 3 from 12 – 7 pm. Tickets here.

Lisa and Jordan Copeland Receive Rising Star Award from Scarsdale Edgemont Family Counseling Service
Details

Written by

Joanne Wallenstein

Hits: 1032
Lisa Copeland, Marcy Berman Goldstein and Jordan Copeland: Photo Credit: Mark JessamyAt a joyous gala on Thursday night May 11 at Scarsdale Golf Club, Scarsdale Edgemont Family Counseling Service (SFCS) celebrated their staff, volunteers and community partners and awarded Lisa and Jordan Copeland with its annual Rising Star Award in recognition of their volunteer leadership and contributions to many Scarsdale organizations.
Executive Director Jay Genova acknowledged SFCS' 103 years of service to the individuals, families and communities of Scarsdale and Edgemont and thanked local, county, state and school board officials, for their "dedication to our partnerships and your dedication to our mission. Without your support, our work would not be possible."
He remembered meeting former Village Manager Al Gatta in 2014 when Genova was named as SFCS' Executive Director. Genova asked Al if he had any advice and says Al "leaned forward and simply said to me, "Don't close." I assumed the silence was a pause, and that he would continue with some additional advice, but that was all he said to me, and the meeting ended." In the years to come, when Genova encountered challenges due to the pandemic and staffing shortages Al's words echoed in his mind.
This year, Genova was happy to report that SFCS is doing far more than staying open and is back in full swing, He offered the following list of all they are doing:
Bonnie and David Bleustein: Photo Credit Mark Jessamy
We're Back.

• We're back and fully ready to meet the challenges that lie ahead
• Were back to being fully staffed across all of our three of our service divisions
• We're back providing psychotherapy services in eight languages other than English
• We're back to providing parent support groups and leadership development programs
• We're back to providing alcohol, drug, and violence prevention programming
• We're back providing Mental Health First Aid and Narcan trainings
• We're back protecting those who have experienced intimate partner violence
• We're back hosting Vital Aging seminars and assisting our seniors return to in-person activities and
• We're back to having no wait list for our counseling services
He urged the community to continue to give to SFCS saying "Without your support, there is no SFCS."
SFCS President David Lee thanked the remarkable Gala committee, led by Wendy Gendel and Laura Daniels for the evening's gathering. He said, "Organizing an event like this is a major challenge, and, to Laura and Wendy and your Gala committee, I know you've put your collective hearts and souls into this effort. Thank you, many times over."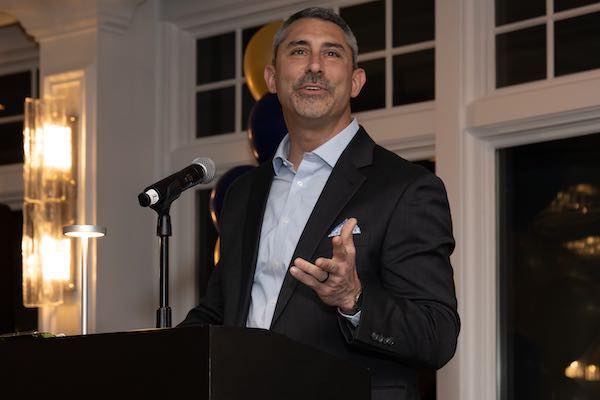 Jay Genova - Photo Credit Mark Jessamy
He reflected on why Scarsdale Edgemont Family Counseling Service is important to our community and said:
There are a lot of things I could point to, but I'm going to limit myself to just three.
Our Agency is local to our community.

We know the culture of Scarsdale, and, as a result, we can be more responsive to community needs. Our outreach workers working in the Scarsdale schools with our kids understand the pressures common to our students. And, similarly, when these same outreach workers lead discussions in parent support groups, they are familiar with the issues Scarsdale parents face.
We provide high-quality mental health services.

Besides the consistently positive feedback we get from our clients and our principal funding partners – namely, the Village government and the School District -- we have once again received national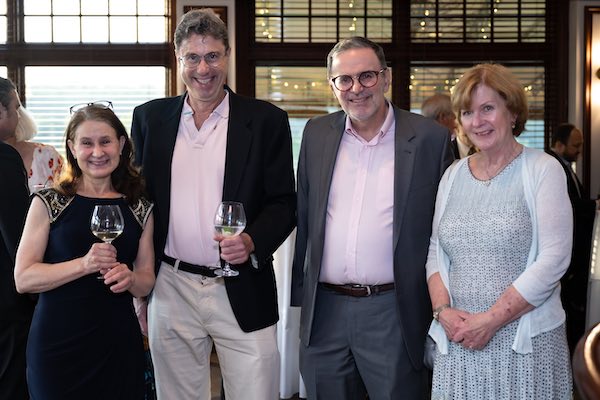 Nicky and Jon Ungar, Bob and Nan Berke: Photo Credit: Mark Jessamyaccreditation as a provider of professional counseling services and programs. This accreditation status comes after an intensive review of our Agency up and down.
Our Agency helps keep our community safe.

With the growing mental health needs in our community, just as in the world at large, SFCS is in a unique position to address the needs of our community through preventative efforts. Why unique? Because our partnership with the schools, with the Scarsdale police, and with the Scarsdale Village Ambulance Corp, often brings us into situations where our mental health services are especially needed.
Marcy Berman Goldstein, a former recipient of the Rising Star Award, presented this year's award to Jordan and Lisa Copeland.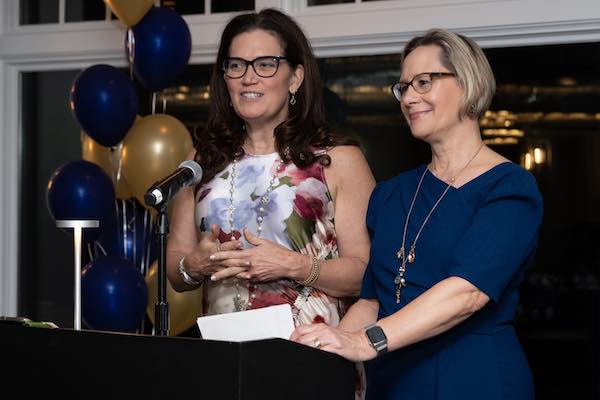 Event Chairs: Wendy Gendel and Laura Daniels: Photo Credit: Mark JessamyAccording to Genova, "the award recognizes that Lisa and Jordan have transformed their backgrounds in law, business, and education into careers of civic and social service engagement. Together, they are using their experiences to benefit others, with specific focus on healthy youth development and care for those with mental health needs. This is why we honor this dynamic couple as two of Scarsdale's finest rising stars."
Commenting on the award, Jordan Copeland said, "Supporting mental health has never been more important. We are grateful and honored to play a part in raising awareness and support for SFCS. Their excellent programs have helped us and so many others in our community.

About Jordan and Lisa Copeland
The Copelands moved to Scarsdale to raise their three sons: Caleb (20, SHS grad, attending college at Rensselaer Polytechnic Institute), Henry (16, 11th grade), Aidan (13, 8th grade). They also have two rescue dogs, Trixie and Spike.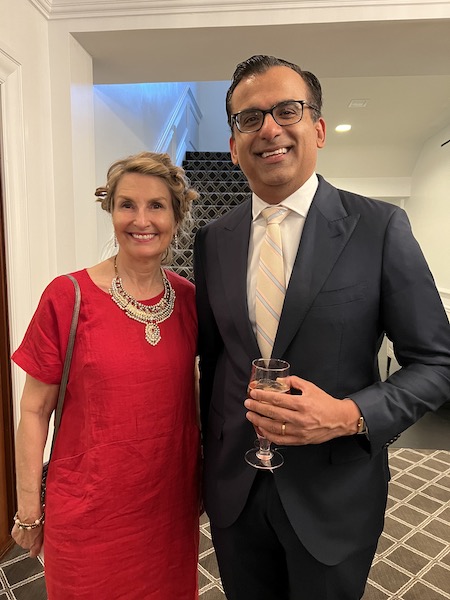 Michelle Lichtenberg and Sameer Ahuja
Lisa Copeland
A former New York City public elementary school teacher, Lisa became a "professional volunteer" after moving to Scarsdale. She is a long-time member and former president of the Junior League of Central Westchester, committee chair and treasurer of Cub Scout Pack 60 for seven years, and spent many years as Class Parent Coordinator for the Edgewood PTA. Lisa has also served on the Drake-Edgewood Neighborhood Association, where she created newsletters and planned community-wide social activities. Currently, Lisa is serving her sixth year as Board Chairperson of Family Services of Westchester, one of the county's oldest and largest social service and mental health nonprofits. Lisa is also currently serving on the board of The Sharing Shelf, a clothing bank for children.
Lisa is an owner and director of her family business, which provides services, resources and information for foundations, corporations, individuals and families. Lisa is also an owner of Andersen Corporation, the window and door manufacturer founded by her great-great-grandfather.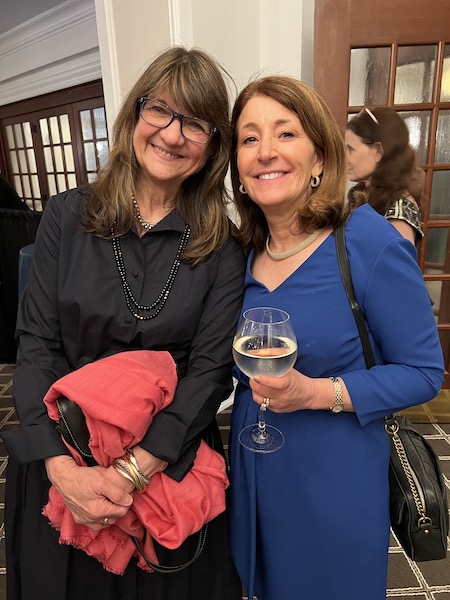 Deb Pekarek and Joy Brownstein
Jordan Copeland
Jordan has also done a lot of volunteer work in Scarsdale. Currently he serves as Associate Village Historian. One of his largest projects so far has been a widely-viewed presentation on the History of Black People in Scarsdale. He also serves on the boards of the Scarsdale Public Library (finance officer), Scarsdale Adult School (finance chair), Scarsdale Historical Society (vice president) and is an Assistant Scoutmaster in Boy Scout Pack 4. Jordan was formerly the Cubmaster of Cub Scout Pack 60 (of Edgewood School) for 7 years, and chaired the School Board Nominating Committee, the joint committee of the SBNC, the Advisory Council on Youth, and the Education Committee of the Scarsdale Forum, and was a Little League coach for six years.
With degrees in law and in education, Jordan clerked in federal court for a year, and then was a public defender in the Bronx for ten years. He also taught fifth grade in a Bronx public school for seven years. The past three years Jordan has been spending most of his time writing and recording music and volunteering in the community. He also has been a Director of Andersen Corporation since 2003, and is chair of its Environmental, Social, and Governance Committee.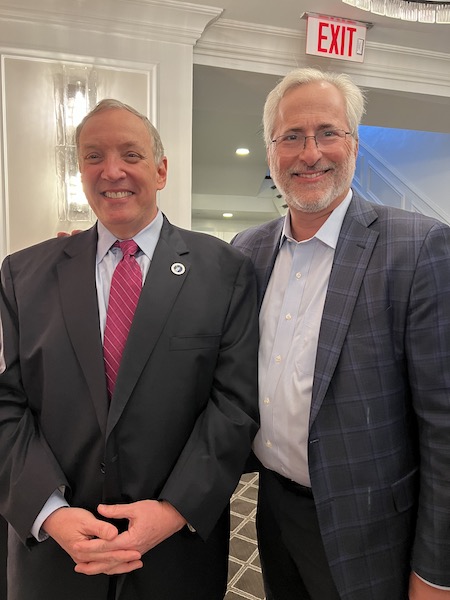 Randy Whitestone and Jonathan Lewis
Community Celebrates 100 Years of Giving at the 2023 Scarsdale Bowl Dinner
Details

Written by

Joanne Wallenstein

Hits: 1509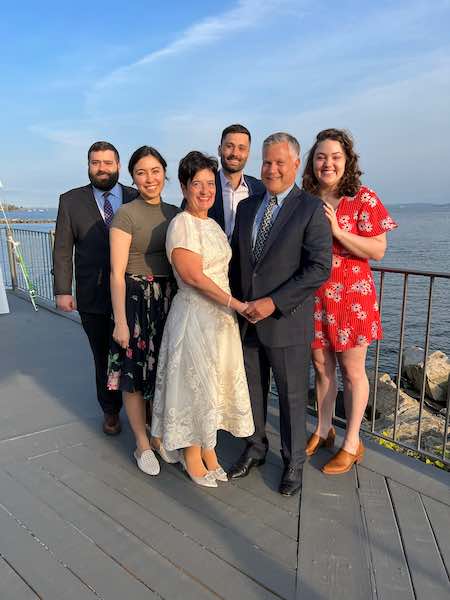 Everything old was new again at the centennial celebration of the Scarsdale Foundation and the 2023 Scarsdale Bowl Award dinner on Thursday April 27 at Mamaroneck Beach and Yacht Club.
The event committee presented an evening that respected the traditions of the annual dinner while streamlining the program and adding some light and levity to mark a new era.
Gone were the lengthy speeches from fellow volunteers, recitation of resumes and toasts from family and friends. These were all captured in entertaining videos featuring comments from the community that said in five minutes what formerly lasted for hours. The 2023 recipient of the Scarsdale Bowl, Janice Starr, was lauded by friends, family and fellow committee members in short cameos that did an excellent job of portraying Janice's character and work on behalf of the community.
In another new element of the event, the Bowl Committee added a second award recipient. They broadened their recognition to include the first ever Spotlight Award, which went this year to the Scarsdale Volunteer Ambulance Corps who played an essential role in saving lives during the Pandemic.
The venue was new as well. Just as the evening began, skies cleared for a stunning view of Long Island Sound from the terrace of the Mamaroneck Beach and Yacht Club where drinks and appetizers were served outside. The scene made a picturesque backdrop for photos of the honorees and their guests.
Bowl Chairman Erika Rublin welcomed the crowd of almost 300 guests along with the Scarsdale High School group Classified Musicians and the members of the Scarsdale High School A capella group For Good Measure who entertained the group.

She acknowledged elected government officials in the room including State Senator Shelley Mayer, Assemblyperson Amy Paulin, County Legislator Ben Boykin, Village Trustees Sameer Ahuja, Jeremy Gans, Dara Gruenberg and Randy Whitestone, Scarsdale School Board President Amber Yusef, School Board Vice President Ron Schulhof and School Board Trustee Suzie Hahn.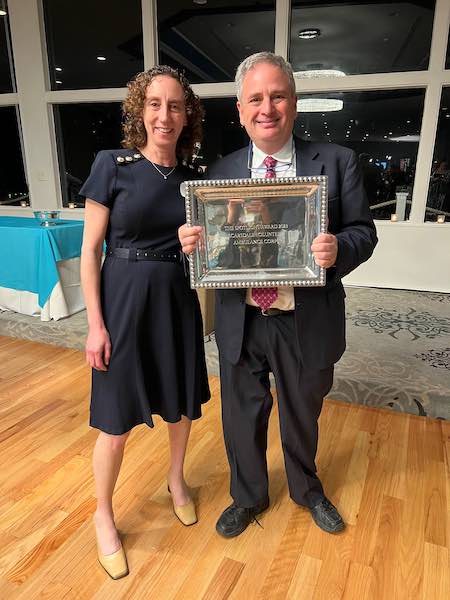 Bowl Chair Erika Rublin with David Raizen
She gave a shout out to the Scarsdale Foundation Board: BK Munguia, Tom Giordano, Jennifer Love, Marc Greenwald, Seema Jaggi, Jon Leslie, Anne Lyons, Elyse Klayman and Suzanne Seiden and Elyse Klayman, Bowl Liaison to the Foundation.
About Suzanne Seiden, Rublin said, "You have been a wonderful collaborator, cheerleader and mentor. You have both made the job of chairing the Bowl dinner what volunteering should be - fun, rewarding and a place to make new friends. I could not have done it without you."
She thanked the members of the Bowl Committee: Becky Bach, Sara Farnsworth, Carl Finger, Adam Hellegers, Ronny Hersch, Sharon Higgins, Angela Manson, Margot Milberg, Susan Ross, Xue Su, and Beverly Thornhill. A special thank you to our Bowl Treasurer, Isabel Finegold and Leah Dembtizer, Bowl Secretary as well as Melanie Applebaum for her help with marketing and technology.
Last she thanked all the volunteers in the room, saying, "As much as the Bowl dinner is about honoring a particular volunteer, it is also about celebrating and honoring all of the community volunteers who work so hard…… Scarsdale is a special place because of its heart – all of you – the volunteers who give back so much to our community."
Rublin introduced a beneficiary of the Foundation's generosity who was on hand to express her gratitude. Svitlana Artamonova, an emigree from Ukraine, explained that the Foundation paid for her daughter to attend summer camp this year. Her daughter loved it and while she was in camp, Svitlana used the time to study for her real estate license and is now an agent.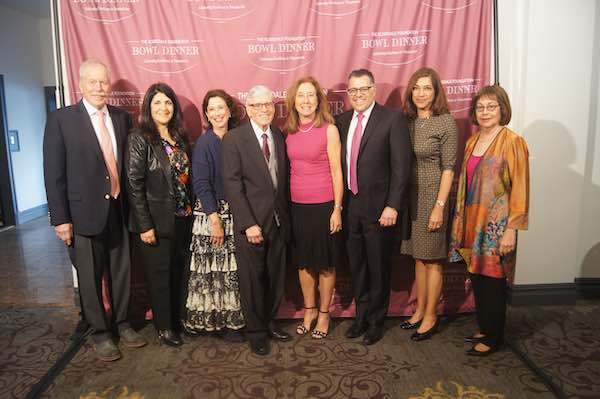 The Board of the Scarsdale FoundationFoundation President Suzanne Seiden revealed the history of the Scarsdale Foundation, which dates back to November 1923. The committee was founded when Scarsdale Police Sergeant John J. Harrison was shot in the line of duty while pursuing a stolen car from a garage on Dobbs Terrace. When the community learned that Harrison had left behind a wife and three children they formed a relief committee to support them. Since that time the Foundation has raised funds for college scholarships and support for children to attend the rec camp. Last year they granted over $148,000 in scholarships to 33 students.
Rublin then honored Spotlight Award recipient David Raizen and the Scarsdale Bowl Recipient Janice Staff.
To SVAC she said, "I remember the chaotic time of 2020 - kids were home from school, choices of food were limited, I was afraid to go anywhere and we were isolated at home. But SVAC was there - one of our healthcare heroes - never missing a call. And they went above and beyond - not just responding to emergency calls, but they also provided essential testing and vaccines for our community at a time when it was really, really hard to get those services. SVAC was all over Scarsdale Buzz – when the question of where can I get a COVID test or where can I get a vaccine was posted, the answer was SVAC!"
About Janice Starr she said, "You truly live up to your name! You light up a room and are a true star! You are open and warm and humble and you graciously pull everyone around you in. You have been involved in, and a leader in, pretty much every organization in Scarsdale and even beyond – your keen mind and spot on instincts leaves these institutions better for having your leadership and input. But, really, Janice, what sets you apart is your generosity, your kindness and your caring. You have a unique ability to encourage others to get involved, to step out of their comfort zone and do things they might not normally do. You are a connector - you promote cooperation and consensus among different people. And you invite Scarsdale into your home! I too have been lucky enough to attend some of your open houses and I have experienced firsthand your hospitality. Scarsdale is lucky to have you as a leader and volunteer."

Watch the videos about the recipients and the history of the Scarsdale Foundataion here: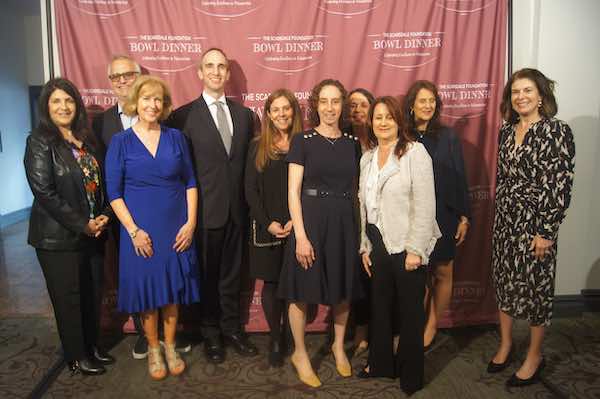 The Scarsdale Bowl Committee
Accepting their awards, David Raizen said, "If three and a half years ago I had told you that SVAC would be testing 17,000 people and vaccinating 3,000 people for Covid, you would have told me that I had lost my mind. This small, but crazy group of volunteers and career personnel never missed a 911 call, and set up to help the entire county in what was probably the worst plague that has happened in our lifetime."
"There is no town, city or village in Westchester that one of their residents didn't take advantage of the services that only two volunteer ambulance corps in Westchester offered.
We continue to add to our community outreach, thru joint training with the police and fire depts, and are doing home visits to patients thru our community paramedicine program in conjunction with White Plains Hospital."
"SVAC needs volunteers young and old. You don't necessarily need to ride in the ambulance. We need people for other functions as well. We offer in-house training for anyone who wants to ride, including CPR and EMT classes in our building."
"This award is an enormous thank you to our membership who went above and beyond the call of duty during the covid outbreak. Thank you to the Scarsdale Foundation for acknowledging our hard work over the last 52 years."
Accepting the Bowl, Janice looked out at the crowd and said, "I don't shy away from speaking in front of crowds, but tonight is overwhelming for me. And I like getting attention but this is a little extra even for me. I am truly grateful to the Scarsdale Foundation for giving me the honor of receiving the Scarsdale Bowl. I am humbled to be in the company of so many past recipients of the bowl, many of whom are in the room, many of whom are no longer with us, and many of whom I have worked with on numerous Boards and committees. I also recognize that many of you and others are as worthy of receiving this award as I am and I accept this for all of you! It takes a Village. And there are not many villages as dedicated to volunteerism as Scarsdale. I am proud to say that our reach extends far beyond our community and it is an honor to be recognized as a volunteer in such an esteemed community.
Most of you know that I love a good party, so I will keep my speech short so we can keep the party going.
I want to thank each one of you, family and friends, for being here. I want to give special thanks to my husband Ira and to our sons for tolerating a lot of takeout meals and evening meetings. And I'd like to thank all of you here, and many others, who have contributed to the Scarsdale Foundation. Your contributions will provide scholarships and grants to local individuals and organizations.
I learned the value of volunteerism growing up in Syracuse As an only child with seven adults in a large home that was built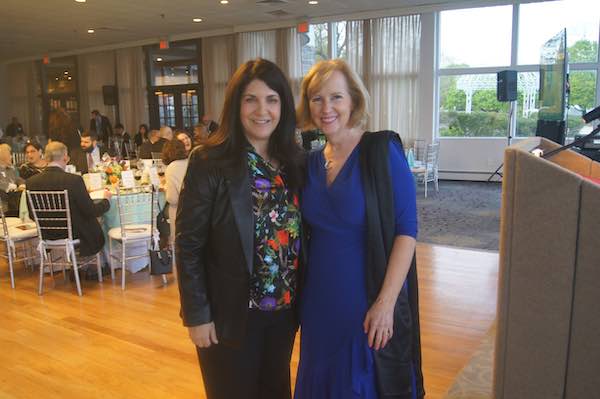 Suzanne Seiden and Angela Mansonby my grandfather. On the bottom floor was a small grocery store where I started to "work" at the age of three. My salary was a penny candy a day! I learned to read the labels, add up the bills on the big paper on the counter, make change in the money drawer, and interact with all kinds of people. But most of all, I learned how people in a community help each other. During the depression my grandfather extended credit to many people in our small Polish community. Later, those credit slips still stood on the nail on the counter of the store as a reminder of harder times. Our family provided services to the community for almost 100 years. Not only did we sell groceries but we helped people with many personal issues including legal assistance and translation.
It was hard to leave my family but I pursued a wonderful education, worked as a consultant, and started a family. It was only when I got to Scarsdale that I found a community that I could embrace. I have always marveled at the way our village comes together to support our triumphs and tragedies, and to achieve so much more than we could achieve acting alone.
In Scarsdale, I immediately threw myself into the world of volunteering. I have continually worked with smart, passionate, dedicated people. I learned to respect our differences in the pursuit of common goals. I have such fond memories of working with so many of you and, as you know, I enjoy hosting parties at home to raise money and awareness for many organizations!
I don't regard this as a lifetime achievement award that signals the end or even the slowing down of my volunteerism in Scarsdale. And we never plan to leave - Scarsdale is truly our home. I am grateful to all of you for all that you do to make Scarsdale and the broader community better for everyone!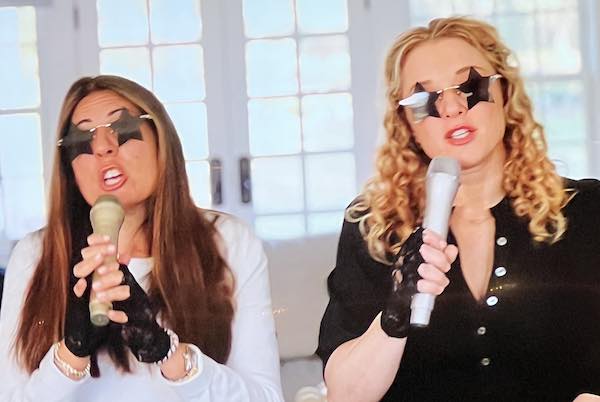 Randi Culang and Dara Gruenberg seranaded StarrThe evening ended on a high note with a video of Fox Meadow friends Randi Culang and Dara Gruenberg singing "Starlight, Starbright." In a play on Starr's name, they rewrote the lyrics into a hilarious rendition of Starr's many contributions to Scarsdale.
Everyone left the room with a smile and pride that they were a part of this thoughtful and generous community.
Friends of Music and the Arts Urges You to Vote Yes for the Renovation of the SHS Auditorium
Details

Written by

Joanne Wallenstein

Hits: 425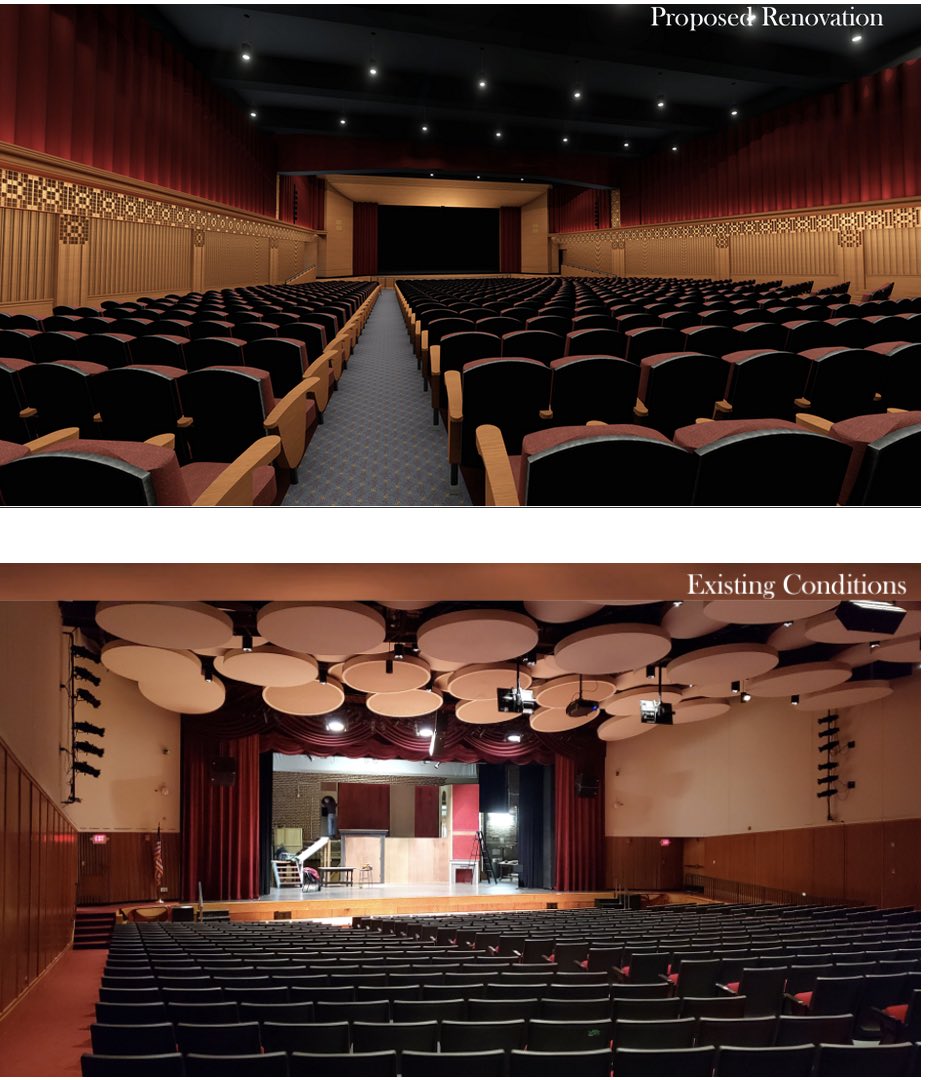 Friends of Music and the Arts urges you to vote yes for the bond to fund the Scarsdale High School Auditorium. See their letters below.
(From Laura Gelblum, President of Friends of Music & the Arts)
Even though community response to the Scarsdale High School auditorium proposal has been overwhelmingly supportive, the renovation will only become reality if residents GO VOTE to approve the bond at next week's Scarsdale Schools election. Please make time on your calendar to vote on Tuesday May 16—and vote YES for the auditorium bond.
The renovation's scope of work was developed by a professional team with significant stakeholder input, satisfying still-incomplete improvements approved in the 2014 bond and addressing the current needs. The outcome will improve delivery of our high school's popular performing arts curriculum as well as provide an enhanced community gathering space for all. And, the capital bond is a financially responsible approach to funding the project, with an annual impact of about $28/year per average household.
For more information on the SHS auditorium project, visit www.scarsdalearts.org
Polls will be open Tuesday May 16, 7am-9pm, at the Scarsdale Middle School Gym. Help Scarsdale gather, perform and grow!
Laura Gelblum
President, Friends of Music & the Arts

Open Letter to the Scarsdale Community:
The Scarsdale High School Auditorium is a gathering space for the entire Scarsdale community. Every high school student uses the auditorium for school-wide assemblies and for band, orchestra, and chorus concerts. The auditorium is also home to SHS acting and theater tech classes, the Jabberfest student talent show, the annual SHS Senior Class Play which brings together classmates for a culminating bonding experience, and numerous annual Drama Club performances which are attended by thousands of people in the greater Scarsdale community. Parents, alumni and other community members also gather in the auditorium for various meetings and special programs.
The space has sadly fallen into disrepair and the District administration, after thorough study, proposes an auditorium renovation with an up-to-date scope of work that addresses the current needs—including improved acoustics and lighting, new audience seats, dressing room reconfigurations, modifications to enhance students' theater tech learning experience and safety, and additions to improve accessibility. This work aligns with the District's strategic educational priorities for cohesive community, personalized learning, and wellness and well-being. The Board of Education unanimously supports investment in this long-delayed renovation.
If passed by voters, the current plan is to have the project responsibly funded through the issuance of a school bond of up to $4.75M, spreading the cost over a 10-year period. The annual debt service associated with the bond would be offset by available surplus funds and state funding to significantly lower the total expense for taxpayers to just over $1.3M. The projected average annual household impact will be just under $28/year.
Comparable area school districts have recently rebuilt or renovated their aging auditoriums at significant costs, renewing their commitment to arts education and community spaces. Scarsdale has recently invested money in other areas of student experience but the last major upgrade to the auditorium was over 30 years ago.
As parents, students and other members of the Scarsdale community we wholeheartedly support this reasonable and much needed project. The investment will benefit students' learning and well-being and will give all residents a space that fosters connection and enjoyment of the arts. We urge the entire community to VOTE YES on the BOND.
Laurie Arakawa
Debra Asher-Zitrin
Allison Block
Isabel Block
Lisa Bradlow
Gokul Chebiyam
Lisa Copeland
Emilie Cordell
Michael Dawson Crowley
Beth Cukier
Randi Culang
Kelsa DeBrabant
Jonathan Finegold
Isabel Finegold
Sabrina Finegold
Jack Finegold
Laura Gelblum
Valerie Glicker
Kathy Gray
Diane Greenwald
Fernando Gueler
Karen Hogan
Eden Hoong
Sherry Hsu
Marisa Jackson
Lauren Jacobson
Glenn Jacobson
Jennifer Kahan
Esthela Lecuona
Liza Levy
Tina Lin
Bonnie Loeser
Danil Makarov
Julia McClanan
Meghana Mehta
Mariuxi Menzer
Daniel Milberg
Margot Milberg
Veronica Olivieri
Jeannine Palermo
Vinnie Phuah Hoong
Rohini Sahni
Amy Schiff
Scott Schiff
Reshma Shetty
Penny Smith
Mimi Song
Nancy Trager
Bryan Tsou
Joan and Louis Uchitelle
Nicole Ungar
Archna Verma
Christine Weston
Fengyun Wu
Cindy Yau
Renee Youn
Stacey Zoland
FMA | Friends of Music & the Arts is the nonprofit parent booster group that supports visual and performing arts in Scarsdale Schools. To get involved visit www.scarsdalearts.org
(From Shira Tabib)
Dear Members of the Scarsdale Community:
My family and I have been residents of Scarsdale for most of my life. I attended the Quaker Ridge Elementary School, Scarsdale Middle School and Scarsdale High School. Seven years ago my husband and I returned to Scarsdale to raise our family in the Quaker Ridge neighborhood that I grew up in. In short, I am a committed and proud Scarsdalian, and care deeply about our community.
My family and I are in support of the Scarsdale High School auditorium renovation, and are supporters of funding the project by way of a bond. The renovation of the High School auditorium will improve the students' experience, with better lighting, acoustics, better equipment, etc. The auditorium is also a place for important school meetings and gatherings of students and adults from across the community. I feel that it is imperative that our children assemble and learn in a modernized environment that expresses our community's values for performing arts and where presenters can be heard well.
Our daughters are now seventh and eighth graders at the Scarsdale Middle School, and are active participants in the community and at school. Both have been involved in the elementary and middle school plays, and take much pride in their roles on and off the stage. This year, our seventh grader participated in the SMS play, SpongeBob, which played to a packed audience, and it brings me such joy to see how her participation in the program is playing a meaningful role in her development as a confident and happy young woman. The lessons the students learn at play rehearsals are invaluable - building lasting friendships, enhancing speaking skills, and challenging them to get out of their comfort zones. Equally as significant, theatre has become a place of refuge from screen time, which has become so invasive to both the home and classroom experiences - the list of benefits are too great to name here. My daughters look forward to their continued involvement and participation in future theatre programs at the Scarsdale High School.
I would note that our family has attended several wonderful SHS theatre performances over the years, most recently Mamma Mia. While the SHS theatre program is doing a fantastic job at producing highly entertaining productions, I can tell you firsthand that the theatre, from what I can see, has not been meaningfully updated in at least 30 years.
As a mother of two Middle Schoolers, I would be so excited to share with my daughters that they will be entering the High School with a facility that will no doubt improve their social, recreational and educational experiences. The renovation of the High School auditorium will benefit our community at large, and will be a wonderful meeting place that we can all be proud of. I urge all Scarsdale voters to make time to VOTE YES for the SHS Auditorium Bond at the election on Tuesday May 16.
Shira Tabib
Heathcote Road
Crossway Neighbors Object to Pickleball Courts, 2023-24 Budget Approved and More from the Village Board
Details

Written by

Joanne Wallenstein

Hits: 1476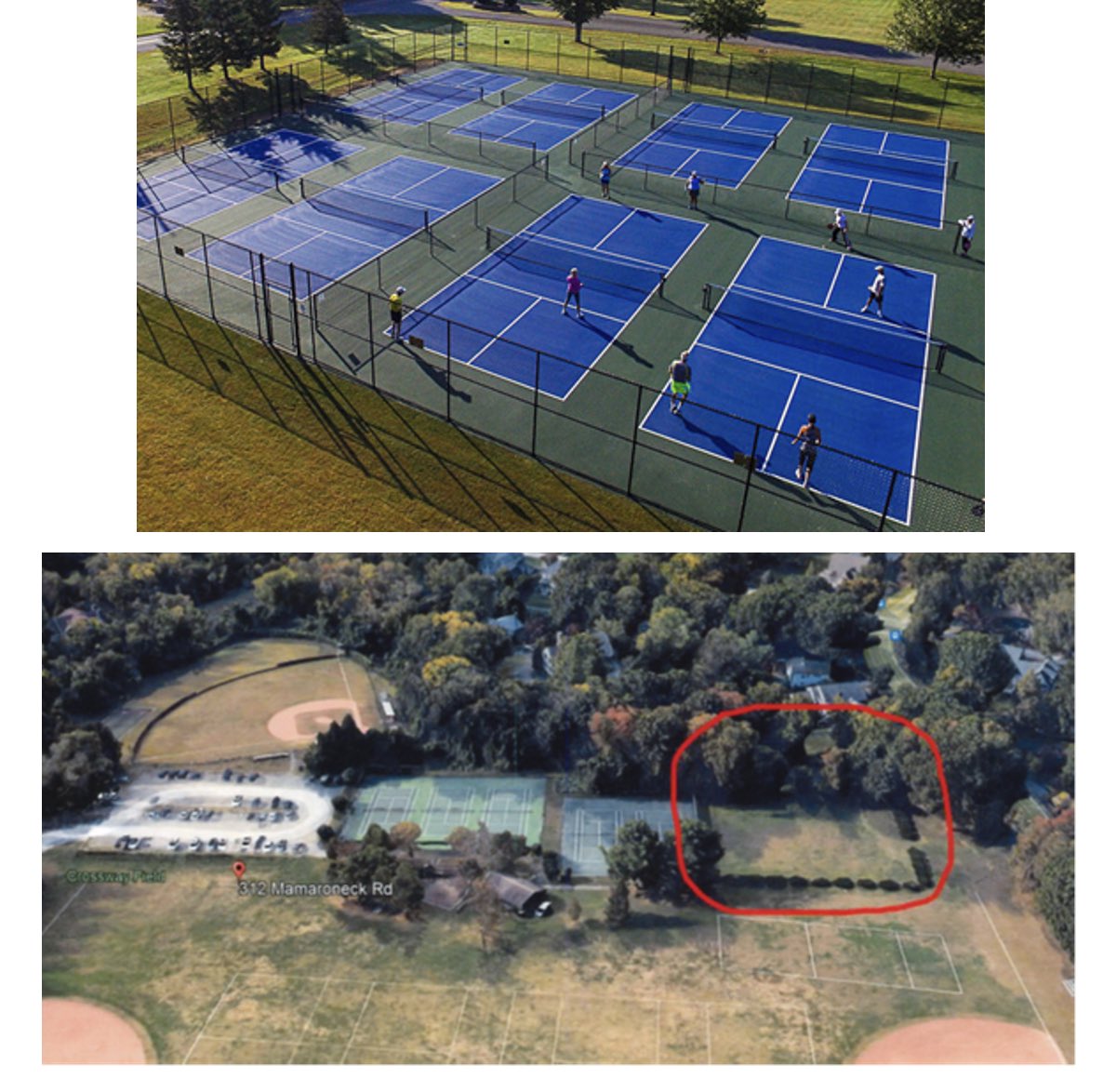 The Village Board, headed by newly elected Mayor Justin Arest, unanimously passed the 2023-24 Village Budget at their April 25, 2023 meeting.
The budget funds some of Scarsdale's infrastructure needs including development of a plan to renovate the Scarsdale Pool, improvements to traffic and safety in the Village and paving of roads.
The tax levy of $46,510,000 represents a year-over-year increase of 4.15%, which equates to a $250.81 annual tax increase to the average assessed home of $1,597,000. It exceeds the New York State tax cap of 3.17%.
Commenting on the Village Budget, Deputy Mayor Randy Whitestone thanked the "Treasurer, Deputy Treasurer, Village Manager, Deputy Village Manager, and village department heads and staff for continuing to cement our relatively new – this is our second year -- approach to budgeting, including starting early and tightly weaving in goals, objectives, and data to guide our priorities and decisions, with the addition of significant public transparency on the village website and via a Digital Budget Book. "
He said, "any budget is a dynamic, year-round process and living document subject to adjustments throughout the fiscal year as we pay attention to real-world conditions such as inflation, fluctuating interest rates, and continued and active assessment of what "normal" equilibrium looks like."

Trustee Brew answered critics who objected to the increase beyond the cap. She said "We have neglected long term infrastructure needs for many years and made prudent choices to fund what is truly needed and struck a balance." She said the tax cap was a "somewhat arbitrary number."
Trustee Gans agreed. He said, "Each of us devoted considerable time to analyzing projected interest rates and we take our responsibility seriously. I am confident in the budget process and that this budget strikes the right balance between keeping taxes low while making the necessary expenditures to keep the village as one of the most desirable places to live in the NYC area."
Trustee Gruenberg appreciated the efforts of the Treasurer and the Village staff. She said, "I am comfortable with the work done by the previous Village Board. Balancing the wants and needs of the Village with the tax burden is not easy particularly with our aging infrastructure."
Trustee Mazer said, "It requires a lot of balance. But I would tell my neighbors that the money we raise will ultimately benefit you. Find some solace in knowing that we are all working on the same team for the long term health of our community."
Trustee Ahuja explained, "There was many years of underinvestment in the Village. It was less than the expectations for a place like Scarsdale. Some money needs to be spent. It is very difficult to estimate revenues and expenses in an unprecedented interest rate environment. This is a time to make conservative and prudent calls."
Mayor Arest complimented the Village Treasurer on the technological advances to the budget process. He said, "I am comfortable with where things have come out – and want to thank Mayor Veron and Trustee Lewis." He said, "I look forward to the coming year."
During Public Comments, there was some feedback on the budget:
Bob Harrison continued to urge the Board to use higher interest rates in their budget proposal.
Anne Hintermeister objected to the Village Board exceeding the NYS tax cap of 3.2% for their 2023-24 budget. She said it was unnecessary to maintain services or deal with an emergency. She said, "In fact there is a surplus available from the previous year." She called it fiscally inappropriate in a year when the Board could have easily stayed below the cap.
Carl Finger thanked the Board for upholding laws that ban the placement of signs in the Village right of way. He said he considers signs in the right of way as "visual pollution." He said he did not agree with Bob Harrison's math and said that was gambling with our money.
Pickleball Courts at Crossway Field
However some were not happy with what is funded in the budget. During public comments, residents who live near Crossway came out to object to a plan to build pickleball courts on Crossway Field which were included in the 2023-24 Village budget. The speakers were familiar faces as they were the same people who objected to the Scarsdale Little League proposal to add field lights at Crossway last year.

Lori Garfunkel of 61 Lincoln Road said, "We object to the location near our house. We are concerned about a noise problem. This can be a life changing event for homeowners. We did a FOIL request for the studies of the noise conducted by the Village. They (the courts) should be built 450 feet away from homes. The pickleball sound is 70 decibels. The proposed location is as close as 150 feet from the closest homes. Brite Avenue has paddleball courts that are in disrepair, perhaps these can be used."
Kaare Weber of 51 Crossway said, "We are adjacent to the proposed located for the eight pickleball courts. We question the approach to inform the community. Pickleball creates tension for good reason. It is no secret that the sound level is unreasonable. I ask for a reassessment of our noise level law. We look forward to a fair solution that we all can enjoy even within the Crossway and Pool Complex.
Josh Greenwald of 51 Harvest Drive also spoke up about the pickleball courts. He said, "There appears to have been little discussion about courts that back up to people's homes. I would like to understand the process for these proposals moving forward."
Michelle Castiello of Mamaroneck Road objected to the courts. She said, "Spending $400,000 for these courts is not appropriate. She raised concerns about drainage, and noise. She asked, "What would Crossway look like with sound barriers and nets? She said, there is "congestion and traffic is a problem in this area. We don't know what the demand is for these courts
Use our existing paddle and tennis courts to meet the demand. That's what's done at FMTC and Lake Isle. Before we start spending money we should look at the demand and at repurposing existing courts."
Andrew Casden said, "I won't hear the noise and I won't see the lights. This was brought on without any real discussion or planning. I don't think that's right. Where is the due diligence?"
What else:
Chris O'Brien
Mayor Arest observed a moment of silence for former Scarsdale Village IT Director Chris O'Brien who recently passed away. He said, "Anyone who knew Chris will remember him as a kind-hearted and generous sole. Chris was a product of Scarsdale and gave over 35 years of his life in service to our community here at Village Hall. Chris was always there when needed and was always willing to go above and beyond. Whether it was fixing a keyboard or helping Scarsdale become one of the earliest Westchester municipalities to have a dedicated website, he was happy to do what was needed."
Scarsdale Bowl
The Mayor congratulated Janice Starr and the Scarsdale Village Ambulance Corps for receiving the Scarsdale Bowl, which will be celebrated at a dinner at Mamaroneck Beach Club on Thursday evening April 27.
Denim Day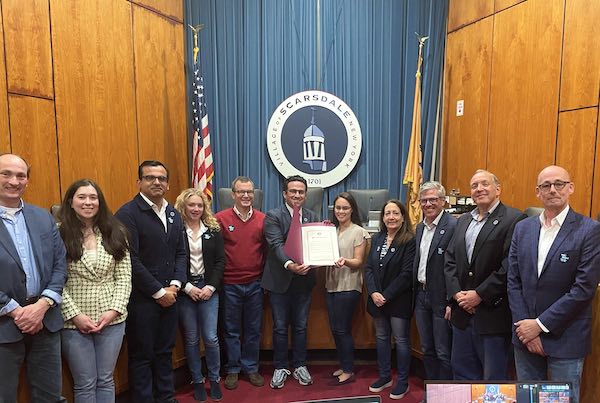 The Board dressed in blue jeans to recognize Denim Day, a day to raise awareness of the prevalence of sexual violence. Natalie Ramos of the Safe Coalition thanked the Board and urged the community to make a social statement with their fashion statement.
Letters to the Board of Trustees
Though Mayor Arest spoke of making transparency a priority, the Village Attorney has recommended that letters to the Board of Trustees no longer appear in the agendas of Village Board meetings. He said that publishing these letters as part of the agenda could create legal issues for the Village. Arest assured the public that though the letters will not be published, they will be read and considered by the Board.
Manhunt
Village Manager Rob Cole discussed a manhunt for a suspect on the loose on Monday afternoon April 24, 2023. Cole explained that police stopped a stolen vehicle in Mt. Vernon where one suspect left the car and was apprehended. The other suspect drove the stolen car and crashed on the Hutchinson River Parkway. He got out of the car and escaped on foot and was observed on Mamaroneck Road and Griffen Avenue. Police and other emergency personnel conducted a thorough search for the suspect. Cole said, "Thanks to an alert from a resident and the police the unarmed suspect was arrested on Continental Road."
Cole reported that the Village used press releases, twitter and robo calls to ask for support in finding the suspect. They utilized geographic fencing to focus on residents within the target area.
He said, that the Village will do a review of communications and improvements for the future. They will address why some in the targeted area were not reached. He encouraged all residents to sign up for Blackboard Connect to receive press releases and announcements from the Village and to follow the government on twitter at scarsdale.gov.
Compost Giveback Day
Compost Giveback Day is Saturday April 29 from 8 am to 3 pm at the recycling center on Secor Road. The compost, which was made from Scarsdale's food scraps, will be given out on a first come, first served basis. The event will be held rain or shine.
Hydrant Flushing will begin on May 1 and last for three weeks. The schedule will be posted on the water department page of the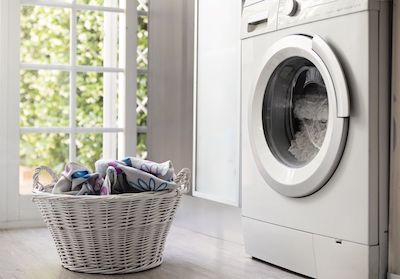 Village website. Cole urged residents to refrain from washing clothes during the flushing as the water will be discolored.
Fire Pit Safety
Cole read some regulations pertaining to fire pits from the Fire Department:
-They must be attended by responsible adult.
- They should be placed beyond a ten foot radius from combustible materials.
- A water supply or hydrant should be nearby.
- There should be a phone within reach to access in case of an emergency.
- They must not be more than 3 feet in diameter.
- You should completely extinguish the fire when you are done.
- They may not be used to burn lawn debris or other types of materials.
- You should watch weather for dry windy periods when they should not be used
During liaison reports, Trustee Ahuja congratulated the new President of the Scarsdale Library Board – Laura Liu - as well as the new co-presidents of the Friends of Scarsdale Library, Nancy Kaplan and Stacey Mayer. He noted that in March 2023, 71 library programs served over 3,000 people and said that the library will be open late for study hours this week.
Resolutions:
The board approved two resolutions: The first is for a subdivision fee of $60,000 for 28 Aspen Road where the lot will be divided into two parcels.
The second was for a contract to Hudson Valley Charter Service for $71,000 to supply two buses for the Teen Travel Camp.
Mayor's Comments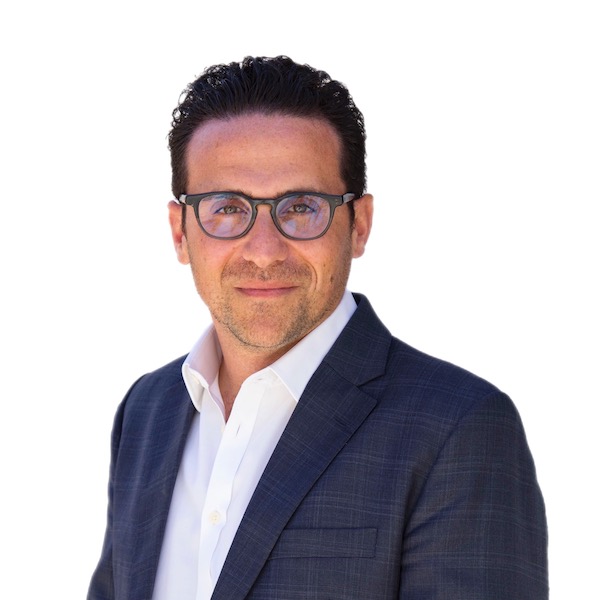 Here are opening comments from Mayor Justin Arest
Earlier this evening we met in the 3rd Floor Meeting Room to begin discussing Community Priorities that the Board hopes to advance in the coming weeks, months and potentially years. I encourage residents to watch the brief work session which should be posted online in the next day or two. The agenda from that meeting is already on our website and there will be more to come on this topic next week when we reconvene as a Board to continue the prioritization conversation.
One topic I want to highlight is the Board's commitment to communication and transparency. Everything we do is with the community's best interests in mind and we encourage all of you to participate early and often. This hope for even greater collaboration is a large part of the impetus for a desire to reframe our budget conversations and in turn, we hope to also continue improving our budget process. A tremendous amount of hard work is put forward by staff each year and board members have always been diligent in reviewing what is proposed. Of course, this will not change. There has also been a lot of focus by the Board and some in the community on a few line items in the budget as well as available funding sources. These can be important conversations to have. But when done in a vacuum, I do not think they are the best way to move us forward. For example, if there is concern our tax rate is too high, the discussion should not be focused on how much fund balance we can use or whether we can borrow more. Let's start discussing the level of services we are providing and whether there are places to save money and always try to do them more efficiently. Periodically, the Village has added services or amenities that residents desire without conversation about what we might do without. Of course, while adding these new options might only require a capital expenditure up front, they also add operating expenses into the future.
I am proud of what previous boards have accomplished working with DPW when examining our road paving needs and evaluating a fleet replacement plan. Instead of making improvements based on surpluses we might hope for, planning is now done to budget for a minimum expenditure in these areas thereby ensuring a baseline condition level. Additional funds can be added when available and needed. This is also similar to the water study planning that was done a few years ago. Water rate increases should no longer be a surprise. There is a well reasoned long term plan to address our water infrastructure needs that includes rate increases when necessary. There may be tweaks needed should assumptions in that model prove to be incorrect but the hope is that such changes will not materially impact the path forward.
Without effective long term planning, it is almost unrealistic to think that annual deferrals will not be necessary and some service or part of our infrastructure that many residents rely on will perennially fall victim. We do not have unlimited funds. And, that is exactly what happened to our roads a decade ago. There was nothing nefarious. There was nothing but good intentions. But without disciplined long term planning, and expectation setting, it is hard to choose to raise taxes when provided with options that at the time might seem reasonable.
What is my point? My point is that our residents deserve to have things done well and for our resources to be in good condition. Despite the misconception of Scarsdale, we have never believed in having everything new and shiny and perfect. We just want what is best for our families and our children and we would like the things we use and rely on to be in good functional shape. Our fields do not need to look like Citi Field but they should be safe and they should drain and be playable. Our roads will always have to face the wear of the environment, but we should not have to regularly fear a blow out. We take the infrastructure that brings us our drinking water for granted and that should not change assuming we continue necessary improvements and repairs. And our tax rate and potential increases should not be a complete surprise each year and certainly should not be a number predetermined and then worked backward to accomplish. Our tax rate is an output based on our community's needs.
Again, to be clear, this is not an indictment on anyone and certainly not a criticism of our hard working and dedicated staff. This is a belief that we need to start discussing our priorities now and determining what we are doing well, what we can be doing better, what more we can do, and, what can we possibly forgo. This all needs to be discussed in the context of our taxes and how they might be impacted understanding potential increases. If we want to lower our taxes, we may have to do less as a government. If the community wants more or even just wants much of what we already do but done better, then we have to be able to explain and justify the costs involved. And, we can't do one program or area each year. Each area studied might exhibit a genuine need for additional investments but without a holistic view, there is not an opportunity to weigh incremental costs for potentially competing priorities against one another.
Your village taxes are currently about 50 basis points of your home's assessed value. The budget which is on our agenda and will be voted on this evening can show you where every dollar goes. But we need your help to plan for Scarsdale 2030 and beyond. It will not be easy, and it will likely not be a one year project. And, I can promise there will be difficult conversations but I hope we can always remember we are neighbors and understand that we are just trying to achieve the same thing, what is best for Scarsdale.
Finally, I received public correspondence regarding our rules of procedure that we passed at our last board meeting. It was specific to the treatment of written correspondence to the mayor and board from the public. I would like to ask the Village Attorney to share with the community why he and his firm believes that this is a best practice for municipalities.