Community Celebrates 100 Years of Giving at the 2023 Scarsdale Bowl Dinner
Saturday, 29 April 2023 16:19
Last Updated: Thursday, 04 May 2023 09:19
Published: Saturday, 29 April 2023 16:19
Joanne Wallenstein
Hits: 1508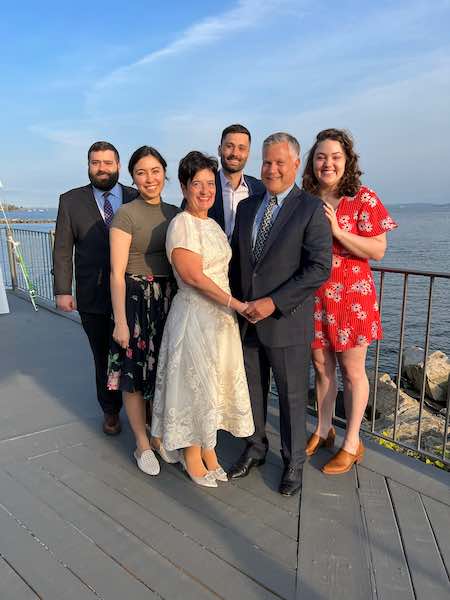 Everything old was new again at the centennial celebration of the Scarsdale Foundation and the 2023 Scarsdale Bowl Award dinner on Thursday April 27 at Mamaroneck Beach and Yacht Club.
The event committee presented an evening that respected the traditions of the annual dinner while streamlining the program and adding some light and levity to mark a new era.
Gone were the lengthy speeches from fellow volunteers, recitation of resumes and toasts from family and friends. These were all captured in entertaining videos featuring comments from the community that said in five minutes what formerly lasted for hours. The 2023 recipient of the Scarsdale Bowl, Janice Starr, was lauded by friends, family and fellow committee members in short cameos that did an excellent job of portraying Janice's character and work on behalf of the community.
In another new element of the event, the Bowl Committee added a second award recipient. They broadened their recognition to include the first ever Spotlight Award, which went this year to the Scarsdale Volunteer Ambulance Corps who played an essential role in saving lives during the Pandemic.
The venue was new as well. Just as the evening began, skies cleared for a stunning view of Long Island Sound from the terrace of the Mamaroneck Beach and Yacht Club where drinks and appetizers were served outside. The scene made a picturesque backdrop for photos of the honorees and their guests.
Bowl Chairman Erika Rublin welcomed the crowd of almost 300 guests along with the Scarsdale High School group Classified Musicians and the members of the Scarsdale High School A capella group For Good Measure who entertained the group.

She acknowledged elected government officials in the room including State Senator Shelley Mayer, Assemblyperson Amy Paulin, County Legislator Ben Boykin, Village Trustees Sameer Ahuja, Jeremy Gans, Dara Gruenberg and Randy Whitestone, Scarsdale School Board President Amber Yusef, School Board Vice President Ron Schulhof and School Board Trustee Suzie Hahn.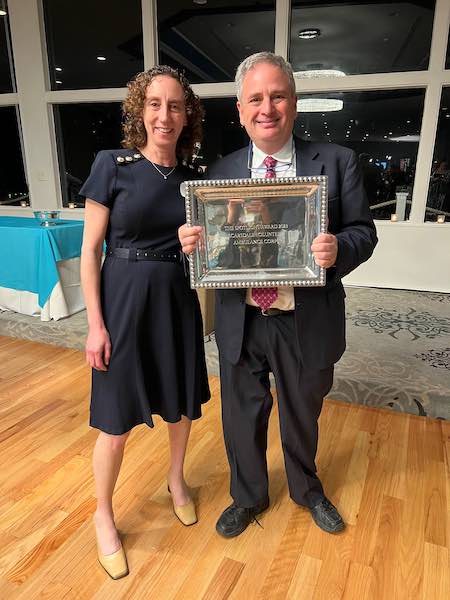 Bowl Chair Erika Rublin with David Raizen
She gave a shout out to the Scarsdale Foundation Board: BK Munguia, Tom Giordano, Jennifer Love, Marc Greenwald, Seema Jaggi, Jon Leslie, Anne Lyons, Elyse Klayman and Suzanne Seiden and Elyse Klayman, Bowl Liaison to the Foundation.
About Suzanne Seiden, Rublin said, "You have been a wonderful collaborator, cheerleader and mentor. You have both made the job of chairing the Bowl dinner what volunteering should be - fun, rewarding and a place to make new friends. I could not have done it without you."
She thanked the members of the Bowl Committee: Becky Bach, Sara Farnsworth, Carl Finger, Adam Hellegers, Ronny Hersch, Sharon Higgins, Angela Manson, Margot Milberg, Susan Ross, Xue Su, and Beverly Thornhill. A special thank you to our Bowl Treasurer, Isabel Finegold and Leah Dembtizer, Bowl Secretary as well as Melanie Applebaum for her help with marketing and technology.
Last she thanked all the volunteers in the room, saying, "As much as the Bowl dinner is about honoring a particular volunteer, it is also about celebrating and honoring all of the community volunteers who work so hard…… Scarsdale is a special place because of its heart – all of you – the volunteers who give back so much to our community."
Rublin introduced a beneficiary of the Foundation's generosity who was on hand to express her gratitude. Svitlana Artamonova, an emigree from Ukraine, explained that the Foundation paid for her daughter to attend summer camp this year. Her daughter loved it and while she was in camp, Svitlana used the time to study for her real estate license and is now an agent.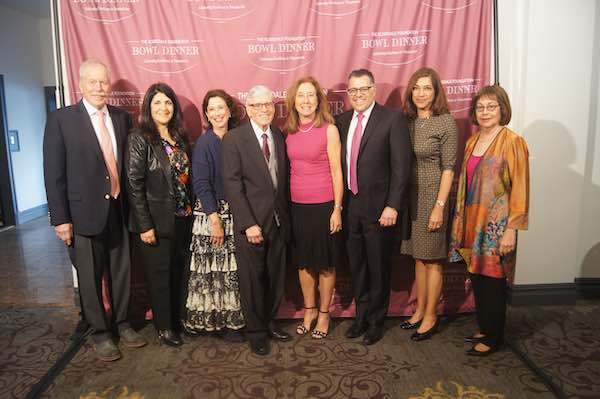 The Board of the Scarsdale FoundationFoundation President Suzanne Seiden revealed the history of the Scarsdale Foundation, which dates back to November 1923. The committee was founded when Scarsdale Police Sergeant John J. Harrison was shot in the line of duty while pursuing a stolen car from a garage on Dobbs Terrace. When the community learned that Harrison had left behind a wife and three children they formed a relief committee to support them. Since that time the Foundation has raised funds for college scholarships and support for children to attend the rec camp. Last year they granted over $148,000 in scholarships to 33 students.
Rublin then honored Spotlight Award recipient David Raizen and the Scarsdale Bowl Recipient Janice Staff.
To SVAC she said, "I remember the chaotic time of 2020 - kids were home from school, choices of food were limited, I was afraid to go anywhere and we were isolated at home. But SVAC was there - one of our healthcare heroes - never missing a call. And they went above and beyond - not just responding to emergency calls, but they also provided essential testing and vaccines for our community at a time when it was really, really hard to get those services. SVAC was all over Scarsdale Buzz – when the question of where can I get a COVID test or where can I get a vaccine was posted, the answer was SVAC!"
About Janice Starr she said, "You truly live up to your name! You light up a room and are a true star! You are open and warm and humble and you graciously pull everyone around you in. You have been involved in, and a leader in, pretty much every organization in Scarsdale and even beyond – your keen mind and spot on instincts leaves these institutions better for having your leadership and input. But, really, Janice, what sets you apart is your generosity, your kindness and your caring. You have a unique ability to encourage others to get involved, to step out of their comfort zone and do things they might not normally do. You are a connector - you promote cooperation and consensus among different people. And you invite Scarsdale into your home! I too have been lucky enough to attend some of your open houses and I have experienced firsthand your hospitality. Scarsdale is lucky to have you as a leader and volunteer."

Watch the videos about the recipients and the history of the Scarsdale Foundataion here: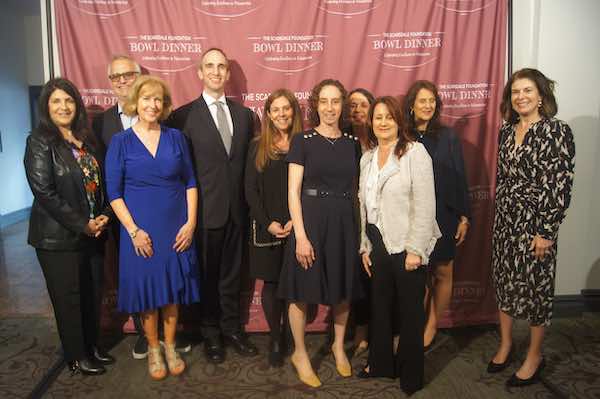 The Scarsdale Bowl Committee
Accepting their awards, David Raizen said, "If three and a half years ago I had told you that SVAC would be testing 17,000 people and vaccinating 3,000 people for Covid, you would have told me that I had lost my mind. This small, but crazy group of volunteers and career personnel never missed a 911 call, and set up to help the entire county in what was probably the worst plague that has happened in our lifetime."
"There is no town, city or village in Westchester that one of their residents didn't take advantage of the services that only two volunteer ambulance corps in Westchester offered.
We continue to add to our community outreach, thru joint training with the police and fire depts, and are doing home visits to patients thru our community paramedicine program in conjunction with White Plains Hospital."
"SVAC needs volunteers young and old. You don't necessarily need to ride in the ambulance. We need people for other functions as well. We offer in-house training for anyone who wants to ride, including CPR and EMT classes in our building."
"This award is an enormous thank you to our membership who went above and beyond the call of duty during the covid outbreak. Thank you to the Scarsdale Foundation for acknowledging our hard work over the last 52 years."
Accepting the Bowl, Janice looked out at the crowd and said, "I don't shy away from speaking in front of crowds, but tonight is overwhelming for me. And I like getting attention but this is a little extra even for me. I am truly grateful to the Scarsdale Foundation for giving me the honor of receiving the Scarsdale Bowl. I am humbled to be in the company of so many past recipients of the bowl, many of whom are in the room, many of whom are no longer with us, and many of whom I have worked with on numerous Boards and committees. I also recognize that many of you and others are as worthy of receiving this award as I am and I accept this for all of you! It takes a Village. And there are not many villages as dedicated to volunteerism as Scarsdale. I am proud to say that our reach extends far beyond our community and it is an honor to be recognized as a volunteer in such an esteemed community.
Most of you know that I love a good party, so I will keep my speech short so we can keep the party going.
I want to thank each one of you, family and friends, for being here. I want to give special thanks to my husband Ira and to our sons for tolerating a lot of takeout meals and evening meetings. And I'd like to thank all of you here, and many others, who have contributed to the Scarsdale Foundation. Your contributions will provide scholarships and grants to local individuals and organizations.
I learned the value of volunteerism growing up in Syracuse As an only child with seven adults in a large home that was built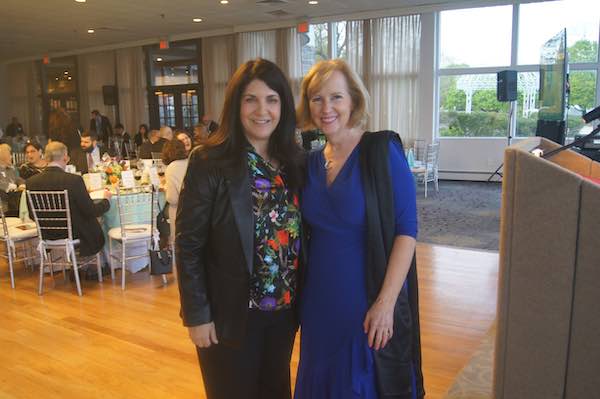 Suzanne Seiden and Angela Mansonby my grandfather. On the bottom floor was a small grocery store where I started to "work" at the age of three. My salary was a penny candy a day! I learned to read the labels, add up the bills on the big paper on the counter, make change in the money drawer, and interact with all kinds of people. But most of all, I learned how people in a community help each other. During the depression my grandfather extended credit to many people in our small Polish community. Later, those credit slips still stood on the nail on the counter of the store as a reminder of harder times. Our family provided services to the community for almost 100 years. Not only did we sell groceries but we helped people with many personal issues including legal assistance and translation.
It was hard to leave my family but I pursued a wonderful education, worked as a consultant, and started a family. It was only when I got to Scarsdale that I found a community that I could embrace. I have always marveled at the way our village comes together to support our triumphs and tragedies, and to achieve so much more than we could achieve acting alone.
In Scarsdale, I immediately threw myself into the world of volunteering. I have continually worked with smart, passionate, dedicated people. I learned to respect our differences in the pursuit of common goals. I have such fond memories of working with so many of you and, as you know, I enjoy hosting parties at home to raise money and awareness for many organizations!
I don't regard this as a lifetime achievement award that signals the end or even the slowing down of my volunteerism in Scarsdale. And we never plan to leave - Scarsdale is truly our home. I am grateful to all of you for all that you do to make Scarsdale and the broader community better for everyone!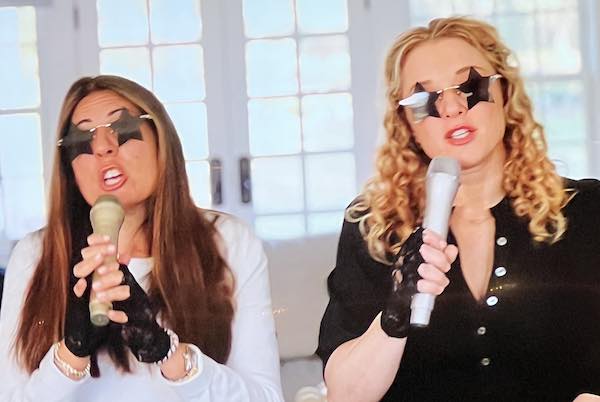 Randi Culang and Dara Gruenberg seranaded StarrThe evening ended on a high note with a video of Fox Meadow friends Randi Culang and Dara Gruenberg singing "Starlight, Starbright." In a play on Starr's name, they rewrote the lyrics into a hilarious rendition of Starr's many contributions to Scarsdale.
Everyone left the room with a smile and pride that they were a part of this thoughtful and generous community.