Lisa and Jordan Copeland Receive Rising Star Award from Scarsdale Edgemont Family Counseling Service
Tuesday, 16 May 2023 13:03
Last Updated: Wednesday, 17 May 2023 13:27
Published: Tuesday, 16 May 2023 13:03
Joanne Wallenstein
Hits: 1631
Lisa Copeland, Marcy Berman Goldstein and Jordan Copeland: Photo Credit: Mark JessamyAt a joyous gala on Thursday night May 11 at Scarsdale Golf Club, Scarsdale Edgemont Family Counseling Service (SFCS) celebrated their staff, volunteers and community partners and awarded Lisa and Jordan Copeland with its annual Rising Star Award in recognition of their volunteer leadership and contributions to many Scarsdale organizations.
Executive Director Jay Genova acknowledged SFCS' 103 years of service to the individuals, families and communities of Scarsdale and Edgemont and thanked local, county, state and school board officials, for their "dedication to our partnerships and your dedication to our mission. Without your support, our work would not be possible."
He remembered meeting former Village Manager Al Gatta in 2014 when Genova was named as SFCS' Executive Director. Genova asked Al if he had any advice and says Al "leaned forward and simply said to me, "Don't close." I assumed the silence was a pause, and that he would continue with some additional advice, but that was all he said to me, and the meeting ended." In the years to come, when Genova encountered challenges due to the pandemic and staffing shortages Al's words echoed in his mind.
This year, Genova was happy to report that SFCS is doing far more than staying open and is back in full swing, He offered the following list of all they are doing:
Bonnie and David Bleustein: Photo Credit Mark Jessamy
We're Back.

• We're back and fully ready to meet the challenges that lie ahead
• Were back to being fully staffed across all of our three of our service divisions
• We're back providing psychotherapy services in eight languages other than English
• We're back to providing parent support groups and leadership development programs
• We're back to providing alcohol, drug, and violence prevention programming
• We're back providing Mental Health First Aid and Narcan trainings
• We're back protecting those who have experienced intimate partner violence
• We're back hosting Vital Aging seminars and assisting our seniors return to in-person activities and
• We're back to having no wait list for our counseling services
He urged the community to continue to give to SFCS saying "Without your support, there is no SFCS."
SFCS President David Lee thanked the remarkable Gala committee, led by Wendy Gendel and Laura Daniels for the evening's gathering. He said, "Organizing an event like this is a major challenge, and, to Laura and Wendy and your Gala committee, I know you've put your collective hearts and souls into this effort. Thank you, many times over."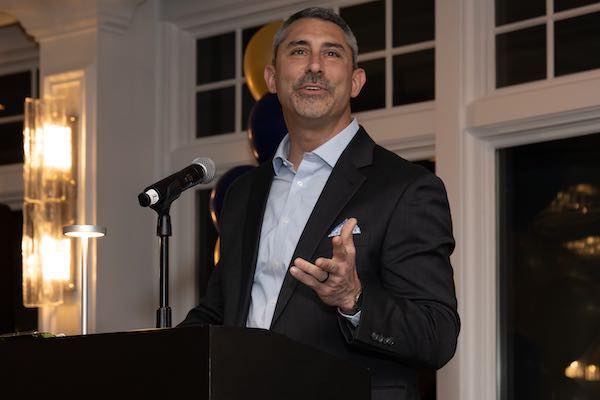 Jay Genova - Photo Credit Mark Jessamy
He reflected on why Scarsdale Edgemont Family Counseling Service is important to our community and said:
There are a lot of things I could point to, but I'm going to limit myself to just three.
Our Agency is local to our community.

We know the culture of Scarsdale, and, as a result, we can be more responsive to community needs. Our outreach workers working in the Scarsdale schools with our kids understand the pressures common to our students. And, similarly, when these same outreach workers lead discussions in parent support groups, they are familiar with the issues Scarsdale parents face.
We provide high-quality mental health services.

Besides the consistently positive feedback we get from our clients and our principal funding partners – namely, the Village government and the School District -- we have once again received national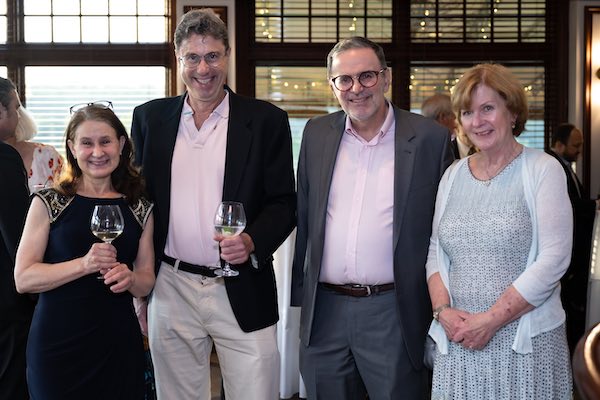 Nicky and Jon Ungar, Bob and Nan Berke: Photo Credit: Mark Jessamyaccreditation as a provider of professional counseling services and programs. This accreditation status comes after an intensive review of our Agency up and down.
Our Agency helps keep our community safe.

With the growing mental health needs in our community, just as in the world at large, SFCS is in a unique position to address the needs of our community through preventative efforts. Why unique? Because our partnership with the schools, with the Scarsdale police, and with the Scarsdale Village Ambulance Corp, often brings us into situations where our mental health services are especially needed.
Marcy Berman Goldstein, a former recipient of the Rising Star Award, presented this year's award to Jordan and Lisa Copeland.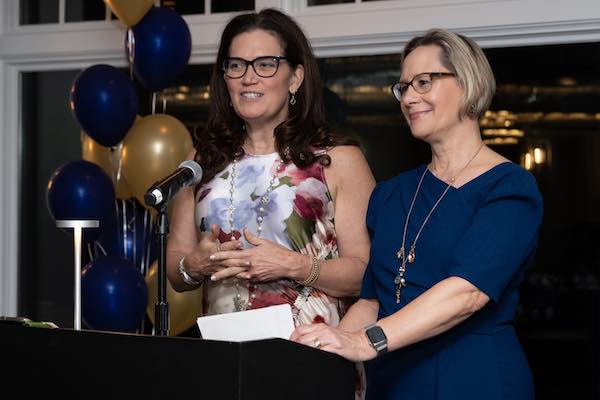 Event Chairs: Wendy Gendel and Laura Daniels: Photo Credit: Mark JessamyAccording to Genova, "the award recognizes that Lisa and Jordan have transformed their backgrounds in law, business, and education into careers of civic and social service engagement. Together, they are using their experiences to benefit others, with specific focus on healthy youth development and care for those with mental health needs. This is why we honor this dynamic couple as two of Scarsdale's finest rising stars."
Commenting on the award, Jordan Copeland said, "Supporting mental health has never been more important. We are grateful and honored to play a part in raising awareness and support for SFCS. Their excellent programs have helped us and so many others in our community.

About Jordan and Lisa Copeland
The Copelands moved to Scarsdale to raise their three sons: Caleb (20, SHS grad, attending college at Rensselaer Polytechnic Institute), Henry (16, 11th grade), Aidan (13, 8th grade). They also have two rescue dogs, Trixie and Spike.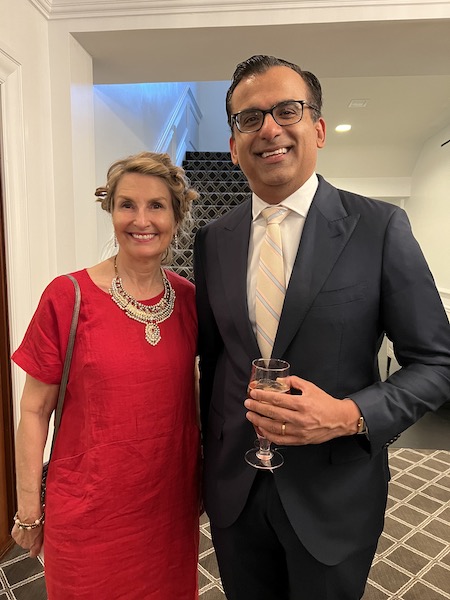 Michelle Lichtenberg and Sameer Ahuja
Lisa Copeland
A former New York City public elementary school teacher, Lisa became a "professional volunteer" after moving to Scarsdale. She is a long-time member and former president of the Junior League of Central Westchester, committee chair and treasurer of Cub Scout Pack 60 for seven years, and spent many years as Class Parent Coordinator for the Edgewood PTA. Lisa has also served on the Drake-Edgewood Neighborhood Association, where she created newsletters and planned community-wide social activities. Currently, Lisa is serving her sixth year as Board Chairperson of Family Services of Westchester, one of the county's oldest and largest social service and mental health nonprofits. Lisa is also currently serving on the board of The Sharing Shelf, a clothing bank for children.
Lisa is an owner and director of her family business, which provides services, resources and information for foundations, corporations, individuals and families. Lisa is also an owner of Andersen Corporation, the window and door manufacturer founded by her great-great-grandfather.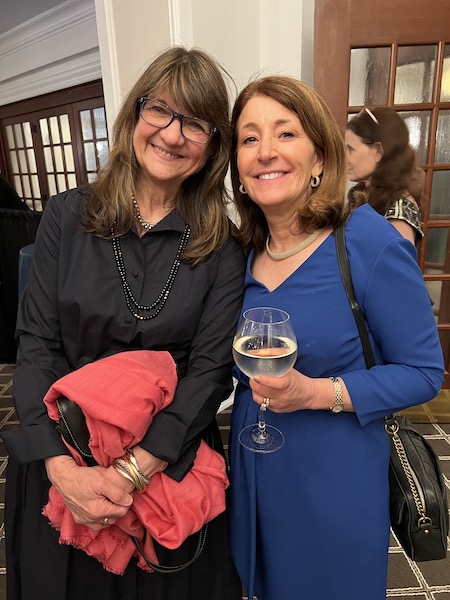 Deb Pekarek and Joy Brownstein
Jordan Copeland
Jordan has also done a lot of volunteer work in Scarsdale. Currently he serves as Associate Village Historian. One of his largest projects so far has been a widely-viewed presentation on the History of Black People in Scarsdale. He also serves on the boards of the Scarsdale Public Library (finance officer), Scarsdale Adult School (finance chair), Scarsdale Historical Society (vice president) and is an Assistant Scoutmaster in Boy Scout Pack 4. Jordan was formerly the Cubmaster of Cub Scout Pack 60 (of Edgewood School) for 7 years, and chaired the School Board Nominating Committee, the joint committee of the SBNC, the Advisory Council on Youth, and the Education Committee of the Scarsdale Forum, and was a Little League coach for six years.
With degrees in law and in education, Jordan clerked in federal court for a year, and then was a public defender in the Bronx for ten years. He also taught fifth grade in a Bronx public school for seven years. The past three years Jordan has been spending most of his time writing and recording music and volunteering in the community. He also has been a Director of Andersen Corporation since 2003, and is chair of its Environmental, Social, and Governance Committee.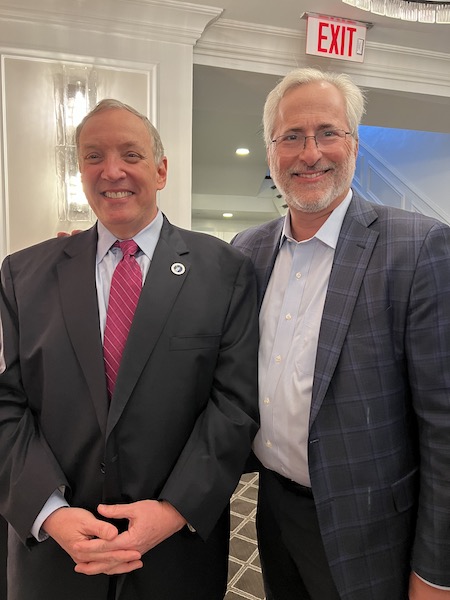 Randy Whitestone and Jonathan Lewis