Zero Otto Nove -- Fine Dining In Tuckahoe
Monday, 20 November 2023 14:05
Last Updated: Wednesday, 29 November 2023 09:58
Published: Monday, 20 November 2023 14:05
Joanne Wallenstein
Hits: 983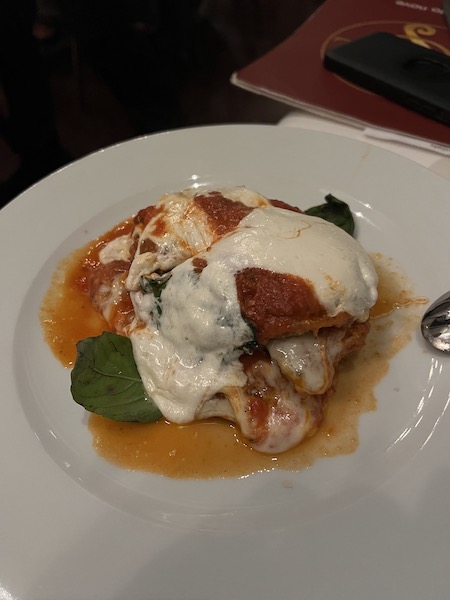 There are so many Italian restaurants, pizza places and take-out options in our area that I failed to distinguish between restaurants that provide weeknight delivery of chicken parm with gourmet Italian cooking that's also nearby.
It turns out there is a real difference.
That's what I learned at a recent dinner at Zero Otto Nove in Tuckahoe, brought to us by the same people who run the famed Roberto's Italian restaurant on Arthur Avenue in the Bronx.
The restaurant, which is located across the street from the Tuckahoe Train Station, is larger than it appears from the street. We entered into a pub style room that features a long bar, where you can stop in for a drink and strike up a conversation with the person on the next bar stool. Behind that is a high-ceilinged dining room centered on a massive fireplace – giving it a more formal feel. We then realized that another 10 tables were available in the mezzanine above the dining room. And then were taken downstairs to find a large private dining room in a wine cellar with seating for up to 30 people.
We settled in next to the fireplace and asked the restaurant manager Clyde to guide us through the best that Zero Otto Nove (which was Roberto's zip code in Italy) has to offer.
He explained that all the ingredients of our dinner had been purchased from Arthur Avenue or made fresh on site, so it was no accident that every dish was a cut above. Using fresh mozzarella, fish from Cosenza's Fish Market and smoked meats and cheeses from Teitel Brothers, the chefs at Zero Otto Nove crafted antipasti, salads, meat and fish dishes that were both expertly produced and unique.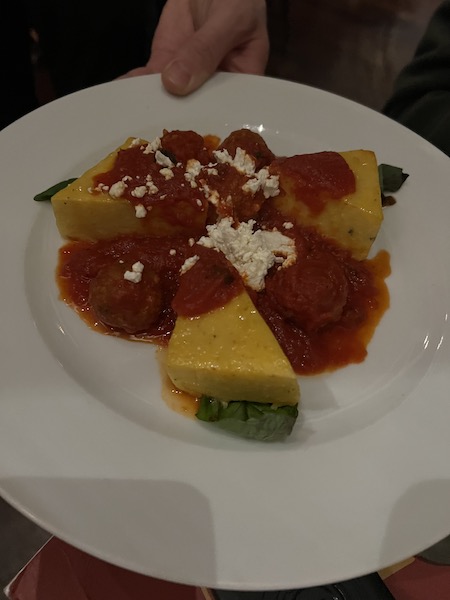 Polenta with meatballs in spicy tomato sauce.
After perusing an extensive list of wines and cocktails, we selected our first glasses and then turned to the menu. In the meantime, Clyde brought out a dozen oysters – which were fresh and delicious. I'll be back for more of those soon.
The restaurant is known for their Mafalde in Cartoccio, or pasta cooked in tin foil, so we tried that first. What arrived were radiattore, which we learned were made in the pasta machine downstairs, which was baked with porcini mushrooms, cherry tomatoes and breadcrumbs and topped with shaved parmigiano cheese. Our waiter opened the steaming sealed packet at our table, releasing a wonderful aroma. It was delicious as you can see from the photo below.
Also not to be missed was the "Parmiagiana di Melazane e Zuccinine." This was not your usual eggplant parmesan. Here, thinly sliced pieces of eggplant and zucchini are lightly fried and layered with a light tomato sauce, topped with creamy fresh mozzarella, and baked accompanied by fresh basil leaves. Highly recommended for both vegetarians and omnivores.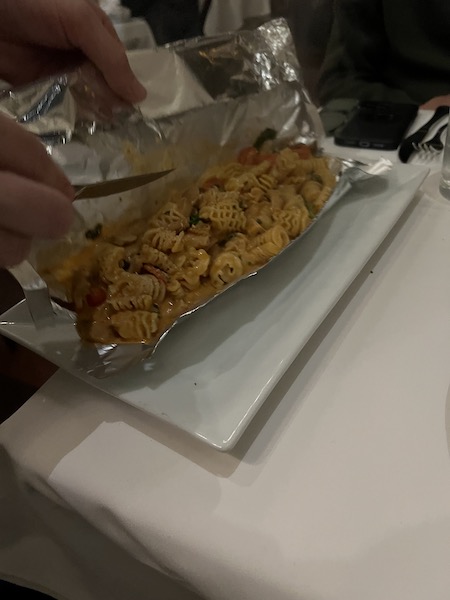 Mafalde in CartoccioNext we tried something completely different: Polenta e Caprino. We were served thick triangles of polenta, bathed in a spicy tomato sauce with small meatballs and goat cheese. Another interesting surprise.
Special that night was truffle fettuccini with parmesan and cream. That was rich.
At that point it was time for the "Secondi Piatti." Did we want to try the "Brasato alla Peroni"," short ribs braised in beer sauce with cherry peppers and gorgonzola or the Bistecca alla Salernitana -- grilled hanger steak with marinated eggplant, sweet cherry pepper, arugula and shaved pecorino? We were tempted but too full of our "Primi Piatti" so instead we ordered the Branzino Acquapazzo, another highly recommended dish. This was a fresh fish filet baked with cherry tomatoes, parsley and garlic – light and flavorful.
On the menu for our next visit is a veal scallopoini with zucchini, sundried peppers, speck prosciutto and fontina in white wine sauce and Pollo Scarpariello, spicy chicken on the bone (dark meat) sautéed with sausage, peppers and white wine.
On display near the kitchen is a large glass refrigerator featuring a rack of tomahawk steaks. That would also make a great dish to share.
Everything we sampled was delectable. The staff was friendly and the servers were well trained in the art of eating. The restaurant is spacious and welcoming and we'll be back soon for another fine dining experience at Zero Otto Nove – either in Tuckahoe, Armonk, the Bronx or New York City.
Buon Appetito!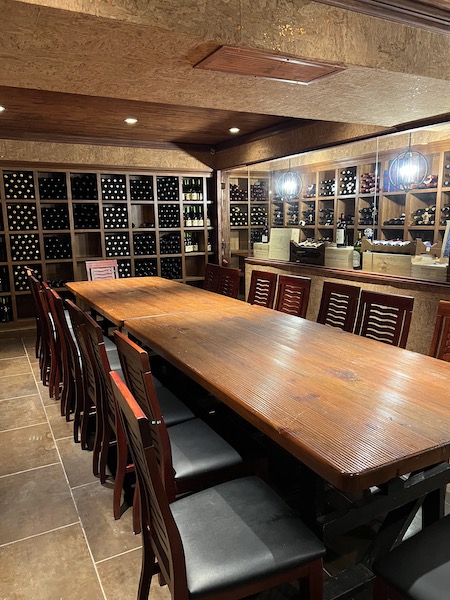 The wine cellar and private dining room.
Zero Otto Nove
16 Depot Square
Tuckahoe, NY
(914) 337-6941
Open Tuesday – Sunday
https://zeroottonove.com/tuckahoe/
Reservations available on Open Table.