LWVS Luncheon Speaker Outlines Effort to Fight Hate Crimes
Tuesday, 14 May 2019 09:26
Last Updated: Thursday, 16 May 2019 12:16
Published: Tuesday, 14 May 2019 09:26
Joanne Wallenstein
Hits: 2496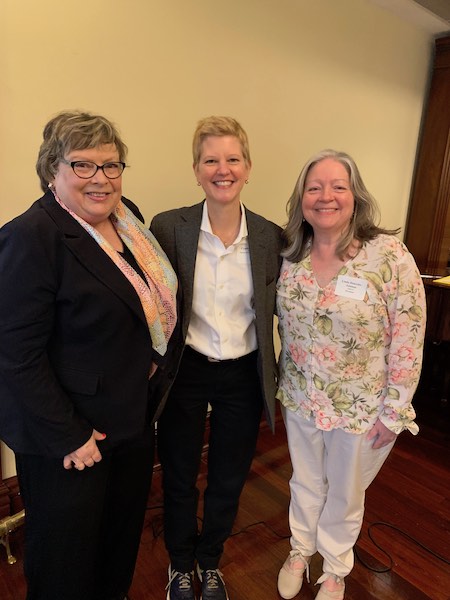 Cindy Dunne, Cynthia Deitle and Linda Doucette-AshmanAn illustrious crowd of mayors, trustees, legislators, representatives from Village organizations and current and former League members were in attendance at the League of Women Voters Annual Luncheon on Friday May 10 at Scarsdale Golf Club.
This year, as in the past, the guest speaker focused on an issue of importance to all; hate crimes and victims rights. Former head of the FBI Civil Rights Unit and current Programs and Operations Director of the Matthew Shepard Foundation Cynthia Deitle shared stories and pivotal learnings from a lifetime of defending victims of bias.
Deitle was introduced by league member Cynthia Dunne who met Deitle twenty years ago when Dunne was an Assistant United States Attorney in the Southern District of New York. She called Deitle "professional and inspirational."
Deitle reviewed some of the pivotal cases that cemented her commitment to protecting victims and becoming a crusader in the fight against hate crimes.
She discussed Kent State where the Ohio National Guard fired on unarmed students protesting the bombing of Cambodia, killing four innocent victims. Deitle was very young at the time, the slaughter impacted her for the rest of her life.
She recounted the story of Abner Louima who got into a fight after leaving a nightclub in Brooklyn in 1997. He was picked up by police who beat him and sexually assaulted him in a horrific display of police brutality. Deitle visited Louima every month for two years and hoped to get him to be an advocate against police brutality. However she later concluded, "It was selfish of me and conceited of me to want to use him after what happened." Louima wanted to rebuild his life, rather than spend the rest of it reliving that night.
Sometimes Deitle was called in after the death of a victim. This was the case of Zoron Teodorovich who was arrested for trespassing after he grilled a steak on a neighbor's barbeque. While in prison, he got into a disagreement with prison guard Paul Cote who pounded Teodorovich's head into the cember floor multiple times with his boot. As a result, Teodorovic went into a coma and died. It took Deitle more than a year to find the victims family overseas and bring his sister here to get justice for the death of her brother.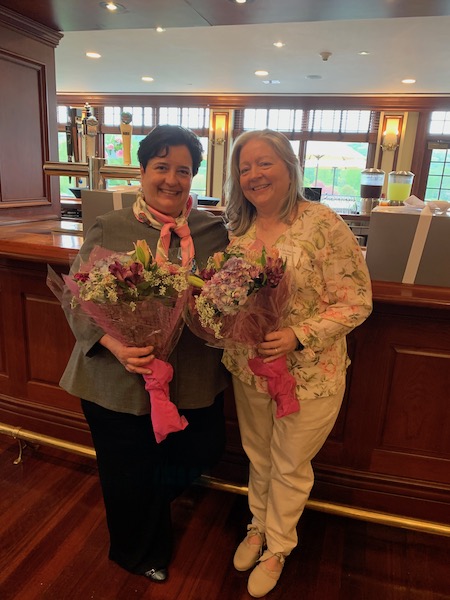 League Presidents Janice Starr and Linda Doucette-Ashman
Finally she discussed the murder of Matthew Shepard, a gay student at the University of Wyoming, who was beaten and tortured –possibly due to his sexual orientation in 1976. His case shown national attention on hate crimes and ultimately spurred the passage of new legislation to address hate crimes, "The Matthew Shepard and James Byrd Jr. Hate Crimes Prevention Act."
From these and other cases that she reviewed, Deitle shared what she learned:
-First impressions are often wrong
-Not all victims will be advocates
-Some victims just want to be heard and understood – the role of law enforcement is also to listen.
-Sometimes the victims are the bad guys, but they need to be protected too.
-Even if the victim has already died, the law should "do justice by people you may never meet."
-Referring to the parents of Matthew Shepard, Deitle said, "Some advocates change the world."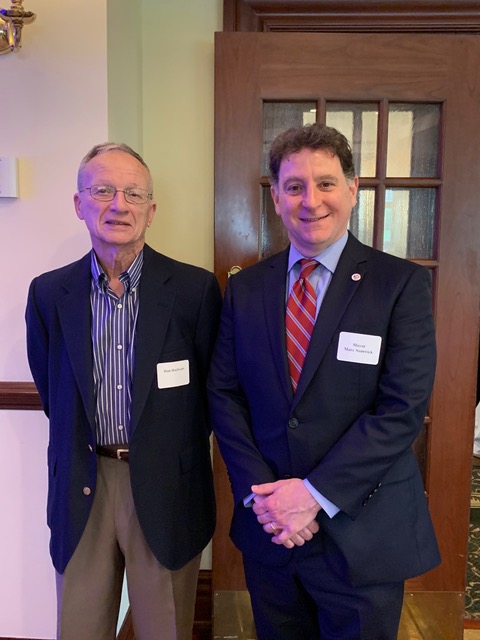 Former Scarsdale Mayor Dan Hochvert with Scarsdale Mayor Marc SamwickIn her present role, Deitle is collaborating with Matthew Shepard's parents Dennis and Judy Shepard, the Department of Justice, the Anti-Defamation League, NAACP and other non-governmental agency stakeholders to enforce the Hate Crime Prevention Act of 2009. She trains state, local, and federal law enforcement officials to recognize hate crimes and enforce the law.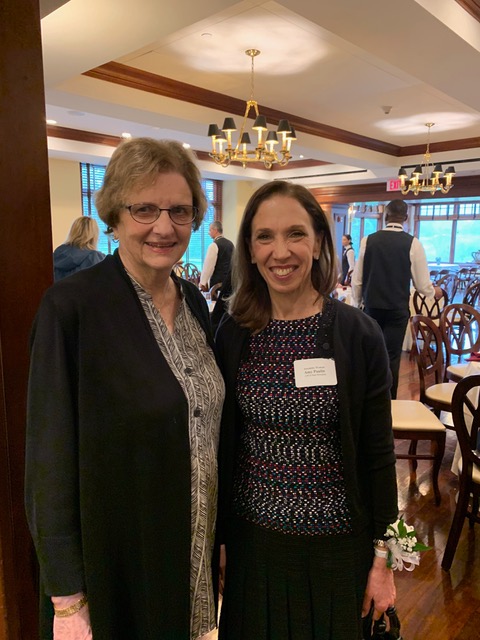 Barbara Jaffe and NYS Assemblywoman Amy PaulinHow can we make the world a better place? Deitle encouraged the audience to ""Be the change you want to see," saying "You are all advocates and allies and forces for good." She challenged the people in the room with these words: "What is your cause? What makes your heart beat? What gets you up in the morning? Whatever that thing is, get out there and try to push the needle forward. Do something. Anything."

Photo Credit: League of Women Voters of Scarsdale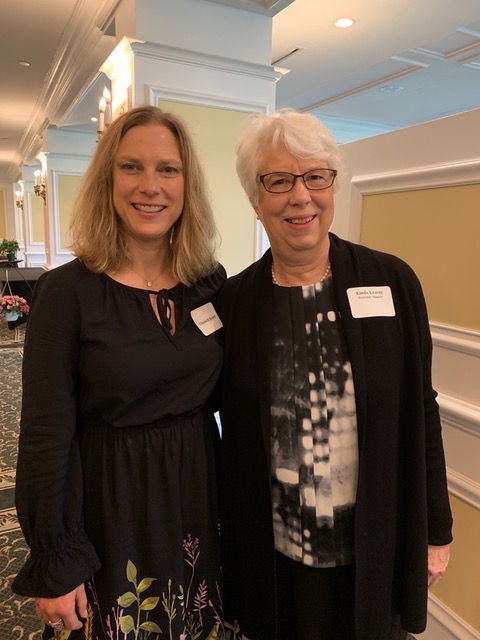 Library Director Elizabeth Bermel with Former Scarsdale Inquirer Editor Linda Leavitt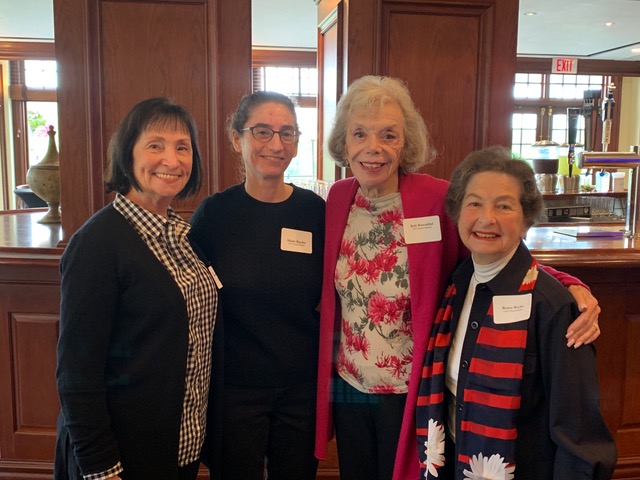 Barbara Chesler, Diane Baylor, Kit Rosenthal and Renee Baylor