Eleven Elected to Serve on the Citizens Nominating Committee
Wednesday, 13 November 2019 15:08
Last Updated: Thursday, 14 November 2019 13:09
Published: Wednesday, 13 November 2019 15:08
Joanne Wallenstein
Hits: 2703

The results of the Citizens Nominating Committee election held on Tuesday, November 12 are below. Scarsdale voters elected their neighbors to serve on the nonpartisan Citizens Nominating Committee (CNC). These newly elected members will join current CNC members to meet and evaluate non-partisan candidates for the village offices of three Trustees and Village Justice. The 30 elected members of the CNC will then nominate candidates to represent the Non-Partisan party's slate in the village election, which takes place on Tuesday, March 17, 2020.
A total of 368 votes were cast, included in person voting and mail in ballots. Here are the names of those who were selected:
Elected CNC Members, 3-year terms unless otherwise noted: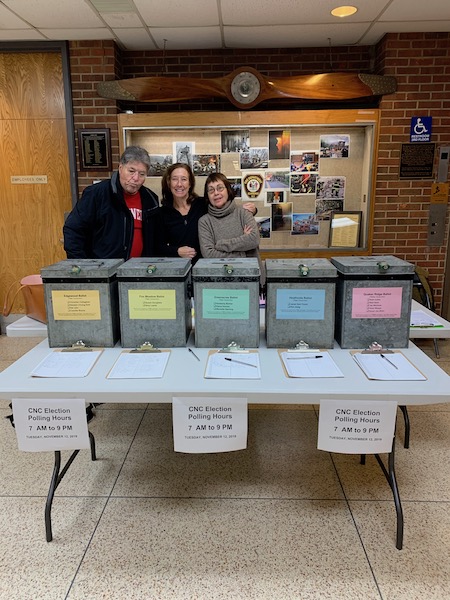 Eric Jaffe, Anne Lyon and BK Munguia at the poll.

Edgewood: Christian Callaghan; Camille Roche

Fox Meadow: Susan Douglass; Amy Laartz

Greenacres: Elena Kanner; Michelle Sterling

Heathcote: Janet Han-Youm; Peri Zelig

Quaker Ridge: Neal Soss, 1-year term; Jay Wechsler; Omer Wiczyk
Here are the number of ballots cast by District Unit: in person (mail-in ballots)
Edgewood 96 88(8)
Fox Meadow 46 41(5)
Greenacres 82 79(3)
Heathcote 57 53(4)
Quaker Ridge 87 75(12)

The election was administered by the Citizens Nominating Committee Procedure Committee which is chaired by Eric Cheng and Sarit Kessel Fuchs and includes Stephen Baer, Daniel Brown, Eric Cheng, Chair, Marie DiPalma, Madelaine Eppenstein, Sarit Kessel Fuchs, Vice Chair, Dan Gerardi, Judy Wenjing Kerr, Jon Leslie, Matt Martin, Barry Meiselman, BK Munguia, ML Perlman, Andrew Sereysky, Gregory Soldatenko, Peter Tesler, Amber Yusef, and Anne Zink.