SHS Grads Launch Kickstarter Campaign to Fund Interplanetary Conquest Board Game
Tuesday, 18 August 2020 16:44
Last Updated: Tuesday, 18 August 2020 16:54
Published: Tuesday, 18 August 2020 16:44
Joanne Wallenstein
Hits: 3416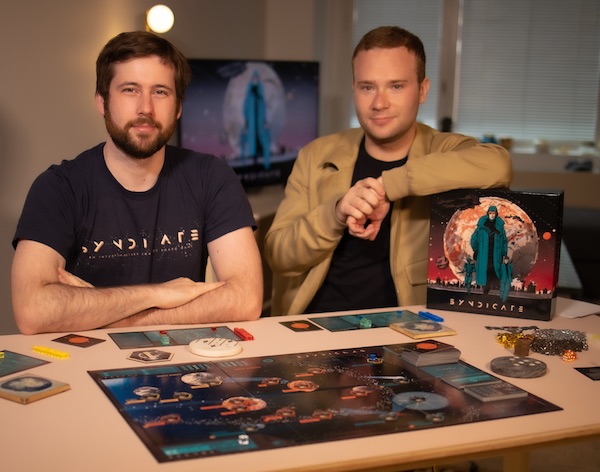 Game Designers Greg Dietz and Josh Pollack SHS Grads, science fiction fans and fast friends since their days in elementary school at Fox Meadow, Greg Dietz and Josh Pollack just launched a Kickstarter campaign to fund the production of their new game, Syndicate, an interplanetary conquest board game.
Dietz and Pollack have ambitious plans for this highly interactive game that can be played by one to five players. Rather than sell the game to an established publisher, the two hope to produce and sell the game themselves and maintain the rights to the license. In order to learn more about the development process and how they will move forward we asked them to respond to some questions and here is what they shared:
Please describe the game:
SYNDICATE is an interplanetary conquest thematic, 4x (expand, explore, exploit, exterminate) board game for 1 to 5 players. You control a young, enterprising criminal syndicate on the outer fringe of Arcturus, trying to stay under the radar of the Sovereign while competing with other criminal syndicates for money, power, loyal crew and advanced technology. Complete missions, set up criminal operations, and take down anyone that stands in your path to building the most formidable interplanetary criminal empire in the system.
How did you and Josh come up with the idea for the board game?
Both of us are avid board game players and big science fiction fans. Naturally, a science fiction themed game is the direction we wanted to go. Deeper than that the idea of SYNDICATE came in the many steps and iterative process of board game design. We started with sticky notes on the wall and table along with some poker chips and then through hundreds of tests and scores of game models the game mechanics formed. Simultaneously, we exercised another passion Josh and I share, which is writing science fiction. As we built the game mechanics we wove in an immense universe of world building, which adds to the thematic element and player immersion of the game.
Why did you decide on a tabletop game rather than a digital one?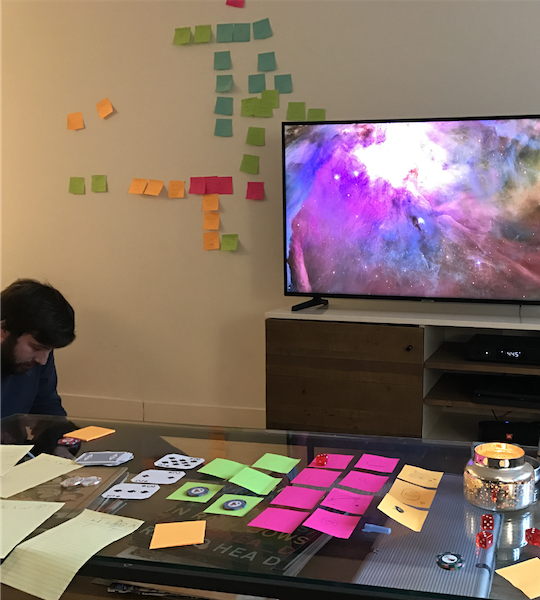 The creative process.
Board games, RPGs and other types of tabletop games form something many call the magic circle. Players are transported into a collective story in which they are the lead characters and writers. It differs from video games in many ways, but we like to call out two in particular. One, a deeper emotional connection between players around the table as opposed to across distant screens. Two, rules in board games are not as fixed as a video game written in code. How many of us have different house rules for Monopoly? The ability for players as a collective to become more of the writers of their own story and game also leads to a greater emotional connection and the effect of the magic circle.
This emotional connection is a major reason why over the last decade we have seen a renaissance in the table top industry, and large market growth, as society becomes more increasingly connected but emotionally distanced in an increasingly digital world.
Board games have been a pillar of our friendship, and we have made it our mission to give back to the community and create that emotional connection between friends, family and even strangers.
Did you explore the option of developing the game for a traditional board game company rather than producing it on your own? If so, why did you decide to go this route?
Along our two year journey we have met many other board game designers. Many of them design games with the intention of licensing or selling them to an established publisher. We are taking on the challenge of self publication for many reasons. We are confident we have the creative skills, business skills and entrepreneurial drive to travel the hard path we have chosen. It will be incredibly fulfilling to see our game go from idea to a game store shelf. Another simple reason is that we want to preserve the rights and IP of the game. We don't intend to stop with one game. We have created an expansive universe of lore that can be explored with more games, and perhaps we will expand out of games as well. Star Wars started somewhere, right?
Tell us about yourselves: What are your backgrounds - what did you do before you decided to launch the game?
The two of us have been fast friends since childhood. We both grew up in Fox Meadow. We started a high school band and recording studio together. And we always knew we would form a company together.
Greg Dietz (29) is a Lafayette College and Columbia University graduate with degrees in geology and masters in sustainability management. From geology he moved into a marketing and sustainability role at the software tech giant SAP where he continues.
Josh Pollack, (also 29) completed his undergraduate in economics at Tulane and recently finished his MBA at Columbia University. Josh has led a successful career in investment banking and private equity first at Lazard and then at Rhône Group, respectively, where he continues.
You launched your first Kickstarter campaign in June. Why did you decide to relaunch it now?
For first time game designers and first time Kickstarter creators, our first Kickstarter launch on June 23 went quite well. Of the $55,000 funding goal we raised just over $30,000 in under two weeks of the 30-day campaign. So why relaunch? We made the difficult decision to end our first campaign early and do a quick turnaround for a relaunch on August 18 because there was a lot of amazing feedback from the Kickstarter community. The best way to incorporate that feedback and offer an even better game reward and campaign was to create a new one. Relaunching like this is not uncommon. We are confident that the REDUX will make an even bigger splash.
How much do you need to raise to produce the game?
There are many components that go into pricing the game and establishing a funding goal. We have settled on a price of $55 for a core package that includes a copy of SYNDICATE: An Interplanetary Conquest Board Game, a single player campaign expansion, and any unlocked stretch goals which are special upgrades, such as a lore book and high quality components, backers get if the campaign reaches above funding goal targets. We have concluded that $35,000 is the minimum funding goal we need to get the game on its way to gamers around the world.
How has the pandemic affected your plans?
As with all companies in this time, the pandemic raises uncertainty in the market and the supply chain. At the outset of the crisis, several manufacturing negotiations were stalled which forced us to delay the launch. It is tough to measure, but the economic effects of the virus are surely impacting board gamers' wallets and willingness to pay as well. That said board games are collectively still raising millions of dollars. From 2018 to 2019 funding dollars for tabletop games grew 6.8% to $176 million, which is a continuation of a steady growth it has had for many years. It will be interesting to see what the 2020 numbers show.
Contribute to the Kickstarter campaign to help fund the production of Syndicate and receive your own copy.