Trustees Offer Kudos to Jane Veron at her Final Village Board Meeting
Wednesday, 09 September 2020 16:03
Last Updated: Thursday, 21 January 2021 14:00
Published: Wednesday, 09 September 2020 16:03
Joanne Wallenstein
Hits: 2299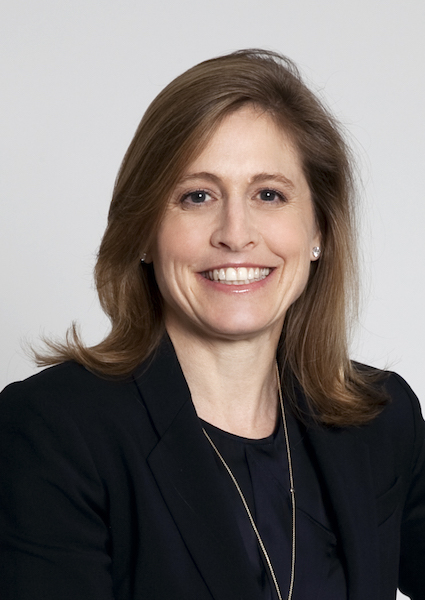 Trustee Jane Veron completed 4 and half years on the Village BoardTrustee Jane Veron, who served four years and an additional six months as Scarsdale Village Trustee due to the delay in electing her successor, sat at her final Village Board meeting on Tuesday night September 8, 2020. The postponed Village election is scheduled for Tuesday September 15.
Village Clerk Donna Conkling let the Board know that whoever wins the election will take office almost immediately and be sworn in on September 20, 2020. So Veron, who is now the longest serving trustee in Scarsdale's history, appeared on the dais for the last time as trustee.
Mayor Marc Samwick called Veron "nothing short of a dynamo." He added, "Scarsdale is a much better place because of what she has done,"…. and thanked her, saying "It has been an absolute pleasure working with you."
Lena Crandall said it was an honor to serve with Jane saying she was "intelligent, kind, hardworking and always prepared." She thanked Veron for "helping me to become a better public servant," and reminded her to take some time to "eat and put your feet up."
Justin Arest said, "Getting to know you as a friend has been an honor; learning from you has been a privilege." He added, " Obviously this is not goodbye -- I expect your work for Scarsdale to continue."
Jonathan Lewis said, "Jane, you set a high bar for public service and an extraordinary example for collaboration. You have the vision to see what's important and you sweat the details. Thank you for your years of service."
Seth Ross said, "I had high expectations for serving with you. You foster collegiality while getting the right things done." Hinting at a possible run for Mayor, Ross said, "This is not goodbye – its not the end of anything – it's just a transition to the next phase. Expectations for your future service remain sky high. You never let us down in the past and I am sure you won't in the future."
Rochelle Waldman said, "I am sorry that this is our last meeting together. You will be missed. I want to thank you for your guidance and support. I know we will work together in the future in some capacity."
During public comments, Dara Gruenberg called in and thanked Veron for exceptional service. She said, "I loved working with on the communications committee" and "You have been a champion of the library…. I can't wait to celebrate the opening with you."
Veron thanked said, "It has been a privilege to do this job."
Village Clerk Donna Conkling provided information for voting either in-person or by absentee ballot until Monday September 14. Voting will take place on Tuesday September 15 between 6 am and 9 pm at the Scarsdale Congregational Church at 1 Heathcote Road. Conkling said the Village will take precautionary safety measures. The area will be sanitized and there will be extra gloves and masks on hand. Anyone who prefers to vote before hand, can go to Village Hall through Monday and apply for an absentee ballot and then cast their vote immediately.
Village Manager Steve Pappalardo reviewed the problem with the school tax bills. Though
the two installment payment coupons are correct, the property tax assessment and the total tax on the bottom of the bill was incorrect. " He said, "The amounts on the two pink coupons are correct. Homeowners should pay the amount shown."
However he reported that Village Hall has fielded over one hundred phone calls from residents about the error in the bills. After consulting with their attorney they decided to send corrected tax bills to each property owner at the end of this week. They will be mailed to all property owners – whether or not they already paid. The Village will also meet with their vendor to see what went wrong.
Pappalardo also reviewed the sanitation schedule saying, "the majority of services have returned to normal operation. Trash, recycling and food scraps are all back to their normal schedules however the furniture donation bin is closed.
When visiting the Recycling Center, Pappalardo reminded everyone to social distance and wear masks.
He reported that a visit from the county's mobile shredder on Saturday attracted a crowd, with cars lined up to Mamaroneck Road to participate.
Public Comments
Bob Berg, now from Black Birch Lane, reported on the proceedings of the Board of Assessment Review of which he is a member. He praised the new Village Assessor Victoria Sirota, calling her a "breath of fresh air." He said, "She fights for the Village but deals with the public in an effective way." He reported that the BAR received 492 grievances, 15 were withdrawn and they considered 477 applications. They granted reductions to 24.3%. He also told residents that they can file a grievance on their own by getting an appraisal of their home and completing the application.
Mayra Kirkendall Rodriguez had questions about the Ad Hoc Council to Combat Racism and Bias. She said, "What are the objectives? Have you been able to include more residents? If people are interested how does that work? If there are any minutes of these meetings, it would be good to be transparent." She said, "I am grateful that you created this committee – but that will not solve the issues of bias."
Mayor Samwick explained that "Some of these discussions are sensitive and it's important that people feel free to openly discuss."
Bob Harrison also complimented Veron saying, "The Scarsdale Business Alliance is one of your babies – the dining tent is a big success." He reported that the use of Village tennis courts is on the rise, with 1,591 permits sold this year as compared to 900 last year. He invited players to sign up for the Scarsdale Youth Tennis Tournament to be held next week.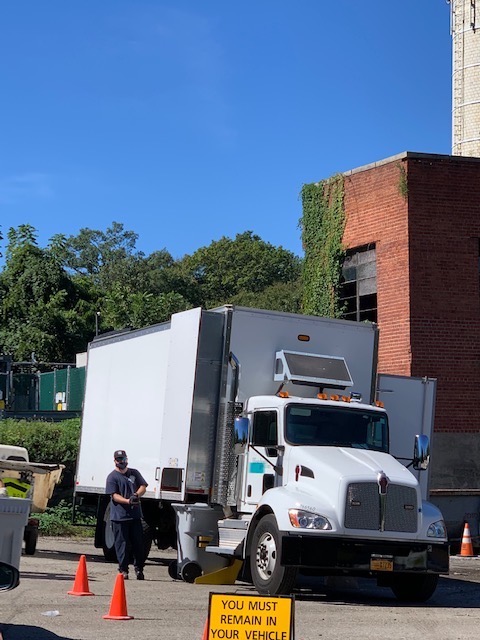 Trustees were invited to make liaison reports and Trustee Waldman announced the Lunch and Learn program for seniors to take place on Mondays beginning on September 14 from 1 – 2 pm in the dining tent in the Village. The events will be educational, safe and socially distant. More information can be found at www.sfcsinc.org or by contacting Maryellen Saenger at msaenger@sfcsinc.org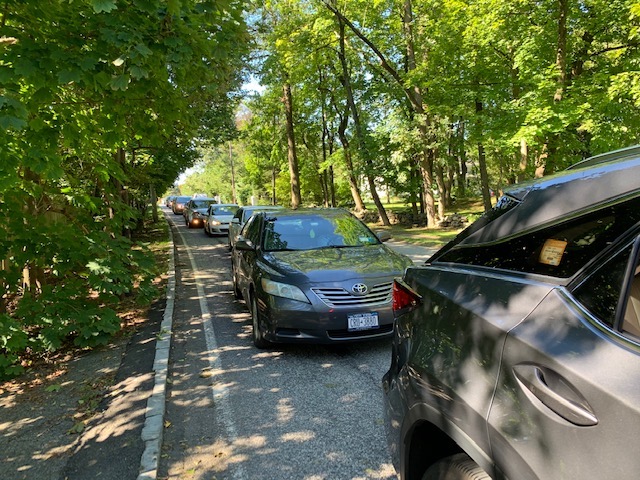 Cars lined up to use the mobile shredder at the Recycling Center. Photo by Cynthia Roberts
Trustee Jane Veron announced that the "Dine the 'Dale tent as well as our more liberal use of sidewalk space have kept our Village buzzing this summer." She said, "As the colder weather approaches we have decided to explore ways to continue to use outdoor space. Village staff has been working behind the scenes with their legal, engineering and public safety colleagues to iron out the details. At our next Village Board meeting, the Village Board will announce a public hearing to discuss proposed code changes to extend the time for merchants to take advantage of outdoor space to sell wares and to host sidewalk cafes."
About the library she said, "Furniture and shelving are being delivered, and movers are also bringing books back from storage. In addition, the Library currently has an RFP out for vendors to run the cafe at the Library." In the interim she encouraged everyone to use the Library Loft for books and media and online programming.
In other business, the Board approved a resolution to hold a public hearing on the number of taxicab licenses. Though ridership has dropped due to the lack of commuters, according to Trustee Lewis, "It is onerous to reduce the number of licenses so the recommendation is to continue with the same number of cabs." The public hearing will be held on Tuesday September 22, 2020.
The Board approved a $5,000 gift from the US First Responders Association to the Scarsdale Firefighters.
Randy Whitestone thanked the Mayor for his comments about Con Edison at the hearing of the NYS Legislature. He also said that he was downtown and the dining tent was being used and retail stores were open and busy. Last he reminded everyone to vote.