Update from SNAP on Holiday Giving: Neighborly' Doesn't Just Mean Scarsdale.
Thursday, 03 December 2020 12:42
Last Updated: Thursday, 03 December 2020 16:49
Published: Thursday, 03 December 2020 12:42
Joanne Wallenstein
Hits: 1182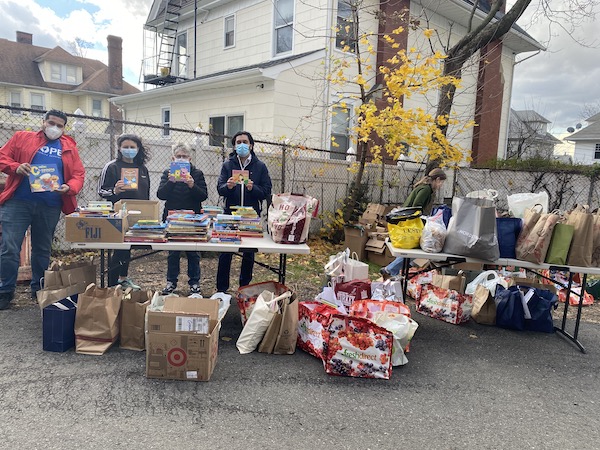 Rokaya Hassaballa with HOPE Executive Director Walt Ritz, Director of Operations Benito Ceja and Pantry Director Sister Mary Alice Hannan and SNAP for HOPE's Week 1 donations (both tables!).This letter was writing by Scarsdale Neighborhood Association President Sarah Bell
Dear Scarsdale: We officially kicked-off SNAP for HOPE this week and all I can say is wow!

This week we delivered a total of 1,950 baked items, several hundred books and a few toys to HOPE. The items we delivered went directly from our cars to tables for HOPE clients. Thank you, Scarsdale! Let's keep up the great work!
Scarsdale Neighborhood Association Presidents and all of the Scarsdale Neighborhood Associations invite you to participate in SNAP for HOPE, a six week of Village-wide holiday season service to provide baked goods, books and toys to HOPE Community Services in New Rochelle.
All Scarsdale residents can assist HOPE (Help Our People Eat) Community Services, the largest emergency Food Pantry and Soup Kitchen in our region. They need 1,600 baked items every week to provide to their client population, especially families and the elderly, as well as used books and new toys. SNAP's goal is for Scarsdale to meet HOPE's full 1,600 item need every week for the six consecutive weeks from Thanksgiving to the New Year plus donate much needed books and toys.
If you would like to participate, please email: SnapPres10583@gmail.com.
Looking ahead:
HOPE let us know that they are short on new toys for the families that signed up for holiday toys. If anyone can sign up to donate new toys, please consider doing so.
We could use some baskets/trays for our baked goods and a folding or similar bookshelf for all of the books. If anyone has any baskets or similar to donate, or a bookshelf that will fit in a trunk that they are willing to donate, please email snappres10583@gmail.com.
If you would like to bake and haven't signed up, please consider signing up for Weeks 4, 5 or 6, which are short(er) on volunteers.
Emails with information and reminders will go out twice during the week before each Monday delivery.

All baked goods, books and toys should be in paper shopping bags with handles and clearly labelled with the type of item and number of items in the bag (i.e. 65 cookies, 10 books, 3 toys, etc).
Toys should NOT be wrapped.
Non-perishable" means – does not need to be refrigerated (any 'traditional' baked item is fine!).
To participate, please email: SnapPres10583@gmail.com.