Westchester Residents 65 and Over Scramble to Find Vaccines
Monday, 11 January 2021 15:54
Last Updated: Wednesday, 13 January 2021 13:01
Published: Monday, 11 January 2021 15:54
Joanne Wallenstein
Hits: 3242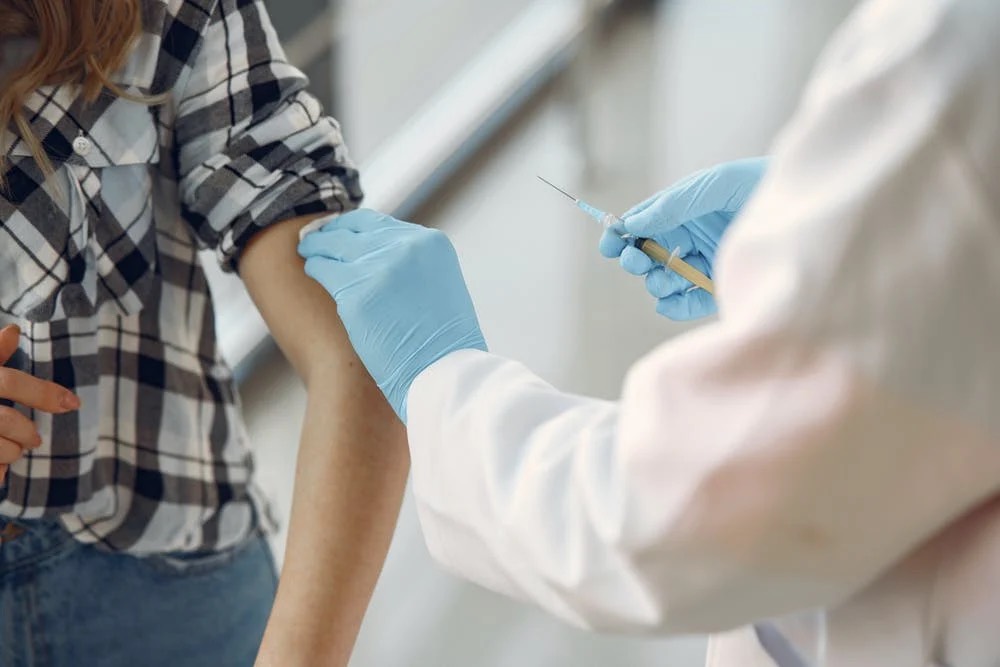 After much criticism about the slow rollout of the COVID-19 vaccine, on Monday January 11, 2021, New York State cleared people aged 75 years and older to receive it. On Tuesday January 12, he changed that to 65 and over, and now thousands are scrambling to find out where and how to get the shot. According to the Governor, NYS now has 7 million people eligible for the vaccine, with only 300,000 vaccines available.
In Manhattan, some of have been successful at scheduling appointments at NYC Department of Health Facilities and at several hospitals.
In Westchester, it's taking a few more days to make a plan.
At his weekly briefing on Monday January 11, 2021, Westchester County Executive George Latimer announced that the county is working to deliver the vaccine according to New York State guidelines.
The state's expanded list of who is eligible for the vaccine is as follows:
• People 75 and older (Since changed to 65 and older)
• Teachers and education workers
• First responders
• Public safety workers
• Public transit workers
• High-risk hospital workers (emergency room workers, ICU staff and Pulmonary
Department staff)
• Residents and staff at nursing homes and other congregate care facilities
• Federally Qualified Health Center employees
• EMS workers
• Coroners, medical examiners and certain funeral workers
• Staff and residents at OPWDD, OMH and OASAS facilities
• Urgent Care providers
• Individuals administering COVID-19 vaccines, including local health department staff
• All Outpatient/Ambulatory front-line, high-risk health care workers of any age who
provide direct in-person patient care
• All staff who are in direct contact with patients (i.e., intake staff)
• All front-line, high-risk public health workers who have direct contact with patients,
including those conducting COVID-19 tests, handling COVID-19 specimens and
COVID-19 vaccinations
• Doctors who work in private medical practices and their staff
• Doctors who work in hospital-affiliated medical practices and their staff
• Doctors who work in public health clinics and their staff
• Registered Nurses
• Specialty medical practices of all types
• Dentists and Orthodontists and their staff
• Psychiatrists and Psychologists and their staff
• Physical Therapists and their staff
• Optometrists and their staff
• Pharmacists and Pharmacy Aides
• Home care workers
• Hospice workers
• Staff of nursing homes/skilled nursing facilities who did not receive COVID vaccination
through the Pharmacy Partnership for Long-Term Care Program
Latimer provided the following resources to help residents find out if they are eligible for a vaccine, and if so, where to get one.
First, to determine your eligibility and to receive an email and a text message when you qualify, go to this site and answer the questions and register:
Latimer asked that younger relatives or friends help older people to sign up if they are having trouble with the website.
For those who prefer to schedule an appointment on the phone, a vaccination hotline will open at 4 PM today, Monday January 11, 2021. The NY State COVID-19 Vaccination Hotline to schedule vaccination appointments for eligible New Yorkers is: 1-833-NYS-4-VAX (1-833-697-4829).
For eligible people to get an appointment for a future date, at the Westchester County Center, click here:
Latimer said that the Westchester County Center will open this Wednesday or Thursday as a facility to dispense vaccinations. It will NOT BE A WALK-IN facility. You will need an appointment to receive one at the County Center.
Help Available: If you're having trouble navigating the websites, Scarsdale students will be happy to help you to get an appointment. A group called VAX HELPERS has been formed. Call the at (914) 574-7863. If they don't pick up, leave a message. You will need to supply them with the following:
Your Name
Allergy History
Address
Phone Number/Email Address
Date of Birth
The state has also issued this list of locations that will be administering vaccines, but we do not know if they have supplies now: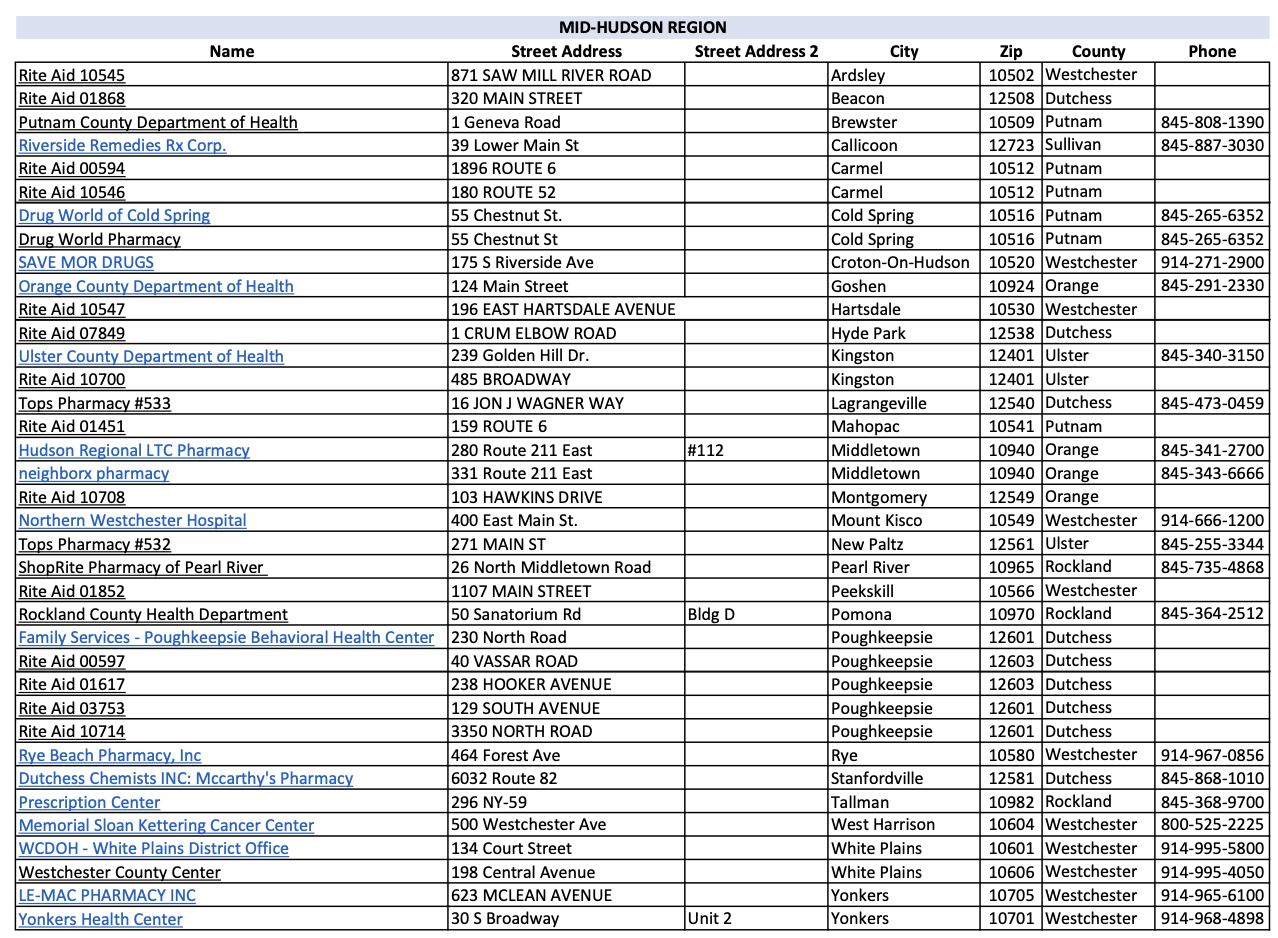 Volunteers Needed
The Hudson Valley Regional HUB, WMCHealth is seeking volunteers to support the administration of the COVID-19 vaccine.

Volunteers are needed to assist with operations and activities at vaccination sites, such as registration and check-in, data entry, greeting and routing participants, traffic flow, and other administrative tasks. Volunteers with specific clinical credentials to administer the vaccine are also needed.
Volunteers must be 18 years of age in good health and proficient in English, with bi-lingual skills also being important. Those working at the vaccination site will be provided with training, PPE and will be able to receive the vaccine, if they wish.

Site locations will be announced in the coming days and will operate 7 days a week. Multiple shifts are available. Volunteers are asked to commit to three shifts a week during a 30-day commitment.
To register to be a part of this historic vaccine program, please click here.

COVID Spread
Turning from the vaccines to the current infection counts, Latimer reported that the COVID spread is increasing. He said, "We have grim numbers."
As of January 11, 2021 there were 11,265 active cases in Westchester County, higher than the number as we had on April 10, 2020. This is up from 9,278 last week and 8,000 two weeks ago.
As of Saturday January 9, 2021, 504 people were hospitalized but the County's bed count is higher, with about 2,500 beds so we have not reached a crisis situation. This is a 10% increase over last week and on Halloween night, October 31, 202, there were only 51 in the hospital, one tenth of today's count.
As of Monday January 11th the county dashboard showed 83 active cases in Scarsdale and a 5.1% positive rate for the county overall.
Check the county dashboard for the latest numbers here:
Latimer to Seek Second Term
In other news, Latimer announced that he will run for a second two-year term as Westchester County Executive.
An email from his campaign says, "It has been my honor to serve you and all of Westchester's residents in navigating an irresponsible fiscal situation passed on by the last administration, a national political environment that warrants local focus on long overdue social justice reforms and an uncharted pandemic that has created further economic struggle for many along with a health care challenge that we must resolve so that more Westchester residents and New Yorkers do not suffer.

I am proud of my first term record with two consecutive years of zero property tax increases, timely budgets with no lay-offs or service cuts and swift action on so many social issues like justice reform, LGBT equality and women's rights.