Good Work: Teen Delivers Baked Goods to 100 Westchester Firehouses, Library Kiosks Stocked with Books that Teach Tolerance
Wednesday, 05 May 2021 12:08
Last Updated: Thursday, 06 May 2021 07:05
Published: Wednesday, 05 May 2021 12:08
Joanne Wallenstein
Hits: 536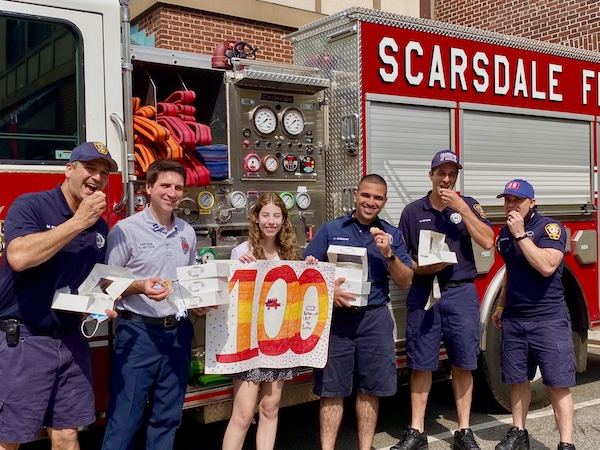 Firehouse Project – 100 Deliveries and Counting

"Baked with Love by Lindsey," is the label on each box of home-baked goods Scarsdale High School junior Lindsey Lindman, 17, has delivered to firehouses throughout Westchester since last summer. Lindman conceived this Firehouse Project as a way to give-back and thank firefighters as front-line workers caring for people in their most vulnerable moments. Setting the goal to bake for every firehouse in Westchester County (there are 125), she has been baking and delivering home-baked cookies, brownies and muffins to different fire houses in every corner of Westchester County throughout the pandemic.

This past week Lindman hit a milestone presenting firefighters at the 100th firehouse in Westchester County, the Scarsdale Fire Department Headquarters (50 Thompkins Road), with a selection of baked goods.

Pictured at top from left to right: Firefighter Mark Rosenfeld, Captain Christopher Mytych, Lindsay Lindman, Firefighter Francis Sheehan, Firefighter Matt DeTone, and Firefighter John Constantino.
Diverse Books Teach Tolerance

In honor of Asian Pacific Heritage Month in May, a selection of books about the Pan Asian experience for adult, teen, and child readers will be available in the library kiosks throughout Scarsdale. The initiative was highlighted on Scarsdale10583 in February, and the newest kiosk was recently installed at the library pond.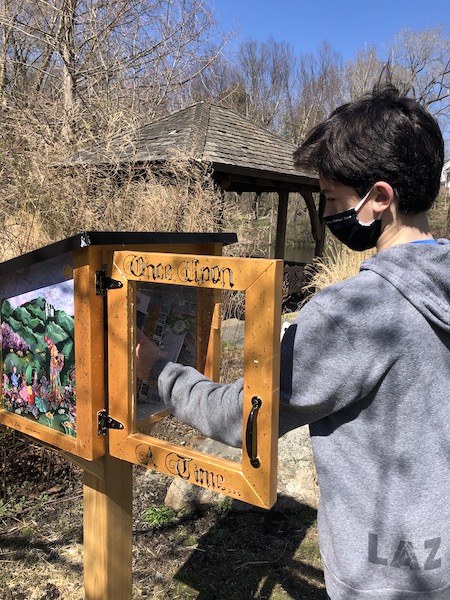 Check out diversebookstt.com where you can find a complete list of themes for the upcoming months. In June the kiosks will feature books for LGBTQ+ pride month. The founders Asher (10th grade) and Zane (8th grade) Kohn also welcome donations of relevant books so they can keep this project going. They can be contacted through the website to arrange to pick up book donations. Consider making a donation at their gofundme page to help support this community initiative.