Retailers Report an Uptick in Business in Scarsdale Village
Wednesday, 11 August 2021 14:18
Last Updated: Wednesday, 11 August 2021 14:24
Published: Wednesday, 11 August 2021 14:18
Joanne Wallenstein
Hits: 1035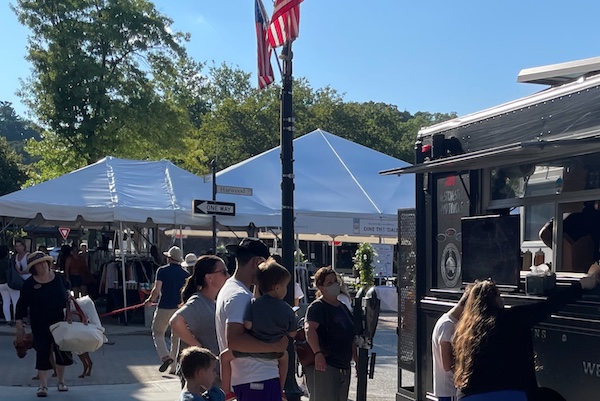 Now for some good news from Scarsdale merchants: Though the Village has lost some retailers this past year, it's not all doom and gloom downtown. Initiatives like the construction of the outdoor dining tent, outdoor dining permits for restaurants and a lively four day Sidewalk Sale seem to be bearing fruit.
A few retailers we spoke to in the past few weeks are reporting an uptick in their businesses, due to a combination of factors including the COVID outbreak.
It seems that the closing of offices in New York City has turned residents focus to their local assets, including retailers in Scarsdale Village. Jay Rosen, owner of the Eye Gallery was pleased to report that locals are frequenting his shop. He surmises that people who formerly commuted to work and took care of business at city shops during their lunch hours, are now turning to Village retailers to fill their needs.
The shop is located directly next to the dining tent, which has increased foot traffic in the Village and the visibility of the store. People are scheduling lunches or coffees in the tent, and walking by his shop in the process.
He seemed genuinely surprised and pleased to find that the COVID outbreak had a silver lining for downtown Scarsdale.
Marcy Berman Goldstein, who heads the Scarsdale Business Alliance and is the proprietor of I Am More, a boutique in the Village, had this to say about business downtown:
"There has been a significant increase in foot traffic in the Village center since the Spring. I think the availability of vaccinations and a genuine shift in community members shopping and supporting our local merchants have been the catalyst for this shift.
After the shut down and such a long winter dealing with Covid, I Am More's customers were very excited about spring and summer fashion and were so happy to be out and about. Merchandise sold much faster than anticipated, and this trend has continued with our new fall arrivals.
We are seeing more and more of our loyal customers, who were previously hesitant to come in resurface, as well as many new faces! In addition, our e-commerce site, which contains all of our merchandise, has also trended with increased sales locally and all over the country! "
Ken Levinsohn and Ellen Strauss, who own the children's toy store Learning Express are also noted a shift. They said, "We are very pleased to see how the community has come out to support village businesses after what had been a disastrous year due to the pandemic. Fueled by pent up demand, hot product trends, and a renewed emphasis to shop local, we are seeing a robust and much needed recovery in our village."