Scarsdale Remembers 9-11
Monday, 13 September 2021 15:35
Last Updated: Wednesday, 15 September 2021 12:55
Published: Monday, 13 September 2021 15:35
Joanne Wallenstein
Hits: 489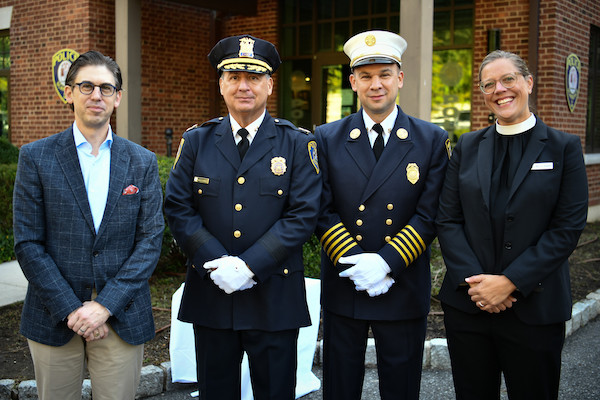 Under clear blue skies reminiscent of the day of the attack, the Scarsdale Department of Public Safety held a ceremony to mark the 20th anniversary of 9-11-11 twenty years later on 9-11-21.
The ceremony remembered those who were killed on that fateful day and honored the sacrifices of the first responders and recovery workers.
Police, firemen and their families, the clergy, and Village Trustees were on hand to speak and memorialize the heroic efforts of public safety workers. The ceremony was orchestrated by fire captain Christopher Mytch who invited vocalists, clergy members, the Mayor, fire commissioner, the color guard and a bagpiper to perform and speak at this moving event.
The ceremony was a mix of remembrances, insights, reflections and honors for those who stepped up and for those who lost their lives.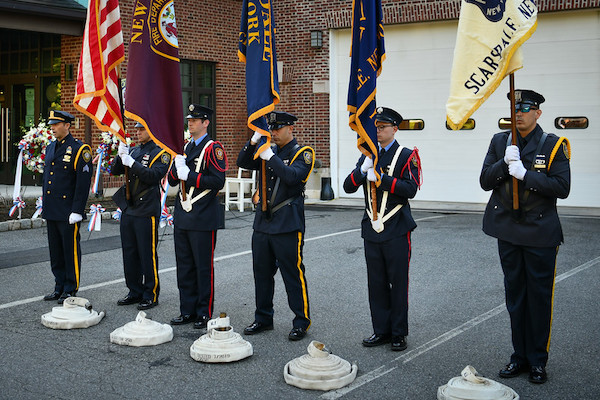 The Scarsdale Colorguard
Sheila Gorham Noonan, wife of a Scarsdale firefighter struck the perfect note as she sang "The Bravest" by Tom Paxton, accompanied by her guitar. The song tells the story of a survivor from the attack on the World Trade Center with the refrain, "Now every time I try to sleep, I'm haunted by the sound of firemen pounding up the stairs, while we were running down."
After a demonstration from Scarsdale's Color Guard accompanies by bagpipes, Rabbi Jonathan Blake asked survivors to teach the next generation:
That love must prevail over hate
Courage over fear
Goodwill over meanness of spirit
Knowledge over ignorance
Unity over division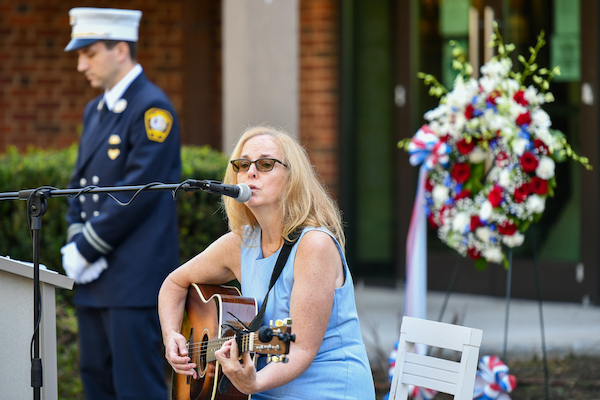 Sheila Gorham-NoonanSHS student Samantha Loeser gave an a cappella performance of the national anthem and Scarsdale Mayor Jane Veron lauded Scarsdale firefighters saying, "You, our first responders, unfailingly rise to action, paying little heed to personal risk or sacrifice. You are courageous and heroic, with dogged determination, unflagging stamina and commitment. This seems to be part of your DNA. No matter the circumstance, you answer the call of duty. You have our backs, and with gratitude, we salute you."
Village Fire Commissioner Lena Crandall praised firefighters for their work to help residents during Hurricane Ida, saying "Eight inches of rain fell on our community. You worked tirelessly to help people you did not even know." She urged listeners to fight back their reserve and to fight the darkness.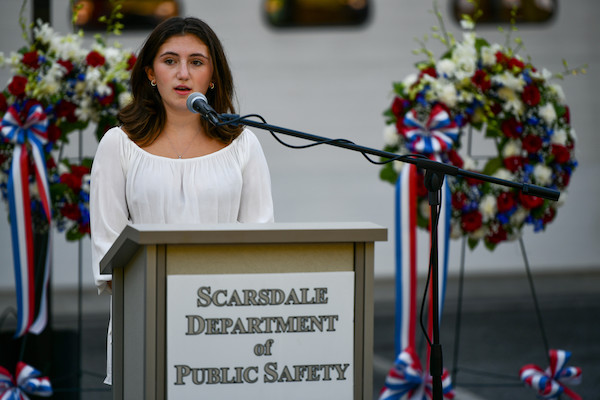 Samantha Loeser
Three Scarsdale residents perished in the attacks and they were remembered at the ceremony: Peter Alderman, 25 years old, Kazuhiro Anai, aged 42 and Glenn Kirwin, age 40.
Reverend Kelly Rogers from Scarsdale Congregational Church offered a prayer for those who were lost, saying "God we ask that your Spirit breath new breath into clouded lungs, new life into troubled minds and new warmth into broken hearts so that we all may feel wrapped in your loving embrace. May we move from suffering to hope, from brokenness to wholeness, from anxiety to courage, from death to life, from fear to love and from despair to joy."
The ceremony concluded with retired Firefighter Grace playing Amazing Grace on the bagpipes and Samantha Moser singing God Bless America.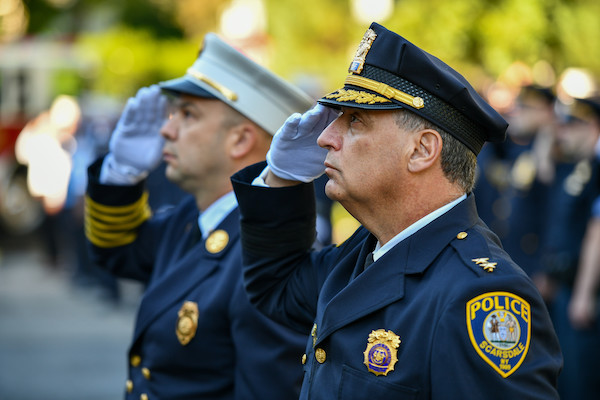 Chiefs Seymour and Matturro
Photos by Jon Thaler. See more here.
(Pictured at top: Rabbi Jonathan Blake, Police Chief Andrew Matturro, Fire Chief Jim Seymour, Reverend Kelly Rogers)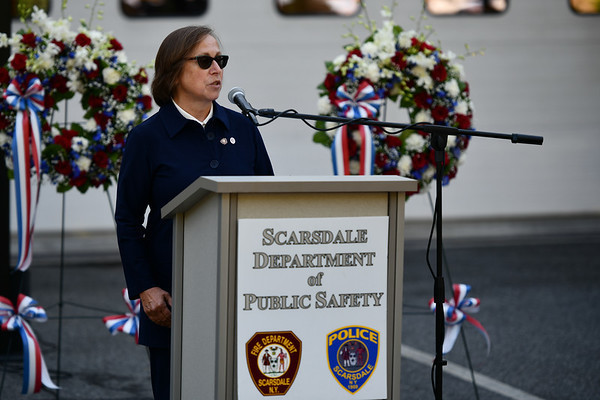 Fire Commissioner Lena Crandall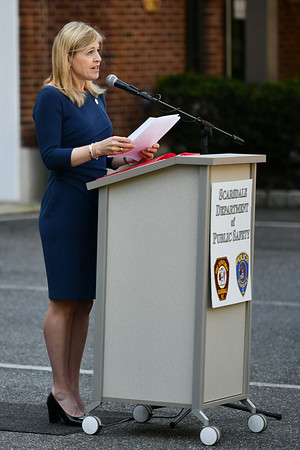 Scarsdale Mayor Jane Veron