Terry K. Singer to Receive the 2022 Scarsdale Bowl
Tuesday, 11 January 2022 15:55
Last Updated: Tuesday, 11 January 2022 17:19
Published: Tuesday, 11 January 2022 15:55
Joanne Wallenstein
Hits: 2637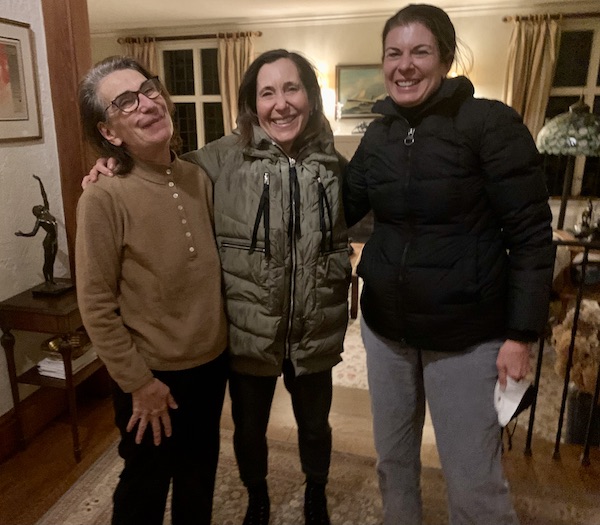 The Scarsdale Bowl Committee announced on Tuesday January 11, 2022 that they had selected Terry Singer to be the 2022 recipient of the community's highest honor and award, the Scarsdale Bowl. The Scarsdale Bowl has been awarded annually since 1943 to "one who has given unselfishly of time, energy, and effort to the civic welfare of the community."
As Nancy Michaels, Chair of the Scarsdale Bowl, said "Terry Singer is the consummate volunteer. When we think about the qualities and characteristics of the ideal Scarsdale Bowl recipient – an incredible doer, someone with a collaborative nature, a good partner, positive attitude – Terry Singer immediately comes to mind. She has worked tirelessly on behalf of all of Scarsdale for over 30 years of community service. She has literally touched and improved the lives of children, teens, and adults in Scarsdale."

The Bowl Committee, a diverse group of 15 community volunteers, selects the recipient after reviewing and vetting many worthy candidates who are nominated annually by the community. After the Bowl Committee voted on Sunday night to award Ms. Singer the Scarsdale Bowl, Nancy Michaels along with committee members Michelle Lichtenberg and Margot Milberg went to her house immediately, as is tradition, to tell her about the Bowl Committee's decision. However, she wasn't home so the group returned later that evening to share the news. "I am so surprised," said the shocked Bowl winner. "I'm really speechless; I just can't believe it! I am so honored. Thank you so much."
Ms. Singer, along with the Bowl recipients from the past two years, Jon Mark and BK Munguia (2020) and Michelle Lichtenberg (2021), will be honored at the Scarsdale Foundation Bowl Dinner on Thursday, April 28 at Brae Burn Country Club in Purchase. Ms. Michaels encourages all members of the community to attend the dinner which will be a celebration of community and of volunteerism in Scarsdale. The Bowl Committee will send out invitations in early March; however, one need not receive an invitation to attend. The entire community is invited to this wonderful, celebratory event. Even if Covid is not completely behind us, the plan is for the event to go on outdoors at Brae Burn Country Club.
Ms. Singer has been involved in all aspects of community service since she moved to Scarsdale. When Singer's children were young, she served on the Board of Kids' B.A.S.E. and the Little School, as PTA President for Heathcote Elementary School, and as VP of the High School PTA.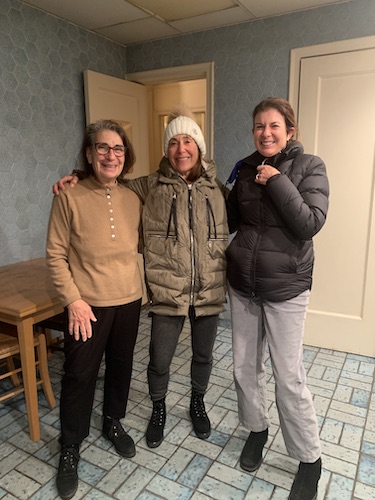 Singer with Nancy Michaels and Margot Milberg

Ms. Singer engaged in public service for the Scarsdale community at large by leveraging her architecture degree and professional experience to serve on, and chair, various Scarsdale Village Boards and Committees. Since 1991, she has taken on important roles on the BAR, the Planning Board, and the Conservation Advisory Council. She balanced these commitments with service to the League of Women Voters, the School Board Nominating Committee, the Historical Society, and Westchester Reform Temple. At Cornell University, her alma mater, she served as President of the College of Human Ecology Alumni Association, and in various roles on the College's Dean's Advisory Board, the President's Council of Cornell Women, and the Cornell University Council. Ms. Singer currently serves on the Westchester County Soil and Water Conservation District and is finishing her second year as Co-Chair of the Board of Directors of the Scarsdale Adult School, having already served eight years as a member of the Board.
Ms. Singer has also exhibited extraordinary commitment to the Scarsdale Library, as a Trustee and Vice President of the Board from 2013 to 2018. Her term was ending just when the physical construction at the Library was set to begin, but she agreed to stay on and co-chair the Library Building Committee for more than two years. She frequently met with the architect, Village officials, Library Director, Library President, and the project's manager and vendors to share her knowledge and to help make sure that the library construction was done properly in a timely way, and on budget. Ms. Singer remains very involved at the Library and is currently serving on its Landscaping Committee.
As her Co-Chair of the Scarsdale Adult School, Lisa Tretler says: "Terry works quietly yet effectively. She is collaborative, sincere, and seeks out the opinions and views of others. Terry has a lovely way of working with people – never ruffled, with a calm demeanor. She is an inspiring leader."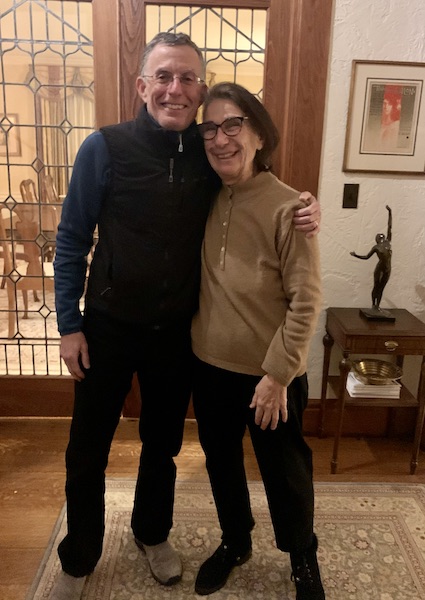 Terry and Paul Singer"Terry loves to work in the background and not let the spotlight find her," says Elyse Klayman, a past president of the Scarsdale Library Board of Trustees. "That's why seeing her receive this award is so wonderful. Terry is always willing to pitch in. If there is a difference of opinion, she tries to find common ground in a courteous and respectful way. Her mind is fully engaged, and open. She does not shy away from difficult decisions, but rather handles them in a diplomatic manner. Those of us who have had the chance to work closely with Terry are the better for it, and we are tremendously grateful for all that she has done for Scarsdale."