Fill the Boot Event Raises $76,000 for Rare Degenerative Disease
Tuesday, 03 May 2022 13:49
Last Updated: Tuesday, 03 May 2022 13:50
Published: Tuesday, 03 May 2022 13:49
Joanne Wallenstein
Hits: 1155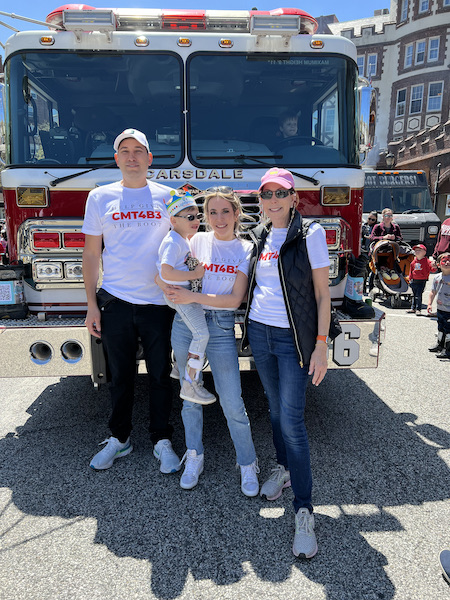 Brett, Iris and Robin Schultz with Hunter on his Fifth BirthdayHundreds of friends and supporters turned out in Scarsdale Village on Saturday April 30 to support the efforts of the Schultz family to raise awareness and funds to fight Charcot-Marie-Tooth Disease type 4B3 (CMT4B3).
The event was held on the fifth birthday of Hunter Schultz, whose grandfather Billy Schultz is a Scarsdale Volunteer Firefighter, and whosefather, Brett Schultz is a Scarsdale native. The event was hosted by the Scarsdale Uniformed Fire Fighters and organized by Robin and Iris Schultz.
In addition to fire trucks, the event featured food trucks, a magician, a raffle, silent auction, a DJ, face painting, cotton candy, crafts for kids and more. State Senators Andrea Stewart Cousins and Shelley Mayer came by and found Boniface Circle hopping. A great time was had by all.
According to Schultz, the event raised $76,000 for the Hunters CMT4B3 Research Foundation, a non-profit organization that funds groundbreaking research to develop a life-saving gene therapy and treatments for children living with Charcot-Marie-Tooth Disease type 4B3 (CMT4B3). In less than two years, the foundation has raised over $750,000.00 through grass-roots fundraising efforts, assembled an expert-driven worldwide research network and is currently funding seven different research projects. The foundation has also received recognition from the National Institute of Health and the Peripheral Nerve Society.
For more information about the foundation please visit www.cmt4b3research.org.