Pet of the Week: Harper Helps Herself
Tuesday, 17 January 2023 11:45
Last Updated: Tuesday, 17 January 2023 11:45
Published: Tuesday, 17 January 2023 11:45
Katy Goldman
Hits: 451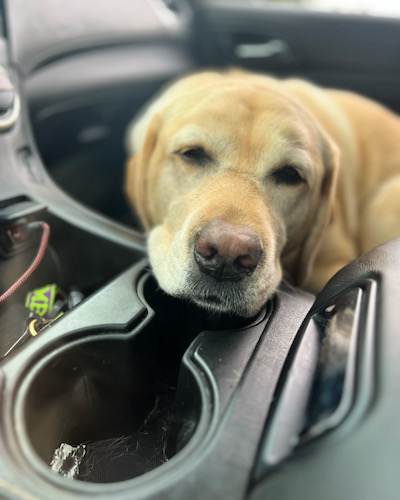 Meet Harper Tuber Handwerger, a 6 1/2 year old English Yellow Labrador Retriver. She has been a gentle, loving, strong, capable and FOOD OBSESSED dog since the beginning. She was named after singer Ben Harper.
Harper loves to be outside and is often taken for long walks in the woods. She searches out all bodies of water she can find - no matter how big or small, clean or dirty. When given the chance, she will wallow like a hog and dunk her head in the mud! You can also find Harper walking the streets of Fox Meadow. She will always lay down if she sees another dog, even from afar. She is more comfortable with smaller dogs as she finds them less threatening.
Harper is very protective of her mom, dad and two big brothers. She will not go upstairs in the house until everyone is settled at night. Once everyone is upstairs, Harper will make her way there and start in her mom and dad's bed, fighting for a spot between them. She finds herself being sequestered to the foot of the bed.... Ultimately, Harper works her way downstairs and sleeps on the couch snuggled in blankets.
Much to her family's disbelief, Harper often jumps up to the kitchen table and snatches food -- silently! She somehow never moves a plate or silverware. When she is caught, she puts herself in her crate knowing that should not have stolen food. Her family laughs because Harper's crate is her happy place and they have not found a way to reprimand her!
Local delivery guys are loved by Harper. Be it the postal worker who comes with a treat, the UPS guy whose gloves she tries to steal, or the crossing guard who also gives her treats, Harper doesn't tire of putting herself out there. She always remembers who gives her time and treats.

Feature your pet in the Pet of the Week column. Email us at PetsofDale@gmail.com.