Photos from the Scarsdale Forum and the WCC Gala
Details

Written by

Joanne Wallenstein

Hits: 655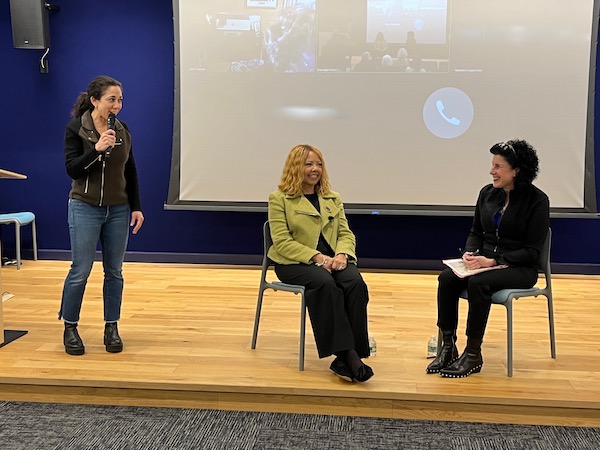 Sarah Bell, Lucy McBath and Diane Greenwald at the Scarsdale Forum.The Scarsdale Forum hosted US Congresswoman Lucy McBath from Georgia on Sunday, November 12. Scarsdale's Diane Greenwald engaged in a dynamic concerning many of the issues plaguing our nation.
(Pictured Above) SUNY Westchester Community College President Dr. Belinda S. Miles, County Executive and Public Service Honoree George Latimer, with Scarsdale residents and WCC Foundation Board Members Ruth Suzman, Elyse Klayman and Dave Berry; Mr. Berry received the "Viking Voyager" Alumni Award.
Westchester Community College Foundation's first annual Transforming Futures Together Gala, emceed by acclaimed actress and singer Vanessa Williams, was held on November 8, 2023, at Tappan Hill in Tarrytown, NY. The sold-out event recognized the launch of the 10th anniversary year of Dr. Belinda S. Miles as President of SUNY Westchester Community College and honored five community leaders, County Executive George Latimer (Public Service Award), Sinforosa "Rose" Tan Kaung and William H.P. Kaung (Community Leadership), Dorry Swope (Philanthropy), and Scarsdale resident David Berry ("Viking Voyager" Alumni Award).
It's Never Too Late for Love
Details

Written by

Joanne Wallenstein

Hits: 1389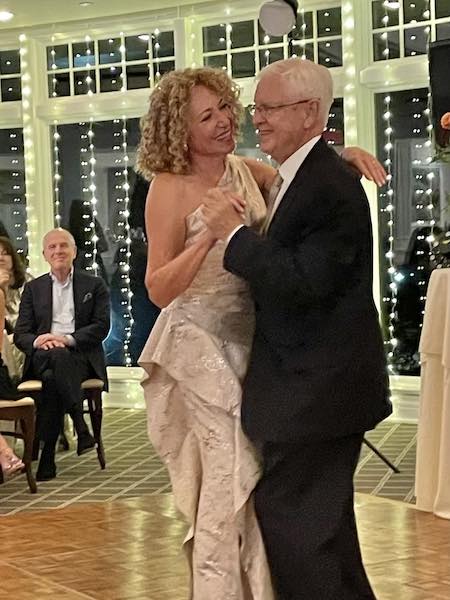 That was the theme of the wedding of Bella Dalton and Lawrence G. Smith, both 74 years old, who were married at Scarsdale Golf Club on October 21, 2023.
Bella, who lived in Edgemont for forty years, was introduced to Larry by a mutual friend at Fox Meadow Tennis Club, where Dalton is an avid tennis and paddle player. They had both lost their long-term spouses six years ago and neither expected to find another partner at this stage of life.
But they were both surprised to find out that's it is never too late to start again, and even re-marry.
Larry has four sons and eight grandchildren and his oldest son, Dr. Kristofer Smith, officiated at the wedding, surrounded by their families. Bella's brother Adik Stalhamer and her stepdaughter Amanda Dalton were by her side. The family, on both sides, was delighted.
Each invited one person from every stage of their lives. Bella, who spent her early years in Russia, invited a friend with whom she played in the sandbox. Larry had one friend from high school, one from medical school, a friend from residency, a colleague from his medical practice and one from each decade thereafter. Also in attendance were members of his former wife's family, including her father, who is now 94 years old.
Larry is a physician who practiced medicine for many years and was the senior administrator of Northwell Health and the Founding Dean of the Zucker School of Medicine at Hofstra/Northwell.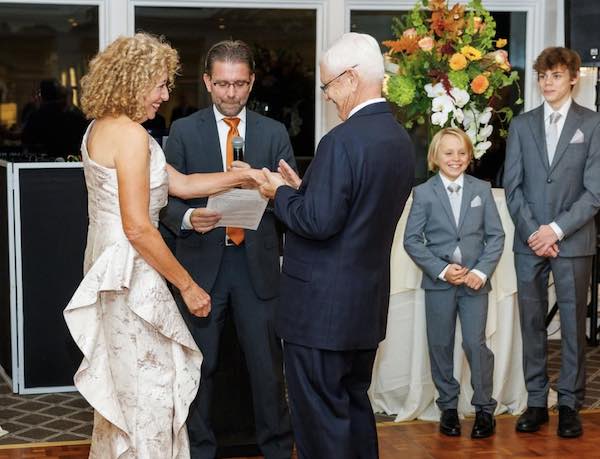 The two are members of both Fox Meadow Tennis Club and Scarsdale Golf Club, where they are enjoying the course. They live in Hastings on Hudson and spend their time walking and hiking, eating good meals, visiting family and babysitting for their many grandchildren.
Nanette Koryn, a Fox Meadow Tennis Club friend and a baker, created a themed wedding cake for the occasion. It shows Dalton holding an antique clock, as she is a collector, and Smith dressed as a doctor.
They are planning a honeymoon in January to Australia and New Zealand with some close friends.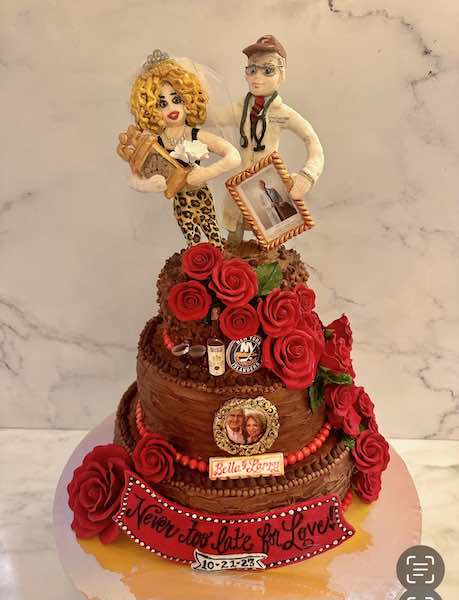 FMA Welcomes Painters and Performers in the Village
Details

Written by

Joanne Wallenstein

Hits: 429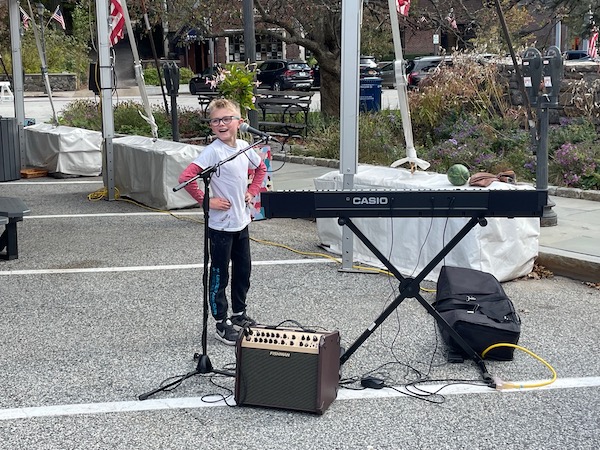 3rd grader Colin Porter takes a break from painting to rap.(The following was submitted by Laura Gelblum, President of Scarsdale Friends of Musica and the Arts)
Last Sunday the Village was buzzing as Scarsdale youth excitedly painted storefront windows as part of the Scarsdale Halloween window Painting Contest. FMA | Friends of Music and the Arts sponsored snacks for the artists and organized an opportunity for student musicians to play at the tent for a fun, low-key performance experience. It was wonderful to see delighted paint-splattered faces sip cider and gobble up cookies and apples, and to see the camaraderie of kids both at the windows and gathered around the tent as friends performed songs from Bruno Mars to the Beatles.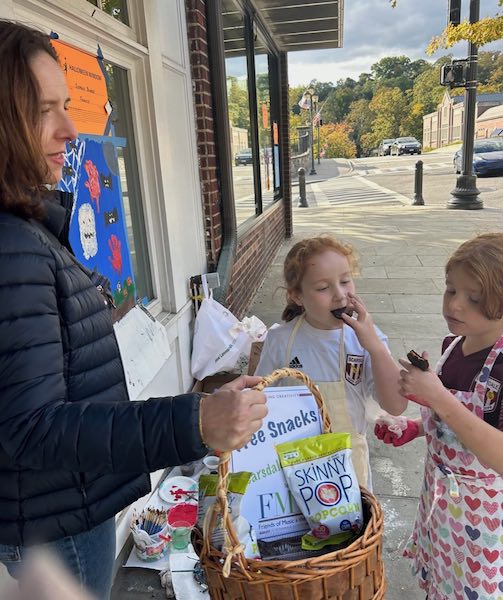 Sophie Burge and Lauren Koike refuel after putting the finishing touch on their window.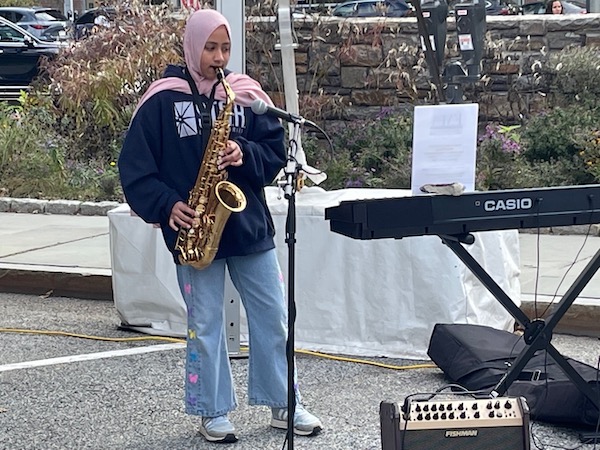 6th grader Aliya Bahl on sax.
Supporting Scarsdale's art, music and theatre students is what FMA does. As the nonprofit parent booster group for the visual and performing arts in Scarsdale schools, FMA members are the backbone of our school arts community. They provide special moments for our band, orchestra, chorus, visual arts and theatre students--and they champion the arts as integral to student wellness and a holistic Scarsdale education.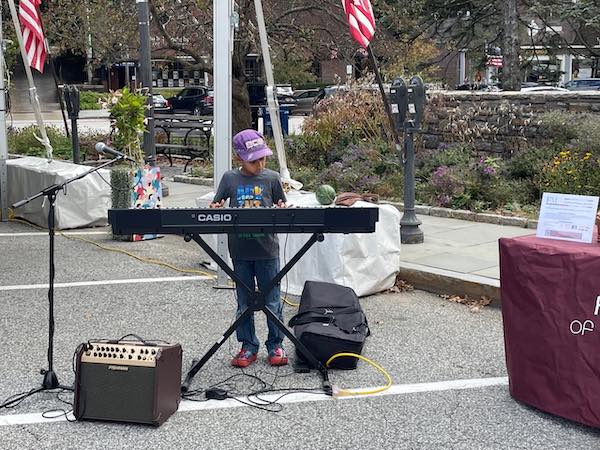 2nd grader Shiv Goyal plays piano.
FMA also supports Scarsdale student artists and performers by representing their needs and priorities at district budget and planning meetings; promoting music, art and drama events in the community; hosting community performance opportunities; and providing reduced cost concert dresses for SHS band, orchestra and chorus students through its Encore Dress Program.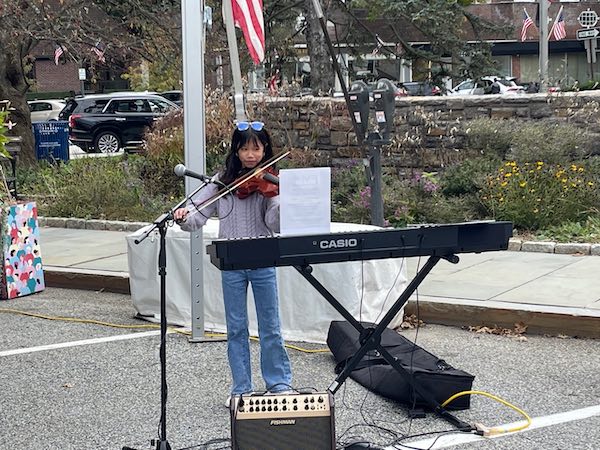 6th grader Maya Shum plays violin.
Family memberships and donations provide resources for all FMA initiatives, including snacks for Halloween window painters, SHS concert receptions and SHS band breakfast at the Scarsdale Memorial Day Parade, the Practice Partners music mentorship program, student awards and recognition, grant gifts to Scarsdale schools, and support for SHS arts clubs including the Drama Club, Tri-M Music Honor Society, and the National Art Honor Society.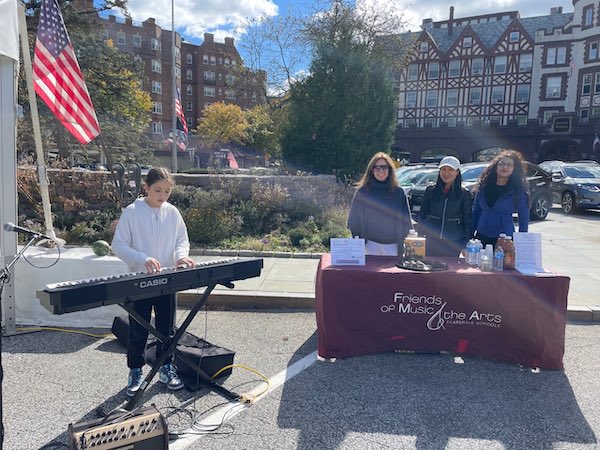 8th grader Mia Wilson on piano. FMA parent volunteers Karen Robelen, Moli Wilson and Reshma Shetty serve up snacks to artists and musicians.
Please JOIN US in celebrating our kids and let's support them as they create, perform and grow. All gifts are welcome and FMA membership starts at just $35. Members receive special discounts on instrument repairs, rentals and purchases; art supplies; and dancewear. If you're interested in getting involved we are always looking for enthusiastic parent volunteers to help with FMA programming. For more information, contact FMAscarsdale@gmail.com or www.scarsdalearts.org.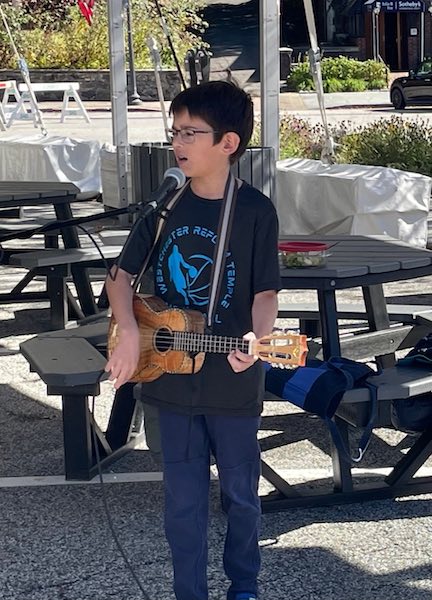 Library Book Returned -- 84 Years Later
Details

Written by

Joanne Wallenstein

Hits: 580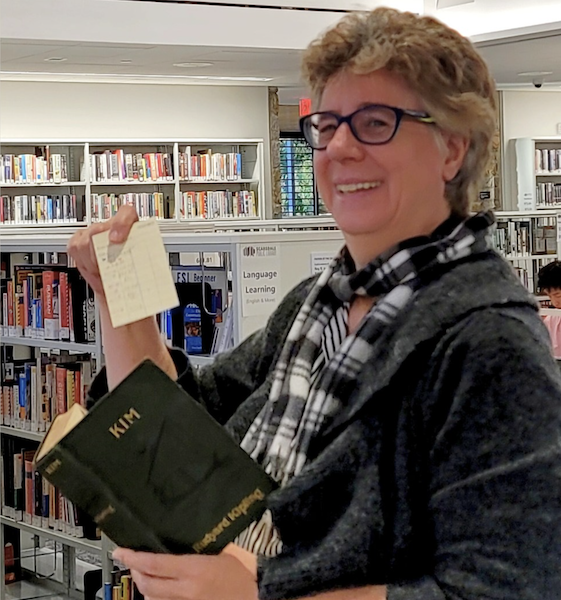 It's never too late to return your books to the library.
This week a copy of KIM by Rudyard Kipling was returned to the reference desk at Scarsdale Library.
The book was checked out 84 years ago --- in 1939 and uncovered during a renovation project.
It was taken out when records were kept by hand and due dates were marked on a slip inside the book.
If the fee was .02 cents a day for 84 years, $613.20 would be owed in late payments.
Thankfully, Scarsdale has a fine-free library!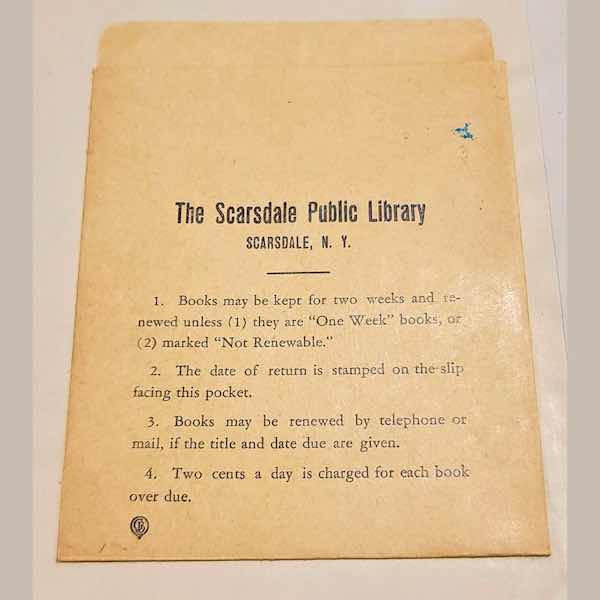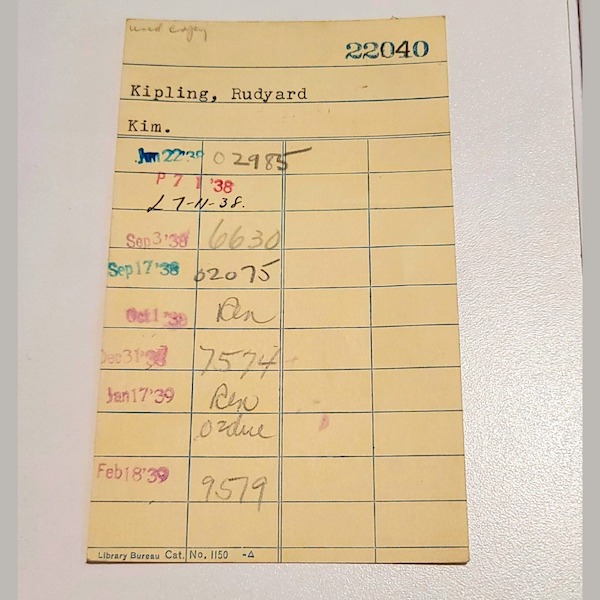 Record Breaking Rainfall Inundates Scarsdale
Details

Written by

Joanne Wallenstein

Hits: 2544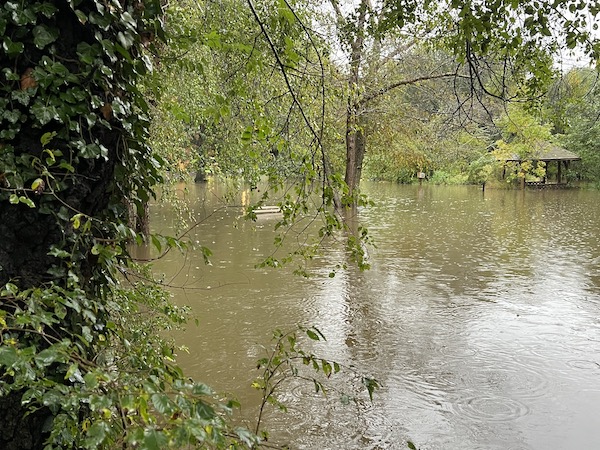 Library Pond overflowedWe drove around town on Friday September 28 after a record breaking 5.78 inches of rain inundated the Village.
The severity of the downpour caused an early school dismissal. Fortunately those with cars in the high school lot were warned early enough to remove their cars from the lot before the entire expanse along Brewster Road merged into a vast pond.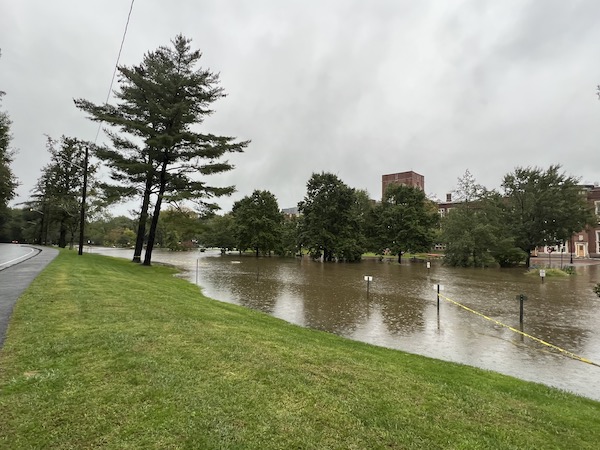 Scarsdale High School became lakefront property.
The rainfall swelled library pond and the benches and pergola that usually surround the pond were submerged by rising waters.
At George Field, the seven acre retention pond filled up as planned, but it was not sufficient to ward off the flooding of the adjacent roadway on Oxford Road.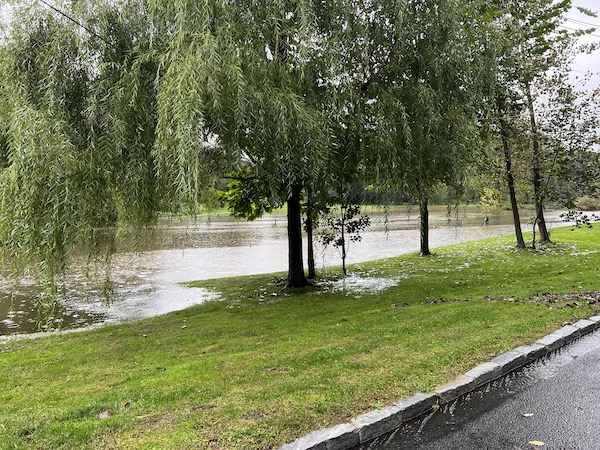 The seven acre retention pond at George Field filled up but could not stop the flooding of Oxford Road
Just up the hill next to the water tower on Garden Road – at a site where developers have proposed eight homes - there was more ponding.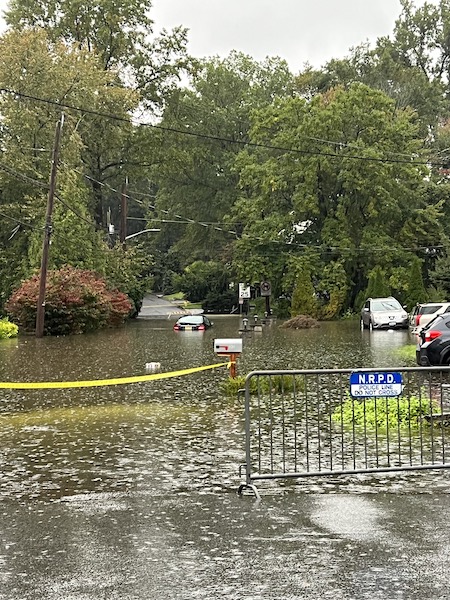 Cars submerged on Boulevard
And further south on Boulevard near Sprague Road we found these cars submerged in deep water.
Around noon that same day, a house fire on Graham Road further diverted rescue crews who were busy assisting drivers trapped in their cars and redirecting traffic from flooded areas.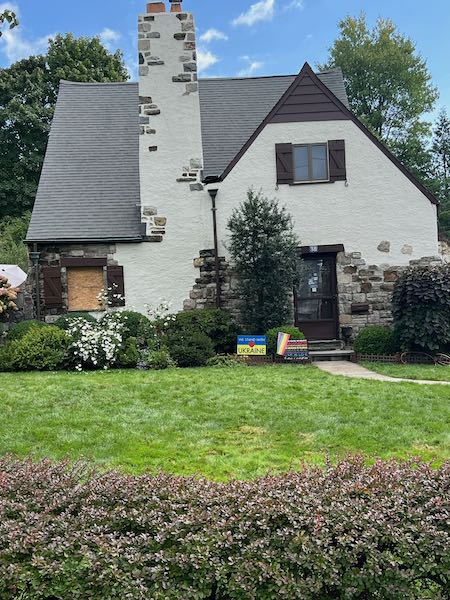 Firefighters were able to save a house on Graham Road.
The Bronx River Parkway flooded and was closed, and the deluge caused the shutdown of the New York Subway system and Metro North, trapping many in the city with no way to get back to Scarsdale.
Culverts and streams overflowed their banks and many residents reported flooding in their basements.
And last – a friend shared this frightening scene from Central Park Avenue near the Alamo Theater.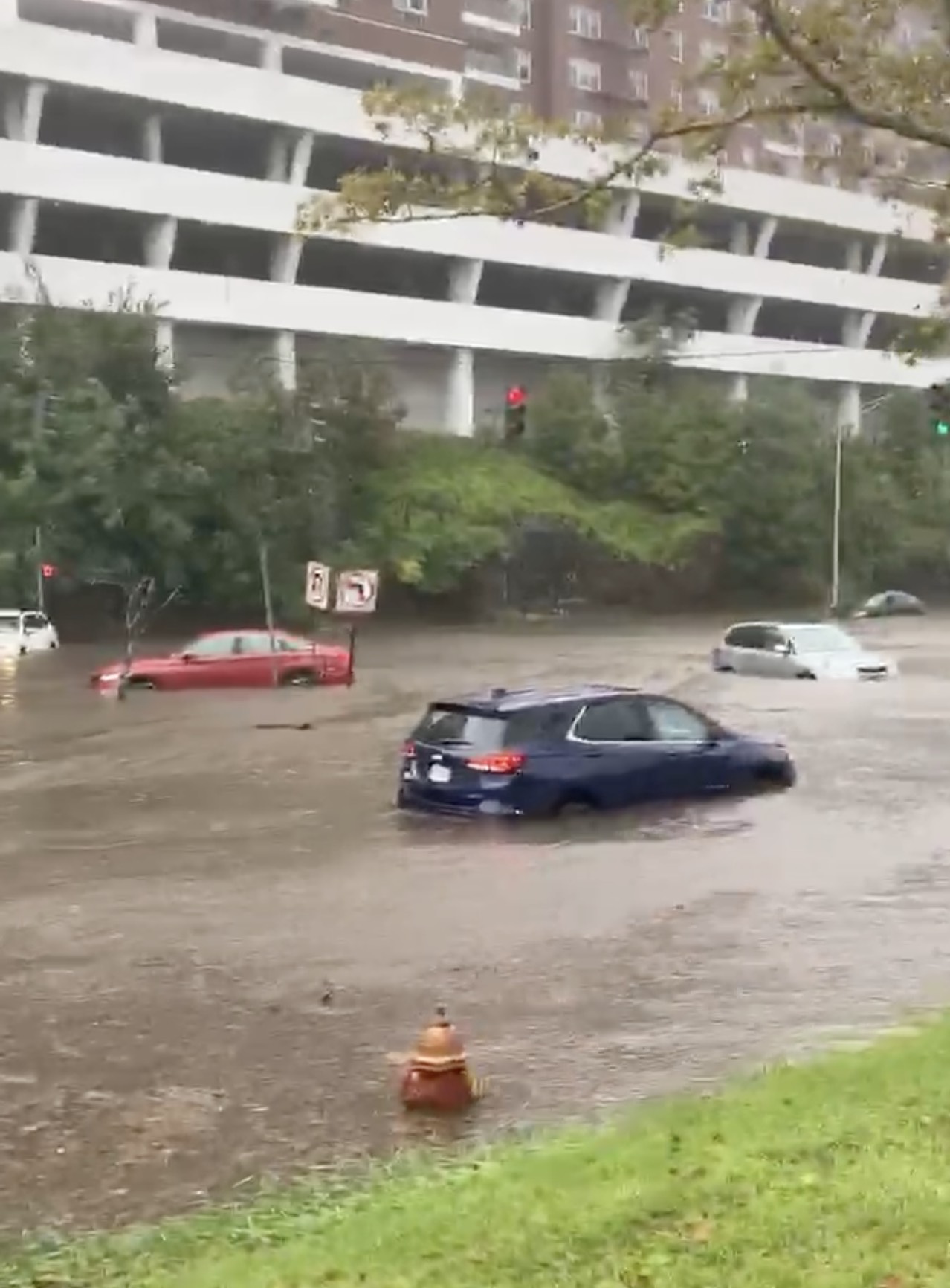 Flooding on Central Park Avenue
It was a high stress day for the Village. With 100 year storms coming annually, stormwater management is paramount.