Seniors Look Forward and Back on Transition Day
Details

Written by

Vivian Zweig

Hits: 182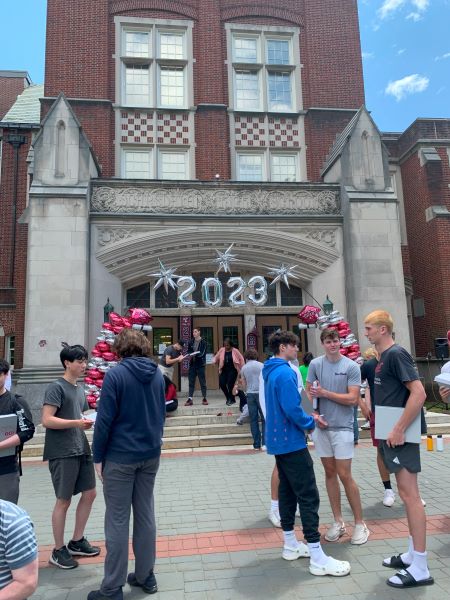 As the school year draws to an end, graduation is fast approaching for high school seniors. This year's graduation is planned for Thursday, June 22, at 6:30 pm on Butler Field. To commemorate their K-12 careers and celebrate a bittersweet end, seniors gathered for Senior Day on the morning of Monday, June 5th.
Seniors began the day by reporting to the auditorium for a Senior Transition Panel with Scarsdale High School (SHS) alumni. The school invited current college freshmen to speak at the panel and share their experiences with the graduating class. Although some responses were seemingly comedic, like finding a therapist early, all contained important pieces of information. Panelists suggested setting a timer for your laundry, scheduling small deadlines for yourself, communicating with your roommate, finding quiet spaces, and finding a work-life balance.
After the Senior Transition Panel, seniors broke into small groups to attend workshops led by the deans. There, the deans shared a few final words of advice, had students write thank-you letters to at least one of their favorite teachers, and received letters they had written to their future selves. These years-old letters allowed students to see how they've progressed and grown throughout high school and to reflect on the memories of years past. Some students wrote about their goals for the future—doing well in school, making new friends, meeting new people—and others simply jotted down their favorite quotes, movies, and TV shows. Regardless of the depth of the content, each student was able to see how they changed over the years.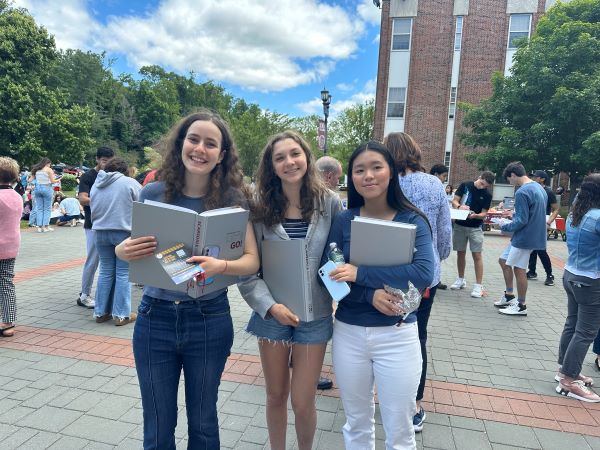 Finally, students gathered at the Brewster Road entrance to receive their copies of Bandersnatch, followed by a yearbook signing and lunch. There, seniors grabbed sandwiches and snacks and sat together to sign yearbooks. A hectic energy filled the lawn as students flitted from friend to friend and book to book, writing heartfelt messages and wishing their peers the best. After the yearbook signing, some students ended the day by visiting their favorite teachers and asking them for their signatures.
Chris Coughlin Named Interim Principal of Scarsdale Middle School
Details

Written by

Joanne Wallenstein

Hits: 462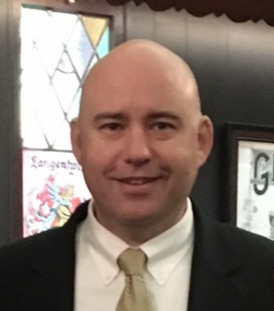 (This just in from Superintendent Drew Patrick)
Since the announcement of current principal Meghan Troy's appointment to the position of Assistant Superintendent for Human Resources, we have been engaged in a search process to identify an Interim Principal for Scarsdale Middle School. I am pleased to tell you that the search has concluded, and that Chris Coughlin, Assistant Principal of Scarsdale Middle School, has been selected to fill the role for the 2023-2024 school year. Chris will be recommended for appointment at the June 5, 2023, Board of Education meeting. Please join me in extending our congratulations to Chris, along with our thanks and appreciation for his interest in helping to continue the outstanding work that takes place every day at SMS. Since joining the Scarsdale community four years ago, Chris has been able to draw upon his wealth of experience to make important contributions to the school while learning with and from the amazing SMS community. His passion for students, knowledge of teaching and learning, and strong commitment to collaboration will ensure a successful transition and a positive year ahead. Once approved, Chris will officially assume the role of Interim Principal on July 1, 2023.
Of course, appointing Chris to the role creates a new vacancy. We will begin the process of searching for an interim assistant principal for the 2023-24 school year immediately upon his appointment on June 5. I also want to acknowledge the feelings of uncertainty that a change in leadership can conjure. In addition to the supportive transition conversations Meghan Troy will have with Chris, I will also be actively supporting Chris, Assistant Principal Rochelle Hauge, and the entire SMS community throughout this transition year. The goal of this support will be to ensure that the needs of the school community are met. Even as Chris commences his service in the role of Interim Principal, we will begin to organize ourselves for the search process for the permanent leader of Scarsdale Middle School. That process will include collaboration with and input from the SMS community to define desired characteristics, describe strengths and practices that should continue, and identify opportunities for growth and improvement. I am confident that with this process, and with Chris's leadership, SMS students will have a fantastic year, and the school will be set up for success going forward.
Read our interview with Coughlin when he came to Scarsdale from Bedford in 2019.
Students: National Merit Awards, Pan-American Maccabi Games and Model Building
Details

Written by

Joanne Wallenstein

Hits: 574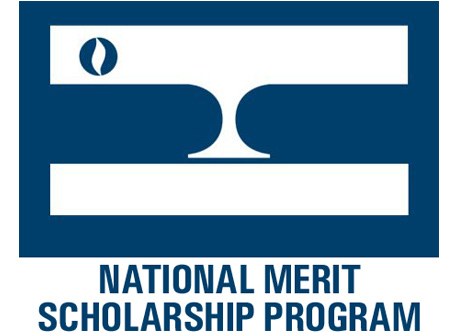 National Merit Scholarship Corporation (NMSC®) announced their $2500 Scholarship winners on May 10, 2023. The 2,500 Merit Scholar designees were chosen from a talent pool of more than 15,000 outstanding Finalists in the 2023 National Merit Scholarship Program.
National Merit $2500 Scholarship winners are the finalists in each state judged to have the strongest combination of accomplishments, skills, and potential for success in rigorous college studies. The number of winners named in each state is proportional to the state's percentage of the nation's graduating high school seniors.
These Scholars were selected by a committee of college admissions officers and high school counselors, who appraised a substantial amount of information submitted by both the Finalists and their high schools: the academic record, including difficulty level of subjects studied and grades earned; scores from the Preliminary SAT/National Merit Scholarship Qualifying Test (PSAT/NMSQT®); contributions and leadership in school and community activities; an essay written by the Finalist; and a recommendation written by a high school official.
Here are the local winners:
Scarsdale High School
Cindy DeDianous
Carly Gelles
Olivia Liu
Edgemont High School
Aarya Kumar
King School
Benjamin S. Persily
Stafford Selected for Pan-American Maccabi Games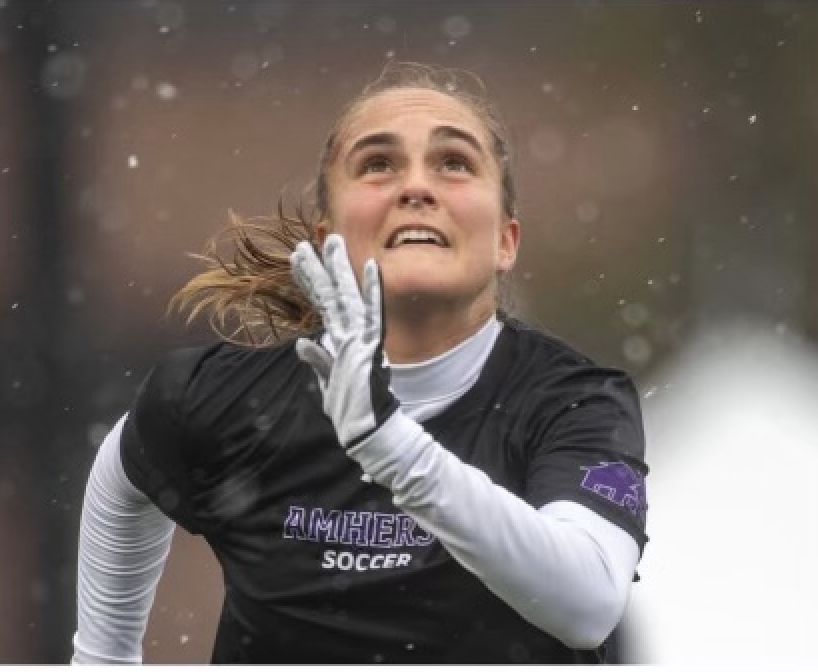 Allison Stafford
Allison Stafford, Scarsdale High School class of 2019 and a senior at Amherst College, has been selected as a member of the US women's soccer team for the 15th Pan American Maccabi Games to be held in Buenos Aires, Argentina from December 27, 2023 - January 4, 2024. The Pan-American Maccabi Games are held every four years in a cycle two years apart from the international Maccabiah Games that are held in Israel. The Games are known as the Jewish Olympics, in which the best Jewish athletes from throughout the world compete. The 2023 Pan American Games are expected to attract 4,000 athletes from 19 countries that compete in 24 sports, with approximately 15,000 spectators. Competitors are required to be Jewish or Israeli. The goal of the Games is to promote athletic competition while fostering a sense of identity and pride among the athletes. During the weeklong Games, athletes participate in cultural activities that are intended to foster camaraderie and immersion in Jewish culture and identity. The Games are named for the Jewish warrior Judah Maccabee who fought against the ancient Greeks. Many notable Jewish athletes have competed in the Maccabi Games, including swimmer Mark Spitz, gymnast Mitch Gaylord, golfer Corey Pavin, and basketball players Ernie Grunfeld and Danny Schayes. Stafford, a four-year member of Amherst College's varsity women's soccer team who plans to attend medical school, said "I am thrilled to have been selected for the US women's soccer team at the upcoming Maccabi Games. It's the culmination of my soccer career. It gives me a great sense of pride to be representing the United States in a world competition that is so meaningful athletically and culturally."
Rozens Takes Gold in Military Model Building Competition

A Scarsdale High School student combined a passion for military history with STEM skills to achieve two gold medals in an international military model building competition on May 6.


Ian Rozens, a 15-year-old freshman at Scarsdale High School, has been building technical-scale miniature models in his family's basement workshop since he was 8 years old. A lover of WWII history, Ian enjoys researching the armored vehicles he builds to ensure they are realistic and historically accurate.

Rozens spent over nine months building seven tank models and dioramas to enter in the intermediate category at the Armor Modeling and Preservation Society's 2023 International Convention recently held in Camp Hill, Pennsylvania. Rozens' efforts paid off when – despite being the youngest competitor at the conference – he took home 2 gold and 5 silver medals.

While Rozens once used simple paint kits and glues to construct miniature models of houses and vehicles when he was younger, today he is more likely to download blueprints of armored vehicle parts to help produce highly detailed models on a resin 3D printer. An air brush is used to precisely apply paints, a hot wire tool to slice foam creates even bases for dioramas, and butane torches and UV light help harden resin into a realistic depiction of water for landscape scenes.

Technical skill is only part of what goes in to creating realistic military model vehicles. Historical research is the other.

"Model building is a way to learn and a way to unwind," Rozens said, adding that he researches every subject that he builds.

For example, his award-winning diorama featured a scene of the United States' 1942 invasion of the island of Tarawa based off a historical photo of U.S. Marines landing on the Japanese-controlled island.
Greenacres wins the 2023 Junior Olympics
Details

Written by

Vivian Zweig

Hits: 425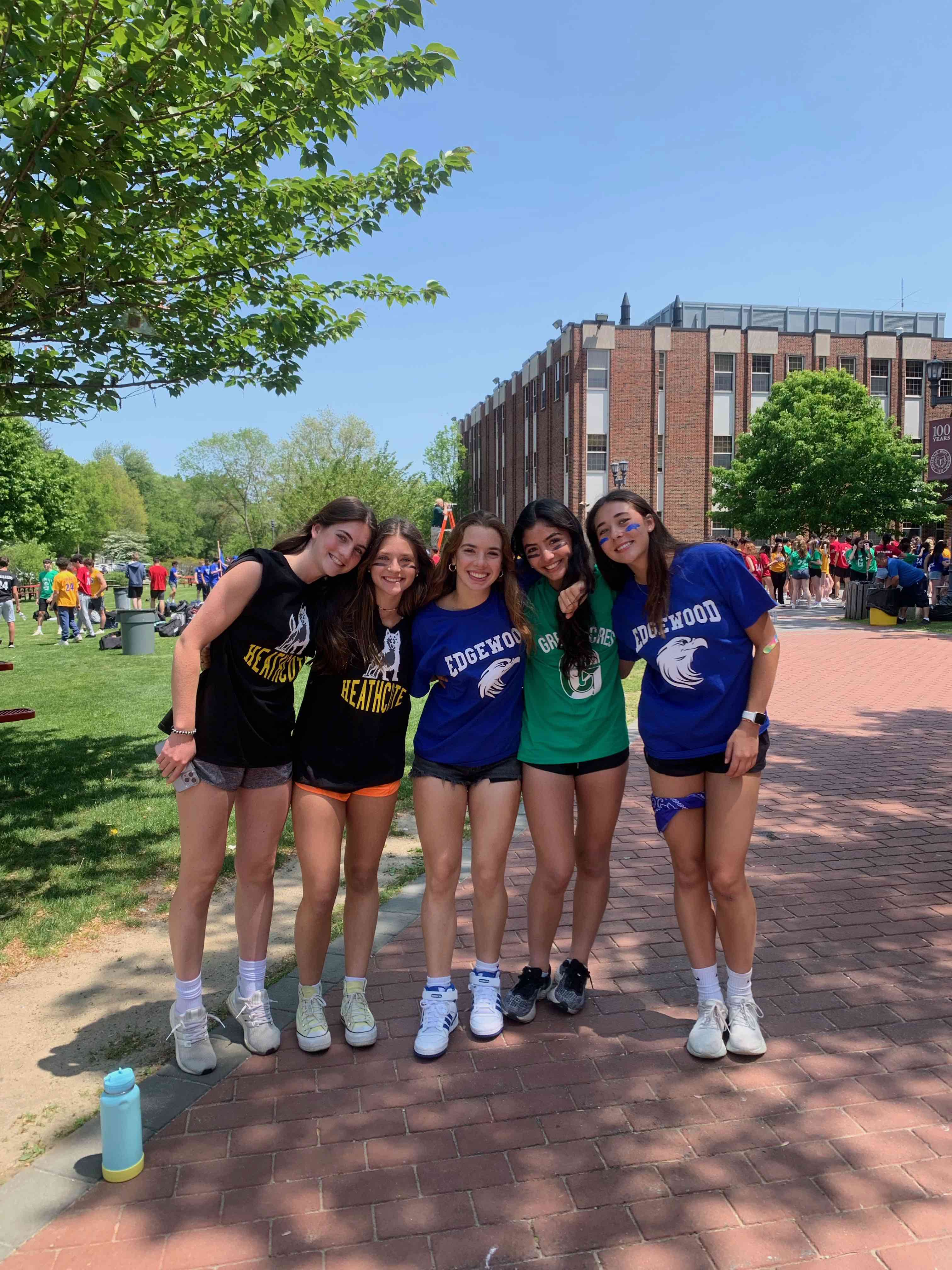 The class of 2023 began their Senior Options internships on May 1st, leaving the school eerily empty of their now-relaxed, post-college admission energy. With the seniors gone, the juniors were quick to occupy the vacated senior parking lots and have undoubtedly claimed the library's infamous "senior couch" by now. A sense of excitement simmered among the junior class, not only for their new status as school leaders but also for the greatly anticipated Junior Olympics.
Each year, Scarsdale High School hosts the Junior Olympics, a series of events and friendly competitions to celebrate the juniors and the fast-approaching end of their academic careers. The junior class government usually begins preparations for this event weeks—or even months—in advance. Junior Olympics is typically hosted on a random day in May, and students are only warned to dress in athletic clothing the week of. The school administration keeps the actual date of the event a closely guarded secret until the day arrives.
On the morning of Tuesday, May 16th, 2023, a much-anticipated announcement blared over the loudspeakers: juniors were to don their team apparel and convene at the Brewster entrance for Junior Olympics! Juniors fled their classes, and the grade gathered for a pizza party-turned-photo op on the Brewster lawn.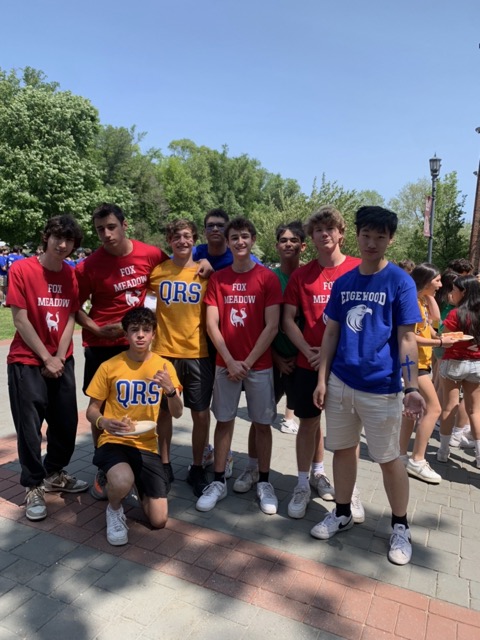 The grass was awash with a vibrant array of red, black, yellow, blue, and green "jerseys" as students socialized and ate. Five teams competed, each representing a neighborhood in Scarsdale—Fox Meadow, Heathcoat, Quaker Ridge, Edgewood, and Greenacres. The teams were determined by where a student attended elementary school, fostering not only friendly competition but also a sense of nostalgia. The event allowed students to reconnect with their elementary school friends and reflect on the time past.
Team shirts were adorned with clever nicknames, like "Anaialater" and "T Stone." This year, the participants of Edgewood, Greenacres, and Quaker Ridge were seen waving banners adorned with their team's logo. Edgewood was particularly spirited, brandishing their banner at each competition throughout the day.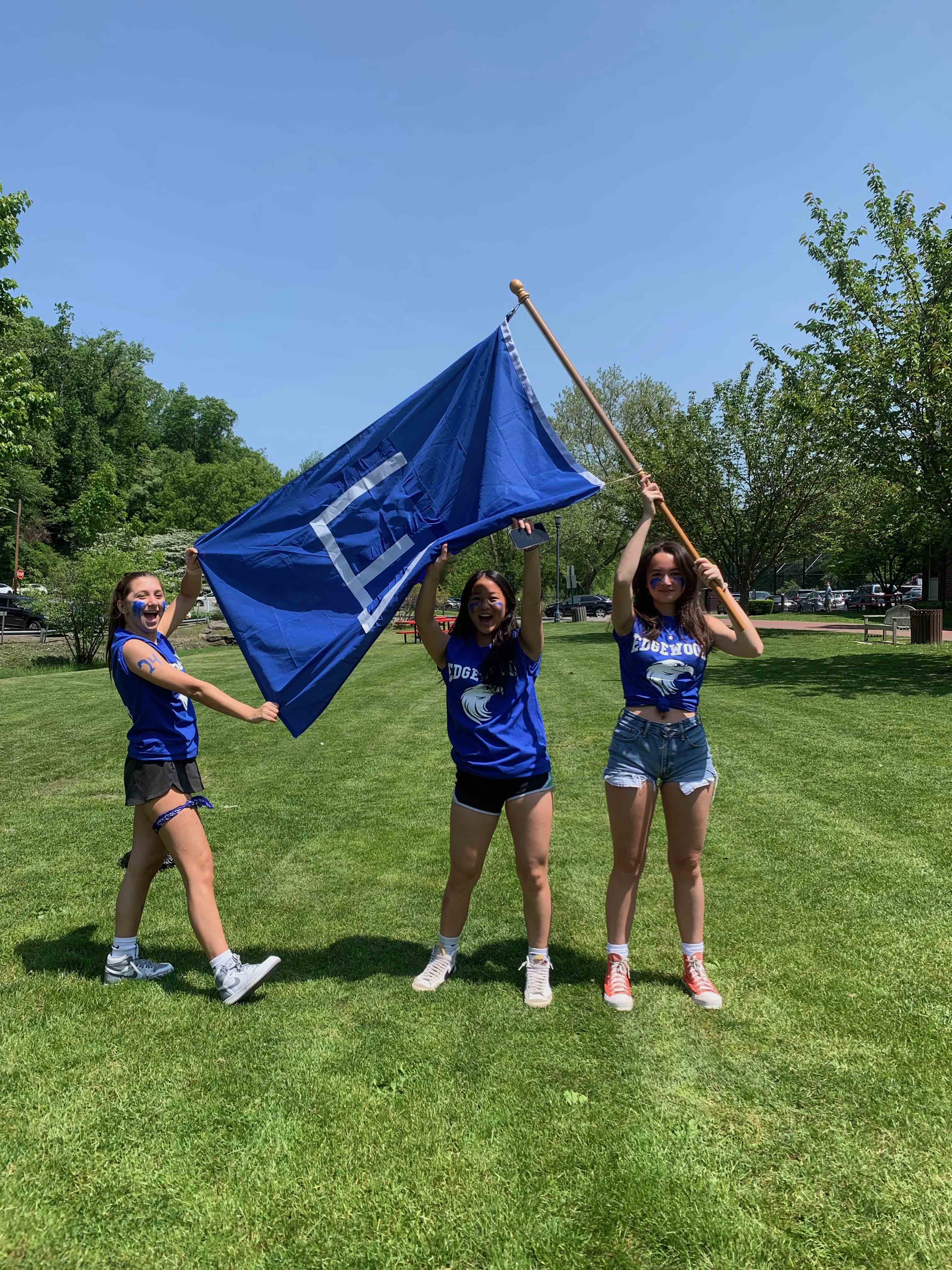 Students were able to showcase their agility, reflexes, and teamwork in events like dodgeball, kickball, and musical chairs. Other events, such as Trivia and "Guess-that-Toon," allowed participants to utilize a bizarre dearth of knowledge of pop culture. The day was closed with a pie-eating competition, and after the event, the victors of the 2023 Junior Olympics were announced.
Drumroll, please! Third place went to Fox Meadow, whose team was unable to top last year's performance. Edgewood came in close second. And first place was awarded to Greenacres, who won by a narrow margin.
Breaking In Rosie
Details

Written by

Katy Goldman

Hits: 509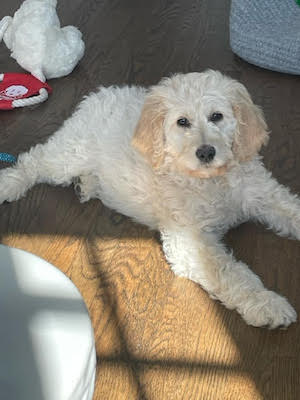 Just a few weeks ago, the Rosenberg family welcomed their newest member, Rosie.
About a year ago, Rosie's mom, Jessica, met another dog in the neighborhood named Frosty. Every time Jessica saw him, she couldn't help but smile. So, after an extensive search, combined with the right timing, the Rosenberg family got Rosie from the same breeder as Frosty.
As a puppy, she is doing all of the puppy things that are adorable when done at someone else's housee (like chewing the furniture, peeing on things, jumping, etc)! The learning curve for the Rosenberg's has certainly been steep! And, like raising children, there are all sorts of conflicting opinions on "the best" way to do things when raising a pup.
Jessica has wanted a dog her whole life, but freely admits that the first few weeks of having Rosie has been a huge misalignment of expectations vs. reality. When it comes down to it, she underestimated how tired she'd be, particularly on the rainy days when she needs to take Rosie out every 1-2 hours; and how overwhelming it is thinking about all of the things she needs to learn to be a good canine citizen!
Despite this, through it all, Rosie is bringing the whole family even closer together and Jessica loves that. No matter where the Rosie journey takes them, Jessica will forever be grateful to her husband, Eric, for embracing her dream of having a dog; to her daughter, Hailey, for giving her the best advice on not giving up after setbacks and to her other daughter, Laila, for welcoming a dog into their family, even though Jessica thinks she would have preferred a cat!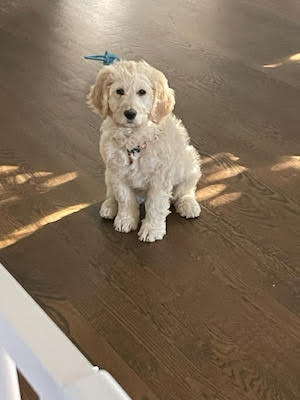 The Pet of the Week column is looking forward to following the adventures of Rosie and to hear how she continues to grow with her new, loving family.