Beau and Scarlet: Two Peas in a Pod
Tuesday, 14 March 2023 10:25
Last Updated: Tuesday, 14 March 2023 13:54
Published: Tuesday, 14 March 2023 10:25
Katy Goldman
Hits: 296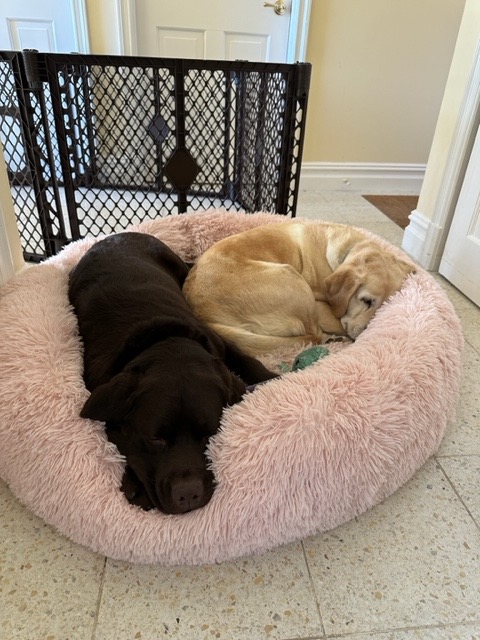 The Bennett family of Fox Meadow have two of the cutest English Labradors you've ever seen! Beau, their chocolate lab, is almost two years old and joined the Bennett family as a puppy. Scarlet, their yellow lab, is five and was recently rescued from Louisiana through the New York State Retriever Rescue (NYSRR) organization.
When the Bennett's decided to get another dog, they all said they'd love another Labrador; but this time an older one. Beau the baby, wanted to remain the baby of the family! They looked at all the local shelters but were not able to find another Lab that they thought would be a good fit.
Then Alyson, Beau mom, stumbled across the NYSRR based in Long Island. They explained to Alyson that they had a partner in Louisiana who helped to place unwanted dogs (predominantly Labs). Once NYSRR approved the Bennetts to adopt, they waited to see which dogs would be available. It didn't take long before they were told that a number of Labradors that belonged to a reliable breeder in Louisiana were being surrendered to the NYSRR for re-homing in the northeast. Serious family illness had prevented the breeder from properly caring for her dogs for some time and she had decided it was in the dogs' best interests to re-home them.
Once Scarlet got her updated vaccinations and passed her veterinary check, she was on her way to her new home. Scarlet boarded the non-profit Rescue Road Trip truck with many other dogs who were getting a second chance in life and set off on a grueling 3-day journey from the Deep South up to New York and beyond. Along the route, many 'angels' met the truck at the rest stops and gave the dogs one-on-one attention and walks to break up the journey. Finally, the Bennetts had their Gotcha Day! They met the truck at its stop in Brewster, NY, and a scared and trembling Scarlet disembarked from the truck. She made it! The Bennetts are convinced she was smiling all the way home because she knew she had been rescued.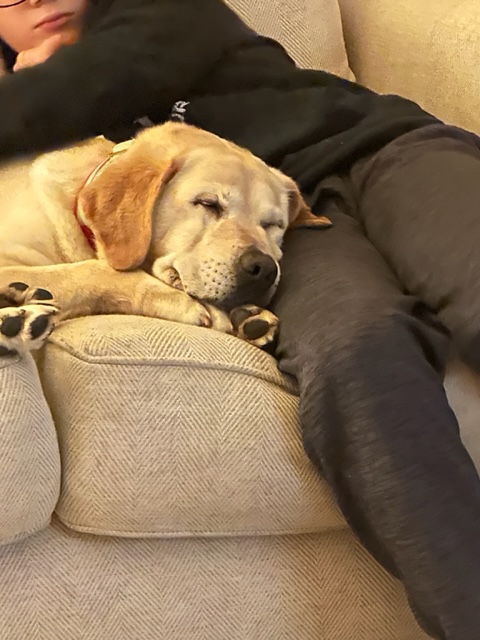 Since she's been home, Scarlet's been an absolute gem. As she previously lacked human contact, wherever Alyson walks, Scarlet follows closely behind. At the beginning, whenever Alyson went upstairs or disappeared for a short while and then came back, Scarlet was surprised to see Alyson reappear. Those first few days in the house, Scarlet wouldn't walk between the rooms; she'd pace around one room, take tentative steps to move to another, but then back out. The Bennetts placed themselves on the floor between the rooms and slowly but surely as Scarlet approached them they would move a little further towards the next room. Scarlet's now walking and running comfortably around the first floor of the house!
Scarlet is incredibly cuddly and just wants to be near Alyson the entire time. She is adored by the whole family and the children (Felicity, Daisy and Lachlan) love returning home after school and being greeted by two dogs. They were keen to have Scarlet try her very first Starbucks pup-cup, which of course she loved!
Scarlet and Beau have formed a beautiful companionship and Beau has welcome her without any jealousy whatsoever. Now they cuddle together, play together and get into mischief together - a perfect partnership.
If anyone is looking for a Labrador, the Bennetts would highly recommend the NYSRR. They often need fosters too and the stories behind Rescue Road-trips are very emotional.

Feature your pets in the Scarsdale10583.com Pet of the Week column. Email us at PetsofDale@gmail.com.