Announcing Scarsdale's Pets of the Week
Wednesday, 22 September 2021 17:15
Last Updated: Wednesday, 22 September 2021 17:47
Published: Wednesday, 22 September 2021 17:15
Katy Goldman and Dara Gruenberg
Hits: 740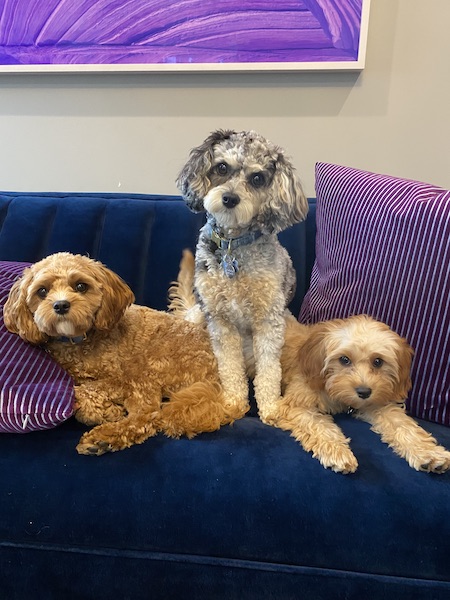 Left to right: Loki, 18 months; Ghost, 13 months; Hobbs, 4 monthsWelcome to 10583's Pet of the Week feature! We are so excited to showcase the pets of the Dale and their families! The purpose of this weekly column is simply to put a smile on people's faces. We all need some happy news these days!

This column will be managed by Katy Goldman and Dara Gruenberg. We didn't start out as dog people…that was Covid's doing. Like many of you, we became dog lovers during the pandemic and we couldn't be more grateful. We have found that our furry friends have infused our homes with so much love and provide some much needed therapy during this stressful time.
Katy is the proud mom of a Mini Sheepadoodle named Mitzi. Mitzi is seven months old, has endless energy and has recently become quite mischievous! It's hard to get upset with her since she looks so cute.
Dara's first pandemic puppy is a red haired Cavapoo named Loki. Now 17 months later, Dara has found herself the proud mama of three Cavapoos, rounding out the family with Ghost and Hobbs! All three boys love to play with each other and often find themselves sleeping snuggled up to one another on the couch.
If you see us on the street walking our pups, feel free to say hi! Our dogs love to make new friends.

Send us your pictures and a bit of information about your sweet pets. We will feature at least one a week. Email us at petsofdale@gmail.com.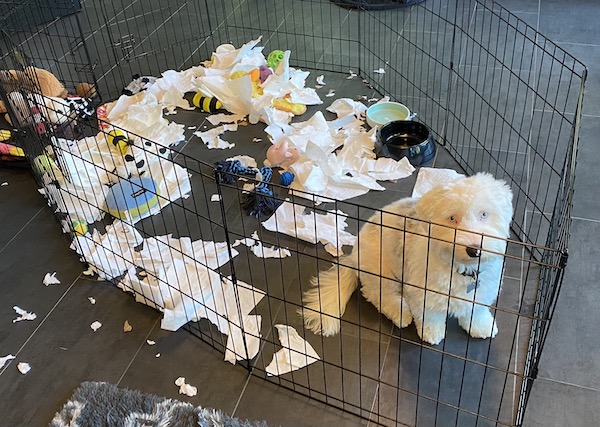 Mitzi, in trouble with a roll of paper towels!