Meet the Berke Family Menagerie
Wednesday, 06 October 2021 12:06
Last Updated: Wednesday, 06 October 2021 12:06
Published: Wednesday, 06 October 2021 12:06
Joanne Wallenstein
Hits: 264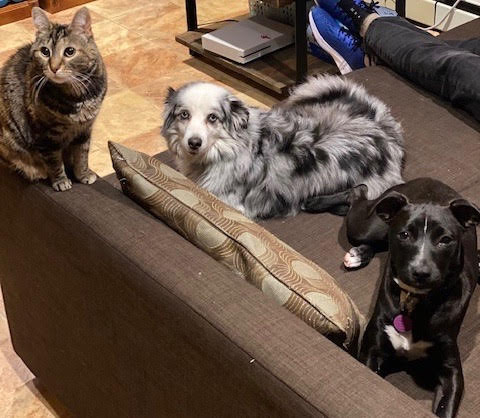 From left to right: Avery, Sydney and Ziggy.This week's Pet of the Week features three of the Berke family menagerie!
Avery is Scarsdale's first featured cat. She rules the roost and keeps all the dogs in line, all while sleeping about 20 hours a day! She loves to put her paws around your neck and nuzzle your ears.
Sydney is a mini Merle Blue Australian Shepherd. She came from a puppy mill where she likely had many puppies. She loves people more than dogs, although she recently has taken a liking to a young Pomeranian named Max in their neighborhood. Sydney loves to walk and hike and follows her family around the house. If you make a funny face at her, she makes one right back at you!
Ziggy is a super mutt pandemic puppy, adopted by son Glenn in December 2020. Ziggy is the mayor of the dog park! She loves to engage other dogs and run with them. Even though she loves activity, she gets a little scared every time she hears a loud noise. They're hoping she outgrows this!
From left to right: Avery, Sydney and Ziggy
Send us your pictures and a bit of information about your sweet pets. We will feature at least one a week. Email us at petsofdale@gmail.com.