Here's Noodle: Watch Out for Your Socks
Tuesday, 14 December 2021 14:03
Last Updated: Tuesday, 14 December 2021 14:03
Published: Tuesday, 14 December 2021 14:03
Katy Goldman and Dara Gruenberg
Hits: 839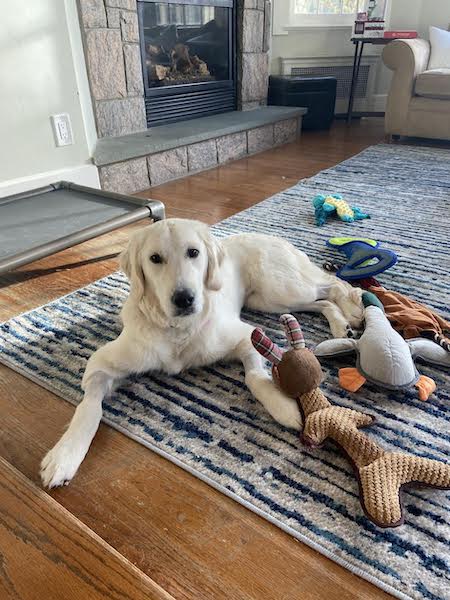 Meet Noodle, the newest member of the Kirwan family. Noodle is a 9 month-old English Cream Golden Retriever. She came from a wonderful breeder in South Carolina where her family picked her up and flew home with her.

Noodle is a wonderful addition to the family. She is playful and sweet. She loves to walk in her Greenacres neighborhood and pick up her human siblings from school! She can be a bit naughty at times and when her family isn't looking, she will try to eat every sock in the house. One such incident landed her at the Emergency Vet for life saving surgery. Thanks to a wonderful surgeon at Guardian Veterinary Specialists, she is now back to herself.

During the day when she is not having the "zoomies", you can usually find Noodle chewing on her favorite chew toys or taking a snooze in the sun.

The Kirwans are grateful for the addition of Noodle to their family and love her dearly!

If you would like to feature your pet, please email petsofdale@gmail.com.