A Taste of Ireland at the Irish Bank Bar and Restaurant in Hartsdale
Wednesday, 26 October 2016 20:28
Last Updated: Wednesday, 26 October 2016 20:59
Published: Wednesday, 26 October 2016 20:28
Judie Dweck
Hits: 12040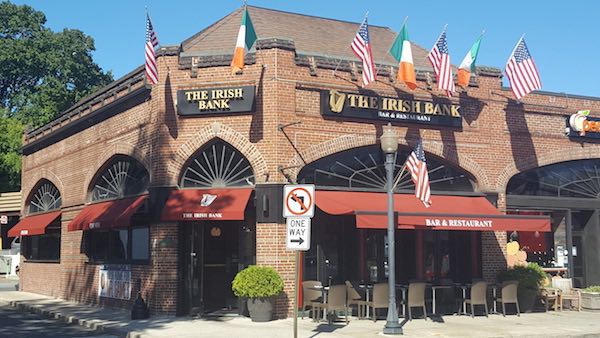 Upon seeing the awning announcing the opening of Irish Bank Bar and Restaurant, I discovered, you can't tell a book by its cover. I hesitated to try it because I don't generally frequent bars. How pleased I was to find a family friendly spot offering some very tasty dishes, many Irish in origin.


The newest addition to the Hartsdale dining scene is The Irish Bank Bar and Restaurant, which opened at the space that housed Harry's for many years. Situated across the street from the Hartsdale train station, it is an ideal location. I've never visited Ireland, but if the food and ambiance at The Irish Bank Bar and Restaurant is an example of the Irish style of eating, it would certainly be worth a culinary exploration.

The owners are Scarsdale residents Theresa and Adrian Regan. Theresa Regan describes their spot as "a friendly fun filled dining spot, where our guests can enjoy a varied meal in a relaxed atmosphere." Adrian Regan designed the warm duplex space. The main level has bar seating and high tables, as well as comfortable booths that have a private feel because of their high backs. The dark woods and deep red upholstered leather seats are encrusted with nail heads .Carved wood shelves display memorabilia of Irish banking history. The upper level is well appointed with its own bar and is suitable for parties.

Regan said, "I always worked in restaurants in Ireland and London and I enjoy getting to know our guests. We welcome families and have a kids menu, as well. Some of my favorite menu items are our homemade brown bread and New York style wings and chicken curry. As members of the Scarsdale community, we felt there was a need for our type of dining venue and thus, Irish Bank Bar and Restaurant was born." Leading the kitchen is Chef Emmet Manning. He prepares everything from scratch. "I always use fresh ingredients. I especially enjoy preparing sauces, soups and desserts. I call my cooking honest food. "His dishes are the result of a caring chef. When I think of a pub, bar food comes to mind. ... Think again... Here, the menu includes many traditional Irish dishes as well as popular American and international selections. Asian and Mexican flavors dot the menu. As I perused the menu and had difficulty making choices, I remembered a saying I had heard, "Why say OR when you can say AND," and I proceeded to taste several dishes. Starters included chicken quesadillas, The Bank Nachos, and Santa Fe Chicken Rolls with a Latin flair, chicken pot stickers for an Asian flavor and hummus for a taste of the Mid East. To get into the Irish mood, we started with a thick and delicious potato and leek soup, a special of the day. Served with house made brown bread and butter, it was a meal in itself. This rich potage was great for the cool days to come. Coarsely chopped bits of potato added a hearty texture to this classic Irish soup. Santa Fe Chicken Rolls was a taste of the southwest. Chicken breast with mesquite seasoning and a julienne of vegetables were rolled into an eggroll wrapper and fried. Chipotle aioli and black bean corn salsa shared the plate. We enjoyed coconut shrimp encrusted with panko crumbs and coconut and served with Asian slaw and chili sauce. Other appetizers range from artichoke spinach dip, New York Style Wings, and steamed mussels. For the salad enthusiast, try the Irish Farmhouse variety with country ham, eggs, beets and cheddar cheese with an Irish cream dressing. Traditional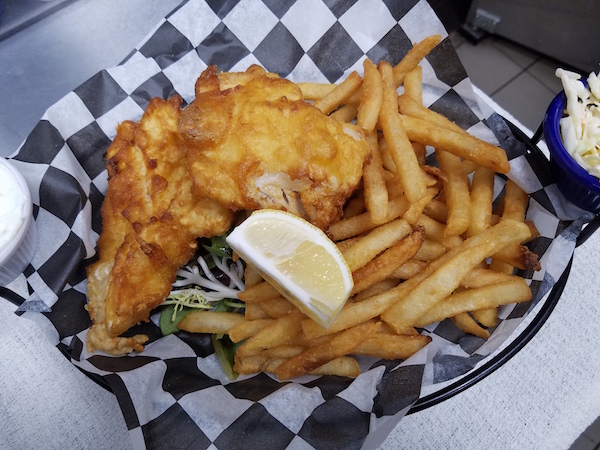 Irish classics followed. Fish and chips was so good. The Atlantic cod fillets were dipped in a beer batter and fried until golden. Tartar sauce, lemon wedges and fries completed this treat. A bottle of malt vinegar kept with the Irish tradition which added a perky touch to this Irish classic, both tender and crunchy. Messy, but drippingly divine were the barbecued baby back ribs. Honey bourbon barbecue sauce made them special. Back to Ireland for a traditional shepherd's pie. A crusty crown of swirled fresh mashed potatoes revealed a savory mix of ground beef, gravy and vegetables. Chicken pot pie was another very good choice. Puncture the puff pastry buttery lid, and the homey goodness of potatoes, carrots, peas and chicken in a creamy sauce are yours to devour. The Bank Chicken stuffed with apples and walnuts, Berkshire pork chops and New York Strip steak await future visits.

The signature Bank Burger is 8 ounces of Pat Lafrieda's signature beef, really good quality, topped with Dubliner cheddar, sautéed mushrooms and onions and thick grilled imported Irish bacon, ( similar to Canadian bacon), lettuce, tomato, red onion and slaw complete your plate. The corned beef Rueben on rye, and a turkey Cobb burger sound interesting, as well.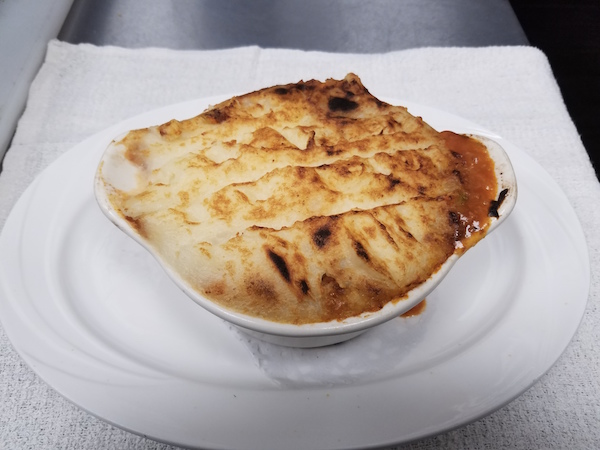 The lunch menu includes burgers, soups, salads, sandwiches, wraps and traditional dishes. Saturday and Sunday are the time for brunch at The Irish Bank with breakfast and lunch selections. Leading the list, is a traditional Irish breakfast including eggs, Irish sausage, Irish bacon, black and white pudding and beans among its ingredients. There is a kid's menu too.

The house-made desserts include apple pie, snicker blitz, chocolate fudge cake, or as we sampled Bailey's Bash, a Bailey's infused cheesecake with the chocolate cookie crust. Although I did not indulge, a huge selection of Irish whiskies, draught and bottled beers as well as mixed drinks and wines are offered. Enticing names such as The Half Penny, The Banker, The Emerald Sour and Lady Lavery sound appealing. During a non-working visit, The Bank Coffee with Jamison, brown sugar syrup, cinnamon freshly whipped cream and nutmeg would be my drink of choice.

Enjoy the friendly ambiance, and the homey unpretentious dishes of Ireland and more, at The Irish Bank Bar and Restaurant soon.

The Irish Bank Bar and Restaurant
230 East Hartsdale Avenue
Hartsdale, NY
(914) 713 8840

Recipe: Shepherd's Pie (Serves 4)

Ingredients:

4 large potatoes
1 Tbsp. butter
1 Tbsp. finely chopped onion
¼ cup shredded cheddar cheese
Salt and pepper to taste
5 carrots, peeled and chopped
1 cup fresh or frozen peas
1 cup fresh or frozen corn
1 Tbsp. vegetable oil
1 onion, minced
1 pound lean ground beef
2 Tbsps. all purpose flour
¾ cup beef broth

Instructions:

Boil a large pot of water. Add salt. Add potatoes and cook until tender but still firm or about 15 minutes. Drain and mash the potatoes. Mix in the butter and season to taste with salt and pepper. Set aside. Cook carrots, corn and peas in salted water until tender. Drain and set aside.

Preheat oven to 375 degrees. Heat oil in a large skillet. Add onion and cook until transparent. Add beef and cook until brown. Pour off excess fat. Add flour and mix and cook for 1 minute. Mix beef and vegetables in an even layer at the bottom of a 2 quart casserole. Top with the mashed potatoes and sprinkle with the cheese if desired. Either spread the potato mixture or pipe it in swirls with a pastry bag. Bake in the preheated oven for 20 minutes until golden brown.


Judie Dweck has been writing about restaurants and food for many publications. She teaches creative cooking to children at Scarsdale elementary schools. Through the years, her articles have appeared in Jack and Jill Magazine, Spotlight, The Pleasure of Cooking and The Scarsdale Inquirer. She balances her restaurant tastings with daily ballet classes