All Restrictions on Restaurant Dining to be Lifted May 19, COVID Counts Going in the Right Direction
Details

Written by

Joanne Wallenstein

Hits: 289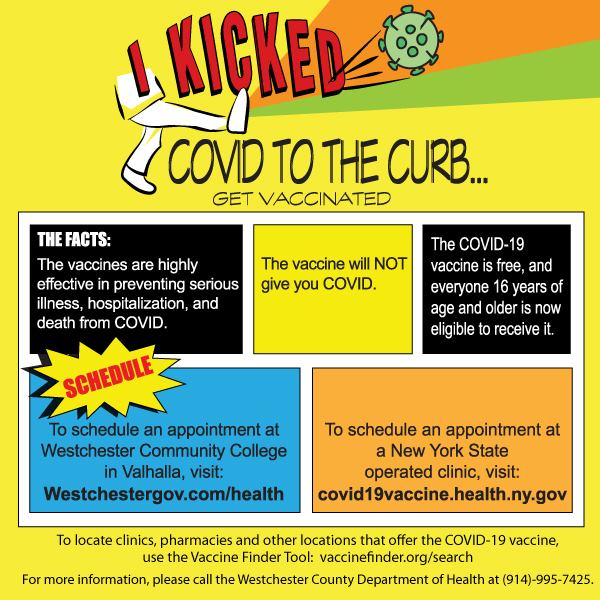 Though only 40% of Westchester's 967,000 residents have been fully vaccinated, it's not an issue of availability. At his weekly briefing on Monday May 3, 2021, County Executive George Latimer reported that between the Westchester County Center, the Yonkers Armory and two county clinics, 338,000 people have been vaccinated. And when you add in other locations, the total is 380,217 vaccinated people in Westchester. In fact, he projects that the county's supply of the vaccine will soon outstrip demand.
In order to vaccinate more residents, the county is opening pop-up or satellite locations so that they can bring the vaccine to neighborhoods where people will have an easier time accessing them. The county has collaborated with the NY Knicks to launch a campaign to encourage younger adults to get vaccinated. The campaign targets younger adults and their parents with posters, a video and a social media campaign in English and Spanish that says, "I Kicked COVID to the Curb." Watch the video here.
In the meantime, all COVID statistics for the county are moving in the right direction. As of Sunday May 2, there were 2,187 active COVID cases in Westchester, a decline of more than 1,000 cases from 3,208 the prior week.
In Scarsdale there are only 14 active cases.
As of Sunday Saturday May 2, 116 people were hospitalized due to COVID, down from 131 the prior week and weekly deaths have fallen into the single digits.
Another positive sign is the news that all capacity limits on restaurants are expected to be eliminated on May 19, though tables will still be required to be six feet apart.
Bicycle Sundays on the Bronx River Parkway kicked off on Sunday May 3 and will continue throughout the summer until the end of October. This is a change from prior years when Bicycle Sundays were suspended during the summer months.
In other news, the MTA reports that subways will resume 24 hour service on May 17, 2021, ending months of nighttime closures.
Scarsdale Forum Says New Limitations on the Use of Gas Leaf Blowers Do Not Go Far Enough
Details

Written by

Joanne Wallenstein

Hits: 682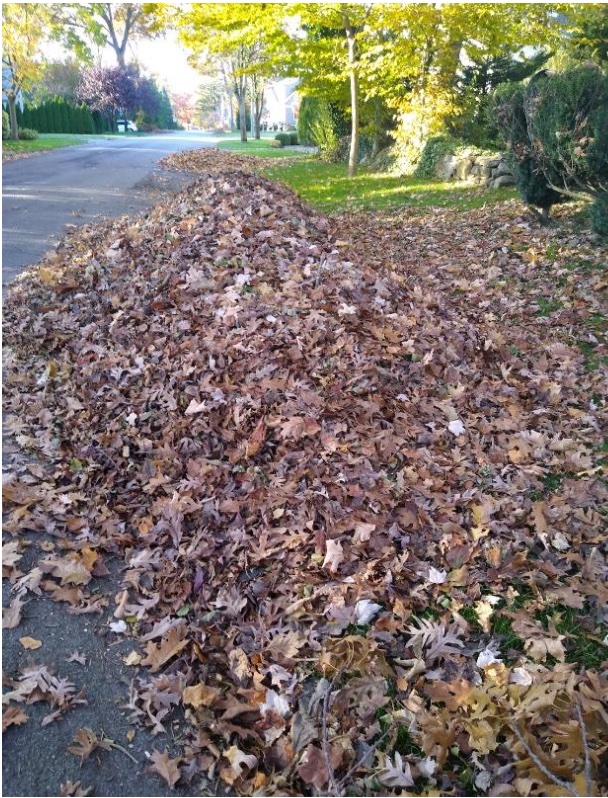 The Village of Scarsdale recently passed amendments to Village code banning the use of gas leaf blowers from May 1 to September 30 and limiting their use to weekdays during October, November and December, 2021.
For 2022 and beyond, gas leaf blowers are banned from January to September, and can only be used from Tuesday-Friday in October, November and December.
In their place, electric leaf blowers can be used year round.
These changes were hotly debated with some residents and many landscapers arguing that it would be very difficult and expensive to clear leaves without the gas powered blowers.
However, a report by the Sustainability, Municipal Services and Climate Resilience Committees of the Scarsdale Forum says these restrictions do not go far enough to "protect the health, safety, welfare, and quality of life of Scarsdale residents and protecting the environment."
The report, titled, "Gas Leaf Blower, Leaf Vacuuming and Leaf Mulching in the Village of Scarsdale," says that Village code does not do enough to prevent air and noise pollution. Since the law allows the use of the gas leaf blowers during leaf season, from October 1 to December 30, the believe that it will continue to allow a program that is "inherently polluting and expensive."
The Forum Committees recommend that the Village ultimately ban the use of gas leaf blowers entirely, enforce a noise code to ban the use of blowers at 65 decibels or more and to do more to require leaves to be bagged and left at the curb or mulch mowed, rather than blown to the curb for vacuuming and pick-up by the Village.
Specifically, they recommend that the Village revise code to:
-Prohibit the use of all gas powered leaf blowers and gas 2-stroke vacuums in the Village of Scarsdale, effective on a date certain not to exceed two years from January 1, 2021, including use on all Village and residential properties;
-Enforce the new Village code banning leaf blowers immediately.
-Amend the Village Code to prohibit the use of push-behind gas leaf blowers and the use of more than one gas leaf blower on properties smaller than one-half acre, effective immediately, and until such time as the total prohibition of gas leaf blowers and gas 2-stroke vacuums is effective.
-Amend the Village Code to (a) eliminate fall leaf vacuuming practices conducted by the Village, (b) require that leaves and grass clippings left for Village pickup be bagged or otherwise containerized all year long, and (c) promote leaf mulch mowing and grasscycling in place.
-Amend the Village Code to limit noise specifically related to landscape maintenance equipment, and update the definition of a noise disturbance to include leaf blowers that measure 65 decibels or more (at 50 feet), effective immediately;
-Promulgate and enforce these regulations immediately, institute a public education campaign, continue Village street sweeping operations, and enlist the cooperation of the public, all consistent with these recommendations.
The Forum report states that studies show that gas leaf blowers cause air pollution and "there are no safe limits to the emissions produced by fuel combustion." Furthermore, neighboring communities have transitioned to leaf bagging and mulch mowing and restricted noise from gas leaf blowers.
The report urges the Village to act swiftly, saying "this is a moment of peril, but also a moment of opportunity given recent actions by the Village Board that may be built upon to achieve a result that more fully protects our residents and the sustainability of our community."
The report was approved by the Forum's board of directors and will be presented to Forum membership for approval at the May 20 Annual Meeting. Read the entire report here:
The following letter about the leaf blower ban was sent to us by Susan Levine:
Dear Editor:
The Gas Powered Leaf Blower Ban Begins May 1.
It is important that Scarsdale residents know about the updated Gas Powered Leaf Blower Ban that takes affect this year on May 1 and extends through September 30.
The purpose of the Ban...which will be enforced, is to reduce noise and air pollution during the months when people enjoy being outdoors.
Residents are asked to insure that their landscapers comply with the ban which is an essential element of its success. Those that do not comply will be subject to fines, possibly the homeowners as well as the gardeners.
Electric Blowers may be used at any time.
Leaving mowed grass clippings on the lawn where they can act as fertilizer is a separate benefit and is also encouraged...as is mulching your leaves.
I tried both and I love the results.
Susan Levine
Ardmore Road
Assemblywoman Paulin Comments on Tax Increase for Wealthiest New Yorkers: Will They Leave?
Details

Written by

Joanne Wallenstein

Hits: 824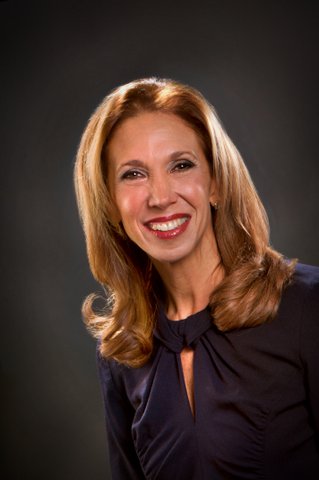 Many in Scarsdale were dismayed to learn that the New York $212 billion budget deal includes a tax increase for the state's wealthiest individuals and couples. Under the bill, which was approved last week, the tax rate for individuals earning $1 million and more and couples earning $2 million and more, will increase from 8.82% to 9.65%. For those earning between $5 million and $25 million, the rate goes to 10.3% and to 10.9% for those who make more than $25 million.
We spoke to NY State Assemblywoman Amy Paulin who lives in Scarsdale and represents us in Albany.
She explained that she was not in favor of the tax increases, especially in the year of a pandemic, but explained, "Any budget is a compromise and this year is no different. There are always things in the budget that I love less and don't like at all."
Paulin added, "Considering the original proposal, which was to raise rates starting at incomes of $300,000 I felt like we had a win. Some were advocating for a wealth tax, an estate tax starting at $250,000 and a stock transfer tax. We were able to hold the line."
In order to offset these increases, Paulin introduced legislation called the SALT Cap Tax Relief for Partnerships which is part of this budget. The law provides state and local taxes (SALT) cap tax relief for partnerships like attorneys and accountants, giving a much needed boost for at least some New Yorkers who've been disproportionately affected by the SALT cap.
The budget includes some more positives for Scarsdale. About school aid, she said, "We were able to beat back the Governor's change to an expense driven formula that would have negatively impacted Scarsdale. In addition, BOCES aid will continue to be $500,0000, and funding for special education and library and textbook aid were preserved. The district will receive $464,000 in pandemic aid from The American Rescue Plan which the Governor tried to eliminate.
For Scarsdale Village there will be funds available for clean water infrastructure projects and CHIPS funds for roads, in addition to the $1.9 million the Village will receive from the federal government.
Are legislators afraid that top earners will leave New York State? Paulin said, "My neighbors are leaving. I am aware of the flight. When you combine the loss of the SALT tax deduction with the increase in the tax rate you have a cumulative effect. With one tax you don't leave, but with two or three you do!"
Paulin noted that New York State has already suffered population losses that will lead to the loss of two Congressional seats from the state.
We asked where the Governor stood on the tax increase and Paulin said, "The Governor was completely absent in this negotiation. He did not fight the tax increase." She continued, "I believe in due process but I think we need an engaged Governor. How can you do your job when you're facing a lengthy investigation and perhaps criminal charges?
Introducing the Color of the Year
Details

Written by

Joanne Wallenstein

Hits: 599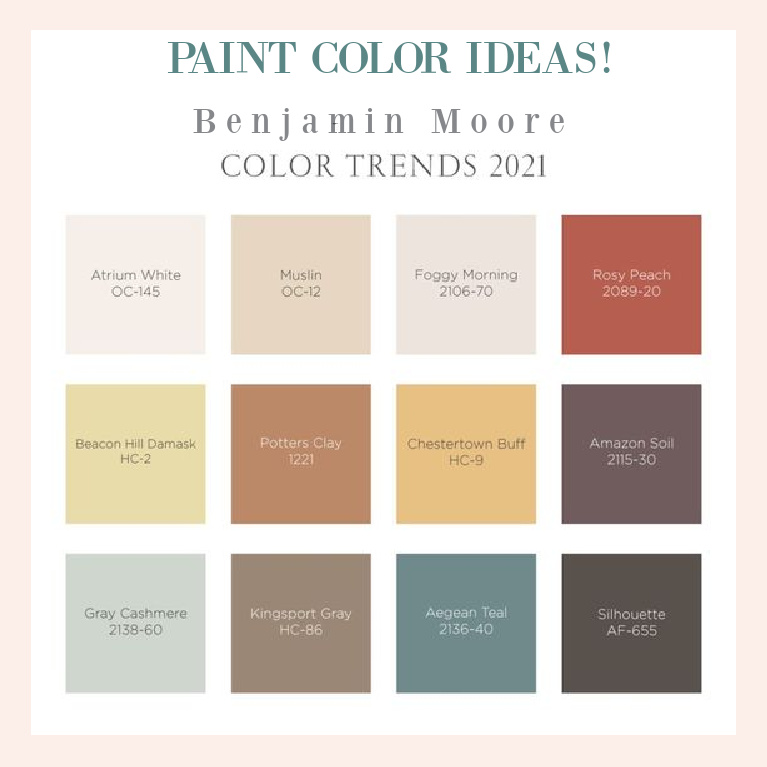 This article was written by Tonie Germie, Architectural & Design Representative, Long Island and Westchester for Benjamin Moore & Co. Wallauer is the largest Benjamin Moore paint dealer in Westchester and has 15 locations across Westchester, Putnam, and Rockland Counties. For more information and to find a location near you click here.

Wallauer's annual celebration of color is the result of a yearlong exploration into design, art, fashion, cultural and environmental influences around the globe. From Benjamin Moore's library of over 3,500 colors, they curate a Color Trends palette that balances modern-day relevance with long-lasting appeal. At the center is one special hue that defines the palette—and the moment.
This year's color of the year is Aegean Teal.
Aegean Teal is an exceptionally balanced color with just the right amount of saturation, with a slight touch of gray that makes this appealing mid-tone easy to pair with other colors and materials. The result is an intriguing and engaging color with both complexity and depth.
Aegean Teal, brings together the associations of blue and green for a calming and restorative quality. In some cultures, teal is believed to be a symbol of infinity, truth and clarity of thought – symbolism that is particularly meaningful for 2021.

When developing the palette for 2021, much of the discussion centered around colors that had an organic, rooted and welcoming quality. Many of the colors in our consideration set fell to the warmer side of the color wheel, with a selection of cooler hues that complemented this warmth for an accordant feel.
As they combed through our collections, the palette evolved and shifted, leading to a selection of colors that appropriately conveyed a grounded sensibility for 2021. Ultimately, they curated a palette twelve comforting, sunbaked hues that radiate warmth and wellbeing, in addition to feeling modern with time-tested appeal.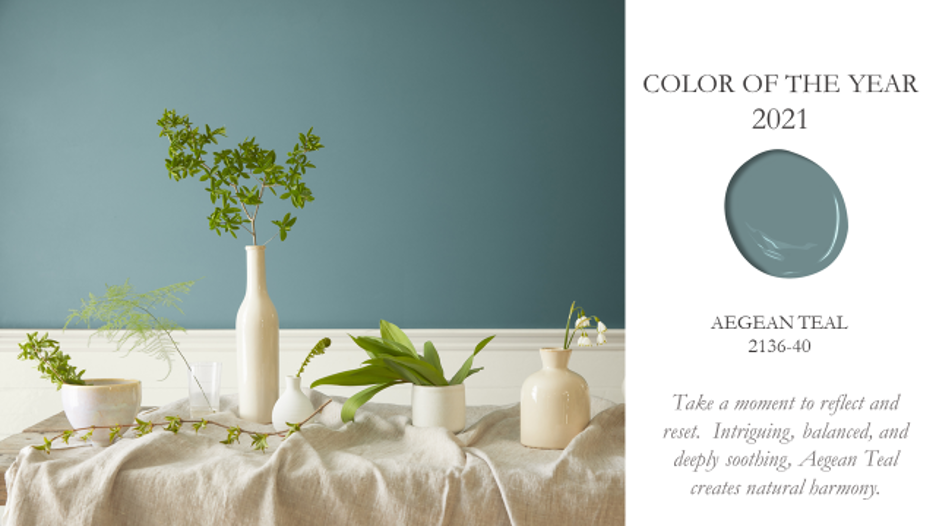 This year, focuses on mid-tone colors that balance out the deeper and paler colors in the palette to offer a breadth of options. The resulting palette has a gracious, 'lived-in' character with instant resonance that invites us to surround ourselves with color as we enhance our homes.
Wallauer Paint and Decorating Centers have been serving Westchester, Rockland, and Putnam Counties since 1921. The fourth-generation family-owned business, headquartered in White Plains, New York, offers the finest selection of paints from Benjamin Moore, specialty products and accessories from Ace Hardware, window treatments from Hunter Douglas, designer fabrics and wall coverings, area rugs, and home design services, and has 15 stores across the region.

The company philosophy has always been: "Good old-fashioned family values, a team approach, and integrity." It is these principles that have enabled the organization to reach a milestone of 100 years in business, achieved by only the very best of American companies.
The secret to Wallauer success isn't a secret at all according to company COO Edward Klein. "It really comes down to having a knowledgeable group of people who know their craft and provide excellent customer service. Then it is word-of-mouth recommendations from satisfied customers that Wallauer is the go-to place for home improvement locally."
To thank long time customers as well as new, a $100 gift certificate will be awarded to one shopper in every store every month through December. To register for the drawings, visit www.wallauer.com/100 . In addition, Wallauer will offer a "buy one paint sample, get a second one at '100%' off" throughout the year. Click here for more details.
Wallauer offers a wide variety of interior and exterior paints and stains, including low-odor paints, washable finishes and more from Benjamin Moore and is the largest Benjamin Moore paint, hardware and decorating retailer in Westchester, Rockland and Putnam. Wallauer also offers their own brand of paints and has more than 5,000 color selections available ensuring there is a perfect color for every project. Customers can take advantage of their color matching services and even create their own custom color palate - a Wallauer specialty.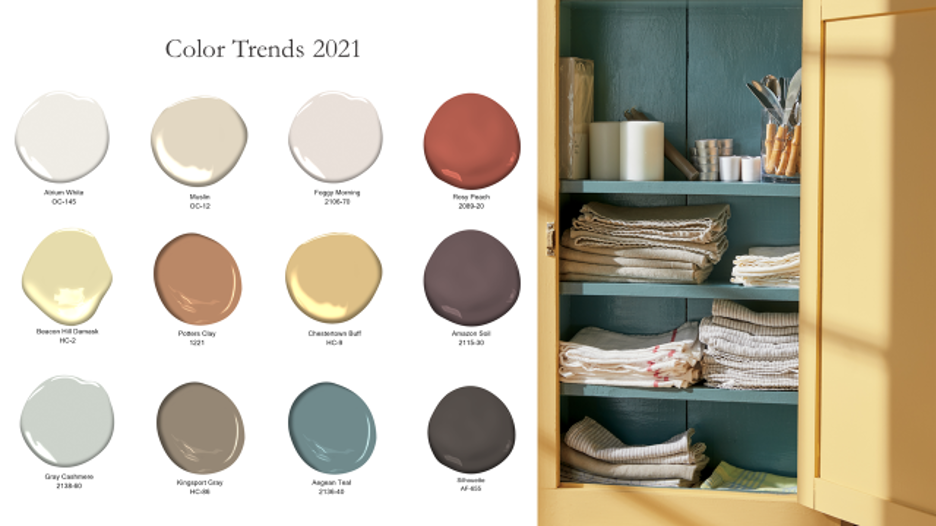 Across 15 Westchester, Putnam, and Rockland County locations, Wallauer offers home design services in six and offers Ace Hardware Departments in five. Every Wallauer Design department features the latest window displays from Hunter Douglas Window Fashions, specializing in motorization and full house automation of blinds and shades. Carrying hundreds of designer fabrics from Robert Allen, Kravet, Fabricut and Kasmir and top wallpaper designers that include Schumacher, Thibaut, Nina Campbell, Candice Olson and more. Custom-made Roman shades, fabric panels and cornices products and accessories can be created to match any style and budget. Highly trained staff can provide recommendations and offer in-store consultations and in-home services to people living in and around the tri-county area.
Wallauer also supports home and commercial contractors with a variety of services including estimates, job specs, and submittals. They have dedicated sales rep who will visit the job site with the contractor to assist with job estimates, writing commercial specs and preparing color drawdowns. They also assist with enrollment in the Benjamin Moore Contractor Rewards program and are the only dealer to offer auto submission of receipts for contractors.
Wallauer stores are located in White Plains, Bedford Hills, Carmel, Mohegan Lake, Ossining, Pelham, Port Chester, Scarsdale, Yonkers, Yorktown Heights, New Rochelle, Ardsley, and Lewisboro/Cross River. There is also a location in Nanuet in Rockland County which offers Ace Hardware products and there is one location in Putnam County in Mahopac.

Customers can shop online and pick-up in store at www.shop.wallauer.com. For more information click here or call (914)-948-4000.
LWVS Donates 66 Books to the Scarsdale Library and Produces Video to Honor its 100 Anniversary
Details

Written by

Joanne Wallenstein

Hits: 571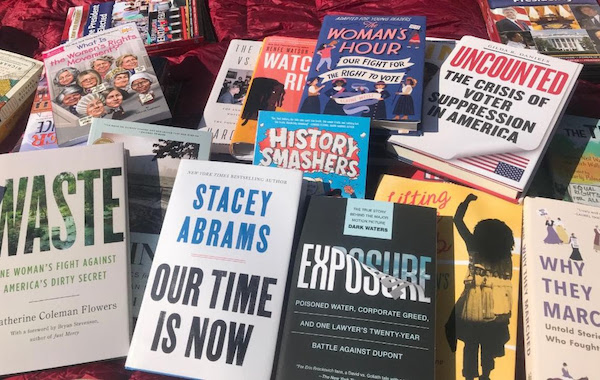 In honor of its Centennial Year, the League of Women Voters of Scarsdale has made a large donation of books to the Scarsdale Public Library. The book topics include voting rights, women's rights, civil rights, the environment, and more in the Adult, Young Adult and Children's book genres. The LWVS ordered the books through Scarsdale bookstore, Bronx River Books, and they appreciate their partnership with bookstore owners Mark Fowler and Jessica Kaplan. The LWVS has already donated 59 of 66 ordered books to the library and is proud to give this gift to the Scarsdale community.
The list of books was curated by the library and can be viewed here:
The League has also produced a Centennial Video Montage that includes statements from many of our local leaders. Watch it to hear statements about the importance of voting, democracy and consensus building from Andrea Stewart-Cousins, Amy Paulin, George Latimer and others.
Here's to the next 100 years of the League of Women Voters.