A School Holds 50th Graduation
Details

Written by

Michael Mancusi

Hits: 686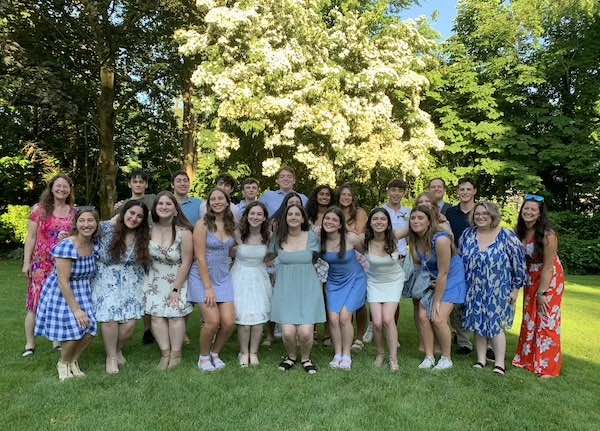 In a fitting end to a tumultuous four years at Scarsdale High School, uncertain weather caused the A School to move their ceremony, which is traditionally held on the steps of the school, inside to the high school auditorium. The decision was made just an hour and half before the Friday afternoon event.
The ceremony marked the A School's fiftieth year – a milestone!
And it was also the final A School ceremony for two beloved A School teachers. English teacher Jeanne Cooper will retire at the end of the school year, and Social Studies Teacher Jen Maxwell will leave her post at the A School to take the role of Social Studies Department Chair at Scarsdale High School.
Introductory remarks were made by A School Director Fallon Plunkett who said goodbyes to Cooper and Maxwell. Then each of the 25 graduating students received personalized remarks from the advisors, followed by this address from Sam Dresher, member of the graduating class.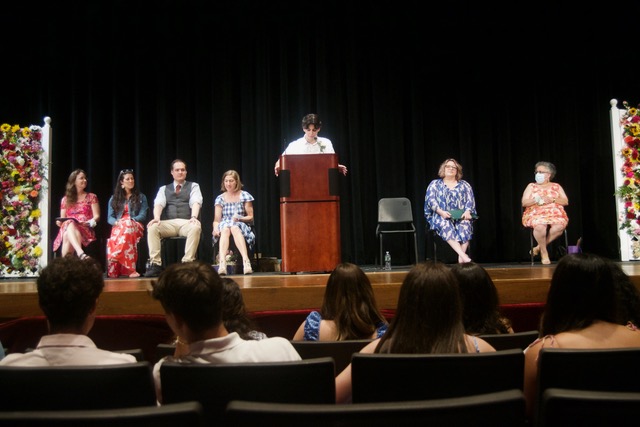 Greetings class of 2022! For those I haven't met, my name is Sam Drescher, and thank you for the honor of allowing me to speak before you today. A special hello to my mom and dad, who I realized about an hour ago have no idea what's going on right now as I neglected to tell them I was speaking today.
So, I'll start real with you all. These past three years have been nothing short of insane. It's been the most wild ride, going virtual to in-person to virtual again more times than I can count. We've gone through the highest of highs, and the lowest of lows. But somehow, here we are, in all our glory: the 50th graduating class of the Scarsdale Alternative School. It's nothing short of a miracle.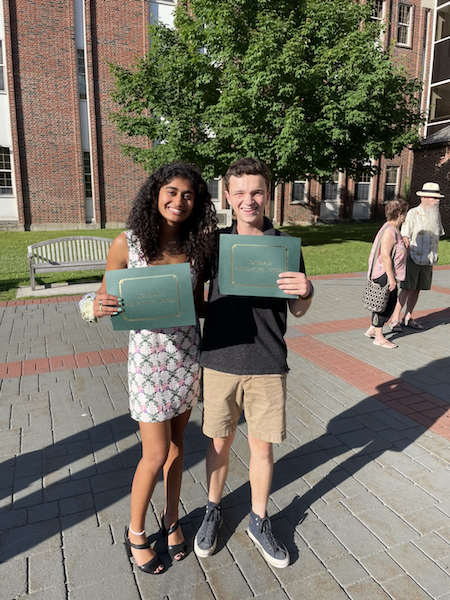 Actually, scratch that: there's one thing that has brought us through these tumultuous years, and it's the idea that I want to discuss with you all today. It's the reason we are all here, and the reason I'm forcing you guys to listen to me after all these hours. That idea is community. It's a word we've heard countless times over our A-School careers. it's the very bedrock of the institution from which we are now departing. But what is community? Why is it so essential to the human experience? And why does this short kid standing in front of me care so much about it?
Community is such a multi-dimensional, convoluted concept that I couldn't possibly address all its facets in a short speech. In fact, community is so complicated that I, as a sophomore, didn't know what it meant. I mean, I literally could not tell you what the word "community" meant; I had to look it up in the dictionary for one of my first papers in Jeanne's class in tenth grade.
Nevertheless, community remains crucial for all people because of one thing, and I first realized this a couple days ago talking to Micah Arenstein. He told me how he enjoyed being held accountable for his actions. And then it hit me like a truck: accountability is at the core of community. It was accountability to everyone here that made me write this speech 23 hours before graduation instead of 2. And it's accountability that binds us all in a pattern of upward growth. Accountability mandates that you be there for others: in a community like ours, and in a class like ours, we have all been there for each other when we needed it most.
Even more importantly, accountability gives you not only an option, but an imperative to turn to others when you need them. It forces you to acknowledge your mistakes and realize your shortcomings. It makes it OK to ask for help, like asking your core group for advice or crying in Mike's office during the significant figures unit.
Accountability forces you to see the people around you; not just to know their names, but to know their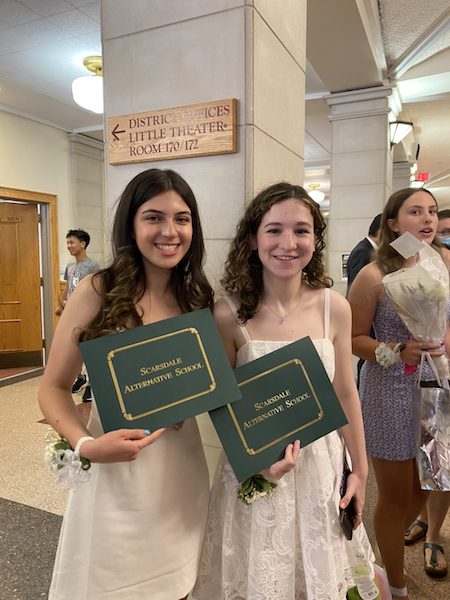 stories and their backgrounds. And wow, do we have some diversity among us. From captains of sports teams to genius engineers, from international expats, to musical virtuosos, from Warriors fans to Celtics fans. It's been an enormous joy to get to know and learn from all of you, but also to recognize my obligation towards each and every one of you. It's this sense of accountability that has allowed us to have the deepest of relationships. Members of our class have turned to each other for guidance, advice, and late night drives to Jeanne's house.
And last but definitely not least, accountability requires that we live in the moment. As I'm sure we all know, Scarsdale High School is often a cesspool of competition, where people one-up their friends for what they see as a better chance at getting into a good college, so they can get a good job, so they can be successful…the list goes on. But accountability for each other means that you can't be living three or four years in the future. The reality is that this community doesn't function properly if even a single one of us isn't fully present and committed to the mission. The direct democracy and obligation to each other that are so deeply entrenched into our A-School structures mean that the community needs you here, and now.
Of course, the reality of the situation is that come next year, the community won't need us. The A-School will go on, and our leaving will make room for 28 other kids to have the same phenomenal experiences we did. Therefore, for once, we find ourselves looking towards the future. And if there is one thing you take away from today, I want it to be this:
Our time in the A-School was not just a high school experience. We weren't just part of this program to pass our classes, or even to make an impact on this community. No. Our aim is far more ambitious. We have a responsibility to the new, wonderful places we are going next year to be the architects of community. When you step foot on that campus, and for the rest of your life, it is your duty to build community in your footsteps. Whether that community is a sports team, a club, a group of friends, or an entire university, we must dedicate the skills we've learned here to bind that community closer together.
Encourage discourse yet foster consensus. Have difficult conversations, but make sure every voice is included. Take care of the people who sit next to you in English because they could be your best friends. Meet and get to know your teachers, because they just might be some of the most important people in your life. Never be afraid to sacrifice your time and energy for the greater good. Trust and rely on the people around you. And most importantly, be accountable. Hold your friends accountable, hold yourself accountable, hold the community accountable.
This was practice. Now we're ready for the real thing. So, thank you for being a friend. Thank you for holding me accountable.
We were all in this together, and I'm so unbelievably proud of the ways we've grown. I love you guys so much. Congratulations, class of 22!
2022 Graduates
Abby Fine
Aiden Pierson
Alex Horvath
Allison Coburn
Audrey Gendel
Carolina Vittori
Claire Kaufman
Jacob Zik
Jayho So
Jonah Dichter
Jonathan Wallach
Maya Zilberstein
Mackenzie Harpster
Micah Arenstein
Michael Mancusi
Nick Mangieri
Olivia Cohen
Robin Glicker
Ryan Gerson
Sam Dresher
Sydney Rothschild
Sedna Ghandi
Talia Levenson
Will Bunzel
Will Reed
Strong End to Quiz Bowl Season Shows Club's Future Is in Safe Hands
Details

Written by

Adam Katcher

Hits: 500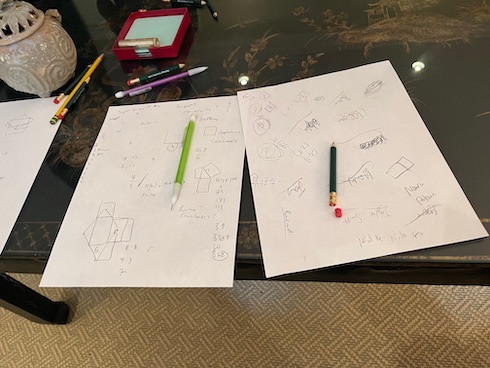 With time a luxury, on-paper problem solving is a huge part of Quiz BowlAre you a Jeopardy fan? Do you like to test your knowledge on random facts about any topic under the sun? Try these challenge questions below!
Questions:
A) For each of the following 10 countries, name their capital and their biggest cities by population: hint – the capital city and most populous city are different. 1) USA 2) Brazil 3) Belgium 4) China 5) Morocco 6) Australia 7) Canada 8) India 9) Switzerland 10) Turkey.
B) The Dedham Lock and Mill painting from the early 19th century of the British countryside was created by which British artist, whose last name can also be a word to describe the governor or warden of a royal castle or fortified town?
C) What is the name of the 13-string instrument frequently played in Japan during the Edo period?
D) The sum of 4 consecutive odd integers is zero. If the absolute value of each of these integers is taken and are then multiplied together, what is the final value?
*Answers to above questions can be found at the conclusion of the article.
These were just a few of the questions posed to the Quiz Bowl team at their national qualification match on June 3rd.
Scarsdale High School's Quiz Bowl team has been one of the clubs most directly impacted by the ramifications of the COVID-19 pandemic. In-person tournaments had to make way for virtual tournaments indefinitely. Still, after over two years with the virus, the vast majority of tournaments remain online. Though for quiz bowl, this might not seem like a big deal, it drastically changes the pace of matches. Rather than buzzing in for answers on a first-come, first-serve basis, both teams now get an equal opportunity at answering questions from given categories before their opponent has the chance to steal from incorrectly contested questions.
This school year with the majority of quiz bowl members onto college, the future of the club was at risk. Only a small handful of seniors and others remained. As the year passed, students from all grades were recruited: seniors already committed to college joined in, juniors came in to revitalize the core of the club, and even some underclassmen started going to meetings, signaling a bright future for the team. Club faculty advisor Michael Egan charged the students with recruiting team members, which proved to be a shrewd choice.
Training for matches is grueling, but not without its fair share of fun. Meetings consist of question after question after question, testing who already knows the answer and drilling in new information to those who were clueless. The questions are from old tournament packets, so every question students ever hear either will be or has been an official question. Upperclassmen, however, frequently bring food and refreshments to make the practice environment welcoming to all and not too intimidating.
On Friday, June 3rd, the first portion of the National Tournament was held. Scarsdale fielded an A and B team, both with the opportunity to head onto the next round. They both had six matches: all teams that won four or more matches automatically qualified to head to the next round, contested on the weekend of June 11th.
Unfortunately, neither the A nor B the Quiz Bowl teams were able to make it past the grueling contest on June 11th. The B team secured one of their highest single-round point totals of the year, but lost to a Catholic school, who were able to answer what felt like a disproportionate number of Bible questions. Nonetheless, making it to the second weekend of nationals was a unique accomplishment in its own way, demonstrating both teams depth of knowledge for seasoned veterans and newer members.
Club President Ned Kronenberg reflected on his time both as a club member and leaders, explaining, "Overall, I had an amazing experience in Quiz Bowl and it was a great club to be a member and leader of. Although this season remained impacted by COVID, it was my favorite as the team saw so much growth, both competitively and in terms of team camaraderie."
In his eyes, proceeding to Nationals was a resounding success. "We were able to win a tournament [this season], and our A and B teams had a combined record of 10-2 in national qualifying, leading to strong finishes in bracket play for both teams."
For those interested in joining the team in the next couple of years, Kronenberg feels as if the future is in good hands. "I am very optimistic," he explained, "and I know that the club is in good hands with our faculty advisor Michael Egan and our next officers and underclassmen."
For the club's leadership, it is now out with the old and in with the new. Fortunately, the "new" does not look to be a step down from the "old" – it might actually prove to be an upgrade. Only time will tell.
Answers:
A) 1) Washington DC and New York City. 2) Brasilia and Sao Paulo. 3) Brussels and Antwerp. 4) Beijing and Shanghai. 5) Rabat and Casablanca. 6) Canberra and Sydney. 7) Ottawa and Toronto. 8) New Delhi and Mumbai. 9) Bern and Zurich. 10) Ankara and Istanbul
B) John Constable
C) Koto
D) 9
Scarsdale Music Festival Announces Final Band Line-Up, Restaurants, Sponsors, and Activities
Details

Written by

Beth Bobek

Hits: 1358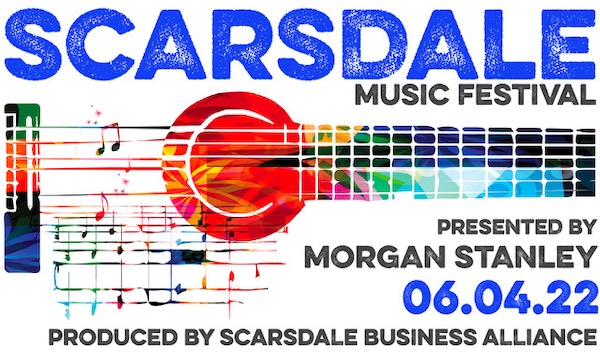 On Saturday, June 4, the Scarsdale Business Alliance (SBA) will host its 2nd Annual Scarsdale Music Festival, presented by Morgan Stanley. The event will take place rain or shine on Chase Road, Spencer Place, Boniface Circle and Harwood Court in Scarsdale Village from 12-6pm. Join the community for a festive day full of live music, food, drinks, and family fun activities!
The Scarsdale Music Festival is an event designed to bring the community together with local musicians who love to share and perform music. Several bands will be performing throughout the day on the main stage, sponsored by Advocate Brokerage Corp. with Pure Insurance and Compass. This year's amazing lineup includes: 12pm - Hot Lunch, 1:00pm - The Modtones, 2pm - Louise in Trouble, 2:35pm - The Del Bocas, 3:35pm - Where is Phi, 4:35pm - Meerkat the Band, and 5:15pm - Someday Radio.
Scarsdale Music Festival will feature savory and sweet offerings from Akai, Baked in Color, Crazy Taco-Mex, Dobbs & Bishop Fine Cheese, Leila's Crepe Station, Leila's Empanadas, Longford's Ice Cream, Meritage, Once upon a Lil Cupcake, Pizza Vitale Truck, The 808 Bistro, Westchester Burger Truck and Yeomiji. In addition, the Scarsdale Police Benevolent Association will host a BBQ Bash on Boniface Circle.
Once again, Zachys will be sponsoring The Grand Tasting Wine Village on Harwood Court (open from 1-6pm) and will be pouring over 100 of the finest wines from around the world. Guests will have the chance to taste, talk and learn from industry wine experts in this uniquely curated fine wine event. It's a VIP experience not to be missed!
Guests 21+ can also enjoy great brews and craft spirit cocktails at the new MS Walker Spirits Tent & Beer Garden with prime stage viewing. Participating MS Walker spirits include Grainger's Deluxe Organic Vodka, Pelotón de la Muerte, St. Elder Artisanal Liqueur, and West Cork Distillers. Beer vendors include Decadent Ales, Wolf and Warrior Brewing, Peekskill Brewing, LIC Beer Project, and Keg & Lantern.
The Houlihan Lawrence Family Fun Zone will feature family activities, balloon artists and lawn games. In addition, Friends of Music and the Arts (FMA) will have arts & crafts, Hoff Barthelson Music School will have an interactive music display, the Scarsdale Forum will have fun giveaways, and SNAP will have hand tattoos.
The Scarsdale Police and Fire Vehicles will be present along with the Scarsdale Volunteer Ambulance Corps for tours and more.
Once again, the SBA is partnering with the Scarsdale Conservation Advisory Council (CAC) to make the Scarsdale Music Festival a zero-waste event. Meals and snacks from food vendors will be served on compostable (made from plants) or recyclable serve ware. The CAC will be providing bin stations with recycling and compost bins to keep any waste out of the trash. The goal is to have little to no trash from the event!
This year's non-profit partner is Feeding Westchester (feedingwestchester.org). The donation will help fund their mission to ensure all people have access to the food they need. Upon entry, there is a suggested charitable donation of $10 (100% of the proceeds from those donations will go directly to Feeding Westchester).
In order to enter The Grand Tasting Wine Village, sponsored by Zachys, and the Spirits Tent & Beer Garden and consume alcohol, you must show ID to prove that you are over 21. Entrance to The Grand Tasting Wine Village requires the purchase of a wristband for $50. Drink Tickets will also be available for purchase to use in the 21+ Spirits Tent & Beer Garden. All food and non-alcoholic beverages are pay-as-you-go.
Donations, wristbands and festival merchandise are currently available online now at scarsdalemusicfestival.com and will also be available at the festival by cash or credit card.
The SBA is thankful to all of the Scarsdale Music Festival event sponsors for their generous support. Presenting Sponsor: Morgan Stanley; Platinum Elite Sponsors: Zachys, Houlihan Lawrence, Compass, Advocate Brokerage Corp. with Pure; Platinum Sponsors: Julia B. Fee Sotheby's International Realty, MS Walker, Spencer East Realty, and Pepe Infiniti; Gold Sponsors: Markilux USA, and 3D Sound & Security; Silver Sponsors: Douglas Elliman Real Estate, Empire Audio Video, Humming Homes, Mark Jessamy Photography, Partyline Rentals, Rudy's Music, Westchester Magazine, William Raveis, and 107.1 The Peak.
FREE PARKING is available in the Freightway Garage and adjacent outdoor parking lot (72 Freightway) as well as the lower two levels of the Christie Place Garage (64 East Parkway).
The Scarsdale Music Festival is a not-to-be missed experience! The SBA is a non-profit organization dedicated to supporting the Village of Scarsdale and its local businesses.
For event information and tickets: www.scarsdalemusicfestival.com and follow them on Instagram @scarsdalemusicfestival.
For sponsorship opportunities: info@scarsdalebusinessalliance.com.
For more information about the Scarsdale Business Alliance: www.scarsdalebusinessalliance.com and follow them on Instagram @scarsdalebusiness.
Scarsdale Library Wins Design Award
Details

Written by

Joanne Wallenstein

Hits: 853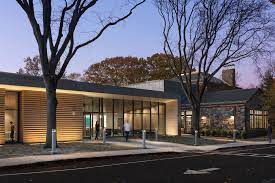 Scarsdale Public Library has won the Society of American Registered Architects -NY Council (SARA NY) Design Award and Dattner Architects will be honored at an awards gala on June 14, 2022 in Manhattan for their remarkable design transforming the Scarsdale Public Library into the exemplary 21st Century library that it is today.

Designed with the feel of a Library in a Park, the Scarsdale Public Library incorporates many natural elements, with stone wall interiors and floor to ceiling windows providing access to plenty of daylight and views of the surrounding nature. The entire building was reconfigured and renovated, allowing the Library to meet many programmatic goals for improved flexibility, technology, usage and access, with 38,000+ SF of usable and modern space.

The Scarsdale Public Library would like to congratulate Dattner Architects for their achievement. We appreciate the thoughtful consideration and creative design work that went into meeting the needs of our community to provide us all with this beautiful and highly functional space.

Upon hearing of the award, Diane Greenwald, Former Scarsdale Public Library Board President and Co-Chair of the Library Building Committee, had this to say: "Though among the busiest Westchester Libraries, SPL's facility was tired, with decades of deferred maintenance and structural accessibility issues. Dattner helped SPL maximize existing building features and expand into the surrounding park, bringing the outdoors in. Dattner's sensitive design improved efficiency and enhanced functionality, integrating old and new design elements from both the original 1950s building and the 1973 addition. SPL now offers one cohesive experience, fully accessible, with modernized technology and flexible spaces for enjoyment for generations to come. I am thrilled every time I walk though this now award-winning place, our Library at the center of our community."

Following a great deal of community input and significant due diligence, in December 2016, the Scarsdale Village Trustees accepted the recommendation of the Library Board to support the improvement project with a $9.9M bond as part of a public/private funding partnership. By May 2018, a robust Capital Campaign committee, overseen by the Friends of the Scarsdale Library, raised $8 million, exceeding expectations by $500,000. Over 500 generous families and businesses contributed.

The Scarsdale Public Library's Community Design Feedback Committee was comprised of a cross section of community members with various levels of interest in and use of the library. The Committee was formed to continue the Library Board's commitment to community involvement in every phase of the planned renovation and specifically to provide feedback to the Library Building Committee during the design development phase. We appreciate all input from interested parties that got us to where we are today, and that helped make the Scarsdale Public Library an Award-Winning Library.
Click here for more information from Dattner architects.
Click here for more information on the history of the construction of the Scarsdale Public Library.
Colleen Brown: Candidate for Scarsdale Board of Education
Details

Written by

Joanne Wallenstein

Hits: 5908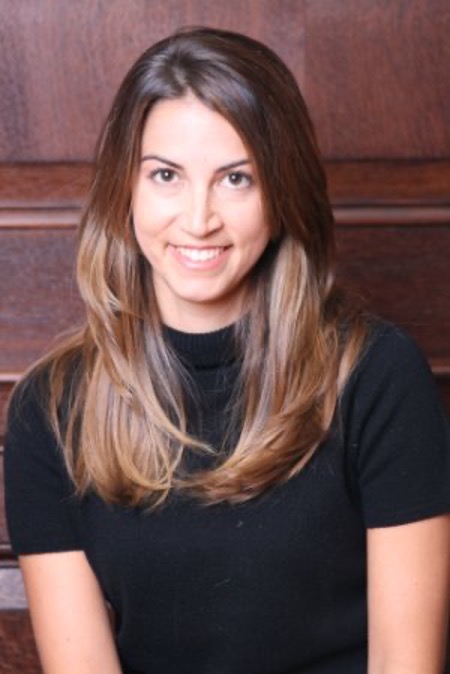 Colleen Brown is one of three candidates selected by the Scarsdale School Board Nominating Committee to run for Scarsdale School Board. A relative newcomer to town, Brown has extensive experience in education. Learn more about her below and remember to vote in the election for school board members and the 2022-23 school budget on Tuesday May 17th from 7 am to 9 pm at Scarsdale Middle School.
Here's Ms. Brown's story:
Tell us about your educational and professional background and skills.

Prior to moving to Scarsdale in 2015, I worked at Leman Manhattan Preparatory School (LMPS) for 10 years in various roles – Head of food service, health & wellness, science teacher, wellness teacher, Dean of Students, Interim Assistant head of Middle School and then Assistant Head of Upper School grades 6-12. During my time there I was involved in Major initiatives including: adoption of new grading system and standards-based report cards school-wide, implementation of new homework procedures and policies, implemented personalized learning plans for all students, implemented new teacher evaluation system, completion of first International Baccalaureate authorized teaching year, implemented Sheltered Instruction Observation Protocol (SIOP) program for ELL students, oversaw implementation and growth of HS boarding program, implemented new writing-across-the-curriculum program, implemented a middle school I-Pad program. In addition, over the 10 year period we had a number of educational leadership searches – 2 head of schools, 1 head of high school, 1 head of curriculum, instruction and assessment, 2 HR positions and 2 Head of student support positions.

Why did you choose to move to Scarsdale?

We chose to move to Scarsdale when my son was starting Kindergarten because we heard the schools were the best in Westchester. We had outgrown our apartment and were looking for more space as well as a school system that was just as good, if not better, than NYC private schools. We were very impressed by what we heard about Scarsdale and then found a beautiful home, close to the elementary school. It seemed like the perfect option for our family.

What are some of your past and present volunteer activities?

After moving here in 2015, I volunteered with the QRPTA as Learning from our Differences chair. I co-chaired the PTC community calendar. I was then elected as PTA president for QRS. I also served on SBNC. In addition my family has also involved with Cycle for Survival, the Salvation Army, 914 cares and Mott Haven Fridge Program.

Why did you decide to apply to serve on the School Board?

I decided to run for BOE because I felt that the district could benefit from my experience and I would be able to use my skillset to help strengthen and support our school district. My background in educational leadership and teaching can be a huge asset to help our school district meet its goals and support our students.

In your view, what are the main challenges facing the Board and the district?

We are coming out of a pandemic and changing one of our main educational leaders. We need to make sure we are able to support our students with any gaps that may have developed due to the limitations of the pandemic, as well as any emotional struggles they are having from the past few years. In addition, we need to ensure our next educational leader is equipped to support us in these efforts.

How did you find the nomination and interview process?
I found the SBNC to be extremely professional and thorough in their due diligence and interview process when it came to my application and interview. I would like to thank them for all their hard work and for entrusting in me this great responsibility. I feel extremely honored that they chose me for this role.

What was your reaction when you learned about the district's issues with the IRS?
Everything going on with the IRS is extremely unfortunate. I am only privy to the same information that the public has so my thoughts right now are probably similar to everyone else. I think part of my role will be to work with the other BOE members to figure out how this happened and what we can do to make sure something like this never happens again. With a new superintendent coming on board we have an opportunity to look at any possible breakdowns that occurred during this event and fix them with the new administration.

Now that you have received the nomination, what are you hearing from neighbors and the community? What are some of their concerns and questions?

Every member of the community wants the same thing – for their children to have the best education possible. Parents are advocates for their children which is why many parents are passionate when it comes to questions/concerns about their children's education. People are very interested in the process for finding the right replacement for Dr. Hagerman as well how to best support their children's educational journey.

Are there changes you would like to see in the schools, or in the Board processes and protocols?

Before I can suggest any changes or protocols I need to meet with the board members and really understand the way the board functions. I owe it to the community to fully educate myself before I suggest any implementations for change. I do think that the events of recent are an opportunity for the board to discuss their processes and protocols and see if change is needed but that will be something I discuss further with my fellow BOE members.
Remember to vote at Scarsdale Middle School on Tuesday May 17 from 7 am to 9 pm.