Do-it-Yourself Genetic Testing for Breast Cancer Risk
Thursday, 17 May 2018 10:57
Last Updated: Thursday, 17 May 2018 11:08
Published: Thursday, 17 May 2018 10:57
Stacy Waldman
Hits: 4393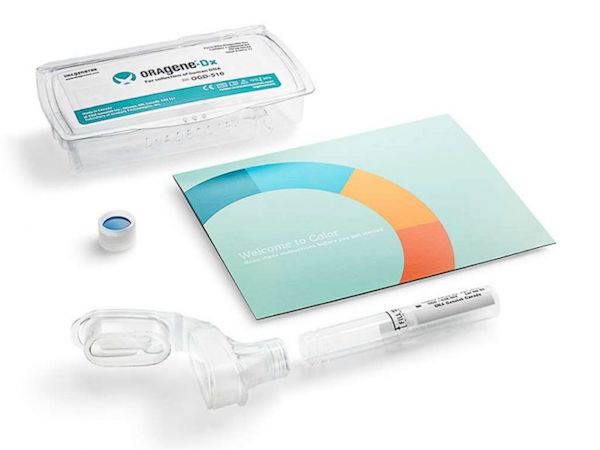 According the American Cancer Society, about 266,000 people are diagnosed with invasive breast cancer each year. There have been huge advances in diagnosis and treatment of the disease. There have also been advances in screening for risk of developing breast cancer along with ways to decrease risk of breast cancer development in people at high risk such as lifestyle changes, mastectomy and hormonal treatment, among others. For 41,000 people a year, breast cancer is fatal.
Everyone has BRCA 1 and BRCA 2 genes that work to prevent cancer. Inherited variants, or genetic mutations, in one or both of these can put a person at higher risk for certain cancers including breast cancer. The National Cancer Institute states that BRCA1/2 mutations together account for about 20-25% of hereditary breast cancers and about 5-10% of all breast cancers. The average lifetime risk of breast cancer for women is about 12%; with the BRCA 1 or BRCA 2 mutation, it is between 3 to 7 times greater than that of a woman who does not have the mutation.
Doctors have been able to order a genetic risk test for women deemed at high risk for breast and/or ovarian cancer to determine if they have mutations in one of these genes. In March of this year, the FDA approved the first at-home genetic risk tests for BRCA1 and BRCA2. For $100-150 and a donation of saliva, consumers can determine if they have a BRCA1 or BRCA2 gene mutation in just a few weeks via mail order.
What is the genetic risk (BRCA1/2) test?
Genetic risk tests help determine if one's breast cancer or family history of breast cancer is due to an inherited gene mutation. Most women who are diagnosed with breast/ovarian cancer do not have this inherited gene mutation although being positive for the gene variant puts one at higher risk of developing breast or ovarian cancer in women and breast or prostate cancer in men.
Should all women undergo BRCA1/2 genetic testing for cancer since the test is readily available?
BRCA1/2 testing is available if you are considered high risk for the mutation, such as being of Ashkenazi Jewish descent. It is important to understand that BRCA1/2 gene mutation leads to an increased risk of breast cancer and ovarian cancer (and prostate cancer in men), but not all with the variant will develop cancer. There can be physical, emotional and financial impacts of knowing your genetic status. The CDC and Susan G. Komen Breast Cancer Foundation both recommend that you speak with a genetic counselor and/or a physician to provide you with accurate information and counseling both before and after the test.
What are the benefits of having at-home genetic risk tests approved by the FDA and available for home use?
Juli Murphy Bollinger is a Senior Research Analyst at the Johns Hopkins University Berman Institute of Bioethics. As a genetic counselor, she doesn't have a strong opinion in favor of or against direct-to-consumer at-home BRCA1/2 testing but she does see the pros and cons of its availability. "The good is that it has become more affordable and can provide more access to more information for a larger population in the comfort of their own home. Companies such as 23andme do have a lot of reliable information on their website," she said. "The test is quite accurate so there are not concerns around that."
What are the potential downsides of at-home genetic risk testing?
According to Murphy-Bollinger, the biggest concern is false reassurance. Only a small fraction of breast cancer is hereditary, so the test is not providing patients with the full story or full answers. The FDA has released a statement saying that "…no doctor or patient should use the test as a basis for deciding treatment, 'including anti-hormone therapies and prophylactic removal of the breasts or ovaries'." Murphy-Bollinger added, "…there are other gene mutations that cause breast cancer and not all are hereditary; other risk factors include lifestyle, environment and more. If the at-home test comes back negative," she said, "there is a concern that patients will think they are not at risk for breast cancer and may skip other important screening measures like mammograms and ultrasounds, or manually feeling for lumps." She added that, "…if the test comes back negative, a patient may still possess other risk factors that put them at high risk for breast cancer, so again, we are concerned about false reassurance. Furthermore, we are concerned for patients if the test comes back positive." A positive test does not necessarily mean a patient needs an immediate full mastectomy, hysterectomy or aggressive hormonal treatment. "It is important to have a team of people such as a physician and genetic counselor available to provide accurate information in the case of a positive or even negative result," she voiced.
Are there any other ethical issues to consider with testing for BRCA 1 and 2 gene mutations?
Murphy-Bollinger says there may be. "If your test comes back positive for BRCA1/2 mutation, it can be very stressful and confusing for patients regarding whom they should inform. Are you going to feel burdened by the responsibility to share this information with your family? Does extended family need to be made aware of your genetic status? A team of professionals can help patients determine what the results of the test means for themselves and relatives and put them at greater ease. You can read more about the position of the National Society of Genetic Counselors here via a statement released after the March 2018 approval of 23andme.com's test.
Additionally, information access and privacy may be issues with all at-home genetic testing. Consumers need to remember that when they are sending their DNA samples in for testing, this information may be used for other purposes such as market research or marketing purposes. It is too early to tell what these companies will do with this type of information, but others have used patient data for potential financial gain. Doctors and hospitals are bound by privacy acts such as HIPAA. The American College of Obstetrics and Gynecology (ACOG) released a statement shortly after the FDA-approval of the at-home kit; read it here.
The bottom line is this: The presence of a BRCA1 or BRCA2 genetic mutation does seriously increase a person's risk of breast, ovarian and/or prostate cancer. Certain patients who are pre-determined to be at higher risk for these types of cancers may be advised to undergo testing, but experts across the field suggest considering this under the supervision of professionals in the field. A team of experts can help a patient develop strategies for cancer prevention and early detection in the case of a positive result for a genetic mutation; if the result is negative, this team can still help patients understand that they may still be at risk for various cancers and encourage a similar course of action of prevention and early detection.