Ladies Who Lit to Debut at JCC
Thursday, 20 September 2018 13:53
Last Updated: Thursday, 20 September 2018 14:00
Published: Thursday, 20 September 2018 13:53
Joanne Wallenstein
Hits: 4185

Edgemont's Stephanie Risa Balkin, the new director of Arts & Talks programs at the Jewish Community Center of Mid-Westchester, is working on a "novel" idea for a panel discussion. As part of their newly created Local Literary Salon Series, three local writers with local roots will come to JCCMW talk about their recently published fiction in a panel discussion moderated by a fourth novelist, Lynda Cohen Loigman.
"Ladies Who Lit" will be held Thursday, Sept. 27, from 9:30-11 a.m. at the JCC and includes a light breakfast and book signing. "We've had wonderful author talks in the past. Building on this solid foundation, we are presenting the first literary salon to specifically showcase local women and their voices," Balkin said. "It's just the beginning of exciting things we are working on to expand our Arts & Talks cultural programming."

Two of the three panelists have written historical novels.
In "The Subway Girls," published by St. Martin's Press, Susie Orman Schnall tells intersecting tales of ambitious women from two eras whose lives are changed by the Miss Subways beauty contest in New York City. When Schnall learned about the contest, which featured photographs of city women and brief bios in subway cars from 1941 to 1976, she was intrigued. She had previously written a novel, "On Grace," about motherhood and turning 40 and a nonfiction study of women's struggles to achieve a work-life balance. The Miss Subways contest gave her a lens through which to view these issues as they played out for women of different generations.
In 1949, Schnall's character Charlotte enters the contest in hopes of landing a job in advertising and meets a glamorous friend who forces her to make a heart-wrenching decision. Her 2018 counterpart, Olivia, learns about the contest and decides to use it in a pitch that she hopes will save her job as an advertising executive. The novel explores the similarities and differences between the two women and the times they lived in and their efforts to reconcile ambition, love and happiness. Author Fiona Davis called "The Subway Girls" "a joyous romp through 1950s New York City, with a magnetic cast of characters you'll root for from page one." Schnall lives in Purchase.
Scarsdale resident Jacqueline Friedland left the world of corporate law to earn a master's in fine art from Sarah Lawrence and fulfill her dream of writing a novel.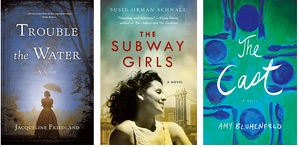 "Trouble the Water" takes place in the antebellum South. Like many a Jane Austen heroine, Friedland's leading lady, 17-year-old Abigail Milton, is a victim of family debt. Her struggling English parents send her to South Carolina to live with a family friend. When Abigail arrives in Charleston, she finds her benefactor, Douglas Elling, remote and unpleasant. But her feelings change when she overhears him planning to help a slave escape. As she tries to learn more about Douglas and his involvement in the abolition movement, issues of trust arise and the relationship between the American host and his English guest changes. "Trouble the Water" is published by Spark Press. It garnered a Best Regional Fiction Silver Medal from the Independent Publisher Book Awards. Kirkus Reviews called it "A vibrant, solidly entertaining story that will seize readers from the first page and not let go."
Amy Blumenfeld's debut novel "The Cast" evolved from a year-long study of pediatric cancer she did as a student at Columbia's School of Journalism. Like her heroine Becca, Blumenfeld is a survivor of pediatric cancer. When Becca contracted Hodgkins lymphoma as a teenager, four of her friends helped her through the misery of treatment by making a funny video. Now that they are all in their forties, one of the group, Jordana, organizes a 25th reunion. But the friends' happy memories get upstaged by midlife crises involving rocky marriages, unresolved romantic feelings and lifestyle changes. The story unfolds over a single weekend.
Published Aug. 14, "The Cast" has already won the 2018 IPPY Gold Medal in Popular Fiction and has been named a finalist in Best New Fiction category of 2018 International Book Awards. Kirkus Reviews called Blumenfeld's novel "a deceptively simple tale that packs an emotional punch."
Panel moderator Loigman is planning to ask the novelists about the inspiration for their stories, the research involved and the way the personal experiences and interests of the authors contributed to their stories. "I am also going to ask about the role of strong female characters in their stories, as this is a common theme in all three novels," she said. "I'd like to explore the creation of these strong women characters and talk about the timeliness and universality of women's stories. We will also talk about process, which would include the evolution of the authors' careers, their individual paths to publication and what we can expect next from them."
"Ladies Who Lit" will be held outdoors in the sukkah (weather permitting) or indoors at JCCMW, 999 Wilmot Road. A light breakfast will be served and books will be available for purchase. Tickets are $25. Pre-registration is required. To reserve your spot, click here or call 914-472-3300. All are welcome—membership not required.