Meet Jonathan Lewis: Candidate for Village Trustee
Tuesday, 19 February 2019 13:43
Last Updated: Thursday, 21 February 2019 18:15
Published: Tuesday, 19 February 2019 13:43
Joanne Wallenstein
Hits: 3715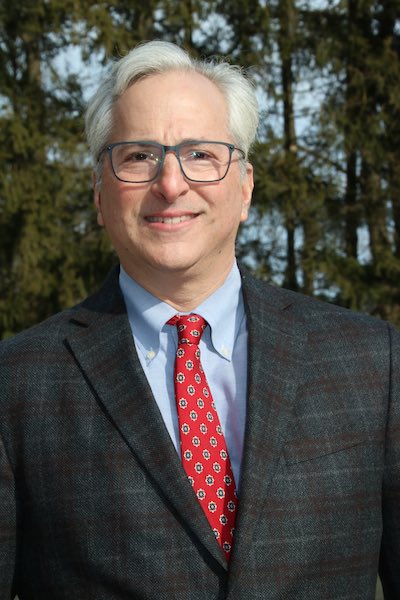 The Citizens' Nominating Committee has nominated Jonathan Lewis to serve as Scarsdale Village Trustee. Why is he running and what does he hope to accomplish? Read his answers below:

After a run for Congress, why did you decide to run for Village Trustee?
My father was a decorated officer in World War Two and he taught me that the most important duty in life, after taking care of your family, is service to your community. When the Citizens Nominating Committee asked me if I would consider serving as a Village Trustee, my answer was yes.
Tell us about your professional and volunteer experience and why it led you to apply to serve as a Village Trustee.
I am an entrepreneur who co-founded and built a successful asset management business, Samson Capital Advisors, that managed municipal bonds. When we opened our doors for business, we had no clients or revenues. By 2015, when we sold our company, we managed over $7 billion in assets, and had developed a national reputation as experts in municipal bonds and public policy. While building my company, I've also served in a variety of volunteer and board positions including as a member of the Scarsdale Board of Education, president of the Scarsdale Forum, president of the Juvenile Diabetes Research Foundation of Westchester, and treasurer of the Phi Beta Kappa Society, where I also chair the Foundation's investment committee. I have built cost-effective budgets in my business, as a member of the Scarsdale Board of Education, and in a variety of not-for-profit leadership roles. I hope to bring my skills in finance and entrepreneurship to the Village Board. I think these skills will enable me to make positive contributions to conversations about the budget, expense management, and innovation.
What do you hope to accomplish as Village Trustee?
My career has taught me to do more with less, while being entrepreneurial, impactful, and taking the long view. I am proud that Scarsdale is my home and grateful to live here. I believe that a Trustee listens to the community, critically evaluates how we deliver services and builds a budget to provide the services that residents expect and deserve in the most-cost-efficient way.
As a Village Trustee, I would bring the skills I have developed in the private sector and in public service to strengthen our unique "brand" as a community and to always look for cost-effective means to deliver on the core value proposition of Scarsdale. This brand is the cornerstone that supports our property values.
I would hope to work with my fellow Trustees to seek ways to refine and redefine the quality and breadth of village services in a way that reinforces our village's brand. These efforts should be focused on how we make Scarsdale an attractive and desirable place to live now and in the future. We should always be asking "What do we do in Scarsdale better than anywhere else?" and then make sure the tough budgetary choices we face each year help reinforce the answer to that question.
I'm running for the Board of Trustees to engage in that conversation with the community, other Board members, and the Village staff.
What do you think are the biggest challenges facing Scarsdale?
The Board of Trustees faces a great challenge today - it has to act as a responsible steward of our neighbors' taxes while delivering high-quality services and public safety in the face of so many external factors, including policy changes at the state and federal level, unfunded mandates imposed on the village by New York State, and the possibility of economic headwinds. Of course we should strive to be as cost-efficient as possible, resist unnecessary expenditures that don't have a clear benefit, and look for new areas to find savings, but I believe there's another side of the equation that will help us meet these challenges.
Throughout Westchester County, and the country for that matter, the basic service model that underlines local government has been largely unchanged and unexamined. I believe we have the opportunity to rethink our Village government to meet the economic, fiscal, and competitive challenges of our times. In my private and public sector positions, I have always felt my most useful role was to challenge assumptions and to raise questions that haven't always been fully explored. I believe my training as a historian and my role as a Chief Investment Officer have given me that discipline. I look forward to bringing that same passion for improvement and critical reexamination to village government.
On the local level, what do you think Scarsdale can do to ensure our home values and our schools in the face of the new limits on state and local tax deductions?
In many ways, the challenge of adapting to the federal cap on the SALT deduction is similar to what we've had to do to successfully adapt to the state property tax cap.
When I served on the School Board, we had to contend with the implementation of that cap. We had to balance the need to provide a great education for the 21st century, while being mindful of the economic challenges our stakeholders faced in the aftermath of the financial crisis. One of the most impactful new ideas we funded was called the Scarsdale Center for Innovation. It was a low cost initiative that had the power to unleash the creative energies of our teachers and administrators for the purpose of reengineering our curriculum. Since its launch, the Center has fostered important forward thinking initiatives within the district. Developing low cost ways to transform how we think about policy and delivering services is a lesson I carry from that experience.
Our leadership in education and our reputation as innovators in that field is what sets our community apart, and I believe we need to innovate and reinvent how we think about local government to succeed in this challenging era. We need to imagine what a more vigorous local economy might look like, beyond the basic need for retail in our commercial areas. Are there non-retail businesses that could be supported and developed here? Can we diversify our economy in a way that is consistent with our values and our village character? Is there a way we can expand our tax base or more broadly share our tax levy that takes the pressure off individual homeowners? I believe if we approach the challenges of our time with fresh perspectives and new questions we are more likely to innovate our way to a solution. That effort will help us deliver on the value proposition of living in Scarsdale. If we succeed, we will remain the most attractive choice for home buyers seeking to build a happy and successful future for themselves and their families.
What are your views on historic preservation? Do you think the Village is doing enough to safeguard historic properties?
I have had a keen interest in how we preserve the character of our neighborhoods. When I was president of the Scarsdale Forum, I established a committee on Neighborhood Character to empower neighbors to explore these issues. I've served in the past on the boards of the American Jewish Historical Society and the Scarsdale Historical Society - so history is important to me. There is a constant and natural tension between the property rights of individuals and the need to safeguard our history and preserve our community for future generations. A tear down is not always to the detriment of the neighborhood, and preserving an old home is not always good preservation. Yet, much of the academic literature suggests that the preservation of truly historic and distinctive properties actually supports and enhances the property values of the surrounding neighborhood. Especially important, what makes a neighborhood special is more than the homes, it's how they interact with their environment, and how the beauty of the natural world and the character of the homes interact and enhance each other. It's a balancing act and an ongoing conversation, and one that the whole community should always feel that they are a part of. In that context, I would look forward to joining the conversation about how to balance progress with preservation in our village.
Scarsdale resident Mark Lewis (no relation to Jonathan Lewis) sent in the following comment.
"I have known Jonathan for several years and feel he will make an excellent Trustee. His knowledge of finance will help guide us over the next two years with well thought out budgets. He seeks out and listens to people and takes their comments seriously. His knowledge of history will also shape the way he makes decisions. I trust Jonathan to lead Scarsdale in the right direction.
Jonathan will keep an open mind on all issues and will be inclusive of all people regardless of which party they belong. I have full confidence that Jonathan will work to meet the needs of all the people of Scarsdale. I have worked with Jonathan and will do whatever Jonathan requests of me to help him get elected as our next Village Trustee. I hope that all Scarsdale residents will support Jonathan no matter which party they belong to."